Updated May 2021
Fitness trackers are growing in popularity in the fitness community, leading to more brands producing competitive options that offer the necessary and desired features. The LETSCOM fitness tracker is one of these contenders, and I have the pros and cons in this product review.
The primary reasons people purchase these trackers are to track their exercises and  calories burned, while keeping an eye on their heart rate. However, many fitness trackers offer several other features like sleep tracking, music controls, and notification alerts.
As the popularity continues to rise and competitors keep improving their devices with new features and improved software, it becomes harder for consumers to keep tabs on which fitness tracker will suit their needs.
Another reason that people purchase fitness trackers is to monitor certain aspects of their health such as their heart rate and, in some cases, their blood oxygen levels. It is not advised to replace the advice or tests from a doctor with a fitness tracker. However, it can give you a rough idea of your health levels.
The Key Buying Considerations
When buying a fitness tracker, we have a few considerations for you to think about before  making your decision. These will help guide you to make an informed choice and have a product that you will truly be happy with.
Cost
The first consideration is your budget, and this is usually the customer's first concern when making a decision. The price of the product will most likely determine the number of features you receive with the watch, but you can still get good-quality watches at a reasonable price.
If you are looking for a budget-friendly option for your smartwatch, and if you are not after all the added features and fancy bells and whistles, then LETSCOM is the perfect option for you, delivering on both these points.
Features
Usually, when you are purchasing a fitness tracker there are specific features that you are looking for. The main one is the heart rate monitor, and here you should ensure that the watch you buy has a good quality heart rate monitor.
Next on the list, you may want calories burned, step tracking, and sleep monitoring on your watch. These are the main elements necessary to track your fitness and exercise. The LETSCOM watch offers these features as well as various training modes.
Beyond these core functions, some people want to have additional features including music controls, weather tracking, and the ability to receive phone calls and respond to messages. These are not necessary for your core fitness needs, but the LETSCOM watch does allow for calls, SMS, and social media notifications.
The tracker device is removable from the rubber band and has its own USB connection on the device itself. You just plug the device into a USB port and it will charge.
It takes roughly an hour to fully charge and lasts a week or so before needing to charge it again. It's suggested that you charge the device for a short while before using it for the first time.
The tracker has an OLED touch screen, which allows you to tap or swipe the device to view the various functions.
After charging your tracker, the next thing you must do is download the LETSFIT app from the Google Play Store or iTunes Store.
Don't worry, it is a free app. Once downloaded, you have to turn your Bluetooth on and pair the device with the app.
It will sync all your details from your tracker to your app in a few seconds. If you also notice that the tracker's date and time are wrong before you sync with the app, you don't need to do anything as it updates it over Bluetooth.
You have to run the app setup and set your height, weight, age, gender, and daily step and sleep targets.
What We Liked:
Pros:
Heart rate monitoring, pedometer, calories record, sleep quality monitoring, sync date and time, notifications, remote camera control, anti-lost alert, find phone, sedentary alert, etc.
24-hour Accurate Heart Rate Monitor (NOT for medical use) – newest HR sensor adopted for accurate and effective monitoring
Responsive OLED Touch Screen – by tapping/sliding
No daily charging needed; long battery life: about 7-10 days standby time/7 days operating time
Bluetooth 4.0, IP67 water-resistant; Supports IOS 7.1 or above; Android 4.4 or above
Key Features Of LETSCOM Fitness Tracker
The fact that it can connect to your smartphone GPS to map your workout route, showing pace and distance, will help you track your progress as you strive to achieve your fitness goals. You can keep track of all your training data on the compatible LETSCOM fitness tracker app.
This lets you monitor your training data and compare your training sessions to each other. This feature can help you monitor the areas where you need to alter your exercise routine to achieve optimal results.
The LETSCOM Fitness Tracker Watch is waterproof to a certain extent, as it will handle splashes of water and plenthy of sweat; however, you shouldn't wear the watch while swimming or showering. The watch is worn on the wrist, just like a wristwatch. This fitness tracker features a battery life of 7 days.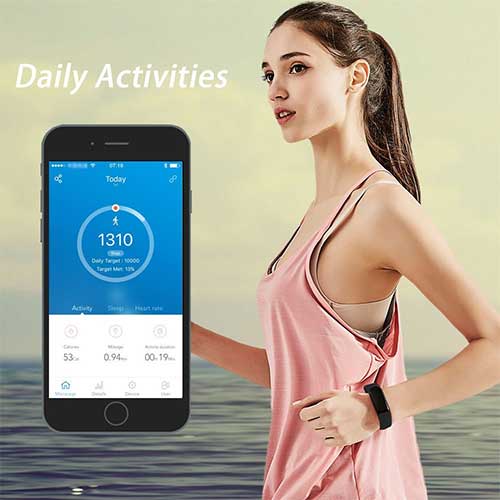 This is normal for the average battery life among fitness trackers, which is 7 days. As far as charging time goes, LETSCOM's tracker will have a fully charged battery in 60 minutes.
This tracker sports an OLED screen, which is quite impressive at such a low price point. While the display is basic, it is very crisp and clear, and you'll have no problem reading your fitness stats on this tracker's screen.
The pedometer, heart rate sensor, notifications, and sleep monitor are the most useful functions, with the app syncing the data to provide useful graphs. The app gives you a great oversight of your training history so you can monitor the changes in your daily or weekly fitness sessions.
Online Customer Reviews And Scores
The majority of the reviews for the LETSCOM branded watches are fairly good, and customers seem to enjoy the brand. A few critiques were related to the product having trouble accurately tracking sleep, which is a common complaint with most fitness trackers.
Sleep monitoring is based on your resting heart rate, and this can confuse the difference between being awake and sleeping lightly. If you are looking for a sleep-tracking device for health reasons, it may be best to look for medical-grade equipment.
Another common issue reported by customers was inaccurate step counting. However, any watch that tracks your steps will have some sort of inaccuracy. When you are wearing the tracker on your wrist, the watch won't register your steps if your arm is not swinging by your side. This also means that you can generate steps if your arm is moving but when you aren't actually moving.
Here are a few things that people liked and didn't like with the entry-level LETSCOM fitness tracker smartwatch.
Things People Liked
This is a tracker that exceeded expectations for the price. One of the most appreciated features is the discrete vibration you feel when you receive calls and texts.
Why is this a plus? Obviously, you can't have the phone in your hand all the time, especially if you work or go to school. Plus, a mobile phone can disturb others. But the wristband vibration is for your own private alert.
The battery life is also impressive. People have worn  the LETSCOM tracker for four days after being completely charged in just one hour.
The tracking and monitoring are very accurate, whether we talk about heart rate, counting steps, or sleep monitoring. It simply makes you get up and move.
Things People Did Not Like
If we have a quick look at the negative customer feedback, we can see it points to small faults such as a bad connection between devices (which can be solved with a regular update) and poor design (which is definitely a matter of taste).
Several users and reviewers mentioned that the screen is not bright enough for outdoor/full sunlight situations. This is definitely something to keep in mind depending on your usage. If you are buying this for the gym or don't need real-time monitoring and wrist-checking, you'll be fine.
Hence, all these customers were ultimately satisfied with the product, as they decided to keep the tracker and use it,because it is about good quality at a fair price.
LETSCOM vs Fitbit Fitness Trackers
Whenever someone mentions fitness tracking watches, you are likely to hear the brand name Fitbit to the extent where people class all smartwatches as Fitbits. This brand has become a leader in smartwatches due to its ever-evolving technology and good marketing.
By comparison, you may be wondering if LETSCOM is a good brand or not. Here, I will detail the differences and similarities of these two brands to help you make your decision.
Both of these brands offer quality products that accurately track your steps and monitor your heart rate. They both include various activity modes; however, some Fitbit trackers include an automatic exercise detection function to actively track your training without you needing to set it.
While these exercise modes are great for giving you data on various sports, if you are looking for a specialized training mode you might want to look for specific watches such as these great fitness trackers for cycling.
Both these brands offer sleep tracking and move reminders when you have been sedentary for too long. Regarding notifications, both brands offer watches that notify you when you have received a message on your phone.
The main differences between these two brands are the technology and the price. Fitbit is continuously evolving its heart rate monitoring technology, faster than some other brands. The price on the other hand leans in the favor of the LETSCOM watches as they offer a much more affordable range compared to Fitbit.
Cost And Where To Buy
The LETSCOM watches can be found in your local sports stores; however, you can buy them reliably on Amazon or the LETSCOM official website. If you purchase from these stores, you can be assured that you are buying the authentic product and you will be able to enjoy the 1-year year warranty period.
If you notice any defects upon receipt of the product, you can notify them and get a replacement. If you are unhappy with your purchase within 14 days, you can request a refund. You can find out more about the return policy and 1-year warranty on the LETSCOM website.
The price differs between the LETSCOM smartwatches; however, the budget watch reviewed here is the entry-level watch,  and the price goes up with  the higher-end models such as the LETSCOM ID205L and the LETSCOM ID206.
Frequently Asked Questions
Is LETSCOM A Good Fitness Tracker?
The LETSCOM brand offers a budget-friendly option for those looking to invest in their first fitness tracker watch. The necessary features for tracking your training data are available, such as heart rate monitoring and step counting, along with some additional features like buzzing notifications.
This brand offers good quality watches at affordable prices, and the only issue you may struggle with is the fairly basic app that it syncs to. However, this will most likely be fixed through software updates.
Do You Need Your Phone To Track Data On The LETSCOM Tracker?
The watch itself can store a limited amount of data even though you cannot view all the data on the watch. The next time your cellphone is in range with Bluetooth enabled, it will automatically sync the data to your phone.
How Do I Change Settings On The LETSCOM Watch?
You can change all of the available settings through the app on your phone. This allows you to set which notifications you would like to receive, customize the clock face, set alarms, and set reminders for specific periods of inactivity.
Is LETSCOM A Good Brand?
LETSCOM offers fitness tracking watches at budget-friendly prices. The brand is good for entry-level fitness enthusiasts who are looking to buy their first fitness tracker.
Youtube user rjguess1 made a good review video for the letscom fitness tracker:
So, Should You Buy A LETSCOM Fitness Tracker After All?
This fitness tracker is a good value, budget option and perfect for those wanting a smart, connected fitness band while also not wanting to pay for a much pricier fitness tracker.
If you are reevaluating your fitness regime and want to include more fitness into your lifestyle by tracking your activity as you are starting out, the LETSCOM fitness tracker is perfect for your needs. The affordable price allows you to test out your first fitness tracker without spending too much money.
As you progress, you may want to invest in a watch that offers additional features that extend past your training needs. You can then upgrade to a more professional fitness tracker. However, this brand provides you with all the data you need while you sweat away.
If you have tried any of the LETSCOM devices and have advice for readers, let us know in the comments below.