If you own a Samsung smartphone and you are in the market for a new fitness tracker for your training and exercise goals, then you should consider a Samsung fitness tracker. These watches are designed to connect with other Samsung devices, offering you the best features for your watch and your phone.
The shared technology means that these devices are compatible with your smartphone and can offer more than just fitness tracking.
Keep in touch with contacts on your phone, use your watch to safely pay if you leave your wallet at home, and of course, track your fitness with top-quality heart rate monitoring and other features on these devices.
Quick Links To The Top Samsung Fitness Tracker Watches
SAMSUNG Galaxy Watch 3

(The Overall Best Samsung Fitness Tracker)

PDF report of your vitals

SAMSUNG Galaxy Watch Active 2

(The Best Samsung Fitness Watch)

Aluminum and stainless steel options

High and low heart rate alerts

SAMSUNG Galaxy Fit 2


(The Best Budget Samsung Activity Tracker)

Long-lasting battery (up to 15 days)

Water-resistant up to 50m
Samsung Fitness Tracker Reviews
Before you start choosing your favorite watch and rushing to click the buy button, there are a few considerations to think about when choosing the right fitness tracker for you.
Considerations When Buying Samsung Fitness Watches
Cost: Cost is always an important factor to look at when choosing a fitness tracker and it should be no different when looking for a Samsung fitness watch. Once you set your budget, you can look for high-quality devices within your price range. You will find several budget-friendly options on the market too.
Compatibility: When choosing a Samsung fitness tracker or watch you should keep an eye on compatibility. These watches are designed to seamlessly connect to other Samsung devices even though they can connect to different smartphones. You should ensure that you can access all the features on your smartphone before buying.
Features: The features on fitness trackers vary and you should choose a device that has the right functionality for your needs. If you are looking for specific sports modes or activity tracking, keep an eye out for the watches that provide these settings. The options below have a range of features for you to keep in mind.
The Samsung Galaxy Watch 3 is a leader among the Samsung fitness trackers due to its durable design—it is made of military-grade materials. The watch pairs with both iOS and Android devices.
In addition to monitoring the usual fitness data, this watch also allows you to stream music, pay for things using your watch with secure pay technology, and it even includes stress-relieving breathing exercises while you monitor your stress levels.
Key Features
Military-grade material
PDF report of your vitals
Wireless power share
Smart technology on the watch detects if you experience a hard fall while out training and automatically sends emergency signals to your preset emergency contacts.
Pros
7 activity modes
Stress tracker
Trip detection
Cons
Some features only work with Samsung devices
A bit pricey
Certain features are only available when linked to a Samsung smartphone. If you are using a different device, you may not be able to take advantage of all the benefits of this watch.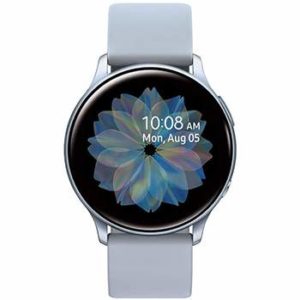 The Samsung Galaxy Watch Active 2 is easier on your wallet while still offering a great range of features to track your training and stay organized. The built-in pace coaching helps keep you motivated and working hard toward your fitness goals.
The watch also has a range of guided breathing exercises when connected to the integrated calm app, and it tracks your sleep patterns to monitor your sleep quality.
Key Features
Built-in pace coaching
Aluminum or stainless steel options
High and low heart rate alerts
The battery is built for durability, as it lasts up to five days from one full charge, and you can boost it up with wireless charging using your Galaxy smartphone.
Pros
Wireless charging quick boost
Various sports modes
Supports Samsung Pay
Cons
The battery doesn't last as long when using too many features
As with all fitness tracker watches, the battery life will be affected by the amount of activity on the watch and the number of features you are using daily. Luckily, if you have a Samsung smartphone, you can give a quick boost charge straight from your phone.
While this model is your budget-friendly option, that doesn't mean the watch has that much less to offer. This Samsung device will automatically detect your activity to accurately track your training data.
The sleek and lightweight design offers a subtle option if you prefer slimmer watches. However, it still has a good-quality AMOLED display.
Key Features
Long-lasting battery (up to 15 days)
Smart notifications
Water-resistant up to 50m
The smart notifications allow you to stay in touch with your contracts, with the added feature of sending preset replies straight from your watch. Never miss an opportunity to let people know you are busy but will get back to them as soon as possible.
Pros
Preset quick reply functions
Over 70 different watch faces
Auto-track fitness activity
Cons
The full touchscreen may take a bit of getting used to, as you will need to swipe through to find the features you need. This may deter some who prefer a side button; however, you can still access all the features by swiping the touch screen.
The Final Verdict
When you are selecting a fitness tracker, it is a personal preference based on your daily activities as well as your fitness needs. You can find watches that do it all while offering coaching to help you lose weight and stay healthy.
You can also choose watches based on your busy schedule with devices that keep you connected to your notifications and phone reminders throughout the day.
The best Samsung fitness tracker, in my opinion, is the SAMSUNG Galaxy Watch 3 as it offers everything you could need in a fitness watch in one place. As long as you have a compatible Samsung smartphone, you can experience it all.
If you have tried any of the Samsung trackers in the article, let us know in the comments below. We love hearing your stories, opinions, and training advice.