Updated April 2021
Whether you are cycling for fun, training for a race, or just an avid cyclist, you can benefit from tracking your cycles using one of the best fitness trackers for cycling.
These compact devices fit nicely on your wrist and offer you a variety of functions, including a heart rate monitor, number of calories burned tracker, GPS tracking, sleep monitoring, and more.
Investing in a bike fitness tracker can help you stay on track with your fitness goals and work toward improving your cycling times while monitoring your heart rate to reach optimum weight loss and training levels.
| | | | |
| --- | --- | --- | --- |
| | | | |
| | | | |
| | Polar Ignite Fitness Watch | | |
| | | | |
| | Garmin Vívoactive Hr Gps Smart Watch | High-resolution color display | |
| | Fitbit Surge Fitness Tracker | | |
Why Do You Need A Fitness Tracker For Cycling
Not all fitness trackers are designed to register more than just your distance and steps. If a fitness tracker can only measure these two measurements, then it is nothing more than a glorified pedometer.
Cycling is a little more complicated than walking or running, and you want your fitness tracker to be able to recognize that you are not only active but how active you are.
While normal trackers monitor every time your foot hits the ground, in cycling, this motion does not happen.
Not only do you want the tracker to accurately read all of your cycling time and distance, but you may also want a GPS on your wrist.
With a cycling fitness tracker, it is helpful to have a GPS to help you not only plan your route but also see where you have gone and how long it takes to get there.
Special Considerations For This List
Long battery life: Because of your active, on-the-go lifestyle, you will want a device that is easy and quick to charge. It also needs to hold the charge throughout the week and be durable long-term so you do not have to replace or purchase a new tracking device.
Durable: This device, especially for everyday use and hard cycling, needs to be extremely durable to last through daily exercises. It also needs to last you throughout the weeks, months, and years to come.
Multiple tracking modes: As mentioned already, you do not want to pay a lot of money to only have a simple pedometer. The device should track multiple sports modes and be able to pick up that you are cycling as well as record multiple fitness measurements.
Heart rate tracker: A heart rate tracker is something you want in a fitness tracker for your cycling lifestyle. A heart rate monitor will let you know how well your cardio exercise is going and how it helps you improve on your fitness journey.
What To Look For When Buying A Cycling Fitness Tracker
When you have chosen to look for one of the best fitness trackers for biking, you may be wondering what you should look out for. While we have considered certain key aspects, there are a few functions you need to decide on for yourself.
While heart rate monitoring and good battery life are essential for the type of fitness tracker you need, you might want a few additional features on your watch. Here are a few added functions to consider:
Display Type
Fitness watches have different display types and you should choose one that works for your needs. If you want to check your data quickly on your wrist, you might choose an always-on display.
However, if you want to save on battery life and don't mind flicking your wrist or pressing a button to see your data, you can opt for a display that turns off during inactivity.
Waterproof
If you are training for a triathlon or like to combine your cycling with a swim afterward, you could choose a waterproof watch.
Most fitness watches are splashproof to protect the watch from sweat and some light rain, but you may prefer to have a fully waterproof fitness tracker.
Cycle Modes
A lot of fitness watches offer various sports modes for you to choose from. When you are looking for the best fitness watch for cycling, you will want to find one that offers cycling mode.
You can also look for one with different cycling modes such as gravel, MBT, and indoor cycling in case you are using a stationary bike such as the MYX Bike. These modes allow you to easily see the relevant data to your activity and help the watch determine how to track your data based on the activity.
Bonus Features
After deciding on a watch based on the necessary features, you may want to choose a watch that offers additional features that you may not necessarily require but would like to have nonetheless. This can include sleep tracking, music controls, phone notifications showing on your watch, and more.
Top 5 Fitness Trackers For Cycling
The Willful Fitness tracker is the best cycling tracker for a reason since it offers several benefits including 9 sports modes, a sleep tracker, active minutes, an alarm clock, a deep breathing guide, and more.
Willful fitness tracker is designed to track cycling and other exercises so your work is accurately recorded. You do not have to worry about missing some of the fitness activities you do throughout the day as it will automatically and continuously monitor your health.
You can order this fashionable watch and choose from seven different colors. It will match your wardrobe whether you're in the office or out cycling.
This device syncs with most smartphones, so you can log your information and get all of the updates like missed calls and social media directly to your tracking device.
Pros:
Long-battery life
Fashionable
Waterproof
Cons:
The sleep tracker may be slightly off
You can't answer texts from the watch itself
This is a fitness tracker and durable sports watch that you can take with you on long cycling journeys because it can handle the general wear and tear. This watch may appeal to you because it includes integrated GPS tracking to let you know which route you can take.
The watch will track your steps along with your calories, the distance you travel, and your sleep, and it offers a daily personalized workout guide. Without interrupting you, your sleep will be tracked and the quality of your sleep analyzed.
The Polar Ignite offers the ultimate heart rate monitor for athletes on all levels. This will help your training tracking to be more accurate and help you to reach your goal heart rates.
Pros:
Advanced heart rate technology
GPS tracking
Durable watch
Sleep tracking
Cons:
Only one button on the watch
Some had problems with it pairing to a device
The KOSPET fitness watch comes with all the necessary features for your cycle as well as additional benefits including music controls, weather forecast, breath training, find my phone function, and a calorie counter.
The KOSPET fitness watch has 31 sports modes, which include indoor and outdoor cycling options so you can easily track your cycle. You can choose from a black or green watch option and enjoy a stylish addition to your workout wear.
The watch syncs effortlessly to your smartphone, so you can collect your data in one place and stay up to date with your notifications.
Pros:
Touchscreen
31 sports modes
Battery lasts for 15 days
Music control
Cons:
The app it syncs to could be improved
Watch face is a bit small
Garmin has created a heavy-duty smartwatch that is an excellent, heavy-duty, and durable fitness tracker. You do not have to be afraid to take this tracker along with you on intense cycling expeditions because it will withstand wear and tear.
This smartwatch has GPS installed so you can look ahead for the road you will be taking and also see the path you have taken for the day versus paths you rode in the past. Your steps will be tracked as well as your distance for the day.
This tracker will monitor your health measurements continuously throughout the day without you having to manually set it up. Your heart rate can be tracked at all times, except when you are doing water workouts like swimming.
You can use the watch for eight straight days without having to charge it and it will monitor your health and fitness activities continuously. If you are using the GPS feature, however, it will shorten the battery life drastically.
This device is compatible with most smartphones and software types so you can sync it up with all of your devices. You can get notifications from your phone to your device, so you do not have to miss anything that is going on.
Pros:
Heart rate monitor
GPS tracking
Sync with devices
Durable
Cons:
Slightly bulky
In water, the readings can be distorted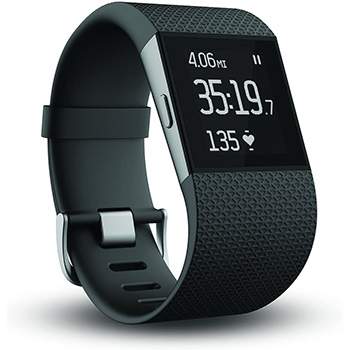 Fitbit is pricier than other brands, and you may know this as Fitbit has become a household name. Much like we refer to tissues as Kleenex because of the brand that took over the industry, this is how Fitbit is talked about in regard to fitness trackers.
Many people say they want to buy a Fitbit when they may mean any fitness tracker, and the name Fitbit seems to be used regardless of which brand has actually manufactured the device. Fitbit got its name out there by creating such high-quality, accurate, and durable devices.
Not only is it a stylish model that can be ordered in black, blue, or red, but it is extremely useful and keeps your health information on your wrist. There is continuous heart rate monitoring including resting heart rate.
Your activity is tracked all day and it will measure calories, distance, steps, and even the stairs you have climbed. If you can afford to pay for this tracker, you will find that the quality is worth the price tag.
Pros:
Heart rate tracking
3 color options
Trusted brand
Durable
Cons:
Expensive
Trouble syncing with some phones
Closing Thoughts
Fitness trackers are valuable resources for you to track multiple aspects of your fitness journey throughout the day and even into the evening.
While it may seem like a fashion or health trend, it is actually a smart piece of technology that will help you improve and give you an idea of where your overall health stands.
For cycling, you typically need to look for more in a fitness tracker like having multiple tracking modes to record the exercise accurately. You can find these trackers to be both on a budget and more pricey depending on your financial plan.
You can use the information you have tracked and stored and share it with your healthcare professional in case of any medical issues. You can also use it simply when you want to gain insight into your health and fitness.
Ultimately, a fitness tracker will elevate your workouts and help you accurately monitor your progress. 
If you have any experience with any of these products, let us know in the comments below.