There is much debate over the subject of dairy-free diets nowadays as many new health fads and lifestyles are screaming for the downfall of the dairy industry. While some choose to alter their diets in order to ascribe to religious or moral beliefs, others simply cannot handle the lactose because they are either intolerant or have an allergy.
Quick Look at Our Top Picks
The argument is not really if it is healthy for you to cut milk out but if you are able to cut out dairy and still be healthy without lacking anything. If your diet is filled with fresh fruits and vegetables, proteins and is balanced out and has minimal sugars, fats or carbohydrates then it will be healthy and can afford to cut out dairy.
To get the nutrients from milk and other dairy products, you will have to seek out other sources which are probably already in your diet or will not be hard to be added. Many seeds, fish, beans and even broccoli are chock full of calcium and many of them have excellent sources of vitamin D as well.
Dairy may cause symptoms in some people such as bloating, inflammation, cramping, flatulence and other digestive issues. Some people find that milk causes issues with their skin and how it ages over time.
How to create a dairy free protein shake
There are a lot of ways that you can create an extremely tasty protein shake when it includes ice cream or milk, but what about when it is lactose-free? You can of course choose to add lactose-free milk or ice cream or you can use an almond milk or soy milk.
If you do not want to use a milk, yogurt, or ice cream base there are still other options like water and juice. You can make the most basic of protein shakes with just the protein powder and base mixed in a shaker bottle within a minute.
If you want to add more ingredients and blend it up, you will have a more tasty shake that is also nutrient rich. You can choose your base liquid, and then add your protein powder and your choice of fruit or even vegetables to the blender.
Most vegetables you add will not leave a taste in the shake, but will just add nutrients, most likely a green color and vitamins. Leafy green vegetables like kale are great options as they are loaded up with nutrients and goodies, and you can toss in beans or broccoli for and calcium and vitamin D.
You can choose to add seeds for their nutrients and protein or you can add nuts which will make the shake more crunchy. You can blend all of these ingredients up and if you want you you can add things like peanut butter, mint, cocoa powder or cinnamon for added flavor.
Special considerations for this list
Completely lactose-free: This may seem obvious but top on the list is that the protein powders need to be lactose-free. The protein may be a whey protein powder that is technically milk-based as long as it is a lactose-free protein powder.
High protein content: This is a protein powder supplement so one of the main things that need to be in this powder is protein. You need to have a protein powder packed in with at least 15 grams of protein while 20 or more is preferable.
Low sugar content: A low sugar content is highly important as this is a supplement which means that it needs to add nutrients not bad things added. Sugar will just be broken down as lead to excessive fat rather than used to create muscle.
Non-GMO: While this is not a must for a lactose-free protein powder or even for a lactose-free diet, non-GMO is one thing on our list because the added chemicals are unnecessary. Non-GMO is something most all protein powders are switching to nowadays because the health trends have gone in the direction of cutting out chemical enhancements.
The top five lactose free protein powders
PlantFusion Complete Plant Based Protein Powder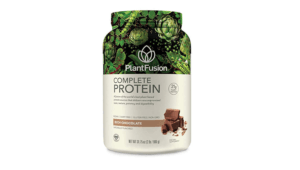 This supplement is a mixed plant based protein powder made up of the complete complex branched chain amino acids making it a complete protein. There are 21 grams of this complete protein in every serving that comes in the container you purchase.
This is a hypoallergenic protein powder supplement free not only from lactose, or dairy, but also other common allergies like soy, nuts, shellfish and gluten. There are enzymes in every serving and 30 servings per container.
There are also 120 calories per serving to give you energy throughout the day and definitely to fuel a workout. There are 3 grams of fat and 2 grams of carbohydrates in every serving and no grams of sugar listed.
This is a naturally sweetened protein powder that comes available in unflavored, vanilla bean, chocolate, chocolate raspberry and cookies and creams and you can try out a single serving, 12 count packages, or one or two pound tub.
Pros:
Single-serve option available to test it out
21 grams of protein
Hypoallergenic
Five fun flavors
Cons:
Some report awful taste
Too sweet
About Time Whey Isolate Protein
This is a lactose-free whey isolate which is great for those who love to use whey protein and do not have a love for vegan protein powders or collagen. The whey isolate is non-GMO and sweetened only with stevia.
There are 100 calories per every serving as well as 25 grams of protein and is filled with branched chain amino acids. With less than 1 gram of carbohydrates, 0 grams of sugar and 0 grams of fat, this is a protein supplement that does not have a lot of unnecessary ingredients.
You can order a one pound container that comes in one of seven different flavors. There is vanilla, unflavored, chocolate, strawberry, mocha mint, birthday cake or chocolate peanut butter.
Pros:
25 grams of protein
non-GMO
Complete protein
Low carbs, sugar and fat
Cons:
Expensive
Flavor discrepancy
Legion Whey+ Protein Powder
This product is not a vegan-friendly product and is not dairy-free, but is in fact, lactose-free made from irish milking cows. There are 3 grams of carbohydrates, and 1 gram of fat per every serving of this protein powder.
There are 22 grams of protein per serving that give you an ample amount to help you build muscles. This is a non-GMO protein powder so you are chemical free when you choose this product.
This is a naturally sweetened protein supplement that comes in chocolate, vanilla, unflavored, strawberry banana, cookies and cream or chocolate peanut butter. You can a 30 serving size container or a five pound.
Pros:
22 grams of protein
non-GMO
Low carbs and sugars
Fun flavor options
Cons:
Does not mix well
Too sweet
Grass Fed Whey Protein Isolate
Here is another lactose-free whey protein powder options for those who find that whey provides them with more protein and fills them heartily. Not only is it lactose free but grass fed and non-GMO as well to give you an organically created supplement.
There 4.6 grams of branched chain amino acids per every serving of this supplement with 20 grams of protein. There is less than one gram of fat and less than one gram of carbs and 88 calories in every serving that you get with this product.
You can order this product in either a two or five pound container depending on how much you will need to use and if you use it daily or more or less frequently. You can purchase either an unflavored package or vanilla or chocolate flavored protein powder.
Pros:
20 grams of protein
Minimal carbs and fats
Branched chain amino acids included
Non-GMO
Cons:
Expensive
May be difficult on the stomach
Yuva Vegan Protein Powder With Superfoods
Not only is this a lactose free protein powder supplement but it is also a vegan product to be compatible with even more diet types. It is non-GMO and free gluten and soy on top of being a dairy free product.
There are 110 calories per serving and 15 grams protein as well so each shake you made with be beefed up to help you build muscles. It is high in carbs at 12 grams of carbs per serving but has less than 3 grams of fat.
You can order ten protein packages or a twelve or 22 serving tub. Your flavor options include either chocolate or vanilla bean depending on which you prefer.
Pros:
Non-GMO
Gluten free
Low
Fat
Cons:
High in carbs
Slightly low in protein
Final Thoughts
Be sure to speak with your doctor before you decide to add a supplement in to your diet and exercise routine. You should also read the labels on the products you decide to purchase to make sure you are getting what you think you are paying for.
While you can ask your friends advice and read the reviews online, it is important for you to do your own testing of products. If there is an option to order a sample size, or to sample it in a store first, you should definitely try this option first.
Some people find whey proteins difficult to handle and the stomach gets upset when taking them dally. You may need to try a plant-based protein powder first because these are typically easier for the body to digest.
Whichever type of protein powder you use, be it a whey protein or mixed plant based protein the last thing to consider is the flavor you would and how to make it into a tasty smoothie. Once you have gotten these things hammered out, you will be able to successfully add a protein shake into your diet.