Updated May 2021
Fitness trackers are the ultimate training companion to give you insight into your progress and monitor your health levels. If you are into water sports and activities, you will be eager to have a look at the best waterproof fitness trackers to match your activities.
While most fitness watches and trackers are water-resistant to withstand sweat and a bit of water splashing on the watch, many of them are not durable enough to be submerged in water. This is often due to the materials used in the watches.
While you want to protect your watch from breaking when immersing it in water, you may also be looking for a watch that will still track your training while you are in the water. This is why you need this in-depth guide showing 10 of the best waterproof fitness trackers and smartwatches for you to choose from.
Some watches may not function properly in water even if they don't break completely when submerged, so searching for a fully waterproof tracker will help you determine which model is best suited for you.
Along with functionality, style, and price, I have all the options you could want right here, with descriptions and the pros and cons of each, for you.
Best Waterproof Tracker Quick Links
Polar Vantage M Multisport Watch

(The Best Overall Fitness Tracker)

Ultra-long battery life (30 hours)

Optical heart rate monitoring

Fitbit Charge 4 Fitness And Activity Tracker

(The Best Waterproof Fitness Tracker With GPS)

90-day free Fitbit Premium trial

Fitbit Inspire Fitness Tracker

(The Best Waterproof Fitness Tracker)

Yamay Smart Watch Fitness Tracker

(The Best Slimfit Waterproof Fitness Watch)

Guided breathing exercises

Withings Steel HR Hybrid Smartwatch

(The Stylish Waterproof Activity Tracker)

Dosmarter Fitness Watch

(The Best All-In-One Fitness Tracker)

Blood pressure monitoring

Lintelek Fitness Tracker

(The Best Waterproof Fitness Tracker With Multi-Sport Modes)

Willful Fitness Tracker 2020 New Version

(The Budget-Friendly Waterproof Fitness Tracker)

Mgaolo Fitness Tracker With
Blood Pressure Heart Rate Sleep Monitor

(The Best Waterproof Tracker With Blood Pressure Monitoring)

Morepro Smartwatch 10 Sport Modes

(The Best Fitness Tracker For Swimming)

1.3-inch full touch screen
Waterproof Vs. Water-Resistant
Waterproof fitness trackers are more than just water-resistant. WWhile water-resistant fitness trackers only guarantee protection against small amounts of water like sweat and light rain.
Waterproof fitness trackers, on the other hand, can survive massive amounts of water, at least to a certain depth, like the swimming pool, showers, or torrential downpours. This is why you should always check whether a watch is waterproof or water-resistant.
This ease of use allows you to keep your watch on during water activities, whether it is a quick dip in the pool or a swim in the ocean. You can also shower with a waterproof watch, however, it is advised to keep it away from very hot water as this can damage the material of the watch.
In choosing a fitness tracker, you have to consider your day's activities and habits. A waterproof fitness tracker will be suitable for you if, for example, you think you may forget to take it off before you shower or put it back on after you have had a bath.
Top 10 Waterproof Fitness Trackers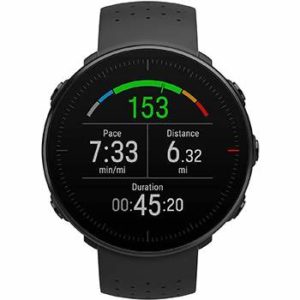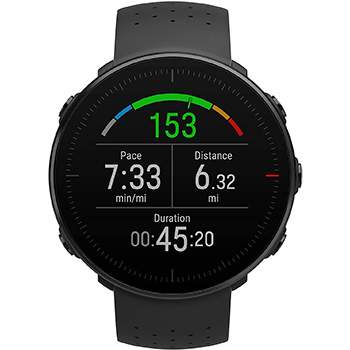 The Vantage M watch is not only waterproof, but the tough and durable design will also help you track your training through the toughest adventures. The bigger design does not mean heavier either, because this lightweight watch won't weigh you down.
Key Features:
Ultra-long battery life (30 hours)
Built-in GPS
Optical heart rate monitoring
Polar is a well-known name in heart rate monitoring and that is why their watches come fully equipped with optimal heart rate monitoring technology to provide you with accurate results throughout your day.
Pros:
Durable
Lightweight
Changeable bands
Over 130 sports modes can be loaded
Cons:
The watch face will turn off during inactivity to
save battery life,
and it can be turned back on with a simple flick of the wrist.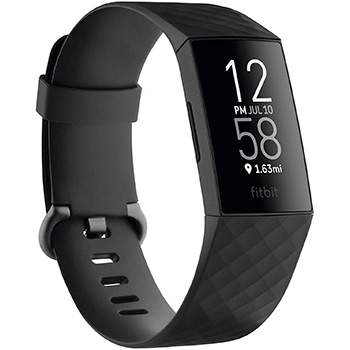 Fitbit Charge 4 is just the upgrade everyone needs. This tracker has features that will enable you to achieve those fitness goals you set for yourself. In contrast to the trackers before it, it has features such as waterproof materials and a built-in GPS. The GPS helps you keep track of your distance while performing outdoor activities.
The device does an excellent job of monitoring heart rate all through the day. It follows the changes in your heart rate and buzzes to alert you when you have reached a target heart rate. The device also carries out heart rate tracking according in each active zone, which helps you see your progress during your outdoor fitness activity.
Key Features:
Active Zone Minutes
Built-in GPS
90-day free Fitbit Premium trial
It also tracks your sleep stages, keeping a record of how well you rested during the night and recording it on your daily sleep score. Another exciting feature is the Spotify app control, which lets you select the songs you listen to on the go without having to touch your phone. It syncs with your smartphone so you can get call and text message notifications on your tracker.
Pros:
Waterproof
Built-in GPS
Accurate heart rate monitor
Sleep tracker
Cons:
Minor problems during setup
The band is not very sleek to some users
The battery life is
long-lasting.
After a full charge, it can last between four and seven days without GPS in use and up to five hours when you decide to use it. Ultimately, it is waterproof and can be used while swimming.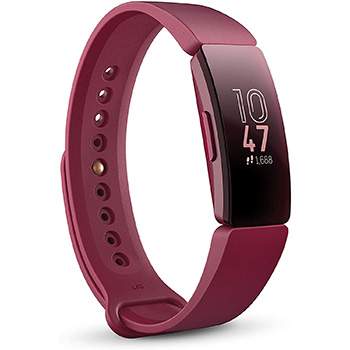 This tracker keeps records of your physical activities all day long, including steps taken, distance covered, calories burned, and active minutes. This waterproof tracker comes in large and small sizes, with band sizes as big as 7.1 to 8.7 inches and as little as 5.5 to 7.1 inches.
Key Features:
Activity tracker
No heart rate monitor
Silent alarms
It monitors sleep quality and wakes you up with silent alarms. The battery can last up to five days after a full charge.
Pros:
Waterproof
Long battery life
Sleek
Available in different colors
Cons:
Problem syncing with some smartphones
Bands are challenging to fasten.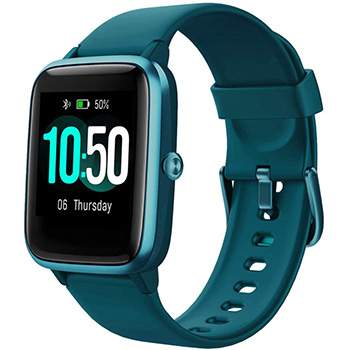 This tracker monitors your physical activities daily, so you can see your progress over time. Its features include long battery life. The tracker, after a full charge, can last up to 5-10 days, so you do not have to worry about charging the battery for a while. It is waterproof and allows for swimming and showering. It also analyzes the quality of your sleep with the sleep tracker and records it on the Verfitpro app.
Key Features:
7 sports modes
Stopwatch and timer
Guided breathing exercises
YAMAY fitness tracker monitors heart rates and calories burned during physical activity. It is compatible with most smartphones and ensures you do not miss a call or text message by notifying you every time.
Pros:
Waterproof
Sleek design
Available in three colors
Long battery life
Cost-effective
Cons:
Some reviewers say heart rate data may be inaccurate
The tracker lets you control music on your phone when it is not close to you. It has different sport modes and a deep breathing guide.
Combining style with functionality, the hybrid Withings watch is perfect for everyday use whether you are sweating it out at the gym, taking a dip in the pool, or walking into a business meeting. You will have all the functions you need in one place.
Key Features:
Stylish design
Compatible with Alexa
Connects to various apps
The watch offers heart rate monitoring, step counting, sports modes, smart notifications, and the added benefit of being waterproof. You can also change the watch strap with various colors and materials, including metal, silicone, or leather.
Pros:
Over 30 sports modes
Works with multiple health and fitness apps
Up to 25 days of battery life
Cons:
The data display on the watch is small.
This watch was designed with
dual-use
in mind, so the display on the watch that provides you with your fitness data is quite small. However, all the data will sync with the app on your phone where you will see an
in-depth progress report
of all your activity.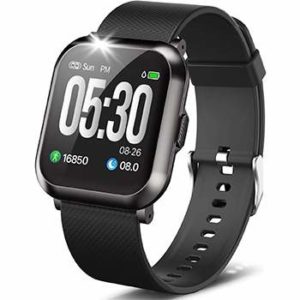 The Dosmarter watch has a smaller design so women and children can comfortably wear this watch too. The various strap sizes are designed for all ages. You can track your health with heart rate and blood pressure monitoring.
Key Features:
Blood pressure monitoring
10 sports modes
Smart notifications
You can also stay organized with the smart notification function and the 21 customizable alarm alerts. You can set reminders for waking up, taking medication, meetings, and anything else you need to keep track of during the day.
Pros:
1.3-inch color touch screen
Adjustable brightness
Menstrual health reminders
Remote camera shutter
Cons:
Font size for messages on the watch is a bit small
If you don't have a problem reading slightly smaller text, then this watch is capable of giving you all the functions you need. However, if you have trouble reading small text and checking notifications on your watch is a priority, then this is not a good choice for you.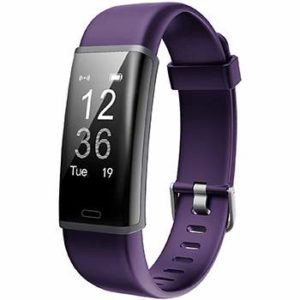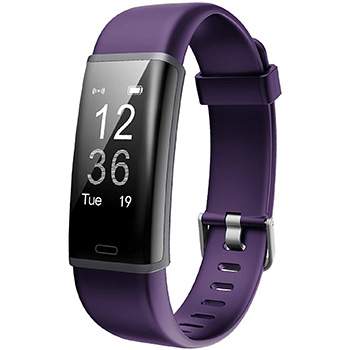 Lintelek fitness tracker is a sleek and comfortable tracker that accurately monitors heart rate during physical activity. It monitors the quality of sleep you get at night and tracks all your day's activity with a variety of sports modes you can select from.
Key Features:
14 sports modes
OLED screen
Connected GPS
This tracker's battery life lasts five to seven days after full charge, which takes about one to two hours. It connects to your phone's GPS to record distance while running and also displays texts and calls.
Pros:
Waterproof
Available in different colors
Cost-effective
Easy to use
Cons:
Not compatible with some smartphone systems.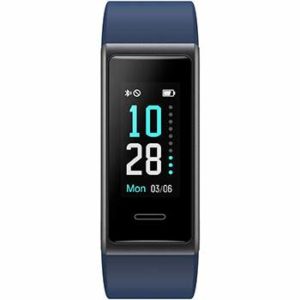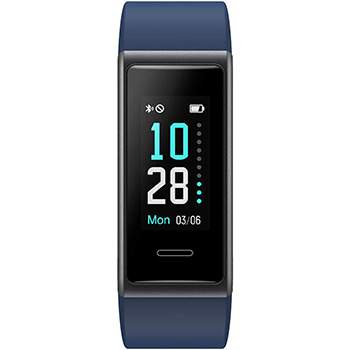 This product is a waterproof fitness tracker with lots of other impressive features. This fitness tracker watch monitors your heart rate while exercising. It is also useful in monitoring sleep depth and quality at night.
Key Features:
14 exercise modes
Remote camera button
Stopwatch
It also helps you time yourself with the stopwatch feature. It syncs smartphones from iOS 7.1 and Android 4.4 and up. It has a remote control feature that enables you to capture pictures on your phone.
Pros:
Waterproof
Does not require a cable for charging
Camera remote feature
Sleek and stylish
Not expensive
Cons:
The screen backlight is dim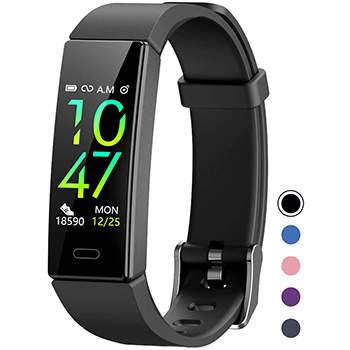 This tracker has an amazing waterproof feature that allows you to wear it while swimming or showering. It also keeps a good record of heart rates and blood pressure during a workout. It monitors your sleep through body movement and heart rate to let you know how well you rest at night. It also has a silent alarm feature to wake you up without disturbing others.
The app is compatible with iOS and Android smartphones. It syncs with your mobile phone to take pictures and answer and reject calls through the tracker.
Key Features:
Blood pressure monitor
11 sports modes
Built-in USB charging
Mgaolo connects with the GPS on your smartphone to calculate your distance when you are in sports mode. It tracks your activity with 10 different modes based on what you are doing. It has a battery life of four to seven days after full charge, which takes about one hour.
Pros:
Waterproof
Available in five colors
Menstrual reminders for women
Long battery life
Remote control for your phone's camera
Cons:
Some reviewers say the data is inaccurate.
It calculates steps, calories burned, and distance covered during an activity. The device reminds you about heart rate warning, menstrual health reminders, call and text notifications, and alarms.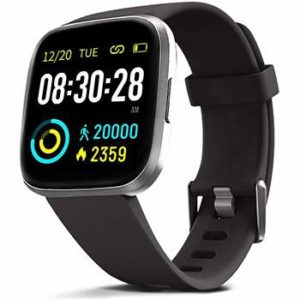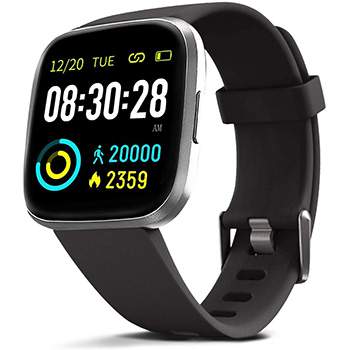 The MorePro Smartwatch is designed to help you on your journey to fitness. It is a waterproof model that monitors heart rate, blood pressure, and movements all day, with other impressive features like the alarm clock, timer, remote camera, four watch faces, and reminders.
Key Features:
1.3-inch full touch screen
10 workout modes
Smart notifications
It also tracks sleep and shows you the quality of your sleep. It contains a menstrual health reminder feature for women. Its companion app is compatible with smartphone systems with iOS 9.0 and Android 4.4 and up.
Pros:
Waterproof
Easy to use
Menstrual health reminder
Available in three colors
Cons:
Some reviewers say blood pressure data is inaccurate
Things To Consider When Buying A Waterproof Fitness Tracker
Battery Life: It is crucial to get a tracker that lasts long after full charge, especially if you are going to be involved in physical activity that will last for many hours in a day. You would not want your tracker to die before you finish your workout for the day.
Sync With Your Mobile Phone: Since you don't want to miss essential notifications on your mobile phone, it is advisable to get a tracker that is compatible with your phone. You should note that some fitness trackers cannot sync with some smartphones.
Heart Rate Monitoring: Most waterproof fitness trackers do not measure heart rates while underwater, and it is not usually necessary. Despite this fact, it is crucial to go for trackers that monitor your heart rates, so that you do not exceed what is healthy for you.
Functional Apps: You should check the apps that are available on the tracker you want to buy. These will enable you to achieve your fitness goals.
Comfort and Style: Being comfortable while trying to stay fit is a must. Go for a tracker that is comfortable on your wrist and is light enough for you. Most models are sleek, but you have to go for one that suits your fashion taste. You may need to keep track of your physical activity when you are at work or a party, not in sports clothes.
Reasons Why You Should Get A Fitness Tracker
A fitness tracker is one device you should get if you are trying to stay in shape or lose a few pounds. Here are some fantastic benefits of fitness trackers that will make you want to have them.
Fitness trackers help you to set and achieve goals. Using the fitness tracker, you can set achievable goals and accomplish them within your time frame. They keep you on your feet once you have set a goal so that you can achieve it.
Fitness trackers motivate you. These little devices may be just the motivation you need to realize that fitness goal. Since they keep records of all your physical activity, you get to see how much you have done in a day and how many calories you have burned. It motivates you to set more goals daily and achieve them.
Fitness trackers monitor your health. Your pulse and heart rate are calculated by the fitness tracker so that you do not carry out a more intense exercise than is healthy for you. Your steps are also measured, as these devices can serve as pedometers.
Fitness trackers keep track of your sleep. These fitness trackers are not only interested in your workout routines but your general health. That is why they track your sleep, letting you know if you have had enough sleep or not. They also record improvements in your slumber time and offer suggestions on how to sleep better and stay healthy.
Fitness trackers keep you connected to your phone. While working out, you don't want to get disconnected from vital activities on your phone. Most fitness trackers enable a wireless connection to your mobile phone. That way, you still get to see your calls and text messages from your phone without losing track of your fitness progress.
Fitness trackers are user-friendly and easy to use. You can also customize them to fit your busy schedule.
Fitness trackers are a smart way of keeping progress records. First of all, these trackers are portable, so you can have them with you wherever you are going. Since they are light and worn on the wrists, you do not have to be so conscious of them. These are digital devices, like mini-computers, that keep an accurate record of your daily physical activity. It is better to use fitness trackers than to record your daily physical activity in a logbook manually.
What Makes A Waterproof Fitness Tracker A Better Option?
When you decide to buy a fitness tracker, consider getting a waterproof one to enjoy the benefits listed below.
Waterproof fitness trackers are safe to use during activities that involve water without causing damage.
You do not lose them easily since you do not have to take them off and put them on every time you get wet.
Some watches perform fitness tracking functions even underwater.
They can be used to monitor aquatic sports activities.
They are also fashionable accessories that can add style to your outfits.
Best Waterproof Fitness Tracker FAQs
Are All Fitness Trackers Waterproof?
No, not all fitness trackers are waterproof and a lot of models should not be submerged in water. You may find water-resistant watches, but this will only protect the watch from water splashes, such as when you are washing your hands or from sweat.
If you want to swim with your watch, you must ensure you are selecting a fully waterproof watch when purchasing your fitness tracker.
Should I Wear A Fitness Tracker In The Shower?
While some of the top waterproof fitness trackers can be worn in the shower, it is not advisable to wear these watches in hot water, even when they are labeled as waterproof. The heat can damage the watch, so it is best to take precautions and remove it before showering.
Do All Waterproof Trackers Monitor Activity In The Pool?
No, not all waterproof trackers can track your training data while in water. If you are wanting a watch that can keep track of your swimming and other water sport activities, you should look for a watch that specifically states that it has the functionality to track water activities.
Before You Dive In
Fitness trackers help to keep a record of your physical activity during the day and night. They monitor your sleep quality, heart rate, and, sometimes, blood pressure. While considering one, do your due diligence and research fitness tracker ratings.
You should also seek one of the best waterproof fitness tracker watches because they do it all without getting damaged by water. Also, look out for trackers that suit your habits and lifestyle, in general, to help you lose weight the right way.
Purchasing a fitness tracker is based on personal preference, and you should choose a watch that provides you with the comfortability and style that you want for your everyday life and training needs.
My personal favorite is the Fitbit Charge 4 since it provides style and all the functionality I need, including the built-in GPS function. Having a waterproof watch is also important to me, so the ability to keep it on while swimming is a big pro in my book.
If you have any experience with the products mentioned above, let us know in the comments below. We love to hear your experience and feedback.