The AcuHealth fitness analyzer is yet another fantastically designed body fat scale.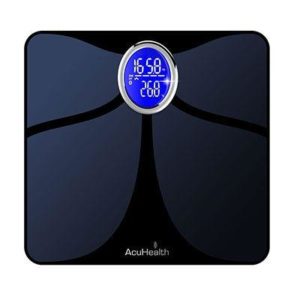 You can measure an array of different algorithms that include, body weight, body fat, body water, body mass index, BMR, physiological age, visceral fat and bone and body mass.
One of the best features for this body fat analyzer is to to upload the data to an application on your smartphone or Ipad, making it really easy to analyze your data.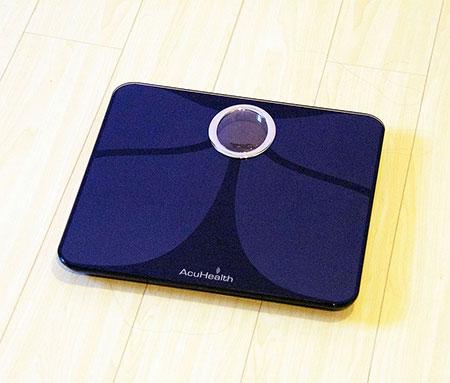 The application for the scale is called "Acuhealth" and it can be hooked up to the scales via Bluetooth 4.0.
The app can also store up to ten different users with a graphical diagram, making it really easy to compare each other's results.
This AcuHealth Body Fat Scale has a great design and is made from tempered glass that is impact resistant and it really easy to maintain.
We like the display screen because it has a large, blue sapphire LCD reading, making it easy to read, even in a dimly lit room.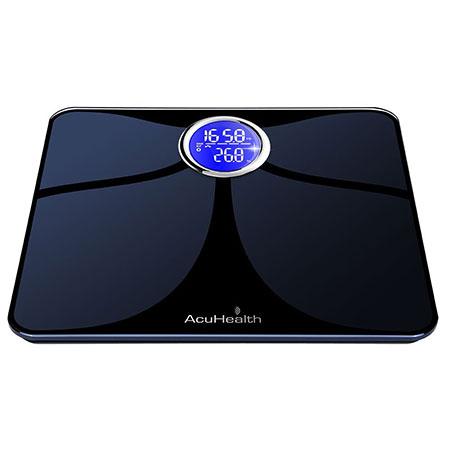 It uses "step-on" technology, this means that you never need to switch the device on or off, you simply step on the device, it will automatically switch itself on and connect you to your profile.
AcuHealth Body Fat Scale specifications
Comes in Black or White color
High quality impact resistant tempered glass that is extremely easy to wipe and clean down.
Tracks up to 10 different users at any time
Works with the Acuhealth app
Weight loss Graphs and charts within the app
Connect wirelessly to your smartscale via the bluetooth
Supports Bluetooth 4.0, Android 4.3 and Apple devices 6.1 and upwards.
Can weigh up to 420 pounds (190 kilograms) in 0.2 lbs/0.1 kg sections.
Large and easy to read blue Neon LED lights with smart Step On technology ensuring the scale never needs to be switched on to be used.
Overall review
Overall, the AcuHealth fat scale and fitness analyzer is a wonderful little device that can be used for all kind of different measurements.
The ability to track and store your past results is a great motivation tool, to help you keep to your goals.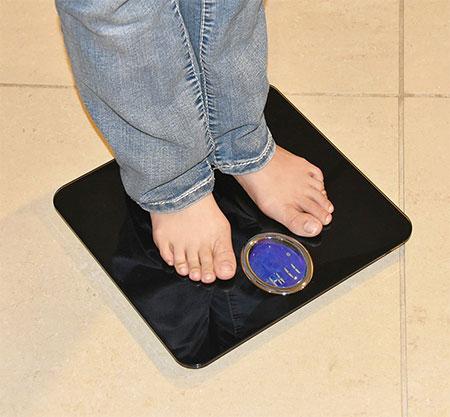 One of the best things about the Acuhealth body fat scale is the fact it will not break the bank, as you can pick one up for less than 100 bucks.
There are many digital scales out there that are more expensive and don't have the same features, making the Acuhealth a great buy.