While we may all want a home gym, having the space for one is another dilemma altogether. There are many folding gym equipment options available, but which are safe to use and won't squash you with poorly made hinges?
Let's review the top three folding exercise bikes on the market to find an option for your back and your pocket.
Folding Exercise Bike Quick Links
Afully Folding Stationary Exercise Bike



Recumbent, upright, or storage style all in one bike

Magnetic not belt resistance

ShareVgo Bluetooth Smart Folding Semi Recumbent Magnetic Upright Exercise Bike

10 magnetic resistance levels

Compact design for storage

Monitor syncs to a free workout app that tracks heart rate (with a smart watch), calories burned, etc.


Cycool Foldable Exercise Bike



2 active modes for cycling

8 levels of magnetic resistance

Variety of fitness tracking features on console
Review Of The Best Folding Exercise Bikes
There are a huge number of exercise bikes on the market, and trainers will usually encourage you to get a fixed bike you set up and leave in place. The benefit of a fully assembled bike is that it can usually take more weight and there's no chance of it collapsing under you.
But what do you do when there's no space at home to leave your bike in plain sight? You get the best folding exercise bike you can.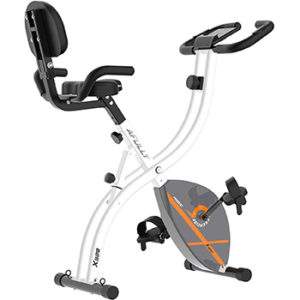 Don't let this foldable exercise bike's name fool you. It's not awful at all! With a simplistic design, easy assembly, and an awesome price, it's definitely a great choice.
Key Features
3-in-1 design (recumbent, upright, or storage) makes for a great space saver
8 resistance levels easily changed with a knob
Magnetic resistance for quiet operation
While this is the basic model, you can add a console or monitor to link up to your Apple Watch or Fitbit or watch TV while working out. The fittings for the arm resistance bands are also there, making it really easy to upgrade your bike with whichever accessories you prefer.
Pros
Great price
Very comfortable seat, which is fully adjustable for recumbent or upright cycling
Replacement parts and service is available and it comes with a 12-month warranty
Height adjustable seat for tall and short users
Cons
The brand is less well known on the market, but reviews are favorable
The basic bike doesn't come with the console or accessories such as dumbbells or arm resistance bands
No information available on weight limits
Like most consumers, I am a little hesitant with choosing something that there is
limited information
available on, but this is a sound option with
great reviews
and a five-star rating on Amazon. At the price, it's worth the risk for
a great foldable exercise bike
that won't fold your credit card in half.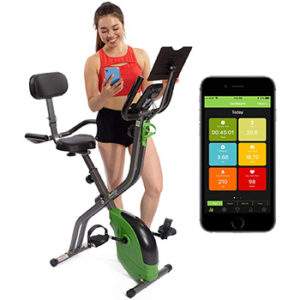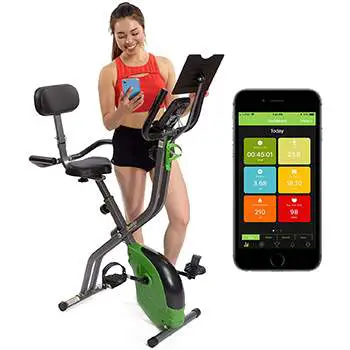 With technology storming the world of personal fitness with more and more advanced fitness devices and home gym systems, getting an affordable and technologically integrated home exercise bike is a real plus. This is one of the best foldable exercise bikes in its price range.
Key Features
10 resistance levels
Minimal footprint when folded, shifting from 28 in to a mere 9 in width
Fully integrated monitor with sync capacity to Apple Health
If you want to have a great home workout partner that doesn't require years of down payments, then this is a great exercise bike. Best of all, it doesn't have to sit around when not in use. It can literally fit in a closet.
Pros
Uses Bluetooth to sync up to the ShareVgo Fitness App that works well with Apple technology for further readings
Larger weight capacity up to 250 lbs
Magnetic resistance system is whisper quiet
Cons
The backrest is designed far back, reducing the functionality as this is not a fully recumbent bike
Water bottle holder is out of reach on the front of the bike
App is somewhat outdated with minimal interactivity
This is a
visually appealing exercise bike
, and it certainly folds small enough to slip into your back pocket. The designers have really tried to accommodate
all size users
in the adjustability and supported weight class. It is a nice price, making it one of the best folding exercise bikes on a budget.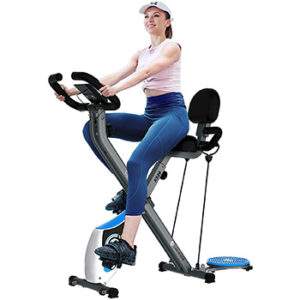 This is a great home exercise bike, and with its foldable functionality and great accessories, it's definitely worth a closer look (with your credit card in hand). While its rating isn't that impressive on Amazon, the reviews and "full-house" accessories are very favorable of the exercise bike.
Key Features
 Upright and twister seat mode with padded back
 8 levels of difficulty
 Minimal space requirements
You need a very small space for this bike, and you can literally fold it behind a door if you need. It is sturdy, well put together, and offers a range of great features on the provided console that will make any home fitness enthusiast or eager amateur happy.
Pros
Easy assembly
Sturdy enough for heavier users up to 220 lbs
Console and resistance bands are included, making it an assemble-and-go setup
Cons
The LCD monitor seems to be a lower quality than other monitors
Larger size users may find the seat a bit small 
The bike is an upright bike only and doesn't offer the recumbent feature of the Afully foldable bike
Overall, this is a great bike, and users are all extremely satisfied. It is fairly
easy to install
, and while the technology of the monitor doesn't allow for you to sync to your own fitness devices, it is still valuable for how much you'd spend.
Buyers Guide For Folding Exercise Bikes
As with most exercise equipment on the market, there are a huge range of foldable exercise bikes out there, and I had to think very carefully about what I wanted in a foldable exercise bike. Here are my requirements:
Durability
With anything that moves a lot, I had to make sure that the folding exercise bike I chose would be durable and wouldn't disintegrate after a few "open-closes" from moving it daily. All three of these bikes were surprisingly durable, and once assembled, their knobs were sturdy and seemed promising for long-term use.
Storage And Easy To Move
While I enjoy exercising, I don't want a workout session just moving my foldable exercise bike from the large storage closet at home to the TV room where I chill with Netflix as I cycle. So, I want something that's lightweight and easy to move. 
The Cycool Foldable Exercise Bike came out as a clear winner with this consideration since it has a set of wheels that allows the bike to be moved without needing to actually carry the folded bike.
Technology
We are so used to having buttons and features on each and every object in our lives that having an exercise bike that is without any high tech features just feels like a rip-off, even if it has three folding positions like the Afully Folding Stationary Exercise Bike.
My favorite with technology and user-friendly integration is the Cycool Foldable Exercise Bike simply because it is designed with more user-integration in mind. If you want to sync up more features, like readings from your Apple Watch, then you would probably go for the ShareVgo Bluetooth Smart Folding Semi Recumbent Magnetic Upright Exercise Bike.
Comfort
Cycling shouldn't be like balancing on a toothpick, so I want an exercise bike that supports me, has a big enough seat for my own seat, and offers a range of resistance levels to help me improve. All three bikes tick these boxes, which is surprising since one would think a foldable exercise bike is surely going to be uncomfortable or wobbly. They aren't.
However, if you are of a larger mass (heading over 240 lbs) then you may find a stationary exercise bike that can carry more bulk is a better idea.
The Last Spin
Finally, when I had to choose between these three great foldable exercise bikes, I ended up choosing the Cycool Foldable Exercise Bike since it has more features with the resistance bands, seat spinner, and integrated monitor included while still ringing up under my budget of $200.
Have you had any experiences with a budget best foldable exercise bike? Please share your story in the comments below.