Updated May 2021
Finding the right fitness tracker for your training can be a difficult task. With so many brands and models boasting the best features and tracking modes, you may be finding it hard to choose the right band for your wrist. I have carefully researched the best fitness trackers for women and compiled this list to help you through the buying journey.
High-quality fitness trackers are a great investment to add to your exercise equipment, as they help you monitor your fitness levels using accurate heart rate monitoring technology. The watches are designed to fit comfortably on your wrist without interfering with your workout.
Choosing the right watch for your exercise goals can help you track when to work harder and when to rest and ensure that you get the most out of your training by balancing your work and rest times.
These trackers are not only beneficial for your training, but they also sport other features that help you stay more efficient and organized during the day. The various sizes and features can make it difficult to select a model that suits your style and your needs. Here are the best activity trackers for women that I have found for you.
Top Fitness Trackers For Women Quick Links
POLAR VANTAGE M –Advanced Running & Multisport Watch

(The Overall Best Fitness Tracker For Women)

Optimal heart rate monitoring

YAMAY Smart Watch Fitness Tracker Watch

(Best Waterproof Fitness Watch For Women)

Wrist strap options from 6.5" - 9.5"

Withings Steel HR Hybrid Smartwatch

(The Best Stylish Tracker For Women)

AGPTEK IP68 Waterproof Smartwatch

(The Best Smartwatch With Menstrual Tracker For Women)

Menstrual cycle calculator

Willful Fitness Tracker IP68 Swimming Waterproof

(The Best Budget Fitness Tracker)

TOOBUR Fitness Activity Tracker Watch

(The Best Fitness Tracker For Small Wrists)

Durable and flexible TPU material
What Is A Fitness Tracker?
Staying committed to a healthy lifestyle that includes a well-balanced diet and regular exercise routine is something that many people aim for. As more and more people start to look toward this way of living, it is becoming increasingly important to find the best  ways to stay on track.
Investing in a fitness tracker or smartwatch is one way to monitor your progress, hold yourself accountable, and stay balanced while you focus on your exercise. But what is a fitness tracker? A fitness tracker is a device that helps you keep track of various aspects of your training, such as heart rate, calories burned, sleep quality, and in some cases, blood pressure.  While some fitness devices, like heart rate monitors, oximeters, and pedometers, only monitor one element, fitness trackers combine these into one device and monitor everything.
The fitness tracker watches include these features—while smartwatches are focused on productivity features—allowing you to track your overall health, especially during intense training. They can be worn during multiple training activities and sports, although certain watches are better equipped for specific exercises.
You can find generalized trackers for activities such as walking, running, HIIT training, and even swimming. Then there are specific training watches that are designed to track certain training types such as fitness trackers for cycling or CrossFit.
In addition to the standard fitness tracking, many of these trackers offer additional features, including step counting, calories burned, sending smart notifications from your phone to your watch, and some even include menstrual cycle tracking.
You can also find watches on the market that track your sleep patterns through the 24/7 heart rate monitoring feature. This will give you an idea of how healthy your sleep is and give you insight into whether you need to improve your sleep quality.
In this post, we will be looking at the different types of fitness trackers for women. I conducted some research and came up with the best devices ranked on style, functionality, and price.
Fitness Watches For Women Reviews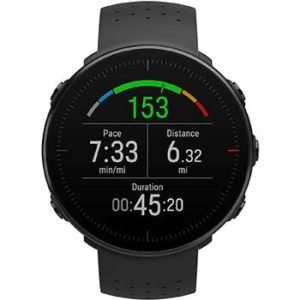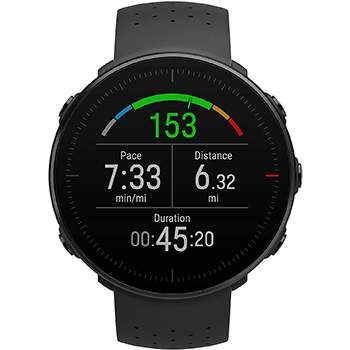 The Polar Vantage M is a great option for women; its slim and lightweight design comes in a variety of colors. One useful feature of this device is that it continuously monitors your heart rate throughout the day. You get to know the maximum and minimum heartbeats per minute and the number of calories burned in a day.
In addition to tracking your sleep to help you develop healthier sleeping habits, the tracker also serves as workout guidance, like a personal trainer. Even if you do not have the funds to hit the gym, you can comfortably work out at home as long as you have the tracker. It will help you plan your workout and ensure your goal is achieved.
Key Features:
Ultra-long battery life
Optimal heart rate monitoring
Replaceable bands
When you are outside, the fully integrated GPS will track your speed, distance, and route. The watch comes equipped with guided breathing exercises for those moments you need to slow down and relax. The watch will also last long with 30-hour battery life in sports mode.
Pros:
Continuous heart rate
Provides workout guidance
Notifies you of calls and messages
Cons:
The design is a bit bulky
As a fitness tracker option for women, this watch may be slightly bulky for some ladies, however, some prefer the slighter bigger watch face. If you enjoy a larger watch, then this is a
reliable and high-quality
option for you.
Like other fitness trackers, this device automatically and accurately tracks your daily steps, calories, and distance covered. In addition to monitoring your heart rate all day, it also detects your sleep at night, providing you with deep sleep, light sleep, and wake up time insights.
This device is designed to record up to 14 exercises like walking, running, cycling, and lots more. There is a built-in USB charging port installed in the tracker, and once fully charged, it lasts 7 to 10 days.
This tracker's best feature is capturing every unique moment, even when your phone is out of reach. You can use the remote shutter feature to take a photo on your phone by simply pressing the button on your watch.
Key Features:
Seven sports modes
Wrist strap options from 6.5" – 9.5"
IP68 waterproof
Since it is waterproof, you can wear the device while swimming, diving, or washing your hands. The tracker will also notify you of incoming calls, messages, and social media notifications.
Pros:
Supports 14 sports mode
Notifies you of calls and messages
Remote photo capture
Built-in USB port
Cons:
You might have a hard time synchronizing
The syncing issues that some consumers mention in the reviews could be a device issue, and it is recommended that you restart your device if you have any issues. The varied strap sizes make this a
great option
for women, men, and kids.
This fitness tracker has extended battery life. When fully charged, it can last up to 25 days. It monitors your heart rate every day and notifies you of all incoming calls, messages, and social media notifications.
The tracker is waterproof, so you can wear it and dive right into a swimming pool, hit the showers, or even brave the rain.
Key Features:
Multi-sport tracking
Smart notifications
Hybrid smartwatch
Withings Steel HR easily syncs with any free Health Mate application via Bluetooth, and the bands are swappable. If you have lots of bands, you can easily change them in seconds to show off your Steel HR Tracker.
The various bands of the watch include a silicone, metal, and leather strap, so you can alternate the watch style between workout and workwear options.
Pros:
Water-resistant
Long battery life
Easily syncs with apps
Call and message notification
Cons:
Expensive
Limitation on the amount of information you can see at a time
The watch is designed with a
professional look
and so the watch face does not display a lot of training information at once, however, you can see your detailed activity progress on a compatible app.
This device was designed with women in mind as is evident in the sleek and stylish design and the additional features that set it apart from other fitness trackers. You can stay up-to-date with messages, calendar alerts, and phone calls using the smart notification feature.
You can keep track of your sleep, your fitness levels, as well as your menstrual cycle with this waterproof device. The watch can be used when swimming, but you should avoid using it in water that exceeds 40°F.
Key Features:
Aluminum touchscreen
IP68 waterproof
Menstrual cycle calculator
The watch includes an advanced heart rate monitor to help you accurately keep track of your heart rate throughout the day and during your training sessions.
Pros:
Call rejection feature
Compatible with iOS and Android
Weather report
Screen brightness adjustment
Cons:
Some may find it a bit bulky
If you are looking for an
elegant design
that is good-looking enough to wear to work and durable enough to handle an intense workout session, then this is a great option for you.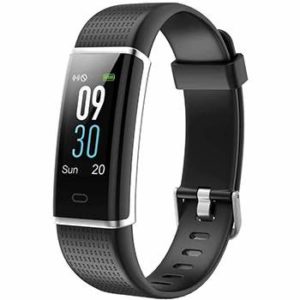 This slim and lightweight tracker is designed to record your activities for the day. Whether it's the steps taken, distance covered, calories burned, or the amount of time spent exercising, the device records all the information accurately.
The device comes with a new heart rate sensor and also tracks the quality of your sleep every night. You can even use the alarm clock to wake you up without disrupting other people sleeping around you.
The Willful fitness tracker is a good option for women who want a waterproof watch. The IP68 waterproof rating means you can shower and swim with this watch — it is not merely splashproof.
Key Features:
14 training modes
Vibration alarm
IP68 waterproof
The tracker is stylishly designed and has a built-in USB charging plug. The battery capacity is strong, allowing you to use it for 5 to 8 days on one charge. You do not have to worry about missing your calls as the device will enable you to receive all call and SMS notifications conveniently.
Pros:
Strong battery
Allows for call and SMS notifications
Comes with a heart rate sensor
USB charging port
Cons:
Screen may be difficult to read in bright sunlight
Hard time synching with the app
The device is
compatible with smartphones
, however, it will not sync to other devices such as iPads or tablets. The
straps are adjustable
giving a good fit for women and children with slightly smaller wrists.
The Toobur Activity tracker watch is specially designed for children who are eight years old and above. When you wear it, it automatically tracks all your activities for the day, including your steps and calories burned. In the end, you can see the data by tapping on the watch display or checking your phone's app.
The tracker monitors your sleep and analyzes your sleep quality. The vibrating alarm can wake you up silently without disrupting others. You can see all calls, messages, including social media notifications, on your wrist. Aside from that, you can set alarms to remind you about the essential things you need to get done.
Key Features:
Adjustable wrist strap
Durable and flexible TPU material
Notification alerts
The device is made using Thermoplastic Polyurethane (TPU), which is a mix of plastic and rubber to offer flexibility,  durability, and a long lifespan at a budget-friendly price. Choose from various changeable color bands if you are looking for a diverse, colorful fitness tracker.
Pros:
Has a sleek design
Variety of colors to choose from
Gentle alarm
Can get message notifications and calls
Cons:
Not compatible with all smartphones.
It is also important to note that the tracker is only compatible with certain smartphones that have the "VeryFitPro" app installed.
Our Considerations When Ranking Fitness Trackers For Women
Design: Most of the fitness trackers reviewed above are fashionable. They are thin, sleek, and stylish to suit the needs of the majority of women. As such, they do not just track your activities but can also double as a bracelet or jewelry. Most fitness tracker ratings are based on the design, as well as ease of use.
Health Monitoring: Many fitness trackers are good at tracking distance and heart rate, but what about other areas of your life? The products we have reviewed also monitor the calories burned, sleep, and stress level.
Water-Resistant: We made sure that we selected water-resistant fitness trackers. We understand how busy you can be; you don't want to include the stress of removing your fitness band once you start sweating when running or before you hit the shower. Though some are water-resistant to a depth of 164 feet, it is not advisable to wear them in a hot tub or sauna.
Additional Features: Some models come with a built-in GPS, which helps track your outdoor activities. It monitors your pace and distance when on outdoor runs, hikes, cycling, and the like. You will be able to see the intensity of your workout using the Active Zone Minutes. When you reach your goal heart rate zone during an exercise, you will feel a vibration buzz.
It also guides you through your workout, monitors your sleep and heart rate, and measures your daily stress level. Consider getting one that tracks your light, deep, and REM stages of sleep, together with movement throughout the night. Some can also gauge your blood oxygen saturation levels during the night.
Connectivity: You want a device that can easily connect to your smartphone, enabling you to access incoming calls, messages, social media updates, and emails right on your wrist. In some models, you can also access music apps and playlists and use the  tracking features to share your activities with your friends.
Best Fitness Trackers For Women FAQs
Are Fitness Trackers Worth The Money?
Yes, they are. These fitness trackers help you understand your health and encourage you to take enough daily steps to stay fit. On top of that, some are designed to monitor your stress levels and your resting heart rate.
Some models feature 15 exercise modes like running, cycling, swimming, yoga, and more to  choose from. It serves as a fitness guide since it helps you set goals and get real-time feedback during your workout to see how you can strive to be better.
What Fitness Tracker Should I Buy?
Well, you should know the features you are looking for in a fitness tracker. If you want one that will have a longer-lasting battery life, then go for Withings Steel HR Hybrid Smartwatch. Think about all your desired features in fitness trackers and look through the products we have reviewed; you should be able to find one that suits you.
How Long Will A Fitness Tracker Last?
The longevity depends on how well you handle it. Though chances are they will last for five years or more. Some models are made from a flexible and durable elastomer material and can be worn to bed since they also monitor your sleep. Aside from that, when the battery can charge fully in two hours and can last up to seven days.
Can You Use A Fitness Tracker Without Your Phone?
Yes, you can. Most fitness trackers seek to minimize distractions while users work towards staying fit and healthy away from their smartphones. Those who do not want to miss out and any crucial alert can get notified of incoming calls, SMS messages, emails, and social media updates right on their tracker when connected to the phone wirelessly.
Is A Fitness Tracker Right For Me?
There is no restriction when it comes to who benefits from using fitness trackers. Your age, gender, or health condition does not matter. It equally does not matter if you are an athlete or a runner.
Absolutely anyone can use it, whether you are an active person or not. You may only want to monitor your sleep and heart rate or know the areas in your life that need change.
Though anyone can use fitness trackers, some products are targeted toward one gender or the other. For example, there are fitness trackers specifically designed for men, women, or children.
Final Thoughts
Fitness trackers are useful not only for tracking your fitness but also for helping you lead a less stressful life as it helps you stay organized, keep track of notifications on your phone, and  keep track of the time.
The device you choose to invest in will depend on your specific needs, whether you are looking for a basic fitness tracker or a watch that can offer you more for your busy lifestyle. You may also opt for a device that helps you stay calm with breathing exercises or that tracks your menstrual cycles.
You can't go wrong if you choose one of these options of the best fitness tracker watches for women. My personal favorite is the POLAR VANTAGE M Watch due to its durability and bigger design. This enables me to stay on track with my fitness goals and my daily schedule without needing to find my phone each time.