As a fitness enthusiast or someone uncomfortable with their current body weight and eager to shed some fat, a scale should be one of the essential items you should have. But are the standard sets of models enough? From the research done so far, these sets of scales may not be enough to take you through this weight loss or muscle gaining journey. You know why? Because they are not designed to tell you about your muscle definition, your body fat percentage. They just record your weight, and that's all.
Fortunately, there are devices out there designed to perform these functions. As the name implies, a body fat analyzer measures the weight and volume of your body to determine your body density. Your percentage of body fat is then calculated using the figures. With this device, you will become more aware of critical physiological parameters, keeping you in tune with your health, whether you are losing, gaining, or maintaining your weight.

This smart scale is ideal if you are interested in tracking your weight loss and health progress. It can calculate and tell you at least ten critical health data such as weight, body fat percentage, body type, visceral fat, the percentage of water in your body, your muscle mass, and bone mass.
One cool feature of this scale is that it can accumulate multiple data, including users' profiles. Aside from that, it can easily recognize each user immediately when he/she steps on the scale. So, as long as you have used the device once, the moment you step on it again, it can identify you from previously collected data. This feature makes weighing a whole lot easier.
Are we going to talk about how easy it is to keep track of all your workouts? All you need is your fingerprints, and you will be able to keep track of your workout, decide whether you are doing better or lacking.
The Arboleaf Weight Scale is a powerful weight loss companion. The fact that you get to see the progress you have made so far will keep you motivated and lead to more fitness and performance breakthroughs. You can also use the scale as your fitness assistant as it allows you to know your body metrics. In addition to that, the weight scale syncs with the ARBOLEAF app. All you need to do is download the app from the Apple or Google stores and connect the digital scale to your smartphone via Bluetooth.
Pros
High-precision sensors

Fully automated analysis with fingerprint recognition

Syncs with ARBOLEAF app

Up to 10 essential health data
Cons
It may not sync with all phones.
---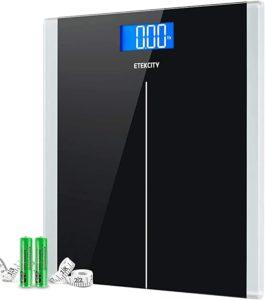 As a bodybuilder or someone interested in shedding weight, it is not enough to know just your weight, other body components are equally important. The Etekcity Digital Body Weight Scale will accurately measure critical health parameters due to its highly sensitive sensors and electrodes. Once you have purchased this weight scale, you can sync it with your smartphone via Bluetooth. This feature helps you monitor your weight through your phone.
The scale comes with a sturdy surface to keep you safe from slipping and collisions when you stand to measure your weight. You can also use the device at night as the full LED screen that comes with it enables you to get clear and legible readings.
One nice feature about the Etekcity Digital Body Weight Scale is that it supports unlimited users, meaning you can create as many member profiles as possible. If you have a family, every member gets to have his or her profile stored in the scale. There are also extra features like multiple language settings, weight goals, and reminders.
Pros
Large LED screen

It can store the data of many users

Gives accurate and precise measurement

Sturdy surface
Cons
It may not be suitable for professional athletes.
---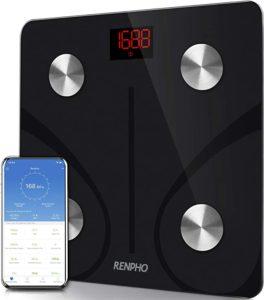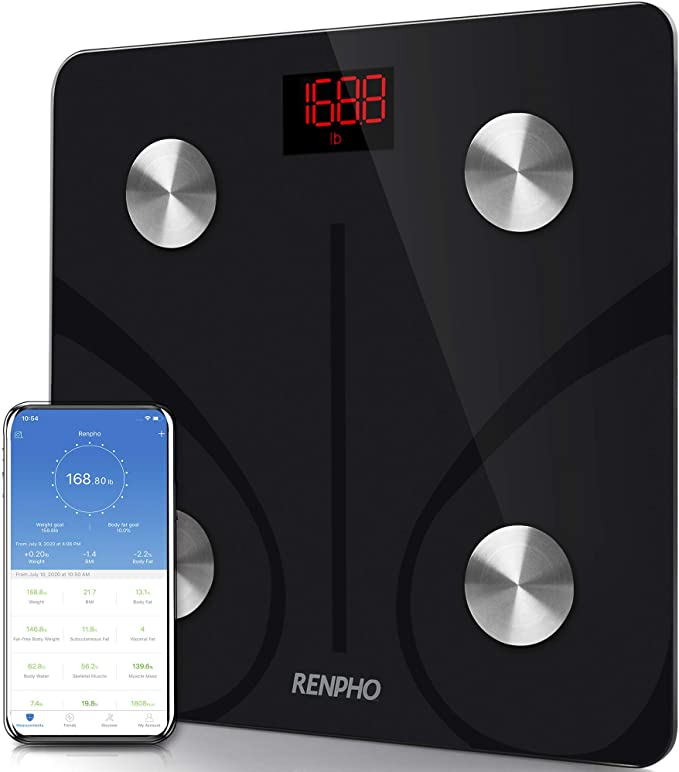 The RENPHO Smart Body Fat Monitor Weight Scale looks modern and sleek and features a clear LED display. Its smooth tempered glass and four sensors also add to its stylish appearance. In addition to that, the weight scale accumulates unlimited users. So, what each user needs to do is to download the RENPHO app and create their profile.
If you have a hectic schedule, you can easily set the alarm using your RENOPHO app. The alarm will remind you about essential fitness activities, in case you get so busy that you forget your workout time. This way, you will better observe your body changes.
If you do not want anyone snooping around to see your measurement data, you can easily create a lock password.
Pros
Modern and sleek appearance

Allows users to create lock passwords

Syncs with popular fitness apps

Ability to set reminders

Accommodates unlimited users

Gives accurate readings
Cons
The glass platform is not shatterproof.
---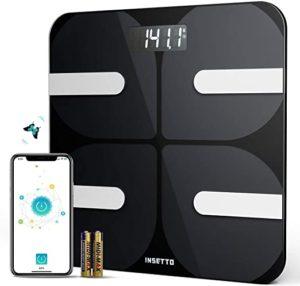 This weight scale comes with many features that make it stand out from standard or ordinary bathroom scales. With just one button, you can switch between 3 measurement units. Most times, it is not about starting a fitness journey; will you be dedicated to it until the end? The INSETTO comes with a reminder function, as well as shape and health indicators, to help you set targets and meet them.
This smart scale also syncs with other fitness apps and works well with Bluetooth on iOS and Android devices. Another cool feature of this device is that it comes with enlarged electrode pads that make it adaptable to different foot sizes. It can also accommodate multiple user-profiles and data, making it ideal for large families.
Pros
Multiple users and accounts

Gives accurate measurement

Large electrode pads

Easily syncs with fitness apps
Cons
Suitable for use on hard and flat surfaces
---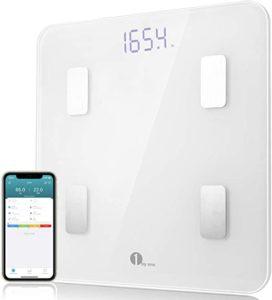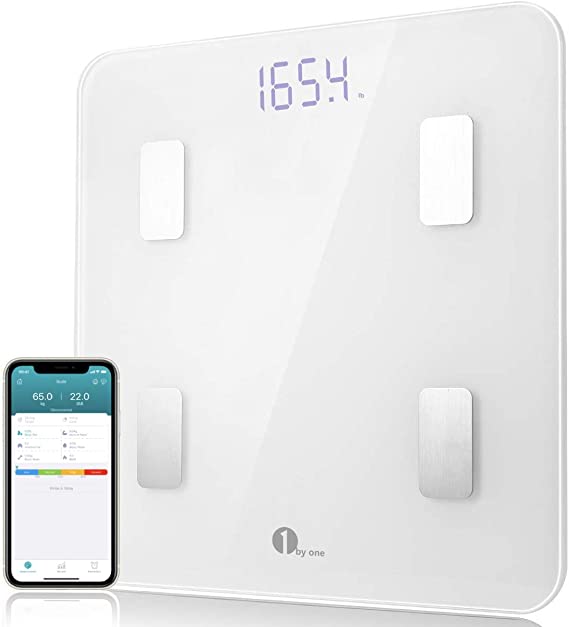 The 1byone Scales Digital Weight and Body Fat Scale help you know your body and not just your weight. It utilizes the BIA technology to calculate multi-body health indicators such as body weight, percentage of your body fat, muscle mass, visceral fat, and bone mass.
It is just one scale but can accumulate unlimited user information. You can use it to track your family members' health data to make sure that everyone is living a healthy life. The smart scale supports data syncing with apps like Apple Health, Google Fit, and Fitbit. All you need to do is download the app from the Apple Store or Google Play Store and sync using your phone's Bluetooth.
The best part is that this weight scale archives past measurements. So, you do not have to worry about losing your previous weight data if you lose your phone or get a new one.
Pros
Archives past measurement

Supports unlimited users

Calculates multiple body health indicators

Easily syncs with other fitness apps
Cons
The companion app can be a little tricky to use.
---
Key Considerations for Choosing a Body Fat Analyzer
Extended Monitoring: Aside from measuring your weight, most body fat analyzers also measure your bone mass, total body water percentage and weight, fat-free mass, and other metrics that a standard scale will not record. The traditional methods for getting these readings required the use of specialized equipment and manual calibrations. Although they were useful for years, the results were sometimes inaccurate due to human error. With a model that can provide other vital health data, you no longer have to worry about the mathematics required to calculate the metrics.
Storage Capacity: The body fat analyzer works in such a way that it can even store data about your weight and other physiological parameters. Instead of writing your data down as you will usually do when using a standard scale, a body fat analyzer will save you that stress by automatically keeping that information in its memory. This feature makes it easy for you to access the data whenever you want.
Portability and Ease of Use: One nice feature of body fat analyzers is that they feature a combination of aluminum, glass, and light plastic/metal. These materials make them lightweight and easy to carry around, especially if you are traveling. The device is handy for people that are working towards becoming healthier.
The fact that most standard gyms have a body fat analyzer does not mean you should not own one. As several fitness apps now make workout routines accessible from any location without needing special gym equipment, a handy smart scale will ensure that you do not lose sight of your goals and achievements. It should also be easy to use and provide accurate readings in units that everyone can understand, such as pounds and kilograms.
With unrestricted access to crucial health metrics, you can quickly track your body weight on other vital parameters on the go. Models with companion apps make essential features and information easily accessible.
Design: A standard or traditional scale does not look sleek and attractive, like a body fat analyzer. The LCD, as well as its slim appearance, makes the device unique. A backlit display makes it possible for users to view readings even in an environment with poor lighting conveniently.
Getting fully automated models will make your life easier, as they feature sensors that handle calibrations, ensuring that readings are accurate. With the innovative technology that created today's body fat analyzers, you no longer have to bother about zero errors and the skills required for the appropriate calibration of specialized equipment.
Price: Although these smart scales come with several advanced features, you can find models that fit right into your budget. They all measure the user's weight, body fat levels, and some other vital data, but the price variations could be a result of a few additional features. Models that can connect to the internet via Wi-Fi will undoubtedly cost more. You can find one that connects to other digital devices, including smartphones and laptops for as low as $30, as you work towards improving your overall health.
Using Body Fat Analyzers During Pregnancy
Most people are quick to blame technology for some health-related issues without seeing the good it has brought to humanity. Smart tech innovations have proven useful in the health sector, seen through clinical monitoring and enhanced diagnosis. Although digital solutions for motivating weight loss do not target pregnant women, their importance to prenatal care should not be overlooked.
Since smart body fat analyzers can monitor vital physiological parameters like heart rate, it is possible to detect pregnancy complications in time. Its high accuracy makes it useful for monitoring health changes to ensure that the mother and unborn baby are safe throughout pregnancy and childbirth. Although it may not provide an accurate reading of the mother's body fat because of her condition, it will help her understand the necessary lifestyle changes that she needs to make.
There are no known risks associated with the use of body fat analyzers or bioelectrical impedance analysis (BIA) by pregnant women.
Conclusion
If staying fit and healthy is crucial to you, a body fat analyzer or smart scale that provides accurate data about your health and body composition is what you need. They are user friendly and more convenient compared to traditional tools like tape measurements and calipers. Regardless of the model that you choose, the body fat analyzers help you avoid other alternative methods of analysis that expose you to unsafe radiation. They are worth every penny regardless of their cost, whether $30 or higher.