Why Should You Keep A Body Fat Scale At Home?
If you are working to be more healthy, to lose weight or simply trying to be responsible about your body weight and health, you may want to consider keeping a body fat scale at home. A body fat scale does not have to be a daunting purchase or something that you dread to step on every morning.
The scale does not have to be something you use only to remind you of failures but to help give you a more accurate reading of your body and health. The scale will help you to log any and every change in your body weight.
You can keep a body fat scale in your bathroom so that in the morning you can add checking your weight to your routine. It is better to weigh yourself in the morning on an empty stomach before eating or drinking, and before taking a shower to ensure you are not measuring extra weight and therefore getting and inaccurate reading.
Special considerations for creating this list
Accurate body measurement reading: Something you should keep in high consideration is that your scale should read whatever measurements it takes accurately. Whether you are simply looking at your weight or at BMI, it should correctly display information and if you want to view it in kilograms or pounds, it should also be accurate.
High weight capacity: Not that you will necessarily need the highest weight possible, but the scale should hold up a large amount. A high weight capacity should be more than 350 pounds to count.
Easy, correct calibration: You can order many scales that are self calibrating in order to save you the time and hassle. If your scale does not self calibrate then it should be easy to keep calibrated often.
Easy to read: The information on your scale should be easy for you to read meaning that it should be lit up brightly and show large print. It could also sync to an app in order for you to read the information on your phone easily.
Top 5 Body Fat Scales Of 2018
GreaterGoods Glass Top Digital Body Weight Scale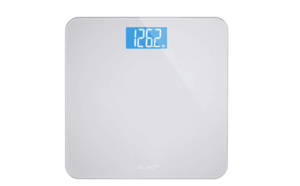 As far as scales go, this is a simple model and design that does not have any fancy patterns or pictures printed or painted on it. It is a glass topped scale that is black, white or silver in color and will mesh well with whatever room it is in, or it can be easily hidden under furniture or in cabinets.
You can purchase a two or three year protection plan for this model that will cost you less than five dollars to ensure that you can return the product if it is faulty or broken. There is a backlit display in blue with large numbers to allow you to be able to accurately read your weight in either pounds or kilograms.
This is a self-calibrating scale so you do not have to specifically set it up or wait for it to be ready, you can simply step on when you are ready and when you step off, the scale will shut itself off to preserve battery life. You must have a least eleven pounds of weight to weigh and up to 400 pounds can be measured thanks to the four censors that help to accurately read your weight.
By choosing and purchasing this scale you are not only taking responsibility for your health, but helping others as well. Part of the proceeds from each scale you purchase donates money to Love146 which is an organization that is committed fight child trafficking and to assist survivors of childhood tracking.
Pros:
Large print
LED backlit
Sleek design
High weight capacity
Cons:
Some had issues getting started
Batteries may not last incredibly long
Etekcity Digital Body Weight Bathroom Scale With Body Tape Measure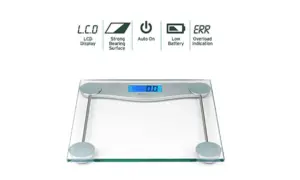 This is a tempered glass body weight scale and it comes with a body measuring tape so you can not just see how much you weigh but different measurements on your body. The glass makes this a modern design that can sit on the floor of your bathroom without looking out of place or cluttered.
This scale automatically turns on when you step on the scale and turns to zero when you step off and then turns off immediately. It automatically calibrates so you do not have to worry if the measurement is inaccurate.
You can choose to view your weight in either kilograms or pounds and you can quickly convert from one to another if you needed the readings in both units. It should not be a problem for you to pop in batteries and they should last you a rather long time.
There is a backlit screen that will clearly and correctly show you what your current weight is. The device itself can hold up to 400 pounds, and the tempered glass is extremely strong to protect you from breaking it accidentally.
Pros:
Tempered glass
Auto-calibrated
High weight capacity
Unit conversion
Cons:
Some had issues with the battery life
Some reported faulty device reading
FDA Approved RENPHO Bluetooth Body Fat Scale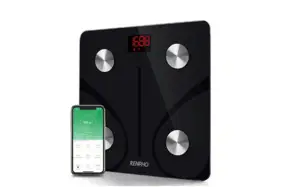 This is an FDA approved smart scale that comes with an app that will sync with your smart phone and devices to help you keep track of multiple readings. For those serious about your health and fitness, you can sync the Renpro app with both Apple and Google fitness apps as well as your fitbit.
You can measure eleven different areas, not only just weight when you step on a scale but also body mass index, and percentage of body fat. When you do step on the scale, however, you do not have to worry about waiting for it to get calibrated because it is an autocalibrating scale.
There are four electrodes and sensors to help accurately evaluate your weight every time. You can measure up to 396 pounds and can read the measurements in either pounds or kilograms.
Pros:
FDA approved
Easy to use app
11 measurements can be read
Autocalibrating
Cons:
Not backlit
Battery life may be short
Yunmai Premium Smart Scale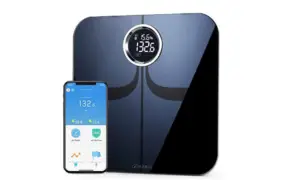 This is another FDA approved smart scale that will sync with smart devices and comes with a user-friendly app to help you keep track of your health. Not only Apple and Google fitness apps can be synced with the information that has been logged when stepping on the scale, but your Fitbit can sync with it as well.
You can take many different measurements with this device, ten to be exact, including body fat, body mass index, hydration level and bone mass as well. All of these fitness measurements will help you to better understand where your overall health is standing.
You do not need internet or WiFi but simply turn on Bluetooth to sync your information and get started weighing yourself and checking the measurements. You can order this smart scale in either black or white depending on which best fits with your homespace.
Pros:
No internet needed
FDA approved
10 health measurements
Syncs with fitness apps
Cons:
May consume a lot of battery life
Some reported issues syncing data
FITINDEX Smart Wireless Digital Bathroom Weight Scale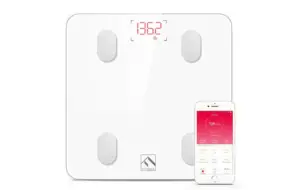 This is a Bluetooth scale comes in either white or black depending on which you prefer yet both would go well in any bathroom space. You can sync this scale with multiple fitness apps and the scale itself comes with its own fitness app.
You can measure body composition in eleven different ways because there is Bioelectrical Impedance Analysis (BIA) to help you get accurate readings. While using this scale you can measure your weight, body fat, water, muscle and bone mass as well as your body mass index (BMI).
There is a one year warranty on this scale in case you find that it is faulty. This scale has four sensors to help more accurately read your weight, and it autocalibrates so you do not have to worry about setting that part up.
Pros:
Has its own app
Syncs with other fitness apps
11 body measurements
Easy to read
Cons:
Some found it was inconsistent
Some had issues with bonus features
Final thoughts
If you are wanting to take more control of your overall health it may be a good idea to invest in a body fat scale. Not only for you to measure the fat on your body but your overall weight.
The scale can help you to keep better track of changes that may occur in your body and will sync to the apps on your phone so you can see the changes or consistency over time. If you are trying to gain weight or if you are exercising for increase of muscle you will be able to easily see progress over time when you read what is on the scale.
Make sure your scale is calibrated properly so that your readings are accurate and make sure it is properly synced with your devices. If you have an issue with your scale be sure to look into the warranty, instructions and call support in order to get it working properly.