Tracking your fitness is an easy feat with these top-quality Garmin fitness trackers. This brand offers stylish and functional devices that help you monitor many aspects of your health and fitness journey.
Whether you are looking for an affordable activity tracker, a watch with built-in GPS functionality, or the overall best Garmin fitness tracker there is, we have it all in this review. We have weighed the pros and cons to allow you to choose the best model for you.
Everyone has different fitness needs, and the watch you choose to keep track of your fitness activities should reflect your unique goals. There is a watch for everyone, from beginner to professional athlete, and no matter where you land on that spectrum, you can find the right Garmin fitness tracker for you.
Quick Links For The Top Garmin Trackers
Garmin 010-02064-00 Instinct Watch

(The Overall Best Garmin Fitness Tracker)

Built-in GPS, barometer, and compass

Garmin 010-01769-01 Vivoactive 3

(The Best Garmin Fitness GPS Watch)

Make contactless payments

Garmin Vivosmart 4

(The Best Budget Garmin Tracker)

Relaxation breathing timer
Garmin Fitness Tracker Reviews
Since the popularity of fitness trackers and watches has been on a steady incline, brands are developing new models faster than fitness enthusiasts can keep up with.
With the increase in variety, it can make it harder for you to know what to buy when it comes to a top-quality fitness watch. To make it easier, I have put together the top three Garmin trackers to help you decide.
Tracking your fitness levels can be a good tool for your fitness habits, but before comparing the Garmin fitness trackers, there are a few things you should think about to help you make the right choice and keep within your budget.
Considerations When Buying Garmin Fitness Trackers
Cost: Before you begin searching for the right fitness tracker for your training, you should decide on an acceptable budget. Once you have an idea of the amount of money you would like to spend, you can begin your search.
This will prevent you from getting swept away with fancy features and spending more than you really want to. If you have a tight budget, you can still find a good quality watch.
Quality: This is the next factor when looking for your training companion. While there are good products to be had at decent prices, you could also come across low-quality watches. So, you should look for a durable watch that has a good quality heart rate monitor.
Features: Lastly, you should decide on the features you would like your fitness tracker to have. These devices can include simple options with a heart rate monitor, activity tracker, and calorie counter. However, some devices come with additional features such as breathing exercises, notification features, alarms, and daily reminders.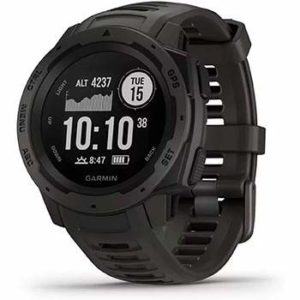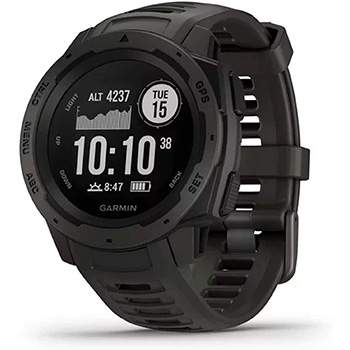 This Garmin model is durable and tough enough to accompany you on all your extreme sports activities. With this watch, you can track your fitness levels no matter what your activity is.
The built-in GPS, TracBack, and compass features mean you can find yourself on wild adventures without the concern of getting lost or damaging your watch.
Key Features
Built-in GPS, barometer, and compass
U.S military standard
Smart notifications
The military-grade Instinct watch has a polymer case reinforced with fiber and chemically strengthened to give you the ultimate durability.
Pros
TracBack feature
Heart rate monitor
Preloaded activity profiles
Cons
The integrated software (apps) could be improved
Large buttons
If Garmin upgrades the apps that accompany this watch, this will be an even better product. However, the apps are still functional as they are and give you insight into your fitness data.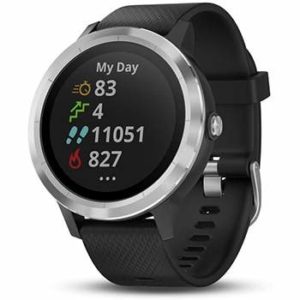 This Garmin model includes several functions that extend beyond fitness tracking. The watch face can be customized and there are options for additional widgets.
The watch can also be used as a contactless pay option and, moving back to the fitness aspect,  includes 15 pre-installed sports activities with GPS functionality.
Key Features
Waterproof
Make contactless payments
Corning Gorilla glass
The Garmin includes a chroma display that is easy to read, and the watch itself is waterproof.
Pros
Vo2 max monitoring
Smart notifications
Customizable watch faces
Cons
Not all credit cards can be linked
The touchscreen may seem sensitive to some
If you are wanting to use this watch to make payments, make sure that your type of card can connect before purchasing the watch.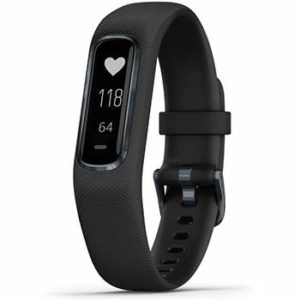 The Vivosmart 4 is your budget-friendly option for a Garmin watch, yet it still offers durability and multiple features that you can enjoy.
While it tracks your heart rate, it will also include a built-in pulse oximeter for checking your blood oxygen levels.
Key Features
Multiple activity modes
Pulse oxygen sensor
Relaxation breathing timer
To get a better idea of your health, the watch will track your stress levels, and you can use the relaxation feature to control your breathing.
Pros
Activity timers
Smart notifications
Step and stair counter
Cons
GPS only enabled when connected to a phone
Cannot replace the band
This Garmin tracker is helpful if you are on a slight budget and want to get a feel for the brand. You can get a good range of functions and
track multiple fitness aspects
with this watch.
The Last Track
Since Garmin is a big contender in the fitness watch field, there are multiple types of Garmin fitness trackers for you to choose from. These three are merely our top options to give you an idea of what you can get out of these trackers.
My number one choice is the Garmin Instinct Watch due to the rugged features and ability to track extreme sports activities. Whether I am going for a run or going on a day hike, I can rest assured that my watch will be tracking my activity.
If you don't want to look at the more pricey options, the budget watch is still a great buy and, while it may be pricier than other budget buys, has great quality and durability to last you a long time while you train hard to lose weight.
If you have tried any of these Garmin fitness trackers, let us know in the comments below. We love to hear from you.