Being one of the newest body analysis scales on the market, the Philips Connected Body scale has a great range of features that other older scales cannot match.
The scale is designed to accurately analyze various body measurements that include your weight of course, your body mass index or BMI and body fat. Below we have given our honest review so that you can make an informed decision if the Philips Connected smart scale is suitable for you.
Body Composition analysis
The Philips Connected body analysis scale offers you the ability to measure your Body fat, Body mass index and your weight. All of them combined give you your complete body composition analysis.
This scale can store and record automatically the scores of up to 8 user profiles that have been previously configured within the great Philips Healthsuite app.
Once you have created your user profile by adding your age, sex and height, your daily weighing results are transferred to the app and from there you can take a look at your progress, and also compare it with the ones of your friends and family.
This is fantastic for motivational purposes and keeping you on track to achieve your goals. The wonderful application not only logs your results, but helps you identify areas where you can improve your scores. It is one of the best online apps we have had the pleasure of using.
The mobile app
Talking about Philips Healthsuite we can not just not mention the great daily tips that are really helpful and keep you well motivated on your way to lose weight and lead a healthier life.
We believe that this is where Philips excels  other brands products – the advices and tip you get from the app and the fact that the Philips Connected Body Analysis Weight Scale can store up to 8 user profiles are a great way to keep people all over the world motivated when on the hard way of losing weight.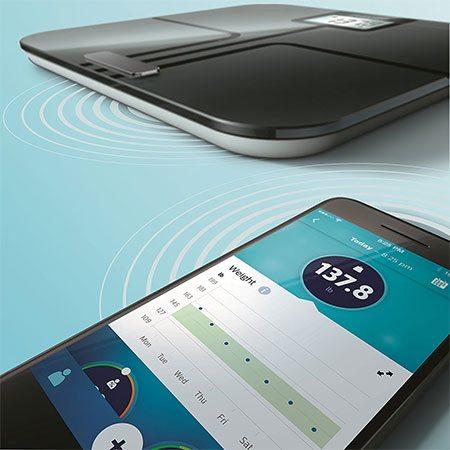 The good news doesn't end here, as if you happen to have any other Philips Health device (for instance Philips Connected Health Watch – keeps track of your activities, heart rate and sleeping times or Philips Connected Blood Pressure Monitor), then you will be able to collect all your readings and results into Philips healthsuite that will help you stay motivated all the way to reaching your goals.
You are also able to compare your results to a recommended ranges, so you will receive a better understanding of your progress. You are not only offered with professional advices, but also encouraged with coaching that is just right for you depending on your daily activities and lifestyle.
Design review
The design on the Philips Connected body analysis scale is extremely modern and really simplistic to use, even those without any tech experience will be able to set up the device efficiently.
The smart scale comes in black or white colour, with a large display screen that makes the readings easy to see in bad lighting. Another great feature is having the option to be able to read your results in kilograms or pounds, depending on what your preference is.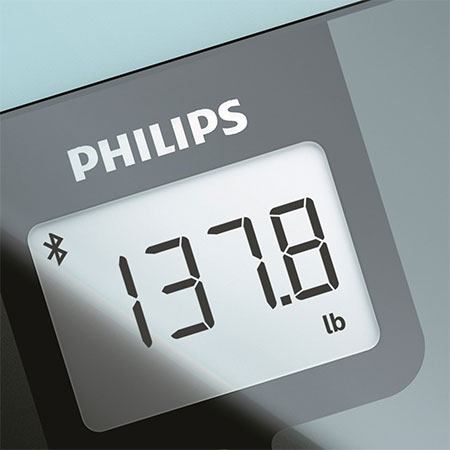 The scale has 4 high precision sensors built-in to ensure the results are to pin-point accuracy.
The technology used to obtain your readings is called Bio-Impedance Analysis where the four built-in the scale sensors send a small impulse through your body in order to measure your body fat.
Using a Bluetooth connection, the sensors also send the body analysis results directly to the online application, ensuring that you don't need to log in and store them yourself.
Product specifications and settings
Display – LED screen
phone connectivity – IOS and Android
wireless connector – Bluetooth
weight limitation – 400 pounds
power – 4 x AAA batteries (up to 4 days of battery life)
Fast charge allows up to 70% charge in around 30 min.
data transfer – smart transfer, auto user recognition
waterproof up to 1 ATM
Customer reviews and scores
For a product that is relatively new, the Philips smart scale has quite a lot of user reviews on amazon and it's no surprise to us that most of them are positive.
There have been over 40 reviews in just a few short months and the product has an average rating of 4.4 out of 5 stars at the time of publishing this review.
A lot of the positive reviews are pointing out the fact of how accurate the scales are compared to most weighing scales available at the gym.

Very rarely do they match up to house scales. Another important point the reviewers seem to be touching on is how easy it is to set up the scale to connect via Bluetooth to mobiles and tablets.
As there are so many positive reviews, it was really difficult to see the negative ones.
Possible Cons
The only issues we could see was the Bluetooth compatibility not always syncing to the mobile devices, that is why we have prepared detailed list of the most popular compatible mobile devices below:
iOS8+ AND Android 4.4 and higher
iPhone: iPhone 4S, iPhone 5, iPhone 5S, iPhone 5S, iPhone 6, iPhone 6 plus, iPhone 6S, iPhone 6S Plus and iPhone SE
SAMSUNG: Galaxy S6, Galaxy Core, Galaxy Grand 2, Galaxy S4 Mini, Galaxy S4
Another issue is that the Philips app is not available yet for South America, so customers from this region at the moment are not able to create user profiles and the scale actually doesn't do more than measure their weight. We hope Philips will address that very shortly.
We also advise pregnant women to abstain from using the scale due to the fact that the small sensors send unnoticeable current throughout the body.
Overall review
After reviewing this body fat analyzer we can say that the Philips Connected Body Analysis Weight Scale is a great product that not only tracks extremely accurately your readings and progress, but also allows you to get into a completely different world of healthy lifestyle via the Philips healthsuite app.
You will feel led and not alone on the way of reaching your goals.
The app, Philips ecosystem compatibility and worlwide constructor warranty are all good reasons to look at this very product.
It may not measure dozens of things like water percentage, bone mass, etc… but it will analyze fat accurately and that is what most buyers are looking for in a good smart scale. If you want to check another option to make a comparison, we recommend Triomph Scale.