Whether you just want to track your body composition or you are a dedicated bodybuilder, the Triomph Digital BMI Body Fat Scale with Step-On Technology is an amazingly useful machine.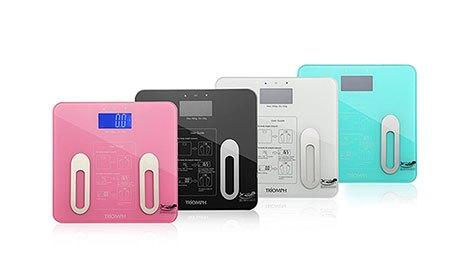 It accurately monitors body fat, water, muscle, and bone mass percentages to give a comprehensive report about your fitness levels and general health.
You only need to key in your data to get started and it can track up to 10 different profiles.
You also do not need a smartphone to use the machine as it comes with step on technology and an easily visible LCD screen that allows you to see the numbers easily. It is also designed with a durable and modern tempered glass that adds a modern touch to any bathroom space.
Key Features review
1. State of art Step on Technology
The technology allows users to just step on the body fat scale and within seconds get accurate readings on the LCD display.
It automatically turns on the moment you step on it and it will also automatically turn off after ten seconds of inactivity to save battery power.
It is also designed with 4 sensors that ensure you get accurate numbers anytime you step on the scale and it allows weights up to 400 pounds.
The memory function on the other hand allows you to track your weight over an extended period.
2.Bio Impedance Technology
Although the Triomph Digital BMI Body Fat Scale  looks like any other scale out there, it is not.
Triomph's body fat analyzer is loaded with very handy features to ensure you get accurate and fast readings. For instance it uses Bio Electrical Impedance Analysis also known as BIA that calculates your fitness by pre loading your data before every readabout.
All you have to do is key in your weight, activity level, age, height and then step on the machine. After that its auto recognition software will correctly match you every time you step on it with the information you entered earlier.
The BIA Bio Electrical Analysis technology works by sending electrical signals through your entire body and then calculates the resistance it encounters as a result of fat. Although this sounds complicated, it is very safe and users rarely notice when the signal is on.
Other Features & Specifications
Color: Black
Weigh capacity: 400 pounds
Measurement units: Kilograms and pounds
Languages: Chinese, French and English
Uses 4 triple A Lithium batteries
Dimensions: 111 x 11 x 1 inches
Customer Reviews and Scores
The Triomph Digital scale has an impressive rating of 4.3 stars out of 5 stars on amazon after 75 reviews.
This rating not only reflects a user friendly and reliable product, but a company that stands behind its products 100 percent. Apart from the one off adjustment underneath it to make it more accurate, many users love it.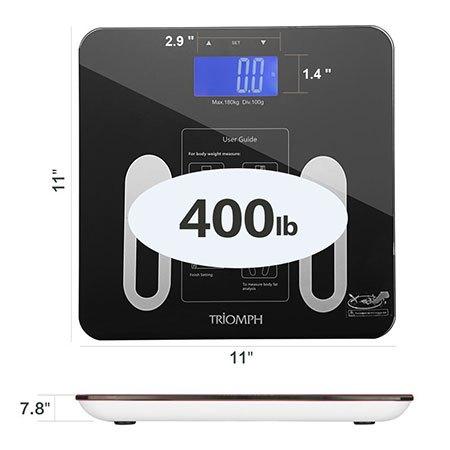 For instance one reviewer says, "I bought this device 3 months ago and it works great. It is designed very well and the BMI and other readings are very accurate.
The only downside of the machine is that sometimes you I have to straighten the legs to get more accurate numbers. But otherwise it is a viable option for anyone who wants track his or her body composition.
Another reviews says," My initial purchase did not work well, but their customer service is phenomenal. They contacted me immediately and replaced the machine with a new one. The new one is well made and works great. I love it. I strongly recommend it.
Possible Cons
-Though some people claim it is not very accurate, you should know that this type of body fat scale should always be used at the same time, preferably in the morning right after you wake up.
You can also sort this out by straightening the machine's legs underneath. Do this anytime it gives you clearly off measurements.
Wrapping it up
The Triomph Digital BMI Body Fat Scale with Step-On Technology is a very powerful scale in an affordable and sleek package.
Apart from the ordinary readings that you get from standard body fat scales, the Triomph Digital scale provides users with comprehensive and detailed information about their body fat, water, muscle, and bone mass percentages.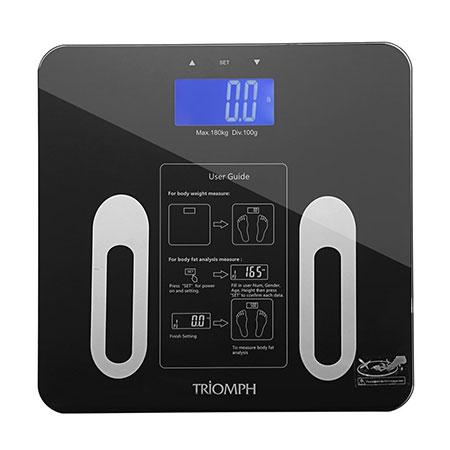 Although some more expensive smart scales like the Withings body cardio have this feature, very few economical models can do this for you. In addition, the triomph smart scale seems like is a very useful device as most of its reviews on amazon are positive.
Most reviews laud the machine's pocket friendly price tag, sleek design and accuracy. It is certainly one of the best body fat scales out there. Go for it today and you will be glad you did!
For more info, click here to read our review of the Top 10 Best Body Fat Analyzer For Accurate Percentages