You may recognize the word "paleo" as in paleolithic, or much simpler, prehistoric times when food was much less processed and was not packaged. The paleo diet is based off of what humans ate before GMO's, technology, dairy and overly processed sugars were added to all of our foods.
Quick Look at Our Top Picks
Some argue that this diet is just a trend that is happening for the time being for those who are crazed about weight loss and want it to happen quickly. The argument goes on to say that because we have adapted since the paleolithic diet that our bodies are not exactly what humans bodies were in prehistoric times.
While it is trendy, and popular now it is based on a diet of more wholesome foods, fresh fruits and vegetables, no artificial additives and lean meats. Our bodies may have changed and adapted over the years but they still need more raw, natural and unprocessed foods.
You do not have to freak out that all of the sudden you have all of these strings attached, but a paleo diet seriously is a lifestyle change. It is easy once you get the hang of it and know which foods you can and cannot eat and you can freeze fruits and veggies to use them in a paleo smoothie later if that will make it easier for you to consume your nutrients.
The top 5 paleo protein powders
Prime Protein Beef Paleo Protein Powder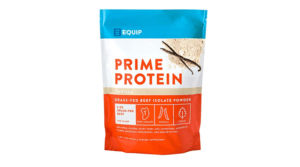 Prime Protein uses only non-GMO grass to feed their pasture-raised beef without chemicals and to extract enough protein for you to have 30 servings of protein powder. Each serving is packed full with 24 grams of protein.
This is a complete protein containing the full amino acid profile to give you the building blocks to create proteins and therefore muscles. The ratio of muscle to collagen gelatin is 70:30 to give you an ample source of protein.
There is no dairy or lactose, gluten, preservative or additives in this compound and there is also vanilla powder, coconut milk powder and stevia lead powder included in the makeup. You can order this package in either chocolate or vanilla.
Pros:
24 grams of protein
non-GMO
Dairy-free
0 grams of sugar
Cons:
Strong vanilla flavor
Difficult to mix
Garden of Life Raw Organic Fit Protein Powder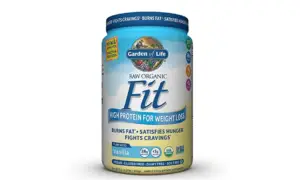 This protein powder is dairy-free, gluten-free and non-GMO to completely comply with the paleo diet. Because it is plant based and organic it is also a vegan-friendly product.
The base of this protein powder supplement is a mixed plant based protein made from organic pea, grains, seeds and legumes. There are seven grams of fiber in each serving of the protein powder.
There are 28 servings per container so you can use this protein powder once a day for 28 days or twice a day for two weeks. There is less than a gram of sugar, 20 grams of protein and 115 calories.
You can purchase ten count single serving packages or in a small or large tub of protein powder. You can choose the original flavor, vanilla, chocolate or even coffee flavor.
Pros:
non-GMO
Plant based
20 grams of protein
Four flavor options
Cons:
Bad aftertaste
Discrepancy in flavor profiles
Paleo Thin Protein Egg White Protein Powder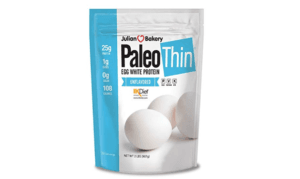 This is a protein powder that is low on calories but made with egg whites and sunflower lecithin to comply with the paleo diet. This product is made with only non-GMO, chemical-free ingredients.
The cost of the bag is a little more pricey compared to others because it only offers you ten servings. There are 108 calories per serving, with 0 grams of fat and only 1 gram of sugar as well as 24 grams of protein.
You can choose either a thirty serving container, 1.85, 2, 4 or 6 pound size depending on how much protein you will be using. There are ten flavors to choose from including the basic ones like unflavored and plain, as well as some classic ones like vanilla nut, chocolate and double chocolate, but also includes interesting flavors like blueberry tart, cinnamon roll, coconut cream, espresso or glazed donut.
Pros:
Low calorie
non-GMO
24 grams of protein
Multiple flavor options
Cons:
Some complain about the taste
Overly sweet
PaleoPro Protein Powder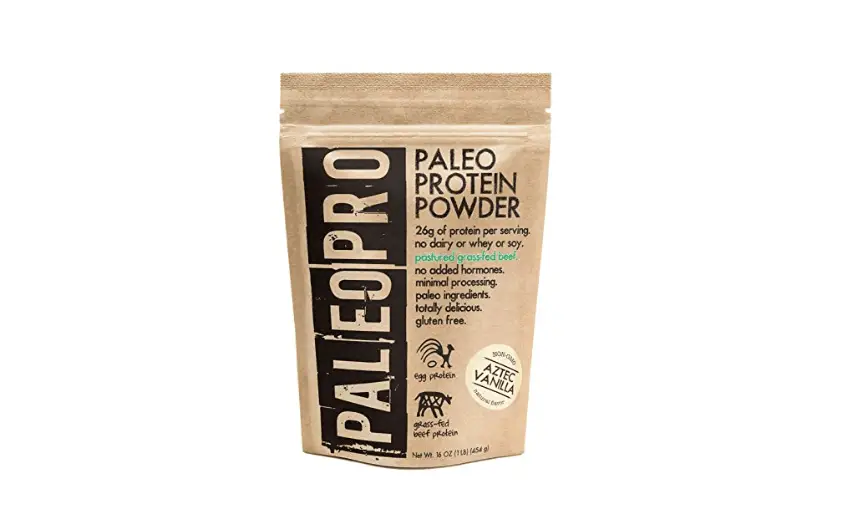 PaleoPro's protein powder is a non-GMO, non-chemical added without hormones or artificial add-ins. Your protein powder will be made only with healthy and natural, ingredients.
This is a dairy-free, non-whey, sugar-free as well as gluten-free and made from grass-fed, pasture-raised beef. It is a protein powder that is easy on the stomach and not difficult for you to digest.
There are 25 grams of protein per serving as well as one gram of fat and one gram of sugar, without added or artificial sugars. There are 120 calories and is made with only grass-fed beef and egg whites.
Pros:
non-GMO
25 grams of protein
Low fats and sugars
Hypoallergenic
Cons:
No flavor options
Stevia taste
Designs for Health Pure Paleo Protein Powder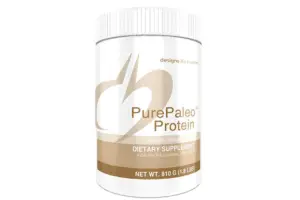 This is a bone broth based protein powder that is loaded up with 21 grams of protein per serving. There are 110 calories per serving, and 4 gram of carbohydrates and 1 gram of fat.
This protein powder supplement is a hypoallergenic option that is dairy-free, soy-free, gluten-free, non-GMO and free from artificial additives. There are collagen peptides and branched chain amino acids to give you a complete protein.
There are 30 servings per every container that is purchased, and every serving contains 27 grams. You can order your protein powder in either vanilla or chocolate flavor.
Pros:
21 grams of protein
Low fat and carbs
Non-GMO
Hypoallergenic
Cons:
Unnatural taste
Some complain there is a difficult texture
Considerations for this paleo protein powder list
Organically produced: The paleo diet almost demands that you have an organic lifestyle and diet. Protein powders without additives, chemical and artificial substances have been specifically selected for this list.
High protein content: Because this is a protein powder supplement the protein count per serving needs to be a hefty one. While a high protein content is not necessarily part of the paleo regimen, it is the main thing you are looking for in a protein powder and therefore is a high requirement.
Few ingredients: There are not a lot of paleo ingredients that can be made into a powder that can be stored. For this reason it is important to have minimal ingredients that are both paleo and healthy.
Dairy-free: Dairy-free is a major need when it comes to a paleo protein powder supplement as there are many whey proteins on the market and whey is milk-based. Paleo diet does not allow for milk-based products which means dairy-free is a must.
Low sugar: As you have read, low sugar and especially no processed sugars should be added to the equation of the protein powder compound. Whatever sugar occurs naturally in the ingredients that are in the powder are normal.
In conclusion
Before starting a paleo diet make sure that have you have completed adequate research into the subject and are prepared to make the commitment to the lifestyle change. You can speak with your doctor before you start the diet as well to make sure you understand what foods you will need to cut out and which you need to be taking more of.
Be prepared to read the labels on the foods you eat and research the fresh fruits because some, like potatoes may not be something you have considered. You should also be carefully looking into the labels on the protein powders you select as well.
While you are definitely seeking out a good tasting protein powder, you may need to make peace with the fact that protein itself is not very tasty. You are choosing a new diet plan to help your overall health and it comes with some sacrifices.
The protein powders on this list have been looked into to make sure that they are indeed paleo. The paleo protein powders are packed in with protein and minimal sugars as well as free from chemicals, GMO's and dairy.