It easy to continuously please the palates of yourself and your family but what will that say to your weight?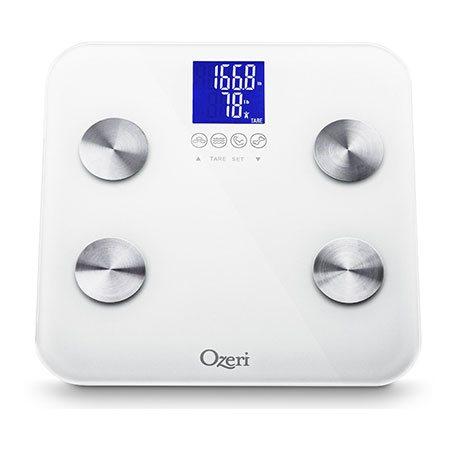 You're not likely to wake up feeling fine and energized but rather sluggish and overweight. And what will your bathroom scale say?
The best bathroom scales like Eatsmart scale, today are far more accurate than the scales of yesteryear, even if they don't give us the results we're wishing for.
About this scale
Ozeri is a specialty manufacturer of digital lifestyle products for the modern home.
If you've decided to monitor your weight more closely and become more health conscious, this is one bathroom scale you'll want to investigate.
Apart from the bathroom, it can be used in the kitchen too and you can weigh yourself,  your infant or your luggage or even your overweight cat for that matter so it's a good thing to keep track on progress in terms of weight loss or and food intake weight management

Features review
Let's look at some of its features –
This scale can be used to measure your overall weight, but it will also provide useful information such as body fat and body water percentages
The scale captures weights up to 440 lbs
It features what they called "StepOn technology", meaning it will turn on simply by stepping on it.
measures hydration, muscle mass, body fat and bone measurement
A feature that makes this scale and body fat analyzer unique is the Infant Tare Button – allows you to weight your baby or pet while they are in your arms.
We like the Auto Recognition Technology, the scale keeps track of each family member – their height, weight, gender and age – accommodates information for up to 8 people.
Nobody can see your weight unless you recently weighed yourself. You enter your age, gender, and height and this personal information can be checked by each user but its not possible for anyone else to access the data.
Once you get onto the scale it records and stores your weight, body fat, water, muscle, and bone.
● Comes with an easy to read LCD screen
● Has 3 touch-sensitive buttons for easy operation
● 4 icons which illuminate on the screen for hydration, body fat, muscle and bone measurements.
● Attractive reflective surface and made from impact-resistant tempered glass
● Available in black or white
As a responsible, health conscious person, you know it's important to be watchful and alert with your weight, and with this trendy addition to your home, you're spurred on because all the facts are there.