Why Would Kids Need A Fitness Tracker?
On average, children enjoy fast movements, playing games, and generally being active. However, in this technology-prone age, more kids have their games at their palms and may not be inclined to move around healthily. This trend has led to an increase in kids who are obese and physically inactive. If you find your kids becoming more sedentary and less active, you may want to encourage them to move around more. In such situations, a fitness tracker for kids becomes a great idea.
Backed with celebratory rewards and competitiveness, fitness tracker watches encourage individuals to attain total body wellbeing while having fun. The trackers, which are more often than not designed as watches, create physical movement goals, count steps, provide a report, and monitor sleep patterns. You may worry if fitness trackers are great for children since it could negatively impact their attitude towards physical exercise and make them overly fixated on their weight. It is best to obtain a fitness tracker with the mindset that the child would have fun with it. It should only be used if the kid is interested and not as an obligation or requirement.
With several fitness tracker reviews and models for kids online, it has become challenging to choose the correct ones at the right prices and with the needed features. To help you in your search, below are key considerations before purchasing one as well as the top 10 fitness trackers for your kid.
Top 10 Fitness Trackers for Kids
Garmin Vivofit Jr 2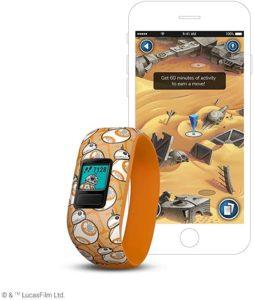 Garmin Vivofit Jr 2 is a durable fitness tracker for kids that pairs with a phone app to stimulate their interest in being active. It combines a child's desire to play games and be rewarded with their need for physical exercise as well as goal attainment. It does this by unlocking new icons or gems or another level in the adventure games as a reward for completing the daily activity goals. By encouraging friendly step challenges, the tracker can also be synced with other Garmin Vivofit jr two and used by the whole family or with your child's friends to keep everyone active while helping them maintain a healthy competitive spirit. Each tracker features a customizable screen and a band themed with Star Wars or Disney princess or Marvel character icons.
Besides activity tracking, your kid can have set reminders of his/her tasks, such as completing schoolwork or chores. The parents can access the parent-controlled app where they get to track their kids' fitness and assign them the rewards. They can also use the app to track the sleeping patterns of the kids and ensure that everything is normal. This Garmin tracker has a battery life that extends for more than a year without the need for replacement.
Pros:
Available in two sizes for smaller kids and older ones
Available in several band designs and colors
Has reminders alerts and timer for everyday chores
Waterproof
More than a year battery-life
Cons:
Some customers have complained of the battery dying faster
The child may lose interest in the game and therefore have no incentive to use the fitness tracker
Toobur Slim Fitness Tracker
Toobur is a pedometer watch designed for kids and adults. All through the day, it records your kid's steps together with the distances covered by foot. It also measures the calories burned and can track the sleep quality at night. Any data obtained can then be observed and monitored by a parent through the VeryFitPro app. The tracker features a wrist vibration alarm clock that allows you to input up to ten different alarm times for various activities. Its wrist vibration is silent and will not disturb another individual.
This fitness tracker is waterproof and very budget-friendly. It has a built-in USB for charging, and the battery can last up to 7 days when charged. The band is replaceable and comes in a variety of colors, giving your child multiple options to wear alternately.
Pros:
it has a built-in USB plug for charging the watch
Features an alarm clock that you can set as a reminder for your kid to perform an activity
The straps are replaceable and can be adjusted to fit kids of various ages
Tracks sleep pattern and quality
Affordable, with a 12 months' warranty
Cons:
Not compatible with all phones
Has no incentives to encourage a child to use
Fitbit Ace 2 Activity Tracker
The Fitbit brand specially designs the Ace 2 for kids of ages six and above. It tracks your kid's steps and active minutes while still monitoring sleep patterns. Bedtime reminders and silent morning alarms can be set to keep your child on a schedule. As a way of keeping the fun alive and encouraging kids to exercise, virtual badges are earned after achieving various milestones. A reminder also keeps them active, and the daily celebration message congratulates them for attaining activity goals.
Designed to be waterproof and loaded with five-day battery life, this rechargeable tracker can be worn at all times by your kid if he/she so wishes. It is durable but inexpensive, and the adjustable band comes in different bright colors. The Ace 2 features one button for navigation purposes, which makes it easy to use. There are ten clock faces from which to choose. It also syncs wirelessly to a phone, and with the Family Fitbit app, you and your child can view his/her daily achievements.
Pros:
5-day battery life
Durable, inexpensive and waterproof
The band is replaceable and comes in fun bright colors
Rewards kids for being active
Cons:
The battery needs to charge every five days which is easy to forget
The band is quite fragile and may break
Garmin Vivofit Jr Fitness Tracker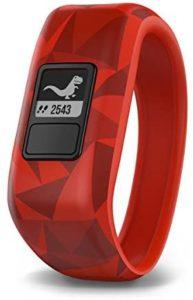 As a fitness tracker, Garmin Vivofit jr monitors steps as well as sleep to help your kid develop healthy fitness and sleep habits. Fortunately for your child, its functions do not end here. When paired with a smartphone app, the fitness tracker enables he/she gets to play games and achieve the 60-minute recommended daily activity goal. You can sync the fitness tracker with their Vivofit profile to display their name and progress. You can also set chores and tasks with the app. Once completed, they get access to virtual coins that are redeemable. This reward helps kids stay on the given task until completion.
If your kid is aiming for a stylish wristband with the practicality of a fitness tracker, then the Garmin Vivofit Jr is your best bet. The band is elastic and does not break easily. It is suitably made for kids between 4 and 9 years with three unique designs from which to choose. Just like theVivofit Jr 2, this tracker has a battery that can last a year before needing replacement.
Pros:
Tracks sleep steps and activity levels
Features a reward system for completing challenges, tasks, and goals
A parent app helps you monitor your child's progress and set tasks for them to perform
Affordable and waterproof
It has a one-piece wristband design that is elastic
Cons:
Small screen display
No adventure games like in the Vivofit Jr 2
Trendy Pro Kids Fitness Tracker
The Trendy Pro Kids fitness tracker is designed to help your kid enjoy physical activities to the full. It tracks the distance walked with the number of steps taken and the calories burned throughout the day. There are also gentle 'Stay active' reminders, hydration reminders, and silent alarms. At night, it monitors how many hours of sleep your kid gets, which helps you analyze their sleep habits.
This tracker has an HD screen where it displays notifications very clearly. If your child has a smartphone, a feature enables the watch to sync with the phone where he/she can receive texts and notifications of calls through vibrations. By connecting to a smart device, you unlock extra features such as the remote camera control, anti-loss alert, and find phone alert. When connected to either VeryFitPro or TrendyFit app, you can track progress and set new fitness goals that your young one can work on. The tracker can store up to 7 days of data without needing to synchronize with the app.
Pros:
Affordable with an additional wristband attached
The adjustable band can fit smaller kids due to its snap enclosure
IP67 waterproof rated
It has a rechargeable battery
Syncs to smart devices to display call and text notifications
Cons:
The fitness app is not compatible with old Android phones or old iOS devices
Some parents do complain on the step tracker not being very accurate
Willful Fitness Tracker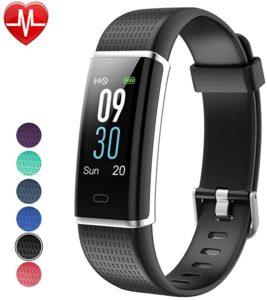 The Willful fitness tracker has an adjustable band that makes it great for people of all ages. It features a heart rate sensor, along with sleep tracking. Unlike most fitness trackers that count steps, Willful can track 14 different sports modes. This feature increases its efficiency for the athletic kid. You can sync this device with your smartphone to get your tracker, which gets your SMS messages and missed calls to your tracker. It is waterproof and can double as a remote camera control for your phone.
Pros:
Excellent gift for an athletic child due to its 14 sports modes
Heart rate and sleep monitor
IP68 waterproof rated
Notify calls and messages when synced with your phone
Six color options
The rechargeable battery can last up to 7 days after full charge
Cons:
Watch faces cannot be customized
Fitbit Ace Fitness Tracker
Fitbit Ace is perfect for your tweens and teenagers who are past the age of wearing fitness trackers designed for smaller kids. It is a mini version of the adult Fitbit that allows parents to track the kid's progress and set challenges through the app. The watch monitors the sleep hours and steps your child takes as well as active minutes. There are virtual rewards to be earned for completing activity goals. The clock face can be personalized by choosing out of the ten available.
Unlike Ace 2, this Fitbit is not waterproof. However, it can survive light water splashes and spills. The battery life is an average of about five days after a full charge. A full charge takes less than three hours when connected to a USB port.
Pros:
Accurate at activity tracking
It has a quality LED display with fun clock faces.
Lightweight and comfortable to wear
5-day battery life
Cons:
Only available in two colors
High price point
The wristband is fragile and sometimes quite small for the older kids
VTech KidiZoom Smartwatch DX2
VTech KidiZoom is a smartwatch that features a pedometer for step counting. It is majorly an entertainment device for smaller kids that are active and need to be kept busy. It features interactive games, movement challenges that keep the kid physically active, and a dual camera for taking pictures as well as videos. The interface on the watch-face is fun and easy to use. The bands are available in different colors, and the watch itself is resistant to water splashes.
Pros:
Fun photo and video effects for kids
Features interactive games that keep your kid entertained and physically active
Great value
Rechargeable battery
More games and clock faces are downloadable apart from the preinstalled ones
Cons:
MorePro Fitness Activity Tracker
MorePro is an all-day activity tracker designed for older kids to help them in their journey to physical fitness by accurately tracking steps, distance, calories burned. It operates as a sleep tracker and monitors the heart's health by continuously recording new heart rate values.
It has other features that include alarm clock, remote camera control, sedentary monitors, and event reminders. It has a sleek design with a slim, comfortable, and lightweight band.
Pros:
Monitors your kid's breathing conditions so you can track their health properly
The band is slim and fits well when worn
Compatible with most smartphones
Cons:
It has no games like the Garmin Vivofit Jr 2
No incentives or rewards to encourage kids to use
LeapFrog LeapBand Activity Tracker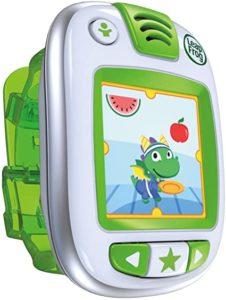 This product is an educational activity tracker for kids between 4 and 7 years old. It encourages children to move around and have fun by featuring up to 50 different challenges that require physical activities. Prizes won for completing challenges help the kid own a virtual pet and care for it. It also comes with parental controls, such as a lock mode for quiet times. Some of the games introduce the child to the benefits of eating healthy foods. The tracker is inexpensive and available in several designs and colors that will appeal to children.
Pros:
Teaches kids about nutrition and health habits
50 interactive challenges keep kids on their toes
Parent controls make it easy to set play and sleep times
Cons:
It may not appeal to older kids

There is no volume control
Primary Considerations for Selecting a Kid's Fitness Tracker
Durability: This combines a long battery life, a durable face with a solidly built band, and a waterproof feature. Fitness trackers for kids must be durable and comfortable. It should have adjustable or elastic bands that suit their wrists. If it has a rechargeable battery, the power should last several days, and if it is not rechargeable, it should last for more than six months. For your kid to wear it at all times, it should be resistant to water spills and splashes.
Compatibility: The majority of the fitness trackers available require an app for you to access your child's activity progress. Therefore, you must obtain one that is compatible and can sync with your smartphone.
Features included: Find out if the fitness tracker rating is high and if what you are buying does more than just step counting. There are some with alarm clocks, reminders, and virtual trophies for rewarding achievements. Kids appreciate an activity tracker with an interactive platform. If it features incentives, the more they will love it.
Final thoughts
Fitness trackers for kids are a great innovation. The kids can have fun with them while being reminded to complete their chores. You also get to monitor their physical wellbeing by tracking their sleep and active hours. Do not forget that these trackers should be durable, sturdy, and waterproof to survive at your child's hands.