The Weight Gurus WIFI Smart body fat scale is perfect for those looking to keep track of the body weight digitally.
The Weight Guru tracks and stores different attributes including  BMI, body fat, body water and lean and bone mass.
Compatible smartphone apps
The weight guru scale is extremely easy to setup and sync with your smartphone, via an "Weight Guru" application (iphone – Android) on your device.
You can also hook your weight guru scale to other applications such as "MyFitnessPal" as other apps will have different types of body weight records that might be more applicable to you.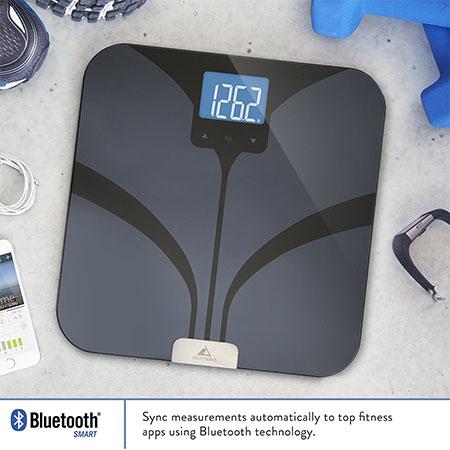 Once you have downloaded your application, make sure that you place all your profile data into it, to ensure the application can measure the results accordingly.
Real life use
The quality and detail of the Weight Guru wifi scale is noticed immediately as you take it out of the box. It has a great LCD 4.4 inch display, with a neon blue background light, ensuring it is extremely easy to read in any lighting condition.
The main body of the wifi scale is slender and stylish, with a tempered glass design that will look great in any bathroom.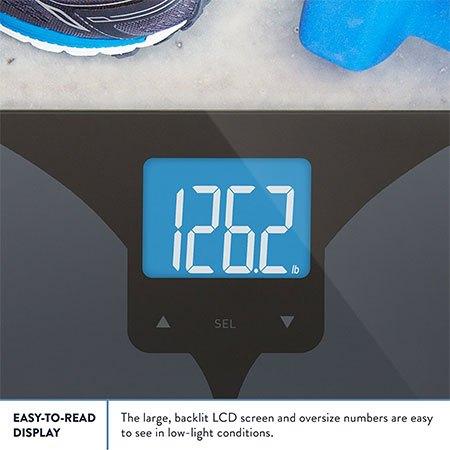 We found the "Auto-On" is the simplest way to use this body fat analyzer. All you need to do is step on the metal conductors and evenly distribute your weight on the scale.
Once you have completed the user set-up, the auto-detection will connect you to your profile. If the device doesn't  match up to any user profile, then the Weight Guru scale will only display your weight result.
The body composition calculations require your height, activity level, and gender, to be able to calculate, so ensure you input that data beforehand.
Scale specifications
Weight unit –  lb / kg
Capacity –  397 lb / 180kg
Division – 0.2lb / 0.2kg
Minimal weight –  5kg
Batteries – 4 AAA
User No –  8
Age range – 10-85
Stature Range –  3ft 3inches to 7ft 3inches / 100-220 cm
Measurements calculated –  Body weight, BMI, body fat, water weight, muscle mass, and bone mass
Frequently Asked Questions
Here are a few answers to the most important questions regarding the Weight Gurus WiFi Smart Connected Body Fat Smart Scale:
Can the Weight Guru scale connect to the popular "MyfitnessPal" application?
The smart can easily be connected to myfitnesspal application. Simply download it to your Android or IOS device and connect the scale via Bluetooth. The Weight Guru is also compatible with the Apple Healthkit app.
Can the device sync via Wifi instead of Bluetooth?
There are 2 different types, one with Bluetooth connection and the other slightly more expensive scale has a WIFI hook up. Both work great, but the WIFI one will automatically sync all your data transparently.
Is it possible to export your data via a spreadsheet or CSV file?
Is it possible to export any data from the application. There are many different ways to export the data including CSV, text file or spreadsheets.
Will the Weight Guru automatically sync other user profiles to their personal app?
Once a user has installed the an application applicable for the scale, they will need to create a profile on the scale itself, once they have done so, each time they step on the scale, it will remember them based on their statistics and automatically sync their data to the app.
Can the scale connect to all bands of WIFI?
Unfortunately the Weight Guru will only recognise 2.4ghz Wireless networks at this time.
Overall review
Overall, the Weight Gurus Bluetooth Smart Connected Body Fat Scale is a lower end, digital scale, but does what it is designed to do.
There are a few little bug bears with the device and the main one if that you need to take a pic of the barcode every time your weight yourself, so that the scale can log your information.
Another small issue is the fact the application doesn't seem to store bone and water mass, but as mentioned earlier, there are other applications you can download that will log these if that is important for you.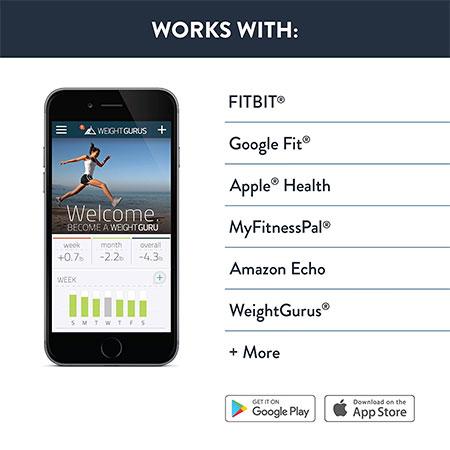 For a relatively low cost, it is certainly one of the better digital scales for those looking for a bargain.
For more, click here to read our review of the Top 10 Best Body Fat Analyzer For Accurate Percentages