Updated March 2021
Whether it is your New Year's resolution, you are into a strict workout routine, or you just want to track your BMI, weight, fat, and more, a smart scale like the Etekcity Smart Digital Bathroom Scale is a great way to keep your weight-loss objectives on track.
Smart scales are more than the typical, demotivating "you weigh a ton" scales. They usually connect with an app on your tablet or phone and show you all-inclusive results that you cannot get from that dingy and wobbly traditional bathroom scale.
Etekcity Smart Digital Bathroom Scales offer the latest technology in high-quality smart scales. With an Etekcity bathroom scale, you can track your body weight, body fat, water percentage, muscle mass, bone mass, BMI, visceral fat, and BMR.
It comes standard with four high-precision sensors to deliver accurate results instantly and conveniently to your mobile device, while its sharp and sizeable LCD display makes reading measurements a breeze.
Built For Precision And Performance
There are several models of the Etekcity digital body weight bathroom scale available, some connecting with Bluetooth wireless technology to your phone and others using Wi-Fi technology, making this scale very easy and convenient to use.
Anytime you step onto the tempered glass panel, it records your data and syncs up with the app, where you can track your progress and how much weight you lost, and determine your fitness goals going forward. It features four high-precision sensors in the glass panel that ensure accuracy every time you step on it, and its 400-pound weight limit means just about anyone in the family can use it.
It can also support an unlimited number of individual profiles, so whether your family members want to add muscle, gain weight, or lose weight, this scale can help. Each user can program their own unique settings into their own mobile devices, and the Etekcity digital body weight bathroom scale will feed the data from each weighing session into those parameters.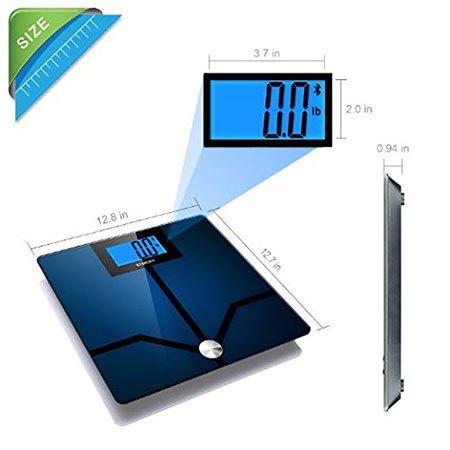 And there's no need to worry about your information being confused with somebody else's, as the device can easily distinguish between the different users.
By relaying data to your mobile, the app will display your profile before it shows your weight and other important data. The ultra-chic tempered glass of the Etekcity bathroom scale is not only durable, it also features an auto on/off system for maximum battery life and superior convenience.
Tracking Capabilities Of The Etekcity Body Composition Scale
This is perhaps one of the most outstanding features of the scale.
With the app, you get to set goals, note the type of foods you have consumed, and monitor all your workouts. You can, therefore, calculate how the food you eat is being used in your body, as fat or as muscle.
All this information is synced and analyzed thoroughly, and your results are shown as clear and bright bar and line graphs that let you effectively plan your health management routines.
This makes it very easy for you to see what is going on in your body regarding your weight. You can also choose measurements in kilograms or pounds, and it is powered by 2 AA batteries, making it very portable. You can use it at home or take it to the gym.
And unlike many other smart scales that are often functional but not aesthetically pleasing, this Etekcity digital body weight scale is very attractive. It features sleek lines and integrates well with any décor. It is also easy to read the numbers as it has a large 4.3-inch screen display.
Features
Instant readings, no need to switch the scale on or tap anything, and data that syncs up as soon as your mobile device is within range of the scale
Non-slip rubber feet, meaning you do not have to worry about scratched floors or a sliding scale
Four high-precision sensors to deliver very accurate measurements (up to 0.1 lb increments for the ESF28 and ESF17 models).
Accurate weight calculations up to 400 pounds
Auto shut-off feature that conserves energy and is pre-calibrated for convenience and speed
Designed with tempered glass to provide safety and exceptional sturdiness, with a surface area of 11.8" x 11.8" to 14.8" x 11.8" depending on the model you choose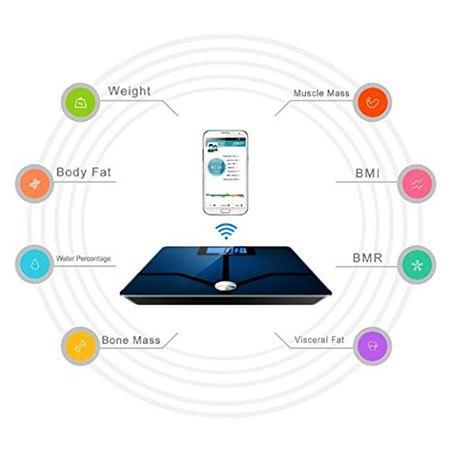 Etekcity Bathroom Scale Pros
The Etekcity digital body weight bathroom scale has a rating of 4.6 to 4.7 (depending on the model) and is reasonably priced too. Some other pros include:
Free mobile app to download data and track progress
Syncs up with other monitoring devices such as Fitbit or Samsung Smart Watches, allowing for other readings such as heart rate and blood pressure to integrate
Low energy consumption with 2 AA batteries for operation or USB charging on the ESF00+ and ESF93 models
Scale tracks a comprehensive list of variables for body health including weight, body fat, body water, muscle mass, bone mass, protein, BMR, metabolic age, visceral fat, subcutaneous fat, fat-free body weight, and BMI
Etekcity Bathroom Scale Cons
This is not a top-tier product like the Garmin Index or Philips Connected Scale, and accuracy can be an issue if you are really looking for in-depth and fully accurate readings. This is, however, outweighed by the massive difference in cost.
Some other cons include:
Connecting with the app can be challenging, depending on your type of mobile device, but the manual helps
The data can be somewhat overwhelming when you start, but you can choose which data to display on your mobile, which helps
Etekcity Digital Body Weight Scale FAQs
How Accurate Is Etekcity Scale?
It is one of the most accurate scales in its price class.
How Do You Turn On The Etekcity Scale?
It is activated by pressure. Simply step onto the glass platform and it will begin gathering readings.
What Does C Mean On The Etekcity Scale?
A "C" on the scale could mean you have exceeded the weight capacity or that battery power is low.
Conclusion
The Etekcity Smart Digital Bathroom Scale is a fantastic fitness and weight-loss product with all-around capabilities to help you achieve your fitness and weight loss objectives. In addition, the machine is well designed and makes a great feature in all bathrooms.
It also integrates well with many smartphones, making it one of the most connective digital smart scales available. It is an exceptional option for people who appreciate maximum compatibility and connectivity.
For more info, read our review of the Top 10 Best Body Fat Analyzer For Accurate Percentages.
Which is your scale of choice and why? Please share in the comments below.