This post is a review of the Towabo fitness tracker, a low cost competitor to fitbit and other brand trackers.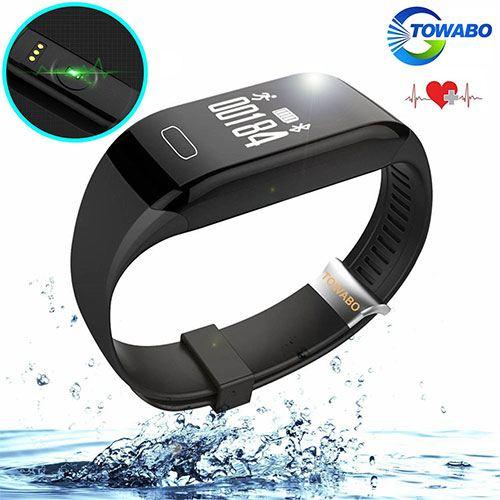 In a fast-growing tech industry, there is always that one device that just hit the markets and you need to get out and buy it.
 It's been like that for years, and everyone has been searching for ways to simplify daily life by using new tech products. One of the most recent tech booms are the fitness trackers.
Fitness trackers have multiple user settings, and they are built with a goal in mind; to help you monitor your daily actions, track how many calories you burn, receive messages, calls or notifications from social media apps.
These trackers have many more functions, and they have been proven to work precisely.
Towabo's tracker helps you to be more productive as it shows you your daily actions through visible data, allowing you to compare results with other users. This is a critical and well thought out feature as competition is a huge motivation factor.   
There are many reasons why we think you should own a fitness tracker; it has been proved that these wristbands offer many insights about your life that motivate you to correct or modify any bad habits you have adapted through your daily actions.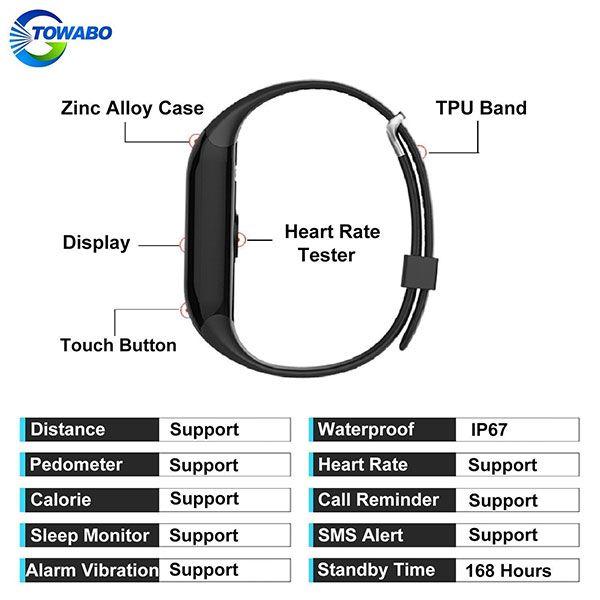 According to the most recent studies, people who wore fitness trackers and had used it to track how many hours they slept each night, managed to cease problems with lack of sleep and that led to better and more productive life experiences.
In our today's review, we are going to present you one of the leading products in the fitness tracker industry.
It is the Towabo fitness tracker wristband that has a heart rate monitor, and it can track the number of steps you take, your sleep, and many other important daily activity metrics.
Fitness tracking and more
The main feature of Towabo fitness tracker lies in its multi-functionality. Main functionalities of most fitness trackers include:
Monitoring number of steps you take-

This is ideal for individuals who want to have insight into daily distance travel statistics. Towabo fitness tracker provides accurate data, and it has been tested when walking and running. It scored some great results, and because of its actual data in this category, we are falling in love with it.

Monitoring heart rate-

Most trackers possess this function, and that is the foundation of these devices.
Unlike other basic fitness trackers, Towabo offers some additional functions that makes it stand out from the crowd. These include:
Calorie burning data –

Even though many fitness trackers do not offer the most accurate results, we tested Towabo and it gives us the results we have been hoping for.
Sleep counter –

Another great feature of this product that proved to be of the utmost importance for anyone looking to gain useful data about their daily actions.

Durability –

Many customers confirmed that this product is durable. Unlike many others in this category, Towabo is built from really durable materials that will last a long time.
Battery life – The

 battery can last for three days at least before it needs to be recharged. If you disable some of the functions you think you won't need, it can last up to an incredible 7 days. It takes up to an hour to fully recharge the device.  
Smartphone compatibility
What adds up to the overall performance of this item is its compatibility with different operating systems. This piece of technology can beautifully sync with Android 4.3 and above and IOS 8.0 and above operating systems and it also supports messaging, SMS, calls and it has alerts for Facebook and Twitter.
All Features
Towabo's fitness tracjer is water resistant and you are free to wear it all the time with an exception during the showering. It sync beautifully with a wireless option and it even offers a Bluetooth off-line monitoring feature.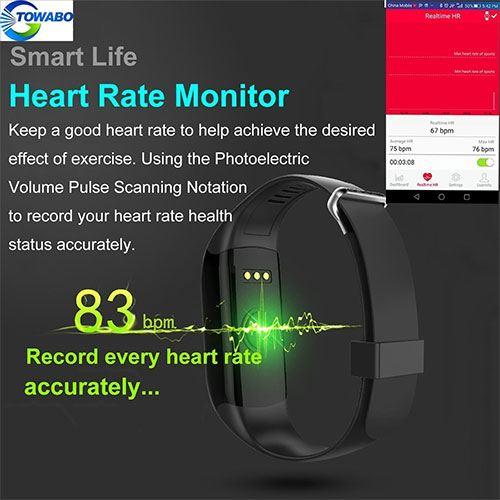 The screen on the towabo tracker has built-in auto light up and every time you turn your hand, it will show a lighted display. A sedentary remind feature has been specifically designed for those who spend a lot of time at their desks.
The main downside of this product is the same as with all fitness trackers. The accuracy of the provided data is hard to be confirmed and some imbalance can easily be noticed.
FAQ (Frequently Asked Questions)
What language features this product offers?
Unfortunately, the device offers only English language option.
What fitness apps to connect with this device?
You can connect with all three apps made by HPlus. These apps offer some great extensional data you may need. The same apps are available both for Android and IOS systems.
Is this device able show body fat percentage?
Towabo fitness tracker does offer the feature of BMI percentage and it is measured based on your weight and height.
Is the wristband adjustable?
Of course, this device fits every wrist.
Can I use this device while showering?
The device is water resistant however, it is not completely waterproof. Showering may damage the product.
Online customer reviews and scores
We have been closely following product reviews on Amazon to track what customers have been saying about Towabo Fitness tracker.
It scored incredible 4.3 out of 5 stars at the time of writing this review, and it is currently one of the highest rated in its category. It has over 400 customer reviews and more than 70% of reviews were 5-star rated.
Users of Towabo have definitely recognized its features- durability, long battery lifetime, and multi-functionality were the main points in most reviews.
Wrapping it up : Should you buy the Towabo tracker?
Out of the broad choice of different fitness trackers from different manufacturers, we feel like Towabo is the best solution at this price range.
It does not offer groundbreaking data; the accuracy is very similar to other trackers that can be much more expensive (like fitbit's trackers).
All of the trackers use the same sensor system, but the features of this on Towabo outweigh the features of competitor products. Its battery lifetime, durability and synchronization with a range of different devices are what makes the product stands out.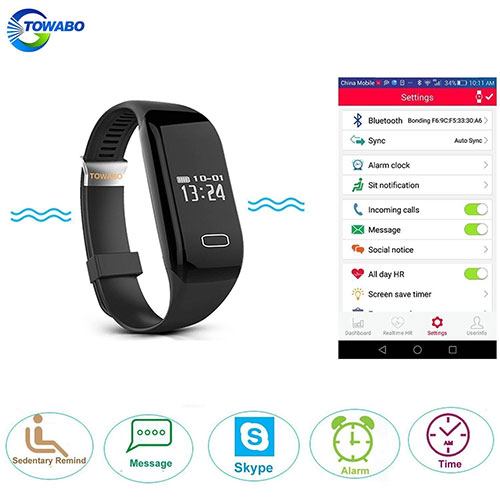 We feel that consistency beats accuracy when it comes to tracking daily movements.
You will not find a fitness tracker on the market that will offer the exact data, but the key lies in the opportunity to measure actions every day and compare them.