Let's review the ELEGIANT Wireless tracker, a smart fitness bracelet can help you keep fit or lose weight by monitoring your physical activities during the day.
We all know how important it is to have an active lifestyle and eat healthy.
Although we don't do that too often, we are aware of the impact of regular physical activities on our constitution. Therefore, the review will focus on a popular device that can be truly useful for us on the way to make our lives more productive.
Modern features for a healthy lifestyle
The ELEGIANT Wireless Activity Tracker is designed for you to achieve your Fitness Goals and properly track your progress.
It encourages a healthy lifestyle by Counting Steps (10.000 steps daily being the minimum recommendation), Sedentary Reminder, Calories Burned Measuring and Sleep Management.
Other features include Find Your Phone, Camera Remote Control, SMS Reminding, Call Reminder and you can receive the calls from your phone.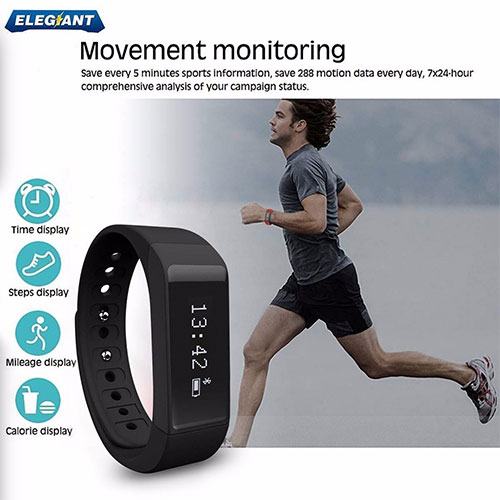 The wristband is made of silicone, soft and skin friendly, very comfortable to wear. Using stretchy silicone material, the wearable maximum length is 7.6 inches, minimum length is 5.5 inches.
The whole display can be pulled out from the band and used as a USB stick.
The USB connect feature works well with an array of smart devices, and it is very continent to charge the built-in battery via charger or computer. Fit for: iPhone 4S or above (iPhone 4S, iPhone 5, iPhone 5S, iPhone 5C, iTouch5, iPad3, iPad4, iPad air, iPad mini, IOS 7.0 or above system) Android 4.3 or above, Bluetooth 4.0.
The backlit screen responds to finger gestures such as swiping and double tapping. Basically, the design is easy to use and benefits people of all cadres.
Specifications
Style – Wristband
Tracking features – Calories, Sleep, Steps
Supported activities – Sleep, Walking
Sensors – Pedometer
Sync Technology – Bluetooth
Power – USB
Battery life – 120 hours
Additional features – Alarm, Clock, Water resistance
Online Customer reviews and scores
The ELEGIANT Tracker received 3 out of 5 stars, from 851 reviews at the time of writing this review.
This makes it a reliable product, that meets the needs of those interested and achieves its purpose.
It is important to mention that fitness bracelets or watches are used by people who enjoy outdoors activities, as well as athletes who need to monitor and carefully analyse their performance when preparing for new sports competitions.
Positive ratings
The product works exactly as advertised, the battery lasts a long time, and the design is very nice. It fits tiny wrists, the durable material making it a good deal, meaning you get what you pay for.
And that is something to appreciate because there are a decent number of options you get at an affordable price: after you fully charge it, you can breathe easy because you don't have much to worry when it comes to charging it.
Pairing the device to the app is easy; the app not only tracks your steps, it tracks sleeping too.
GPS tracks your movement for either running, cycling or walking; the camera function lets you take a picture with your phone away from you.
All the mentioned features worked well, from what customers have said in their comments.
One more feature to be mentioned is related to the general goal that was mentioned. The device goals you at 10.000 steps. When you hit the 10.000 mark, the unit vibrates to notify you.
Negative reviews
Most of the drawbacks refer to the pedometer, that doesn't seem to do a good job counting all the steps, and the size of the bracelet.
It becomes a little troublesome when you try to wash your hands, having to worry about it getting wet.
It would be nice to be able to wear it a little higher above the wrist.
These are not necessarily difficult drawbacks to overcome, pedometers not being the most precise devices on one hand, and on the other hand, you can't really fool the unit by swinging or raising/lowering arms. In regard to the bracelet, we should keep in mind it is indeed a bracelet and not a watch, a stylish one in fact.
Frequently Asked Questions
"What is the smallest wrist it will fit? I want to buy it for my 8 year old son."
You can adjust to the smallest setting, and it will fit, it won't fall of. It is a great choice for this very reason.
"Does this track steps if you are walking indoors?"
Yes, although it may not be accurate. It does very well with motion.
"Does the device work with the latest Iphone?"
The device is compatible with all the latest smartphones and tablets.
Wrapping it up: Should you buy Elegiant's fitness tracker?
If you want to get into the world of fitness, the ELEGIANT Fitness Tracker is definitely a starting point that is affordable.
Monitor your heart rate, step count, calories burned, sedentary elements, sleep patterns, and more. All the information is stored and given to you through the syncing of your smartphone, or within the display.
It tells time of course, but it does so much more as well. When you have this on your wrist, whether or not healthy elements are playing a role in your progress, you gain better tracking of your progress.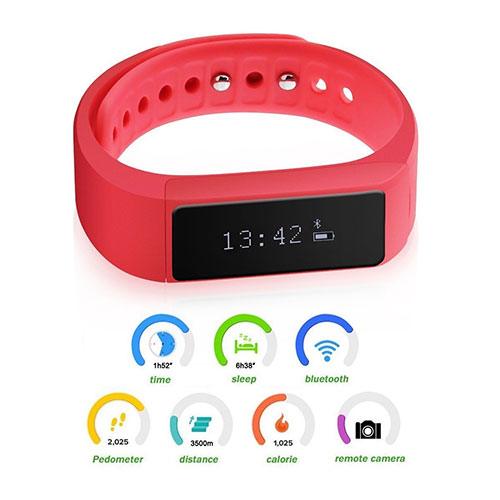 Overall, this is a lightweight, easy to use, option that tracks all the elements you want, at a price you can definitely afford.
Don't expect it to have the same build quality as a fitbit or a polar loop 2 tracker, but hey, at this price you can't really complain 🙂