Fitness bands have become all the rage. They can tell us how many calories burned, steps taken, and even what our sleep habits are.
Fitbit broke the mould with the technology for these fitness bands, but since their introduction, other brands have come forward with their version. Jawbone is one of these brands, also offering quality wearable tech.
With both products offering a similar service, does it matter which one should you choose? This post compares the Jawbone UP2 VS Fitbit Flex, to help you determine which is best for you.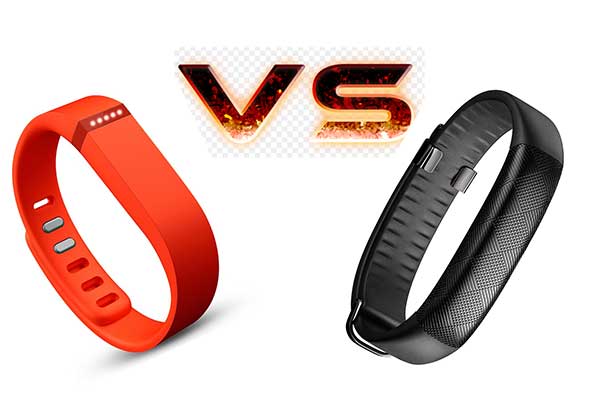 Jawbone Up2 – Tracking with Style
Jawbone Jawbone is a world-leader in wearable fitness devices. *Over 600 patents have been granted to Jawbone for their myriad of apps and services as well as for their manufacturing process.
Jawbone's Up2 model is a super-stylish fitness band that's thin and lightweight.
It looks more like your everyday bracelet than a piece of technology.
Sleep tracking
One of the first features is the sleep tracker.
It can determine how long you have slept and differentiate between light and sound (deep) sleep. If you're having trouble sleeping, their app will give tips on how to achieve a better night's sleep.
Jawbone's Smart coach app
The app, "Smart Coach," is your personal trainer (Available on IOS and Android). The more you wear your Jawbone Up2, the more personalized the app gets.
It's a great encouragement to reach your fitness goals!
Need a bit of a nudge to get you going? You can set alarms or idle alerts, and your device will lightly vibrate at your request.
The activity tracker looks at your movements, how long you have been active, and calculates calories burned. Why not add your friends to the app and challenge each other? You can have step challenge duels!
It can be an excellent way to get the motivation to get up and move.
Ther's a food tracker via the app as well. It has thousands of menu items from popular restaurants as well, so no excuse not to log in and document your meal if you're looking to lose weight. Of course, it has your everyday foods as well.
Also, this device runs on a lithium battery that can last up to ten days before it needs recharging.
While the technology of the device and app are fantastic, some reviews suggest that the strap can experience wear and tear quickly and snap. It also doesn't measure pulse like some others on the market do.
Fitbit Flex
Since Fitbit first came onto the scene, they have evolved. They have a few different models of Fitbit, but the Fitbit Flex is one of the most popular.
Not only is it because of the Fitbit brand, but because the device offers everything you could need in a fitness band and in a very simple way.
The band comes in a variety of colors, but unlike the Jawbone Up2, you can switch the bands out to suit your outfit if you wanted to!
Unfortunately, the strap's something else that users have complained about, but you can replace the ties easily. It's also water-resistant, something the Jawbone Up2 isn't.
Similar to the Jawbone Up2, the Fitbit Flex will track your sleep automatically. When it comes to tracking your activity, the fitness device will look at steps taken, calories burned, distance traveled, and how long you have been active for, just like the Jawbone Up2. A great feature of the Fitbit Flex is its LED lights that light up one at a time as you get closer to your daily fitness goals.

Your Fitbit Flex will sync automatically with either an app on your smartphone or on your computer (Jawbone Up2 only works with an app.) The battery life only lasts five days compared to Jawbone Up2's ten-day lifespan.
Which one should you get ?
The two fitness bands are very similar, but it's down to personal preference.
The biggest different between the UP2 and Fitbit's Flex are the way they look and the battery life.
If you need visual encouragement during the day, then the Fitbit Flex is ideal, but the Jawbone Up2 is a good choice if you especially want to track sleeping habits with the dark vs. light sleep.
There's also a slight difference in price with the Fitbit Flex being slightly more, but the Jawbone Up2 is a good economical choice. Whatever you pick, you will be getting efficient help towards your fitness goals!