Starting a fitness journey can be overwhelming, whether you are visiting the gym or working out at home. Soon, you begin to ask yourself, am I doing it right? Was it this tough for those fitness enthusiasts when they started? Well, their consistency and use of the right workout accessories led to their success.
Imagine what you can achieve with an array of dependable workout accessories, carefully handpicked to enable you to achieve your fitness goals. It does not just end with those gym machines or exercise equipment that you use at home. The right training shoes and fitting gear also help, but they do not cut it if you want the best results.
After re-evaluating your habits, you need to choose the right exercise options to make up your fitness routine. Whether it involves swimming, running, weightlifting, or any other activity, using the proper gear will improve your performance. We have put together the five (5) best fitness accessories to make your overall experience worthwhile, even if you are not a beginner.
Quick Look at Our Top 5 Picks
Fruit infused water recipes eBook included

Pyramex I-Force Sporty Goggles

Replacement lenses in different tint colors

Wild Wolf Outfitters Water Bottle Holder



Detachable and adjustable shoulder strap

Extra pocket for phones, credit cards, and car keys

TNT Pro Series Arm and Thigh Trimmers



LANYI Running Sports Gloves



Premium coating for touchscreen operation
Best Fitness Clothing Reviewed
Hydracy Water Bottle
The Hydracy water bottle is specially designed to store liquid content without leakage or puddle of water forming due to condensation. It is large enough to contain the quantity of water needed to keep you hydrated throughout your daily workout. The fact that it is reusable makes it an ideal accessory for fitness enthusiasts, including men and women who want to stay healthy.
Although this product is made from Tritan plastic that is shatterproof, it comes with a neoprene sleeve that can withstand harsh environments, and protect the bottle from scratches or dents. It also features a detachable carry strap that makes it convenient for users during movement. You do not have to worry about foul plastic taste or exposure to toxic chemicals while drinking from the bottle.
The Hydracy bottle is lightweight and comes in multiple colors to suit user preferences. It also features an intuitive timeline to ensure that you drink the right amount of water recommended for your weight. Users love the stylish design with a spill-proof flip lid and a fruit infusion strainer, ensuring that you enjoy every drink to the last drop.
Pros:
Fruit infused water recipes eBook

Stylish design with a spill-proof flip lid

It features a fruit infusion strainer

Intuitive time marker

Lightweight and shatterproof plastic

It comes with a neoprene sleeve and carry-strap
Cons:
The bottom is quite broad and may not fit in some cup-holders
Pyramex I-Force Sporty Goggles
The I-Force sporty goggles are a fantastic fitness accessory from Pyramex that incorporates innovative technology to enhance your performance while working out outdoors. It has a unique coating with the H2X anti-fog technology, which ensures that users enjoy optimum visibility in different climates. Whether it is raining or sunny, you do not have to worry about fog forming on the lenses.
The outer coating of the lens with polycarbonate makes it scratch-resistance and protects the eyes from UV radiation. It also comes with an elastic strap that is both removable and adjustable to give you a perfect fit. With the foam carriage design, users do not have to worry about sweat getting into their eyes from the head during exercise. This feature also ensures that you sweat less within that region while feeling fresh.
The frames and lens are tested to guarantee resistance to impact from some moving objects. Whether you are playing tennis or squash, the danger of the ball directly hitting your eye is eliminated. The nose bridge is also designed to limit injury from any impact during exercise. Users can order replacement lenses of different tint colors to suit their style.
Pros:
Versatile use

Comfortable and secure fit

Easy snap-on lens replacement

Impact-resistant lens and frame

Adjustable strap

UV resistant and anti-fog design
Cons:
Not suitable for use indoors
Wild Wolf Outfitters Water Bottle Holder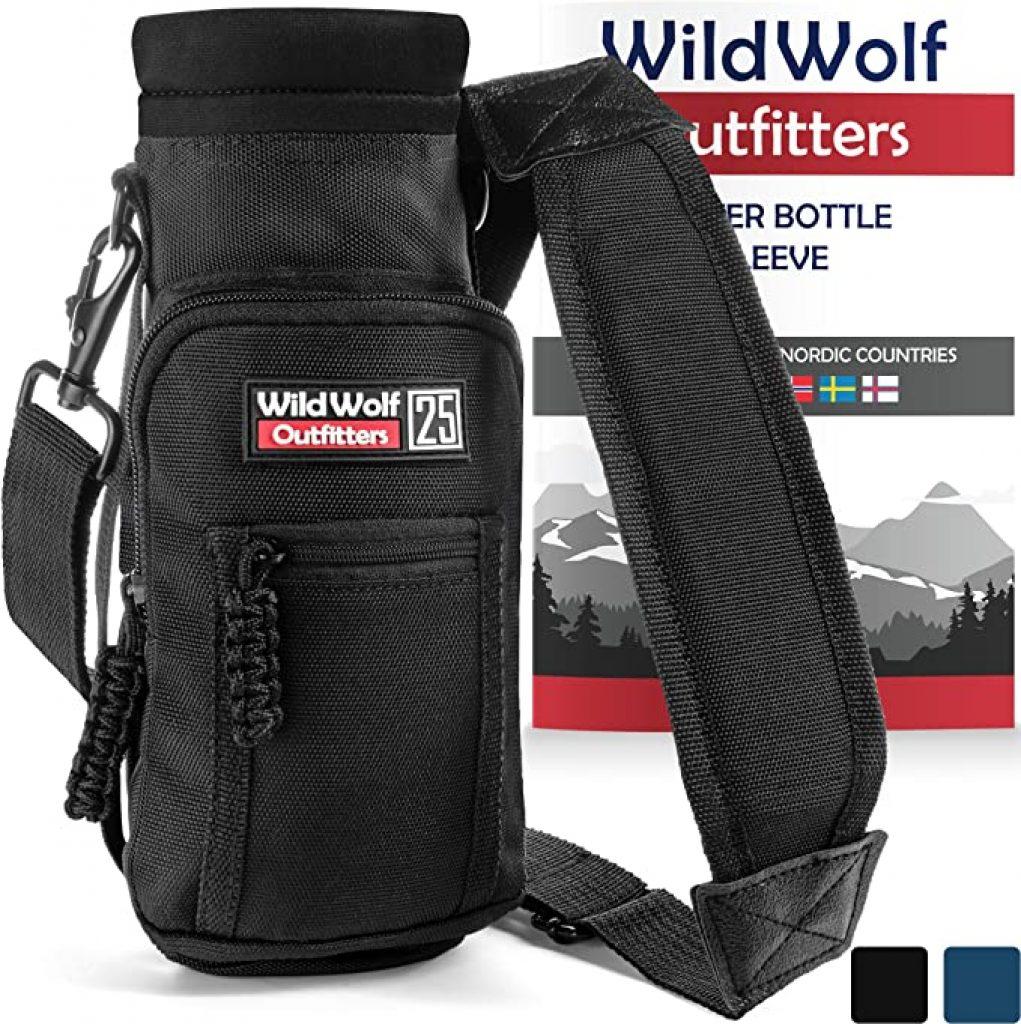 You need both hands free if you want to jog comfortably, making it difficult for you to go with a phone, a portable music player, or even a water bottle. This water bottle holder from Wild Wolf Outfitters changes things, as you can now carry along your phone and other little things like credit cards and car keys, while also staying hydrated during a hike.
Users of this water bottle holder get to exercise for as long as they want since they can easily carry along the amount of water their bodies need. It comes with a detachable and adjustable shoulder strap with comfortable padding that allows you to carry a full water bottle for as long as possible. The bottle holder can fit several 25 oz flasks aside from the model by Wild Wolf Outfitters.
This unit features a double-layered sleeve to protect flasks from scratches and dents. Its design using polyester, neoprene, and other military-grade materials ensure that it is durable and can withstand wear and tear from prolonged use. Other parts like the clips, zippers, and D-rings are made of quality metal, making it a more reliable fitness accessory.
Pros:
Holds phones and other little things like credit cards and car keys

Fits 25 oz flasks from other brands

Reliable military-grade materials

Detachable and adjustable shoulder strap

Metal parts increase durability
Cons:
Bottles bigger than 25 oz may not fit.
TNT Pro Series Arm and Thigh Trimmers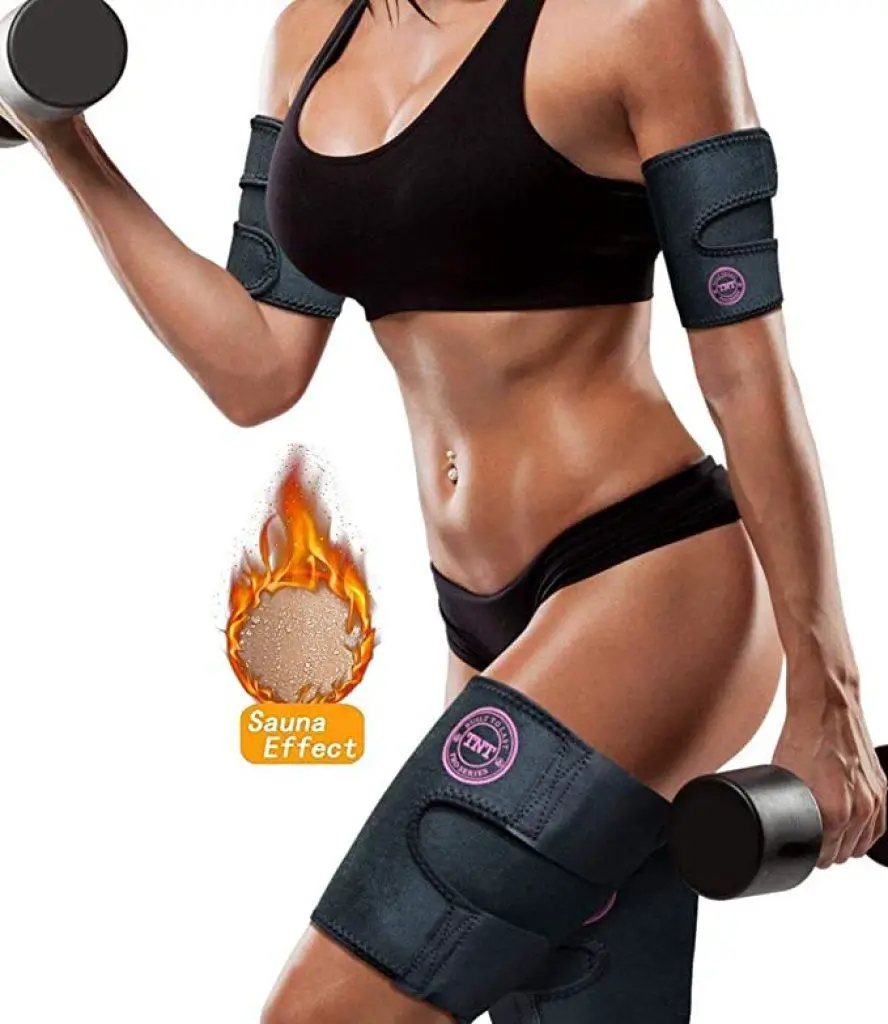 With several brands offering products with false promises and claims in the fitness industry, beginners end up with unrealistic expectations, leaving most enthusiasts skeptical. The TNT Pro Series provides fitness accessories designed to change your overall workout experience. You can now improve your athletic performance to get the desired results in no time with the arm and thigh trimmers from TNT.
These anti-cellulite trimmers help users burn excess fat from their arms and thighs during their workout routines. It also induces sweating while giving users a smooth and comfortable fit, regardless of how long they intend to wear it. The anti-grip design ensures that there is no discomfort from friction and sweating or infection from germs and bacteria build-up.
These compression wraps feature latex-free neoprene, making it safe for sensitive skin. While being moisture-repellent, it can retain heat, keeping you comfortable the entire time. It is lightweight and quite flexible, adjusting to the diameter of your arms and thighs as they increase or decrease in size. The Velcro strips make it possible for users to fasten it as tightly as they want, or take it off quickly.
Pros:
Velcro straps for quick fitting and removal

Lightweight and flexible

Latex-free and safe for sensitive skin

Anti-grip design

Moisture-repellent
Cons:
A complete set could be fitting for your arm but too small for your thighs.
LANYI Running Sports Gloves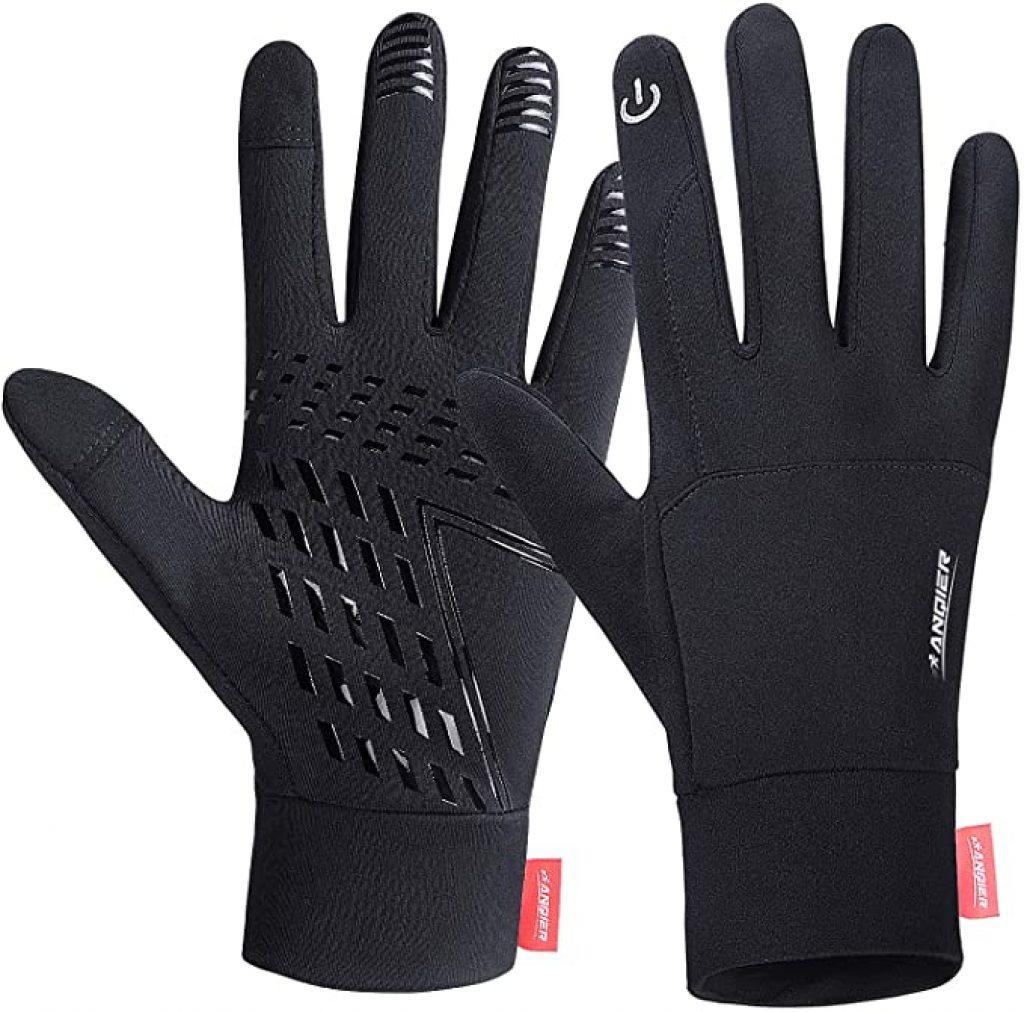 The LANYI sports gloves are another vital fitness accessory designed to keep your palms warm while you exercise. It features a compression stretch fabric that is flexible and breathable with zero-pilling, as proof of quality and durability. These thin gloves are suitable for both men and women and can fit various hand sizes.
The LANYI gloves have an anti-slip design, featuring high-quality silicone on the palm area that improves grip, regardless of the kind of activity you are performing. With the premium coating on the tip of the index finger and thumb, which enhances sensitivity, users of the glove can operate touchscreen devices like smartphones and ATMs without taking them off. This feature allows you to check your health status on your smartwatch, reply to texts on your smartphone, or get cash from an ATM quickly.
These gloves can double as liner gloves during winter since they are made of polyester fleece and can retain heat. It is hand-washable and does not lose its shape or elasticity, fitting comfortably every time. For those looking for the perfect gift for a fitness enthusiast, this product is a suitable option.
Pros:
Doubles as liner gloves during winter

Soft polyester fleece retains heat and keeps your palms dry

Allows the operation of touchscreen devices

Anti-slip design for improved grip

Breathable fabric with zero pilling
Cons:
Operating some touchscreen devices may not be smooth.
Choosing Fitness Accessories
Fitness Plan: With a goal in mind, you can create a fitness plan with the right exercises to yield the desired results without injuries. It has to be a balanced routine that enables you to work on specific regions without neglecting your overall weight. Whether it is just cardio, strength, or flexibility workout, the right accessories will ensure that you achieve your objectives. For instance, individuals working on shedding the excess fat in their belly, arms, and thighs can get trimmers for the best results.
Identify the Challenges: Several workout accessories are available today, with some of them capable of impeding your fitness progress. The type of exercise that you choose will determine the gear that you need. You may have found out that sweating leads to dehydration, causing you to get tired quickly. A good flask would do you much good since it can hold liquid at the desired temperature. But would you keep the bottle in one hand while exercising? A specially designed water bottle holder will come in handy at this point to free both arms.
Price of Accessory: Since similar products from different brands may not cost the same amount, it is best to have a budget before making any purchase. It is possible to find an accessory that will satisfy your needs at an affordable price. You do not have to spend your life savings trying to keep fit.
Other Fitness Accessory Options
After achieving some fitness milestones, you would need to take things to the next level. Seeing that our fitness needs differ, it will be of immense benefit to acquire the right combination of accessories for a remarkable experience.
Wearable Sensors
Advancements in technology have led to the manufacture of portable devices that can enable users to track their health metrics. These gadgets feature sensors that can monitor the heart rate, blood pressure, and weight. Some models have GPS and can count the number of steps you take per day, track your calorie intake, sleep patterns, and skin temperature. Most of them can be worn around certain parts of the body, and are an excellent investment for those that understand health tracking and its importance for improved wellbeing.
Mobile Apps
Your smartphone can become a useful accessory to help you across several milestones in your fitness journey. It can be loaded with music to motivate you during a workout routine and fitness apps that act as a virtual coach or those that keep track of your health metrics. You can keep your phone close and access certain features using a hands-free device like a Bluetooth headset. Certain armbands come with extra pockets for holding portable devices securely as you exercise.
Water
Due to the amount of water lost from sweating during an exercise routine, hydration is crucial for improved performance and overall fitness. According to research on the importance of water in sportsman nutrition, loss of body water could lead to a decrease in muscle strength and speed. Continuous water intake improves circulation, revitalizes the body, and prevents it from overheating. A hydration pack will do much good, whether working out at home or in the gym.
Towel
Gym goers are required to bring along towels to wipe sweat from their bodies to avoid having the equipment look less sanitary for other users. Even while working out from home, sweating on surfaces makes them feel cold and slippery. Sweat getting into your eyes can also be uncomfortable, making the entire routine less fun. With your towel, you can stay dry and fresh for the duration of the exercise.
Final Thoughts
After setting and accomplishing your fitness goals, you will find that your overall health and happiness will increase. Whether you are a beginner or not, the right accessories can guarantee that staying fit does not appear as difficult as people make it look.