If you have heard of Aaptiv and wondered what all the hype was all about, you don't need to look any further. We have noted the key points in this Aaptiv review just for you.
If you struggle to find the motivation to work out and never know what to do when you eventually pull up your tights and turn your music on, you may need the help of a reliable fitness community.
Aaptiv could be your solution, as it has over 200,000 members enjoying the platform and is continuously uploading new workouts every week to help keep you motivated to reach your fitness goals.
There is no longer any need to spend hours choosing the right workout only to be unhappy with the background music or lack of instructions.
So why is Aaptiv so popular, and what exactly does Aaptiv do? I'm here to give you the ins and outs along with a couple of the downfalls of the app, which will hopefully be fixed in future updates.
Aaptiv has been motivating fitness enthusiasts with personalized training programs, stimulating playlists, and options for every fitness level since 2016.
Quick Aaptiv Review
Your ultimate fitness buddy is here and won't let you down due to bad weather or feeling lazy (yes we're talking about your running friend who always has an excuse).
Unfortunately (read, fortunately), you will no longer have the excuse of not knowing what workout to do or what music to listen to. Now you can enjoy motivation from numerous other users who understand the challenge of trying to get off that couch.
Aaptiv App Features
Here is a quick guide to what Aaptiv is and how it works.
I have summarized what I found positive about the app as well as some things that could be improved upon, and I also had a look at some of the common likes and dislikes about the app from other users. Here is what you can expect.
Pros
User-friendly and easy o use
Over 14 training types available
Various degrees of difficulty
Access to popular music during your workout
Offers downloadable workouts for offline use
A supportive community of fitness enthusiasts and coaches
Cons
Limited visual guidance
Requires data to use before workouts are downloaded
Audio guidance may be challenging to some
Now that you have a general idea of what makes the app great and not-so-great, we can delve a little deeper into this workout app and why it is loved by so many.
What Does Aaptiv Do?
We look at all the key features and pricing of the Aaptiv workout app, along with a few questions you may have about the app.
These are the reasons why you should consider using Aaptiv to help you improve your fitness performance.
Aaptiv Key Features
In a nutshell, the key features of Aaptiv include:
New workouts every week
A free trial option
Personalized instructions
Over 2,500 guided workouts
Can be used anywhere
This workout app can be used at home, in the gym, or basically anywhere you want to work out, with new fitness routines uploaded every week, allowing you to change up your workouts from cardio to weight training and more.
The community on Aaptiv is supportive and always willing to offer motivation, with expert coaches ready to inspire and assist you when working out.
You can choose from 14 training types including:
Strength training
Meditation
Guided runs
Yoga
Treadmill
Pilates
And many more
3 Simple Steps
Once you have signed up you only need to take three simple steps to start your workout:
Choose your goals to see workouts designed for your needs
Select the workout duration, your desired trainer, and your music
Turn up the volume on your headphones or speakers, and get training!
Yes, it is that simple, and it has something for everyone. As long as you can follow audio-guided instructions, you will be training in no time.
Aaptiv Pricing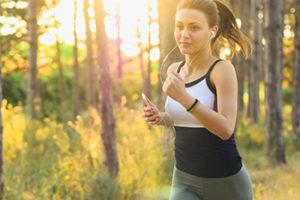 If you have tried out the free trial or are ready to jump right in and sign up, here is the pricing structure of the app.
When you are ready to sign up for Aaptiv, you can choose between a monthly or annual subscription:
Monthly subscription – $14.99 with automatic renewal each month
Annual subscription – $99.99 with automatic renewal each month
This means you receive a 45% saving if you opt for the annual subscription. If you decide that you don't need guided workouts anymore (or you just got lazy), you can cancel at any time.
Remember to cancel at least 48 hours before your next billing date to avoid incurring the automatic renewal cost.
FAQs
I'm sure you have a few questions at this stage and hopefully you can find your answer in these frequently asked questions:
1. Is Aaptiv Accessible Around The World?
The app is available for download in over 20 countries. To see if you can access it, check the full list of countries. If you have the app, you will still be able to use it if you travel internationally.
2. Who Are The Trainers On Aaptiv?
The trainers come from a diverse group of fitness enthusiasts certified by organizations including ISSA, NASM, and CSCS. The training roster may get changed from time-to-time based on member feedback.
3. Is It Possible To Directly Contact A Trainer?
Yes, the trainers are happy to assist if you have any questions or are looking for some extra motivation. You can reach out to them in the team tab through the app.
Final Verdict
Now that you know the basics, the only way to find out if you will enjoy it is to try out the free 7-day trial and start your fitness journey.
My verdict is that Aaptiv is definitely worth the price since finding motivation on your own and the right workout music is just too time-consuming.
With Aaptiv, there is plenty of motivation and fitness friends to join you on your journey. If you have any experience with Aaptiv, please let us know in the comments below.