Updated March 2021
Vegan diets are becoming popular among many athletes, from beginners to professionals. That said, choosing the right foods for a plant-based diet is important for your athletic performance, so we are here to help you choose the best vegan protein powder for your needs.
Consuming the best plant-based protein powder for your fitness journey is important to provide you with the right shake for your workouts. We are determined to help you choose a protein shake that you will enjoy and that will also be the healthiest choice.
Quick Look At Our Top Picks
| | | | |
| --- | --- | --- | --- |
| | | | |
| | Orgain Organic Plant-Based Protein Powder | | |
| | Vega Protein & Greens, Plant Protein | | |
| | Elite Protein Organic Plant-Based Protein Powder | | |
| | Garden Of Life Organic Vegan Protein Powder With Vitamins And Probiotics | | |
| | Plantfusion Complete Plant-Based Protein Powder | | |
| | Optimum Nutrition Gold Standard 100% Organic Plant-Based Vegan Protein Powder | No added colors or flavoring | |
| | Now Sports Pea Protein Natural Unflavored Powder | Branched-chain amino acids | |
| | Vegansmart Plant-Based Vegan Protein Powder By Naturade | | |
| | Vega One Organic All-In-one Shake | | |
| | Purely Inspired Organic Protein Powder | | |
You may wonder whether a vegan diet can improve your health. When you talk about removing essential amino acids and proteins, not to mention many vitamins and nutrients, that are naturally supplied to us via animal products, many people think this is counterproductive to healthy nutrition.
The fact is, however, that when you approach a vegan diet as more of a lifestyle change and put in the effort to carefully plan your meals to provide you with the proper nutrients, it can be a very healthy option.
But you cannot get lazy with your choices. Consider which foods have the nutrients you need to not only keep you full but also energized. Vegan diets can be even healthier than an average omnivorous diet when properly administered.
If you are adding in nutrient-rich foods, ensuring that you get all of the vitamins and proteins you need, then your diet can be healthier than those who consume a lot of red meat.
Some choose to go vegan due to intolerance or allergies they have to certain foods, the main culprit being dairy. Roughly 65% of the population has developed an intolerance to dairy, which has led to the rise of alternative sources such as milk made from plants, and protein powders as well.
Many vegans turn to protein supplements as a way to ensure they are getting adequate protein in their diet. Because they have cut out animal products, they are missing naturally and easily procured proteins, but that doesn't mean it's the end of the line.
Our Top 10 Vegan Protein Powders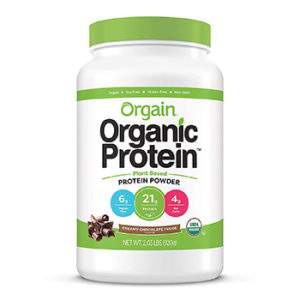 This protein powder is designed for the person who is on the go and active, and is filled with 21 grams of protein. The product is not only completely vegan but also GMO-free, gluten-free, and kosher to accommodate most lifestyles.
There are no unnecessary chemicals, additives, or artificial flavoring, so this protein powder is completely organic. The protein is composed of a blend of pea and brown rice protein, and chai to create a mixed plant-based protein powder.
While it is organic, this powder does not skimp on taste. The flavors you can choose from include chocolate fudge, chocolate peanut butter, cookies and cream, and peanut butter. The sweeteners used to enhance the flavors are natural ones such as organic stevia.
Pros:
4 flavors to choose from
21 grams of protein
GMO-free
Gluten-free
Cons:
Slightly chalky
Strong aftertaste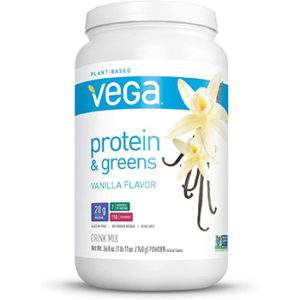 This is a mixed plant-based protein that contains no added sugar. It does however include not only protein but leafy green vegetables too, like spinach, kale, and broccoli, to give you an extra kick of nutrition.
The product gives you 21 servings of 20 grams of protein each while being gluten-free and providing a little fiber as well. The company markets the product as being made out of clean, plant-based ingredients.
You can purchase this item in small, medium, large, or 12-pack pouches for your convenience. The powder is sold in a variety of flavors including classic vanilla and chocolate as well as fun flavors like berry, tropical, coconut almond, and salted caramel.
Pros:
Added greens
No sugar added
8 flavor options
20 grams of proteins
Cons:
The added veggie greens do not provide added vitamins
It could be a bit gritty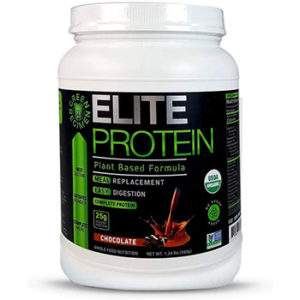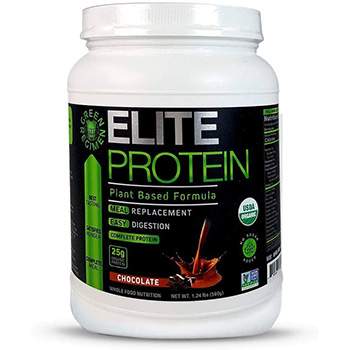 Elite Protein powder is created for those of you who have an issue taking regular protein supplements. Perhaps you have already tried other supplements and found that they are particularly hard on your stomach and make it difficult to get through the day.
Because this is a plant-based protein powder, it is naturally easier for your body to handle. Elite Protein has also created this hypoallergenic product with various potential allergies of its users in mind.
Manufactured from a blend of organic pea protein powder, organic hemp protein powder, and organic chia seeds, it is also free of gluten, wheat, GMOs, and soy to give you a more natural product.
Each serving contains 25 grams of protein, 3 grams of organic fiber, and only 150 calories thanks to the combined plants used to make the protein. It is available in vanilla or chocolate flavor as well as in your choice of either a 1.24- or 2.64-pound pack.
Pros:
Easy on the stomach
25 grams of protein
Hypoallergenic
GMO-free
Cons:
Not kosher certified
Too sweet for some people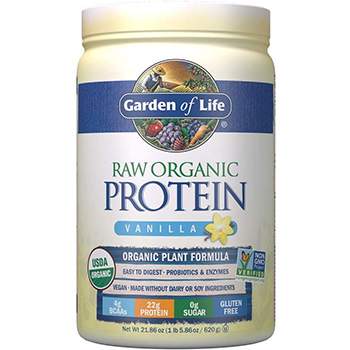 Made sugar-free from peas and organic sprouts combined to make a mix-blend, plant-based protein powder, each serving of this protein powder contains 22 grams of protein to pack your shakes and smoothies with nutrients.
The servings each give you 110 calories of energy to keep up with your busy day. This particular powder also contains probiotics and enzymes for digestion as well as many vitamins including vitamin D.
This product is available in four flavors to give you a little variety in your shakes or smoothies. You can choose to purchase this in either the canister or 10-count packages.
Pros:
Added vitamins
22 grams of protein
Probiotics and enzymes
Natural
Cons:
The container is less than full
Some customers have reported that the shake is gloppy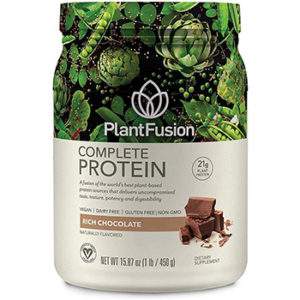 There are 21 grams of protein and 120 calories in every serving of this protein powder. There are also enzymes in this product, so your stomach will have an easier time handling the protein.
This powder is hypoallergenic and is completely vegan as well as nut-, rice- and gluten-free. Made from nutrient-rich plants, this is a solid plant-based protein powder that keeps your body energized while not being difficult to digest.
Pros:
21 grams of protein
Easy on the stomach
Hypoallergenic
Cons:
Sticky in a shake
Some complained it is too sweet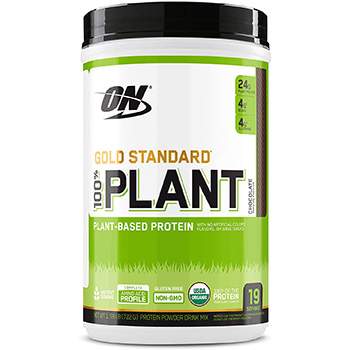 You may recognize the brand Optimum and its gold standard because this brand has been making wonderful protein powders for years. While the whey is effective and packed with protein, this plant-based powder is also filled with the essential amino acids that your body needs to perform well and to recover from exercise.
Approved by the USDA as organic, this product is vegan, GMO-free and naturally made without artificial flavors or coloring. This mixed plant-based protein is made from peas, rice, sacha inchi, grains, and powdered pomegranate.
While you do not have many options for flavor, you are getting vitamin C in every serving. You can choose to have this mix in either vanilla or chocolate.
Pros:
Vitamin C
Amino acids
No added colors or flavoring
GMO-free
Cons:
Some report the taste is not good enough
Slightly bitter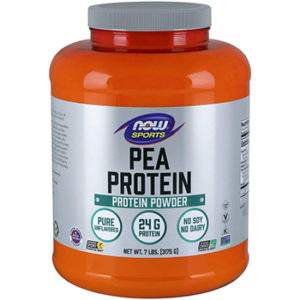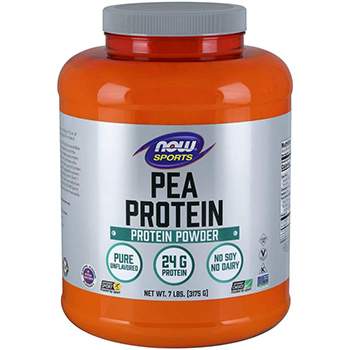 This pea protein blend made specifically for those who are athletic contains 24 grams of pure protein content with every serving. This product is made with branched-chain amino acids to ensure that you have the proper building blocks to create proteins.
Made to be kosher and gluten-free as well, the product is approved for vegan diets as well as for those who have issues with dairy, meat, and gluten. While you do not get a choice of flavors, you can choose the size of the product, from packs of one or two, or from 2–7 pounds.
Pros:
Branched-chain amino acids
Packed with protein
Kosher and gluten-free
Pure protein content
Cons:
Aftertaste
Some reported that the newer blend is difficult on the stomach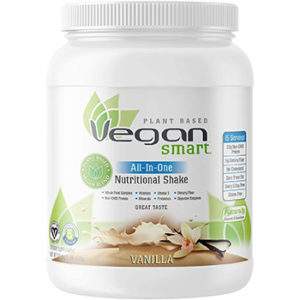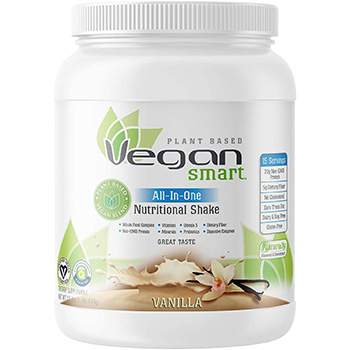 This naturally flavored and sweetened protein powder is loaded with good things for you without using preservatives and chemical additives. The powder is low in calories and made without soy, dairy, nuts, eggs, or gluten.
In this protein powder, you will find that there are not only 20 grams of protein but also omega-3 fatty acids, prebiotics, enzymes, vitamins, and minerals. There are six grams of dietary fiber without added cholesterol or trans fat.
The powder comes in chai, chocolate, vanilla, wild berry, and greens flavor. You can order it in any of three sizes from 22.75, 22.8, to 24.34 ounces.
Pros:
Omega-3
No cholesterol
Enzymes
Organic
Cons:
Not very smooth
Not great-tasting alone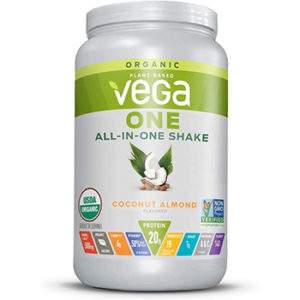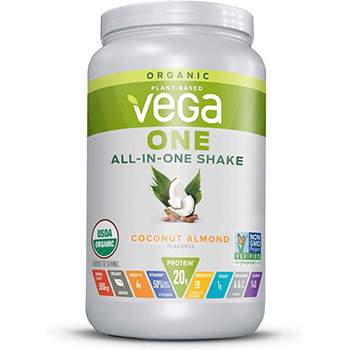 Vega One offers you an all-in-one powder packed with more than just protein. While normally we would tell you to stay away from protein powders with extra ingredients, that is not the case when the ingredients include nutrients for your body.
Filled with protein, amino acids, and vitamins, there are also probiotics, antioxidants, and omega-3s in every serving. The 20 grams of protein come from a mix of seeds and pea protein to give you the energy you need.
Eight vitamins and minerals are included in this protein powder to help boost your immune system and keep you healthy. This product is available in eight flavors including berry, french vanilla, and mocha, among others.
Pros:
8 flavors
8 vitamins and minerals
Probiotics
Antioxidants
Cons:
High in sodium
Strong stevia taste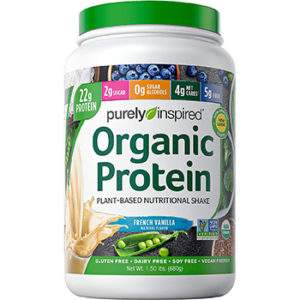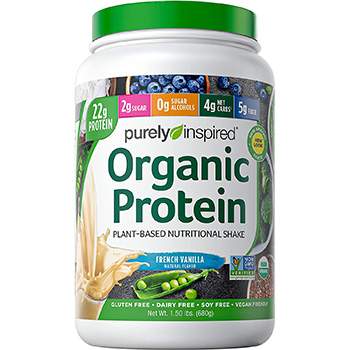 With every serving of Purely Inspired protein powder there are only 2 grams of sugar and 7 grams of fiber. You get 20 grams of protein to add to your shake, yogurt, or smoothie.
Made from peas and rice, this plant-based product is USDA-approved as organic so you can be assured that it has met the requirements to be marketed as such.
This powder is made without artificial flavors or sweeteners so the taste you are getting does not come with added guilt. You can choose either vanilla or chocolate.
Pros:
Low sugar
Fiber included
20 grams of protein
USDA-certified organic
Cons:
Discrepancies between chocolate and vanilla flavoring
Some report it is too sweet
Do Vegan Protein Powders Provide Enough Protein?
While you may have turned to protein powder as an excellent source of protein and amino acids, you may have run into the issue that some of the more popular powders on the market are made of milk-based whey. There are also egg white and collagen powders that you need to beware of, because they are not vegan-friendly.
Many of the products you see may be animal product-based and are therefore not vegan-friendly, but rest assured there is a wide market for vegan protein powders. Plant-based powders made from soy, rice, peas, hemp, seeds, and mixed plants provide ample protein in a powder form that you can use to supplement an everyday lifestyle or to add to your active, on-the-go lifestyle.
Protein Powders To Avoid If You Are Vegan
Whey protein: a milk-based protein powder
Egg-white protein: made primarily from eggs and therefore is not compatible with the vegan lifestyle
Collagen: made from extracting protein from the skin, bones, or scales of animals, not something you want if you are looking for a vegan protein powder
Vegan Protein Powders To Consider
Pea protein: a highly concentrated source of protein made by drying and crushing yellow peas to create the powder
Soy protein: a popular alternative for vegetarians and vegans for some time, filled with amino acids
Hemp protein: made from the seeds of a cannabis plant but cannot get you high (Hemp protein is not a complete protein but does offer many other nutrients such as iron, which is a nutrient many vegetarians and vegans have to be conscious about.)
Seed protein: can be made from hemp as mentioned above, pumpkin, chia, or sunflower seeds as they all contain high levels of protein
Mixed plant protein: a blended form of protein made of a few different plant-based ingredients that are ground to provide you with protein, amino acids, and nutrients that you need in one protein powder
Brown rice protein: made out of brown rice and while not a complete protein, when combined with a healthy diet it should act as a great supplement by giving you a boost of protein and some amino acids that you may be lacking
Many plant sources provide more than enough protein to give you energy for an average day and even for a highly active lifestyle. These plants have been turned into protein powders to make it that much easier to access the nutrients that you may be lacking.
It is important for you to know yourself well, to know if you are truly lacking in protein before you decide to just jump in and take supplements. You do not need to spend the money or effort to give your body something it already has enough of.
Implementing Vegan Protein Powder Into Your Diet
As already touched on, you should first make sure that you need added protein in your diet. Check the foods you are eating to see how much protein you are already consuming, measured against what is required for your height, weight, and activity level.
While the recommended amount of protein for an average adult male is approximately 56 grams a day and 10 grams less for an adult female, that does not mean it is one-size-fits-all.
It is better to calculate for yourself what is best for you and to understand how well your body reacts to protein supplements or if you have any allergies to any foods such as soy.
Once you have ruled out any issues it is fairly easy to add in protein powder supplements, as you can mix them into your yogurt, shakes, and smoothies, and some can even be added to coffee or tea. You can use them before or after a workout or just as a snack or meal replacement.
We do not recommend drinking protein powders in place of eating regularly, as protein powder is not a cure-all, and no supplement or vitamin is designed to take the place of a balanced diet and regular meals. It should be used as a supplement in addition to what you are already consuming.
For specific guidelines on how much powder to mix in with how much liquid, you can typically find instructions on the packaging. There is generally a small scoop provided in the jar, bag, or box that will help you measure out the amount you need.
Special Considerations That Were Taken To Create This List
Organically produced: These products are high ranking on our list, and being organically produced was the top consideration. Many who are seeking out vegan options have already made changes in their lives to incorporate natural, non-GMO products with little to no artificial or chemical additives.
High in protein content: The next consideration we made was the amount of protein in the products, which is obviously important because if you are seeking a protein supplement, it is because your diet is lacking in protein and therefore the protein powder you select should be adequate to fill the  need. While they may not all be complete proteins, they should still offer you a high amount of protein per serving.
Having as many branched amino acids as possible: This is important because amino acids are the building blocks of protein. You cannot have enough protein without having enough amino acids.
Minimal added sweeteners: This consideration goes along with the idea that you want a supplement in order to be healthier. Some powders do not have the absolute best flavor but can be mixed with natural sweeteners to make them taste better, and we find that is a better alternative than adding unnecessary sugars into your diet.
Benefits Of Turning To A Vegan Diet
There are many reasons why people turn to a vegan diet, and this can include compassion for animals, health reasons, or to lose weight. No matter what your reason is for cutting out meat and turning instead to plant-based foods, there are many benefits to eating this way.
Lowers Cholesterol
Animal products are high in saturated and trans fats, which raise the levels of cholesterol in your body. These elevated cholesterol levels increase your risk of heart disease, and by consuming less meat you will in turn be reducing the amount of cholesterol you consume.
Promotes Weight Loss
A vegan diet contains many low-calorie foods, so naturally you will consume fewer calories while still feeling full and getting the right amount of nutrients in your diet. Plant-based foods are also often high in fiber, which aids digestion and speeds up your metabolism, leading to better weight loss.
It Seems To Reduce Blood Sugar Levels
Diabetics can benefit from lower blood sugar levels on a plant-based diet. Studies have shown the ability of a plant-based diet to reduce the reliance of diabetic patients on their medications compared to other diets.
A plant-based diet also helps reduce the risk of developing type 2 diabetes by increasing insulin sensitivity in your body.
Best Vegan Protein Powder FAQs
Are Vegan Protein Powders Healthy?
Vegan protein powder is a good additional source of protein for athletes and fitness enthusiasts. Most vegan protein powders contain clean and natural ingredients; however, it is always best to check the ingredients of any protein powder you buy.
Vegan protein powders are not designed to replace meals or substitute for a well-rounded diet. You should include these powders in a balanced diet.
Is Plant-Based Protein Powder As Effective As Whey Protein?
It is believed that plant proteins are absorbed more easily into the body as opposed to dairy products. However, you will need to compare the amount of protein in the various powders to determine which one contains the right amount of protein for your needs.
Vegan protein powders are sufficient in providing vegan athletes with the protein they need, just as whey protein is for athletes who consume a meat-based diet.
When Should You Consume A Protein Shake?
Protein shakes are consumed to provide the body with a protein boost to help it repair the muscles after strenuous exercise. It is widely believed that the optimum time to consume a protein shake is within 15 to 45 minutes after a workout.
However, others believe that protein shakes can be consumed at any time before, during, or after the workout. You should consume it when it feels best for your body.
Closing Thoughts
If you are looking to make a change to a more organic, natural lifestyle, or if you have already been eating a vegan diet, then not only the quality but the substance that makes up your protein powder is very important. Finding all-natural, organic products that are USDA approved and free of GMOs is going to be the way to go.
The protein powders on this list are made with little or no sugar and without artificial sweeteners that are bad for your health, but this is perhaps also bad for the taste.
The best suggestion for this is to know ahead of time that protein powder is not a sweet-tasting substance, and that mixing it with something other than water will help to improve the flavor. You can add bananas, maple syrup, or Medjool dates to sweeten up your shake.
The protein powders designed for vegan living are not limited to only vegans and are great for the population at large. These powders are easier for the body to digest because they are plant-based.
Vegan protein powder is a good supplement for those who are lacking in proteins or burning through them during workouts and exercises.
If you have tried any of these vegan protein powder products, let us know your thoughts in the comment section below.