If you are interested in keeping track of your body's health and specifically your body fat percentage you may be interested in investing in a body fat caliper. A body fat caliper is a small device that you use to pinch your body and read the fat content.
Quick Look at Our Top Picks: Best Body Fat Calipers to Buy
OMRON HBF-306CN Fat Loss Monitor

Measures two body fat percentage 

Lange Skinfold Caliper Pro Kit

 quality, long lasting professional equipment

Cescorf Skinfold Body Fat Caliper

durable aluminum construction

accurate and consistent readings
For those who are looking to lose weight, get more lean muscle and reduce fat it may be helpful for you to keep a caliper handy. You will be able to take a measurement on many different areas on your body and get the same reading, reporting to you the same number to let you know what percent of your body is fat.
While you may already own a scale at home that will report to you your overall weight, it does not show you what percent of your weight is fat. Many people get weight obsessed and want to lose weight to be more slim and healthy but forget that muscle weighs more than fat does.
You may want to lose weight, but if your goal is to look slim and fit, then simple weight loss may not be the only thing you need to look into.
The number on the scale does not accurately depict how much fat is stored on your body, but the body fat caliper can detect this for you and report the actual amount of fat that you have and this is the number that you need to be working against if you are interested in losing fat.
Considerations for compiling this list
Durability: These devices should all fall under the same category of being durable for everyday use and wear and tear. They should hold up over a long duration of time so that you do not have to purchase a new device every few months.
Accuracy: These devices should all be extremely accurate devices and should record and show you the actual amount of body fat you have. Whether you check once or a few times in a single session, you should get the most accurate reading.
Compact design: To make the list of devices that we have compiled they should all be compactly designed. They should be easy to use, easy to transport and should fit in your hand and into your backpack or bag easily.
The Best 5 Body Fat Calipers
Accu-Measure Fitness 3000 Personal Body Fat Caliper
While it may seem that body fat calipers are all relatively the same, this one made by Accu-measure is easier for you to use and gives you an accurate measurement that you can trust. The device itself is small and can fit into many purses or briefcases or into a backpack so you can bring the device with you and take measurements anywhere.
Because it is so portable you can easily share this device with your friends if they want to borrow it. It will be easy for you to measure the fat on any area of your body to find out what is your body fat percent.
This particular caliper comes with a body fat measuring chart to help you better understand the numbered reading you get. There is also a body fat tracking chart to help you see what progress or lack of progress you make over time.
This is a very durable little device that you do not have to worry about breaking when you transport it. You also do not have to worry about it breaking from normal use, wear and tear because the designers understood you will be opening, pinching and closing the device often.
Pros:
Durable
Easy to use
Comes with instructions
Body fat tracking chart
Cons:
Some had difficulty getting consistent measurements
Some found it difficult to use
Slim Guide Skinfold Caliper with Booklet
Slim Guide is a company that has been making body fat calipers since the 1970's and with time they have been able to develop them to be more and more user friendly. The fact that they have been in business for a long time means that they have been able to work on making them more accurate.
You get a lifetime warranty with this product so in the event that something is faulty or does not work, you can return it to get a new product or your money back. There is also a booklet of instructions so you better understand how to use the caliper.
Made with a durable monomer so you do not have to worry about it breaking easily or with consistent use. It will be a product that lasts over time and will withstand wear and tear.
Pros:
Durable
Accurate readings
Instruction booklet
Lifetime warranty
Cons:
Some had difficulty using
Available in only one color
Sequoia Fitness TrimCal 4000 Body Fat Caliper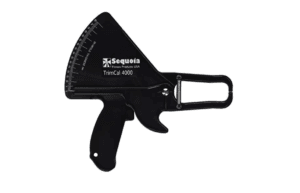 You can order this body fat caliper with a protection plan for two years in the event that something goes wrong with the device. If you find it to be difficult, broken or faulty you can return it and get a new one sent to your door.
You can order this fat caliper in black which is a color that is both sleek and typically matches other fitness devices. It is a compact design so you can transport it from one place to the next easily by slipping it into your backpack or purse.
The caliper is shaped more like a gun so when you pinch your fat it will be easy for you to perform this action. You will not have to worry about your fingers slipping or pinching yourself repeatedly or too hard with this device.
Pros:
Easy to use shape
Accurate readings
Compact design
Durable
Cons:
Some report no clicking sound when you've reached measuring point
No locking motion
Care Touch Skinfold Body Fat Caliper Set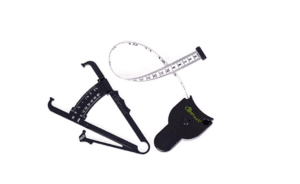 Care Touch has created a scientific body fat caliper that comes with a body tape measure so you can know your waist size as well as your body fat percent. This way you can keep track of your body fat and see how when you lose or increase in fat that it affects your waist line.
There is a measurements chart that comes with the caliper and tape so you can find out what your appropriate body fat percent is depending on height, weight, age and gender. The device is compact, but durable and will hold up through everyday use and use long term.
You can take your measurements quickly and simply as the device will let you know when you have pinched enough to get a reading. There is a two year guarantee on this device in case you find an issue you cans end it back and get a replacement.
Pros:
Durable
Easy to read
Comes with body measuring tape
Compact
Cons:
Some said the tape measure was not so durable
Instructions may be difficult to understand
Body Tape Measure and Fat Caliper Combo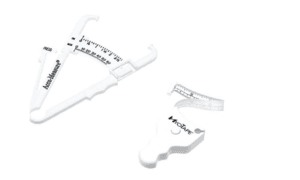 This is another body fat caliper and tape measurer combination so you get two for one. Not only will you be able to accurately measure the body fat percent you have but your overall size measurements as well.
This is a durable little device that you will be able to use over a long period of time each day. You can take the compact device with you wherever you go and it can be loaned to friends or family so they can take accurate readings as well.
You simply need to place the caliper on the skin when you are wanting to to measure the fat and pinch until there is resistance and read the number on the caliper. You can wrap the measuring tape around any warea of your body that you want to measure and get an accurate number for your sizing.
Pros:
Durable
Compact
Comes with tape measurer
Easy to read
Cons:
Instructions may be difficult
Tape measurer is slightly faulty
Closing thoughts
If you are wanting to keep better track of your fitness level or the overall fat content in your body, it would be helpful for you to have a body fat caliper on hand. Not only will this device help you to check your body fat at one time but if you keep it correctly and consistently recorded you will be able to see a picture of your health long term.
Many of the calipers come with instructions but if you are not sure how to use them, you simply must position the device on an area of the body you want to examine and pinch the device. Typically the devices will click when they have reached to proper point to measure, and people tend to choose either the upper arm or lower side of the abdomen to measure body fat.
While this does not tell you how much you weigh, it does give you an idea of how much fat you have in and on your body. This will help you to know which percent of your weight is actually fat and not accounting for muscle or bone mass.
You can check your height and age to find what the appropriate weight range is for you personally. You can also check these parameters to see what the healthy body fat percentage is for you before you start taking your measurements.