In this review, we are looking at the Bietia Fitness Tracker. Despite not being produced by a major brand, this fitness bracelet may meet your needs, be it step counting, sleep monitoring or pulse tracking 24/7.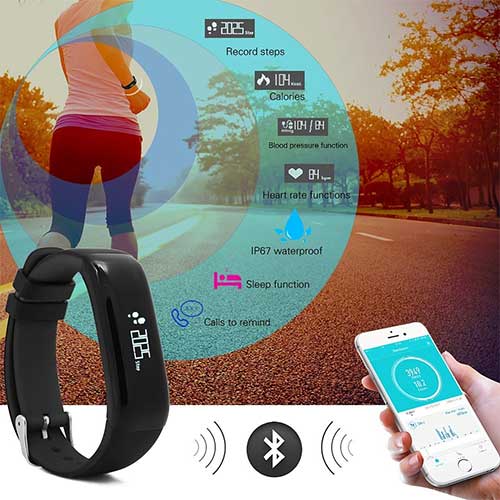 At a relatively low price point, let's see if it can measure up to the big players in this industry:
Tracks everything, 24/7
One of the most important features of this tracker comes with an improvement: you get real-time measurement of blood pressure, anytime and anywhere. Plus, you can save the records in order to create your own schedule and exercise the way your body needs to.
The records are always there when you need to look back and see your progress.
Bietia's sensitive touch screen is now larger (0,86 inch OLED display), including two display modes, vertical screen and landscape, and all you need to do is press one key for the switch to happen.
The screen will show time, blood pressure, heart rate, walking steps and distance, calories burnt, sleep monitoring and of course, battery capacity.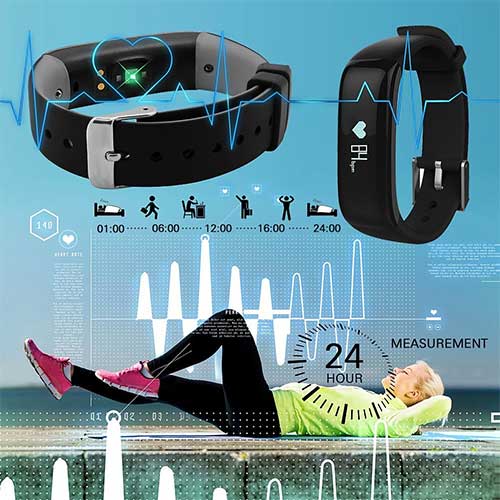 An advanced heart rate monitoring technology will provide a 24-hour reliable tracking of your heart rate and immediately lets you know when it traces any changes that can affect you.
Whether you are simply moving and exercising, jogging or practise yoga, this smart bracelet will help you along the way, scientifically and more effective.
Modern features for a smarter approach
Your activity will be tracked at all times, with a daily, weekly, monthly and annual summary.
Additionally, your sleep will be fully monitored, so you can sleep like a baby and find details in the morning.
The wristband automatically tracks how long and how well you sleep. Don't you love a nap in the afternoon? Now you can be free of worries, as the vibration alarm won't let you miss appointments or oversleep.
The alarm clock will therefore gently wake you up in the mornings, so you won't have to face the world with that grumpy face.
Moreover, the IP67 Super waterproof and dustproof design lets you experience super light wearing, and it's classy at the same time.
You can wash your hands, take a shower or a bath, or enjoy a day at the pool! That would be great for your exercise program and would make it fun.
Main features
The wristband can be adjusted

Compatible with Android OS 4.4 or above, Bluetooth 4.0, iOS 8.0  or above

Two display modes

Records data such as movement steps, calories, movement distance

Sleep monitoring, vibration alarm

Incoming calls vibration

IP67 super waterproof
Online Customer Reviews and Scores
The scores are good for this fitness tracker, 77 customers give 4.1 out of 5 stars on Amazon at the time of writing this review, meaning it has proven to be a great product for you and your family.
Customers appreciate is because it's very easy to use, just charge it and the tracker around your wrist.
Then the buttons on the sides can be switched for the desired monitor to be displayed on the screen.
Its price made it even more attractive, as you pay a small amount of money for the things it can do.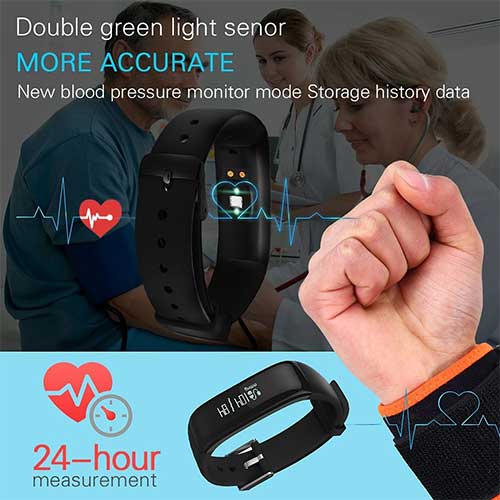 People are more than happy with their purchase, and have been surprised by the intelligence of such a small fitness bracelet. The 24 hours of continuous recording is definitely a feature you need to correctly judge your different exercises.
Positive reviews
Most of the reviews are positive and focus on the numerous benefits of purchasing this elegant tracker.
It is a product of good quality, as stated by existent customers, is well made and the excellent features make it a great deal for the money. The small size and lightweight turn it into a nice, discreet accessory on your wrist.
Therefore, you might get one for yourself and offer it as a present, because it will surely be of help for anyone who finds it hard to make a routine out of exercising. Smart and with a fantastic battery life, this wristband offers a lot of information, correctly and effectively.
The people were especially delighted by the vibrate function when they get calls or texts, as most of them needed to keep their phones on silent when at work. Another great bonus is the easy connection with almost every type of phone, so both young and old can be relieved.
You will forget that you're wearing it, but the bracelet will be as an 'electronic finger' on your pulse, constantly measuring your vitals, quality of sleep, step count and not ultimately the heart rate monitoring. Even beginners love it because it makes your daily life more interesting.
Drawbacks and negative points
The drawbacks are not something to be mentioned very often by the reviewers.
Some have referred to some accuracy problems if you move your hand too much, but since we are talking about a device doing all the counting and tracking, it is only natural.
It does not seem to be very common though, it may depend on the type of exercise you are doing.
The other minus was the poor English of the instructions, but overall this should not be too much of a problem, as the bietia fitness tracker is fairly easy to use. 
You should be aware that this is a low cost, chinese activity tracker. You cannot expect the same level of support as with a fitbit or garmin product.
But at about 3 to 5 times less expensive, for some of us the choice is easily made.
Frequently Asked Questions
"Does it show the correct time?"
Yes, just sync the device with your phone.
"Does this provide fitness data to Apple Health?"
Yes. It automatically syncs to the health data that comes with your iPhone.
"How often does it need to be charged?"
You need to charge the tracker every two or three days.
"Is the wristband replaceable?"
Yes, the wristband can be changed, comes in different colors, 2 pieces snap on each end of the device.
Wrapping it up: Should you buy it ?
All in all, this looks like a very accurate fitness tracker, as well as a simple, elegant and efficient.
The price is more than affordable and the amazing features won't let you get bored. Lee Jordan, an ACE-certified health coach and behaviour change specialist, explains that "Trackers help facilitate self-awareness and mindfulness, which are necessary for behavior change".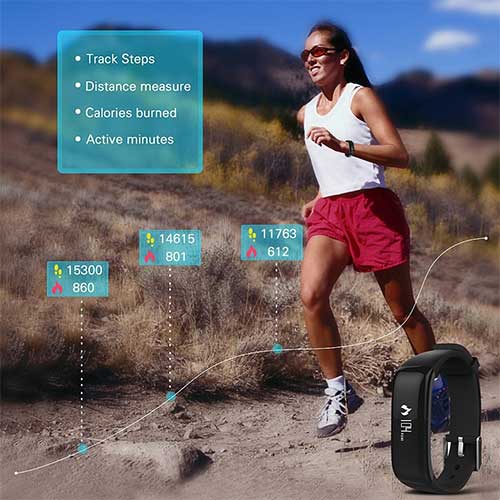 The Bietia Fitness tracker will be there to help you become more active and happy on your way to a healthy lifestyle.