This post is a full review of the Eqoba Digital Bluetooth Smart Scale.
A Body Fat Monitor is an easy to use device that can measure your body weight, body fat, water content, body muscle mass, BMR, bone mass, Body Mass Index (BMI) and visceral fat in just a few seconds, automatically.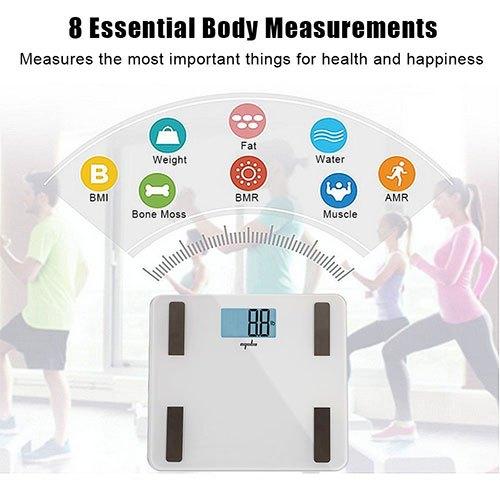 People are becoming more health-conscious nowadays and always want to have their health condition in check with frequent visits to the doctors. Each and every visit to your doctor to know more about your weight, fat composition,
About this Smart Scale
Purchasing the Eqoba Digital Smart scale will enable you to check your results from the comfort of your home easily, giving you your body's 8 main body composition metrics literally within a few seconds.
Along with the mobile application (that is quite difficult to navigate around) you can easily sync your smartphone with the scale to transfer your body composition metrics to your personal mobile and tablet for a detailed analysis and references for comparison at a later date.  
Although the scale logs your metrics, other scales such as the Garmin Index Smart Scale have a much better design, and is really easy to store your past results in a nice graph, ensuring you can easily track your data.
We are not saying the Eqoba scale is unusable, we just feel you can get a better experience with other products. 
Main features
With the Eqoba Smart Scale Bluetooth enabled, you can easily connect your smartphone with Eqoba to view and save all your body composition metrics easily.
Measures 8 Body Composition Metrics:
The Eqoba measure 8 various body composition metrics including Body Weight, BMI, BMR, Body Muscle, Bone Mass, Body Water and Visceral Fat. These are the 8 most important body composition metrics that will provide an overall picture of your body health condition.
Equipped with sensors, the brand state the device is 99% accurate.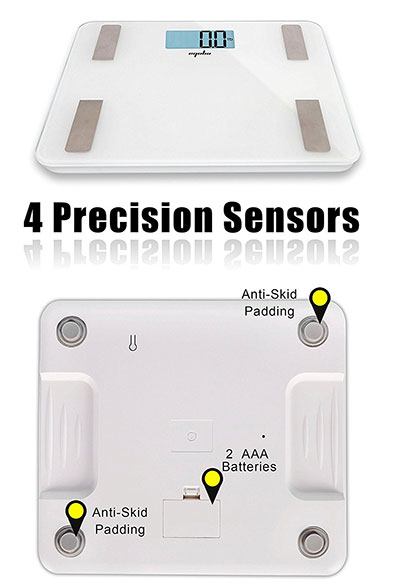 The smart scale has a great robust design and can support upto 150 kgs in weight. That is more than most smart scales can hold.  
From your smartphone, you can easily download the mobile application from the app store. Search for "Daboal (Double Lee)" or "Aifit" and install the application onto your mobile phone. As advised previously, the interface on the app could do with a re-think.
The Low Battery indicator alerts you when there is low battery in the device.  
The Eqoba supports both pounds and kilos weight units, depending on your preferences and you can easily swap between them should another user want to display different metrics.  
You can also set individual weight goals on the device that can be pre-set onto the machine easily using the mobile application. With the pre-set individual goals setting, you can see how far you've progressed in your fitness program and still how much weight you need to lose or gain to reach your goals, depending on your programme.
At any given time, a maximum of 8 users can simultaneously access the mobile application.
Eqoba Smart Scale – How to Use The Device?
The Eqoba Smart Scale & Body Fat monitor is an easy to use device that doesn't take much time to understand the functions present on the device.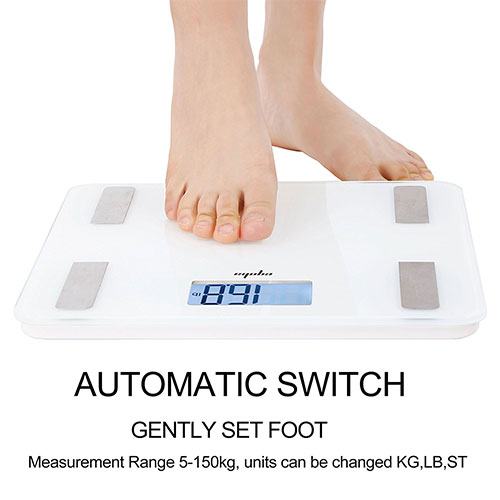 Make sure to carefully open the Package

Insert the Batteries, please make sure to insert the positive and negative ends properly

Adjust the units to either to pounds or kilograms (lb / kg) based on your requirements

Install the mobile application onto your smartphone and complete the registration process

Also, don't place the machine above any carpet or cardboard, as it could largely affect the accuracy of the measurements

The machine should also be placed on a flat surface

Now enable Bluetooth mode in your mobile and connect your mobile to the Eqoba Smart Scale as per instructions

Now you are all set to use the device and always ensure that you step onto the device only on barefoot
Specifications
Material : Tempered Glass
Dimensions : 35 x 30.5 x 5.5 cm
Weight : 4 lbs (1.85 kg)
Unit : KG / LB
Bluetooth : Enabled
Battery Indicator : Yes
Our Overall Opinion
The Eqoba Bluetooth Smart Scale does everything it is supposed to do. Our only niggling issues are we feel there are other smart scales that do a better job.
The Eqoba takes a bit of getting use to and if you are a tech phobe, the downloaded application will not be for you.
If you are a newbie to this sort of scale, we would advise you taking a look at the Fitbit smart scale. Although it is more expensive, it has many more features and the app is really user friendly.