Tracking your fitness levels has not only become a trending thing to do, but it is also a great way to look after your health. Fitbit has become the leading brand in fitness trackers and smartwatches, to the extent that some people mention "a Fitbit" when they are actually referring to the broader class of fitness watches of all types and brands.
Investing in a watch that enables you to track various elements of your workout such as your heart rate, calories burned, and activity levels, allows you to keep your health information on your wrist.
Most watches have a 24/7 heart rate monitor to let you track your levels throughout the day and even while you sleep, to give you premium feedback on your body's activities.
Not only do these watches help you during strenuous activity, but they can also be an important health tracking device. If you need to check your heart rate continuously for health reasons, what better way to do it than by using the best brand in the business?
Quick Links For The Quality Fitbit Fitness Trackers
Fitbit Versa 2 Health and Fitness Smartwatch

(The Best Fitbit Watch)

Built-in Alexa capability

Fitbit Inspire 2 Health & Fitness Tracker

(The Best Budget Fitbit Smartwatch)

More than 20 exercise modes

24/7 heart rate monitoring

Fitbit Versa 3 Health & Fitness Smartwatch

(The Best Fitbit With GPS Tracking)

Built-in mic and speaker to take calls
The Best Fitbit Reviews
The market for fitness trackers, and especially fitness watches, is becoming saturated, and this makes it increasingly important to look for the best product for your training or health needs.
Most fitness watches offer the bare minimum of a heart rate monitor, but oftentimes people are looking for more features and functions from their watch, and these are the factors that can help you choose the right watch.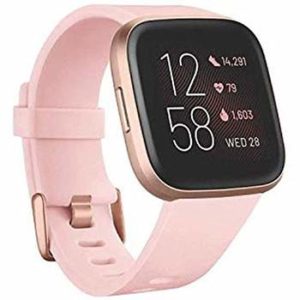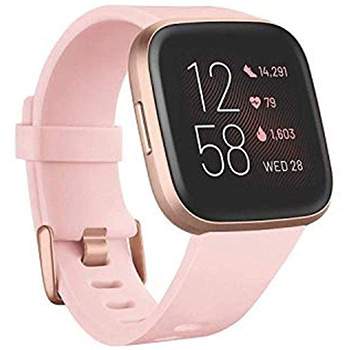 The Fitbit Versa 2 has made it into the top spot on our list, not only due to its impressive features but also because its high ranking proves that this slightly older model has been impressing buyers for a while now.
This watch comes with a built-in Alexa feature for ease of use, to control the features of your smartwatch with your voice. The always-on larger display allows you to track the data at a glance.
Key Features
Built-in Alexa capability
Weather tracker
Call and text reminders
The activity features on the smartwatch let you track your heart rate, steps, active minutes, floors climbed, and calories burned at any time of the day. The watch will also track when to wake you up within 30 minutes of your alarm based on your sleep cycle.
Pros
High-quality screen with vivid colors
More cost-efficient than the newer model
Sends quick voice replies to text and call notifications
Cons
 The main icons may be confusing to some
 GPS function requires you to connect to a phone
The price of the Versa 2 may be appealing to some, but the only thing better than this Fitbit watch is the newer Versa 3 model, which we anticipate will be moving up the ranks soon and so we have reviewed it for you further down.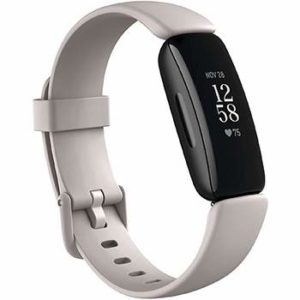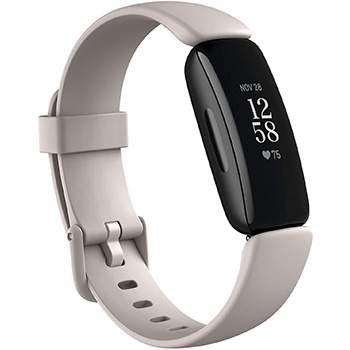 If you are on a budget but are still looking for a quality device, the Inspire 2 is just right for you. The watch gives you the functionality to monitor your activity throughout the whole day by tracking your calorie burn, heart rate, and sports activities.
Key Features
More than 20 exercise modes
24/7 heart rate monitoring
10 days of battery life
The various exercise modes allow you the space to track all your activities and easily keep track of your progress as you go along. With 10 days of battery life, you won't have to worry about constantly charging your device, either.
Pros
Free 1-year premium Fitbit trial
Tools for improved sleep
Earn active zone minutes as you train
Cons
No built-in GPS function
No music control feature
The Fitbit Inspire 2 is a great entry-level option for fitness enthusiasts who want to test out a fitness tracker for the first time.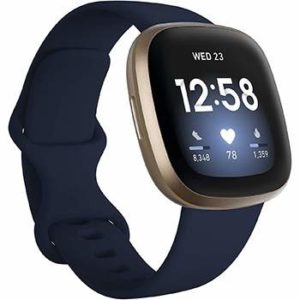 One step up from the Versa 2 is the Fitbit Versa 3, which comes fully equipped with additional features including a blood oxygen level tracker, built-in mic and speaker to make calls, and improved heart rate monitor software.
The only reason I have prioritized the Versa 2 is due to the price; however, this model is a great option for the serious athlete who wants it all.
Key Features
Built-in GPS
Blood-oxygen monitor
Built-in mic and speaker to take calls
The watch comes with a 90-day Fitbit premium trial to access additional training content and features. However, the watch itself gives you all the training features you will need, with a buzzing alert when your body reaches optimal levels during your workouts.
Pros
Improved heart rate monitor technology
Alexa voice assistance
Store and play music from the watch
Cons
More expensive than the Versa 2
Can only store music from Deezer or Pandora
If you are looking for a watch with all the features, then this is the one for you. As long as the price doesn't deter you, then this is the Fitbit you need for your training.
The Last Tick
Fitbit is continuously improving their fitness trackers and giving you yet another reason to choose their watches. Equipped with multiple features and additions to the watches, you will have everything you'll need to keep track of your fitness level.
These watches are great for general training, but if you would like more specialized watches you can see the fitness tracker for cycling or the best trackers for CrossFit.
For general fitness, you can't go wrong with the brand that keeps improving, with elements such as the improved heart rate monitor in the Versa 3. However, considering Fitbit cost, the Versa 2 is my top choice as it offers plenty of valuable  features.
If you have tried any of the Fitbit trackers, let us know in the comments section below. We would love to hear if you have any other Fitbit watch recommendations, too.