This post is a full review of the BlueWeigh 4.0 Bluetooth Activity Fitness Tracker with Heart Rate Monitor.
Blueweigh's activity tracker is a lot of bangs for your bucks: it monitors your steps in a Fitness activity (counts them), monitors your heart rate, distance covered, burned calories and sleep pattern.
You can track Workouts, Heart Rate, Active minutes and steps.
It is basically a smartwatch scale that tracks a wide range of body vitals and anybody seriously looking to track their body statistics, then a smart scale should be one of your first investments.
You don't have to worry about missed calls while doing your daily exercises while out and about, because the smartwatch is designed to help you and will alert any incoming call or message.
Smartphone Bluetooth connectivity and app
Blueweigh's 4.0 Activity Tracker comes with a great app available on IOS and Android, which almost competes with much more expensive products like fitbit's line.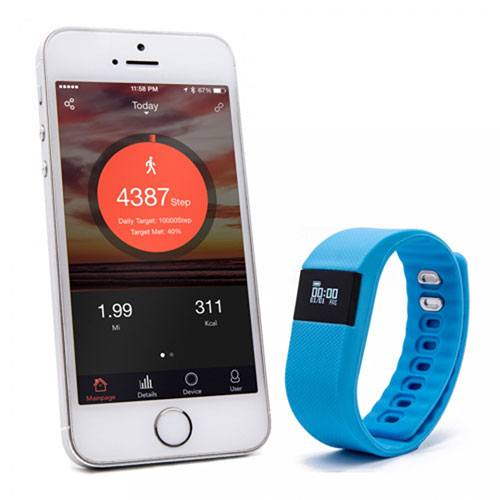 Besides tracking all your metrics directly from the app, it is also enabled with "Anti-Lost" alert whereas if you are out of the Bluetooth range, the Find Phone feature allows to locate your cellphone within the Bluetooth range.
It activates with a wrist pronation and you can also snap a still photo on your cellphone with a simple wrist movement.
You can Automatically set the time and date from your phone, alarm clock, Inactivity reminder (silent vibration), Sync Stats Wirelessly and Automatically to your smartphones.
It can be described as smart watch to go along with the smart phone, smart TV and smart scales. Technology is growing at a rapid rate and the Blueweigh fitness tracker is the latest awesome product off the technical conveyor belt.
High Battery life thanks too a low energy consumption
This device is enabled with a Low Energy Consuming OLED display, Fast Charging (15-30 min) and the battery lasts up to 7 days, as well as 15 days or more if the product is left in Standby mode.
Another notable feature would be its Water Resistance together with Durable Elegant Silicon Wristband with Tight Clasp. It comes with a USB charger and a presentable black box.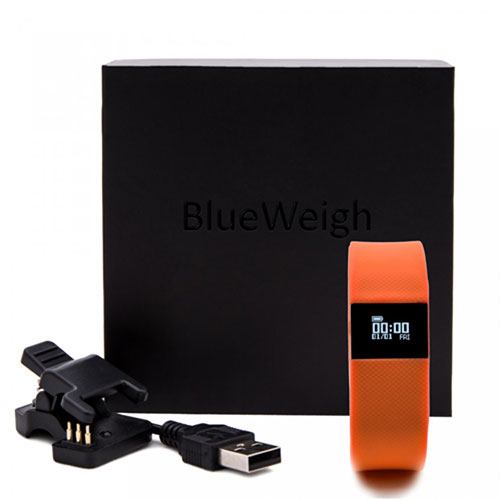 Online Customer Reviews & Scores
There are some 251 customer reviews, the average score being 3.4 out of 5 stars at the time of writing this review.
The review section on Amazon states that 138 people expressed their positive opinion about the BLUEWEIGH 4.0 tracker, which far outweighs any negative views on the smart watch. The first aspect focuses on the display of the watch.
One gentleman stated that the display is dim and difficult to see outside in daylight as the sun reflects off the face of the watch. This is true for most watches on the market, smart or not.
The positive views of the people writing their opinions and personal experience will definitely incite future customers, especially because the Blueweigh tracker is suited for everyone.
If you like to keep fit in general, it is a useful tool in your arsenal.
The 4.0 Activity tracker from blueweigh  is extremely easy to use, elegant and great looking on anybody wrist. The device can be purchased in Black, Blue, Green, Yellow, Orange or Gray, enough range to suit everybody's needs. A lot of people found the watch useful for their sleeping patterns.
Some even use it primarily to monitor their sleep. As mentioned earlier, the tracker is designed to suit everyone from teenagers to the elderly. A lot of positive reviews are from these age groups and they are really happy on how easy the device is to use and setup.
Frequently Asked Questions
Do you think buying it for your kids would make exercise more attractive and fun to them?
As the watch is designed for everybody, children will enjoy wearing the smartwatch and we think it will help them be more active.
I work in a office, can the watch help me be more active when I have been sitting for too long?
The watch will give you a notification or a reminder to get up and move around. Walking, hiking, everyday activities, you name it!
Can I use the BLUEWEIGH 4.0 fitness tracker when I go swimming?
The smartwatch shouldn't be used in or around water, although it is water resistant, it is advised not to be submerged under water.
Can the device be connected to Ipads and tablets?
The fitness tracker can be hooked to to any device that supports bluetooth and iOS 8.0 and upwards.
The positive feedback from everyone on the internet, regardless of age and different backgrounds, has resulted in various other types of customers, who did not necessarily purchased the watch for fitness purposes., so purchasing one a second time will not cause any regret.
Short reviews in this respect really hit the nail on the head: "Excellent!", "Very good product.", "Amazing!", "Works great.".
Our Overall Rating
All in all, the Blueweigh 4.0 Bluetooth tracker proves to be a good companion of your daily fitness exercise.
It monitors your steps in any Fitness activity, heart rate, distance covered and burned calories. The fact that it helps you during the night as well is a great bonus, along with its Water Resistance.
Since everything revolves around smart devices nowadays, there is no surprise that the watch syncs with all the modern smartphones of today.
Due to its amazing features and affordable price, it is regarded as a watch that surpassed other similar devices on the market. Naturally, it is designed to help daily activities, and it sure does!
The amount of energy consumed has become a very important aspect when deciding to buy products like this, that is why the Low energy consuming capacity is another feature which makes the bracelet attractive. People love it and as seen in their reviews, the Blueweigh tracker simply motivates you to get up and move!
A great number of customers find it the best Activity tracker on the market. This elegant bracelet becomes a part of your lifestyle.