Updated April 2021
As the years go on, losing weight can become a harder task for women and the solution is not always as simple as heading to the gym each week and staying away from a few cupcakes. We may sometimes need to look for the best weight loss supplements for us women.
The older we get, the slower our metabolisms become and the cheat days are not as easily forgiven anymore. At the same time, we may struggle to find the time and the energy to exercise strenuously every day or enough times a week.
So, we may need to look for a little help, and this is where a good quality weight loss supplement comes in. However, you need to ensure you are purchasing pills with high-quality ingredients that omit unhealthy additives.
That is why we have collected the best weight loss supplements for you to choose from to help you keep your waistline in check and still be able to enjoy some treats from time to time.
Quick Look At Our Top Picks
Organifi Green Juice Supplement
(Best Rated Weight Loss Supplement For Women)


Sheer Strength Extra Strength CLA For Women
(Best For Women Over 50)


Hydroxycut Pro Clinical Non-Stimulant Weight Loss Supplements

(Best Weight Loss Pills For Women)

Jacked PM Lean PM Night Time Fat Burner
(Best For Weight Loss And Muscle Gain)


Nature's Craft Natural Garcinia Cambogia Weight Loss Supplement
(Best Budget Supplements)

Considerations Before Buying Weight Loss Supplements
There are actually a lot of things that should be taken into consideration before choosing a supplement specifically for you.
You may want to consider speaking with a healthcare professional, but you can also assess a few things for yourself.
First, you have rightly considered that you need a supplement specifically for women as they are designed to help fight the fat and boost the metabolism in women's bodies. We also have the best weight loss supplements for men.
Then, you can consider your age and body type and decide what you are lacking. Based on experience, what do you struggle with? Is it a lack of exercise or keeping up with a diet plan? Or have you truly have tried everything and still can't seem to keep the weight off?
You should also look to see if you have any pre-existing medical issues if you have struggled to lose weight in the past no matter what you have tried.
Some reasons women have such a hard time losing weight have to do with underlying diseases such as polycystic ovaries, which your doctor can diagnose.
Once you have taken these into consideration, you can look for weight loss supplements to help your weight loss journey by choosing from some of the best-rated supplements.
Editor's Choice For Best Weight Loss Supplement For Women
Editor's Choice
I love Organifi and all of their supplements and products because of the quality ingredients they use in all the products, including the green juice supplement.
They just create quality products that, combined with a healthy diet and exercise, have given not only me but also others amazing results. Key features from the Organifi Green Juice Supplement are:
Water-soluble
Excellent detox
Immune support
Are Weight Loss Supplements Also Fat Burners?
Many times when you are looking for a good weight loss supplement you hear and expect it to trim the pounds off easily.
But what does that mean to look for a pill that causes the pounds to just "fall off"?
Well, most of the reasons these supplements are marketed in this way are because they typically include fat-burning chemicals, muscle strengthening elements, and stimulants for your metabolism.
It is important to check the chemicals and additives inside of the supplements you take to make sure they work against your fat and help you to keep burning it in conjunction with your diet and exercise.
The weight loss supplement I have chosen for myself, for this list, and for you, include natural chemicals that help burn fat and promote muscle growth and sustainability.
I must stress, however, that fat burning does not work with just a supplement alone, and you will have to couple it with proper dieting and exercising.
Do Weight Loss Supplements Contain Appetite Suppressants?
Much like the question about whether or not supplements can be fat burners, they can be appetite suppressants if they have been designed as such.
Many supplements do act as suppressants because most people find that adjusting to a new diet is difficult and learning to eat less is even harder.
So, why is it so hard for us to eat less? Because we have created not just a bad lifestyle but horrible habits that are extremely difficult to break.
Many people overeat because they are used to having larger portion sizes or many meals and snack foods in one day.
Unhealthy foods are also saturated with sugars and fats that we do not need, and making the adjustments to smaller portions and healthier foods is much more difficult than we are used to.
So, while the appetite suppressant is a huge help so that you do not overeat, it is not that simple. You must also be prepared to break the habit of eating out of convenience, habit, and boredom as well.
Special Considerations For Compiling This List
Easy-to-take supplements: Firstly, you probably want a supplement that is easy to take, not too horrible to the taste, and easy to swallow. The pills or drink mixes I have chosen mix well or go easily with water. They are also very simple to take along with you anywhere.
Fat burn: These are all supplements that are great fat burners and will help you to fight the fat that is sitting around your waist. They boost muscle growth and help you to lose the extra pounds and inches.
Natural or non-GMO: I don't know about you but I don't like having unnecessary additives or GMOs in my products. I know not everyone is an all-natural nut, but when you are taking an added supplement, you don't want it to be filled with chemicals and additives.
Top 5 Weight Loss Supplements For Women
So this is going to be the favorite on my list because, even though it is slightly expensive, Organifi's green juice supplement is the best one I've found on the market.
You can mix the green juice powder in your water, blend it into a smoothie, or mix it up into a shake and have a tasty drink that fills you up.
There are 12 superfoods in this supplement that provide you with the vitamins and nutrients your body is craving. Not only does it boost your immune support, it also helps to balance your hormones, and since you mix it with water, you will stay hydrated.
Pros:
Immune support
Twelve superfoods
Quality company
Detox
Cons: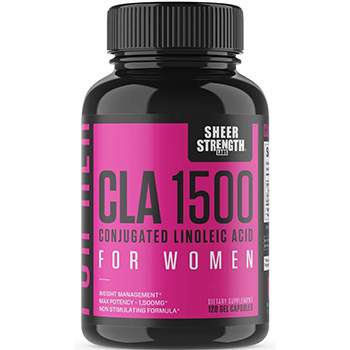 Sheer Strength derives the CLA that helps with fat burning from safflower oil, which is an all-natural ingredient. This company makes its supplements without GMOs and does not contain additives or stimulants.
The 120 capsules are softgels in each container, giving you a lot of product for minimal price. Made in the USA, this supplement holds to the standards that you know and trust.
Pros:
Inexpensive
Non-GMO
All-natural
USA made
Cons:
Side effects are strong
May cause breakouts
Hydroxycut contains key weight loss ingredients that have been scientifically researched and found to promote weight loss. It is packed into a simple pill that you can take every day to help you on your weight loss journey.
These pills include plum, baobab extract, cardamom, and apple cider vinegar along with the key weight loss ingredient which is C. canephora robusta, known to deliver weight loss results.
Hydroxycut helps break down proteins, carbs, and fats by metabolizing them with essential ingredients, including vitamin D, vitamin B6, and vitamin B12. If you want to go further with Hydroxycut, you can download the app to get access to a food plan, recipes, and more.
Pros:
99% caffeine-free
Contains essential vitamins
Appetite-suppressant
Metabolizes proteins, fats, and carbs
Cons:
Large pill size for some
Slightly expensive for some
Okay, this is a cool one for you if you want to work on the weight loss in the evening. This is a nighttime pill, sans  caffeine, and it allows you to get some sleep and take the weight off as well.
Not only does it help you sleep, but it does not leave you drowsy when you wake up the following day. The ingredients in this supplement are natural. The leaflet is easy to read so you understand what exactly you are putting in your body.
You can take two pills each night before falling asleep, but it is best to do that on an empty stomach. There are sixty pills in each container, giving you enough to supplement for one month.
Pros:
Inexpensive
Natural
Sleep aid
Energizing
Cons:
Some had sleep issues
Not a great appetite suppressant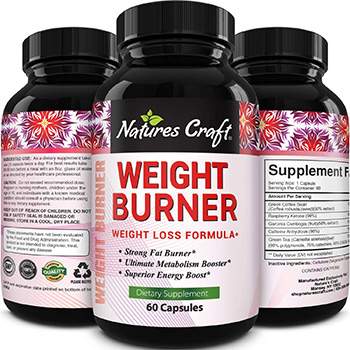 This is an all-natural good-for-you supplement with Garcinia Cambogia and green tea to help you naturally keep the weight off. You will not only see weight loss but a boost in energy as well, and this helps you get motivated to keep up a good exercise habit.
Nature's Craft supplement is a metabolism booster and is a very potent fat burner to go with your boost in energy. This is an inexpensive option that suppresses your appetite and blocks carbs to keep the sugars and complexities out of your diet.
Pros:
All-natural
Carb blocker
Metabolism boost
Fat burning
Cons:
Strong odor
Causes stomach aches
Best Weight Loss Supplements For Women FAQs
Is A Healthy Lifestyle Necessary When Taking Weight Loss Pills?
Yes, if you want to gain the full effects of weight loss supplements, you should combine them with a healthy diet and a regular workout routine.
Diet pills are there to help you minimize your cravings by suppressing your appetite and the effects will not make much of a difference if you keep eating highly processed foods and not exercising enough.
What Foods Can Naturally Help With Weight Loss?
Eating a well-rounded diet can help you lose weight if you include a considerate amount of complex carbohydrates, proteins, and healthy fats in your diet. However, there are a few foods that can help promote weight loss a bit faster.
These foods include berries, green tea extract, yogurt, bananas, avocados, and citrus. Include these foods into a well-balanced diet to help you lose weight.
Why Do I Gain Weight Even When I Am Eating Healthy?
Your weight is determined by many factors and it is possible to see the number on the scale increasing even when you are eating healthy. If you are weighing yourself with a traditional scale, you are not taking all the factors into consideration.
If you are exercising, you could be gaining muscle mass. You could also be increasing your water intake and retaining extra water, or you may have weighed yourself at the wrong time of the day.
By using a body fat scale, you can determine how much of your weight is from actual body fat. This will help you track your progress accurately.
Final Thoughts
Remember that supplements are not replacements for actual vitamins or for having healthy, balanced meals. You may even want to speak with a healthcare provider to find out what is right for you and what kind of lifestyle changes can truly impact your weight loss.
These supplements are easy for you to add to your daily routine and you can set a reminder on your phone each day to take them. I wish you the very best of luck as you begin or continue on your weight loss journey.
If you have tried any of these weight loss supplements before, let us know your experience in the comments below.