In the most simple of answers, I can tell you that the answer is both yes and no and here's why.
Anything, from diet pills to juice to sure fire weight loss methods, work best in tandem with a well balanced diet and exercise.
I also want to preface this article by reminding you that I am not a healthcare provider or professional and I have many suggestions but you should not take them instead of sound medical advice.
Quick Look at Our Top Picks:
So let's get into it then, green juice supplements are designed to give your body more of what you need and less of what you don't need. Because they are nutrient packed they also help to curb appetite and leave you feeling more filled and fueled for the day.
What goes into a green juice for weight loss?
The green juice powdered supplements have a variety of nutrients that your body is craving to function daily. While you can make your own green smoothies from natural ingredients sometimes it's hard to get ahold of those or not economically sound.
The green juice powders are filled with the things you need but maybe are excited to eat or cannot afford to buy regularly. They are more easy to take with you and make every day that mashing up a bunch of fruits and veggies each day.
Quick Look at Our Top Pick: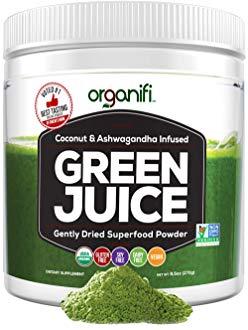 Organifi Green Juice Superfood Supplement
Since it's nutrient rich, flavorful and GMO free, Our Top choice is Organifi Green Juice Superfood Supplement.
FEATURES
Flavor options
Non-GMO
Quality brand
Special considerations for compiling this list
Nutrient rich: Some people absolutely hate drinking their nutrients and when they are forced to, its a real drag. If you are drinking these green drinks you probably want it to be worth, as well as taste good so I chose the most nutrient packed drinks that give you what you need, no more or less.
Flavorful: Back to that whole nasty taste thing, these drinks don't really HAVE to be awful, in fact they can taste really great. You can mix any of these powdered supplements in a smoothie or drink them by themselves because they taste much better that your typical green drink or what you're expecting.
Mixes well: You don't want a chalky or grainy texture to your drink, though to some degree it seems unavoidable. I tested out a LOT of supplement mixes but I only listed the ones I felt mixed in the best without leaving chunks.
Non-GMO: Non-GMO, non-GMO, non-GMO. No growth hormones, only the organic products that you love and trust go into the drinks on my list. If I wouldn't put it in my own body then I wouldn't dare to put it into yours.
Top 5 green juices for weight loss
1. Organifi Green Juice Superfood Supplement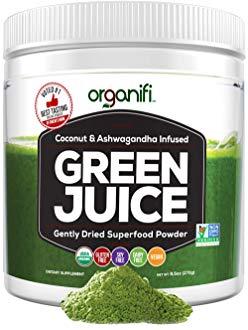 Right off the bat something you may notice and love is that you can choose the size that you want to order this in. Whether you want to do a full thirty day supply or start smaller to test it out, you have that option.
This is a bit pricey as far as green juice supplements go but the higher price tag comes with the better quality. Try to think of paying almost $75 as an investment in your health and better living.
This product blends in extremely well and does not leave a bad aftertaste in your mouth. It comes with twelve superfoods mixed in to give you a well rounded nutritional drink.
Pros:
12 superfoods
Non-GMO
Blends well
Immune support
Cons:
Expensive
Scoop not included
2. Nested Naturals Super Greens Veggie Superfood Powder
If you're looking for a decent price on a green juice that is loaded up with superfoods and nutrients then you're going to like this one. It's a vegan, non-GMO option that gives you what you need without additives or false labeling.
The company markets this product not only as energizing but as a detox and immune support. You get all three for the price of one and all while drinking a single green drink.
These are added enzymes in the powder because Nested Naturals knows how the body works and knows that you need a little help to get these digested. Not only do you want to get them digested but you want them to be absorbed properly so the nutrients go to the body how you need it the most, where you need it the most and when you need it the most.
Phytonutrients and probiotics are laced in this product and allow your body to maximize the superfoods.
Pros:
Added enzymes
Phytonutrients
Detoxification
Immune support
Cons:
3. Amazing Grass Green Superfood Organic Powder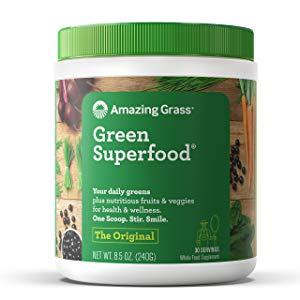 For beginners this may be the best way to dip your toes into the, well—green juice pool and see if you like it. I say it is the best way to start because it is one of the cheaper, good quality, green juice options out there and it's my favorite as far as inexpensive choices go.
First things first, this green juice is locally grown and made right here in the heart of the US, yeah I'm talking about the midwest, Kansas to be exact. So when they say it's organic, and non-GMO you can feel safe truly trusting their word.
Amazing Grass gives you superfoods, organic fruits and veggies and antioxidants all in a single serving of their product. You get between one and two full servings of fruits and veggies in a single drink.
You can also choose to order this in one of four fun flavors that allow you to spice up your shakes and smoothies. You can choose the original, berry, chocolate or orange dream.
Pros:
Tasty flavor options
Inexpensive
Full serving of fruits and veggies
Made in the US
Cons:
A bit gritty
Not an energizer
4. Orgain Organic Superfoods Green Juice Powder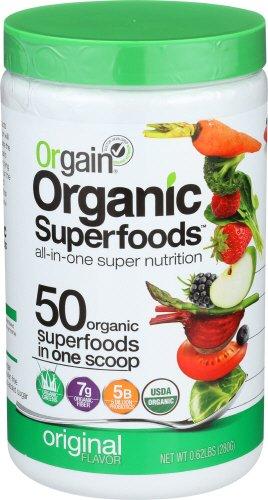 Okay if you are looking for a truly organic option then this may be the one for you as it is non-GMO, soy and gluten free. You already know this is my top choice because it goes further to no additives or artificial ingredients that are unwanted and unnecessary.
This powdered supplement comes with organic green fruits and veggies as well as fifty different organic superfoods. Yeah, I said fifty and while some of those are grasses and grains that shouldn't worry you too excessively as they are safe and nutrient packed.
You get seven grams of fiber and five billion probiotics in a single drink. It is certified USDA organic and it is a vegan option as well so if you are needing to supplement your diet to live a healthy lifestyle this may be the best option for you.
Pros:
7 grams fiber
5 billion + probiotics
Vegan
Non-GMO
Cons:
Lack of vitamins
Strong taste
5. Athletic Greens Ultimate Daily Green Juice Powder Packs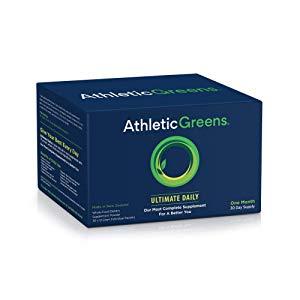 The last but certainly not the least also happens to be the most expensive green juice powder supplement on my list for you. Though I think it's worth the purchase I'll let you know right now a thirty serving supply will run you close to $100.
You can order either a thirty serving container or else the individual travel packs. You can trust this product as it actually created by doctors to be healthy. It is gluten, dairy and GMO free as well as vegan which helps you to slide this into almost any diet plan.
Pros:
75 vitamins and minerals
Pure ingredients
Without chemicals
Created by doctors
Cons:
Expensive
Some may not like the taste
Closing thoughts
If you are vegan, vegetarian or simply trying to improve your diet and lifestyle you may have come across the idea for a supplement. Green drink supplements are particularly awesome because they pack you full of nutrients and energy.
You can choose green drinks that come specifically designed to help you in one area of another. For example you can buy specifically for protein or with extra vitamins depending on what you need, but the bottom line is that it helps to give you what you are lacking.
You can add these powdered supplements to smoothies, shakes or drinks or drink them with just water. It may take some time to get used to the taste and texture but once you learn to manage it, then you'll love adding these powdered into all of your mixes.
If you are like me and you are on the go you may find these extremely beneficial as you don't have to hassle with the blender. There are even options where you can have individual packages to take with you.
While these are not replacements for a healthy diet they are helpful to adding to your diet. Once you get your diet in check and fill it with more proper nutrition you will find it easier to lose the weight that is dragging you down.