Home gym equipment is constantly changing, but did you ever think you'd be using a digital mirror device that can teach, track, tone, and motivate you to reach new heights in personal fitness? With the artificial intelligence of the Tonal and Mirror home gym systems, you really can reach your best and fittest self.
Knowing which of these two amazing systems offers the best value for money with real world application to help you reach your personal excellence is the ultimate question, and I've done a thorough comparison between the mirror fitness vs tonal right here.
Now, all you need to do is decide which wall to mount your new gym buddy on in your home!
The Mirror Vs Tonal Quick Links
Review Of The Mirror Vs Tonal Home Gym Systems
Home gym systems have traditionally consisted of a few dumbbells and a workout bench (if you were lucky), but with the ever-increasing development of technology we have moved beyond smart scales and into the land of science fiction! You now have the option of a full-length mirror that guides you, motivates you, tracks your progress, and helps you gym with personalized workouts that are entirely next level.
Welcome to the art of artificial intelligence and full integration in home gym equipment!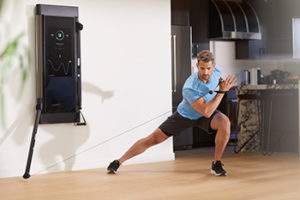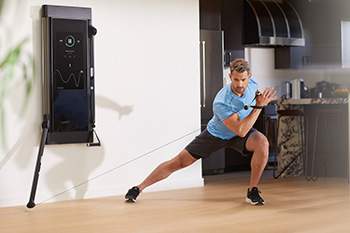 The Tonal home gym system offers the latest in AI technology, and with exceptional high-tech features, it is probably the leading and most technologically advanced fitness product on the market.
Key Features
Rated as one of the ultimate strength training machines with 200 lbs pressure capacity
Requires no weights as it's a fully integrated electronic system
Learning machine that tracks your home workouts and progress, and it provides corrective commentary while fine-tuning your unique workout requirements
This is certainly one of the most impressive home workout systems that I have had the joy of reviewing. It's like having your very own fitness coach in the space of a flat-screen TV. While the price may leave you breathless, the sheer elegance and excellent interactivity far outstrips other more conventional home fitness systems I have reviewed.
With a range of accessories that sync up with Bluetooth technology, you can achieve the fitness level you desire in no time with minimal risk of injury while you receive expert guidance through the monitoring system of the Tonal interactive panel.
The adjustable cable arms are sturdy, and they provide second-by-second feedback to the impressive built-in AI computer system to monitor the weight that each of your arms can lift or pull. This measures the strength of each movement and adjusts the pressure accordingly.
The spotter function is like a real lifting buddy soyou feel supported while it helps you to lift to your full potential without unnecessary pressure. You'll also avoid the risk of workout injuries that come from inappropriate technique and poor form.
Pros
No additional weights are needed, though several accessories are available
A professional installation team comes with the purchase, delivering and installing the Tonal system in your home and making sure you have full connectivity with Wi-Fi
Link up with friends on their Tonals, creating a community or in-class feel
Real-time feedback helps you perfect each workout
The machine stores your fitness and strength levels, encouraging you to improve over time with minimal chances of injury
Impressive sales history in a short span of time and an ever-growing list of celebrity reviewers
Even without membership you can still use the resistance cable system to gym at home
Cons
Doesn't offer more than 200 lbs pressure or weight (so Superman won't be inspired)
When relocating, you will need to pay for reinstallation each time you move
No support available outside of the U.S.
Expensively priced, though the machine offers substantially more features than the competition
If you are in the market for an ultimate home workout system, then the Tonal home gym system is definitely worth the cost. It is a home gym
market leader
and will help you achieve the fitness level and body definition you desire as if you have your very own personal trainer with advanced body reading capabilities.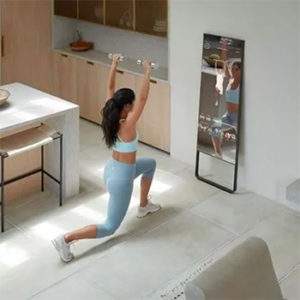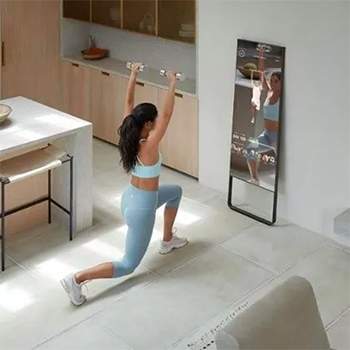 If you are looking for something a little more pocket-friendly, then the Mirror interactive home gym is your go-to system. It is affordable, sleek, and syncs up with your own smart fitness devices to give you a complete home workout.
Key Features
Cardio based-home workout routines
No installation required, and it can be mounted in the provided frame, making this system fully portable
Camera technology is used in proprietary algorithms to create personalized workout routines
The entire mirror system is a touchless screen that allows you to link into over 50 genres of workout routines with thousands of workout sessions. With a Mirror membership, you can also join weekly live sessions.
Since the Mirror system isn't based on cable technology like the Tonal system, you can develop your own preference-based workouts using your own choice of home gym equipment from dumbbells to kettles and resistance bands.
Pros
Syncing technology allows you to use your Apple watch
Large collection of workouts with over 10,000 workout sessions and growing
Lets you choose your fitness level and helps you progress and develop increased strength by choosing more advanced sessions
Can sync up with other Mirror systems to let you link up with friends for group sessions
With a larger screen, it encourages group sessions in your home with enough space for your kids to also join the fun
Affordably priced with lower membership fees to access their database of workouts
Cons
Without the subscription, your Mirror device becomes merely a shiny mirror and you can't access the workouts
No AI, which means your performance isn't tracked, and your improvement is only based on the increased level of difficulty you choose
Doesn't come with any gym equipment, so the Mirror only works when you are online
Overall, the Mirror interactive home gym system is still a great addition to your home gym. It is, however, reliant on having Wi-Fi, electricity, and membership for the workouts to happen. This makes it quite generic and
similar to other fitness apps
that operate on your mobile device.
Still, it does provide you with a stunning visual gym experience that encourages you to improve your form. The Mirror gym system helps families jump start their fitness routines, and it creates a fun and stylish home workout environment.
With fewer statistics and interactive monitoring systems, the Mirror home gym doesn't quite level up to the more advanced Tonal or Tempo systems. Still, it's a worthwhile addition if you have a smaller budget.
Buyers Guide For Mirror Fitness Vs Tonal
Mirror fitness vs Tonal systems offers the discerning home fitness enthusiast a range of considerations to weigh up. Viewing both the sites for the Mirror Fitness system and the Tonal system, I was overwhelmed by the great imagery, stunning features, and all the amazing reviews the sites offer. This made choosing one quite difficult (if my budget wasn't a consideration).
Hence, I came up with this list to help myself and other healthwise consumers decide which is the better option to choose between the mirror vs tonal.
Budget
In tight economic times, we all have to watch our cents, so budget is a big consideration. That being said, even going to a conventional gym or purchasing other gym equipment can run into the thousands of dollars a year, making the Tonal system seem more and more affordable. Plus, the company offers easy payment plans, making it even more enticing.
The Mirror system prices in the same class as some other home gym systems, but if your membership runs out, your workouts stop, which is a massive turn-off. In my books (despite my bank manager being unhappy), the Tonal home gym system is better value for money.
Best For Bulking
Now, I like to see some results in terms of muscle development when I gym, so I value machines that work on resistance. The Tonal system offers serious resistance of up to 200 lbs pressure, and the adjustable arms make for a range of movements and training workouts.
This makes the Tonal a great machine for bulking and muscle training while still getting a great cardio workout too. With the machine measuring each pull on the cables, you are able to improve the effectiveness of your workouts instantly.
Most User-Friendly
Like most consumers, I value something that is easy, which includes installation. The Mirror interactive home gym is easy to use, requires no installation, and it can go with you wherever you are. You could take it on holiday with you (not that I would want that, but it's still a nice thought).
In contrast to the ease of the Mirror system, the Tonal home gym system requires professional installation. This may seem great, but it is a bother when you have to move home. Considering that the average American will move home 11.4 times in their life, this means you'd have to pay the professionals to come and reinstall the Tonal 11.4 times. Hardly an encouraging thought.
This makes the Mirror interactive home gym a clear winner in my books.
Membership Flexibility
I'm fond of memberships, but I loathe having to pay for additional memberships or needing to limit who uses a device since I have limited memberships. The Tonal home gym offers unlimited memberships, while the Mirror interactive home gym has a limit of six memberships.
If you have a large family and everyone needs to use the Mirror machine, that will cause some arguments, making the Tonal machine a better option.
Delivery Time
When I've just forked out a substantial amount of cash for a home fitness system, I want it installed ASAP. However, with the current global crisis, it is reasonable to expect some delays with delivery and installation.
Still, the Tonal home gym has a whopping 10-12 week wait for delivery! This alone makes me sign up for the Mirror interactive home gym that has a mere 7-14 day wait for delivery and installation (which is free at the moment).
Mirror And Tonal Final Verdict
Deciding to go high tech with your home fitness and health systems is something many of us are seriously considering in a world of lockdowns where staying in has become by turn a requirement and a choice.
The Mirror interactive home gym system offers a range of features and comfortably fits into your budget, making it a great choice. However, the Tonal home gym system is definitely next level in terms of features and efficiency in creating an exceptional workout regiment.
At the end of the day, my make or break moment is based on price and delivery time.
While I can pay for the Tonal on easy monthly repayments (over a staggering 36 months), the 10-12 weeks delivery time is a huge NO for me. Hence, if you want to have an interactive home gym system that looks great, offers value for money, and keeps you and your family (of hopefully fewer than six people) entertained, then the Mirror interactive home gym is the clear winner.
Have you tried an interactive home gym system like the Tonal or Mirror systems? Please share your thoughts and pictures on our social media pages.
Similar Products: