The Yolanda body fat scale uses relatively new technology to measure your Body Mass Index, Body fat Percentage, your body's hydration levels, muscle mass and even your body age based on the results and not the day you was born.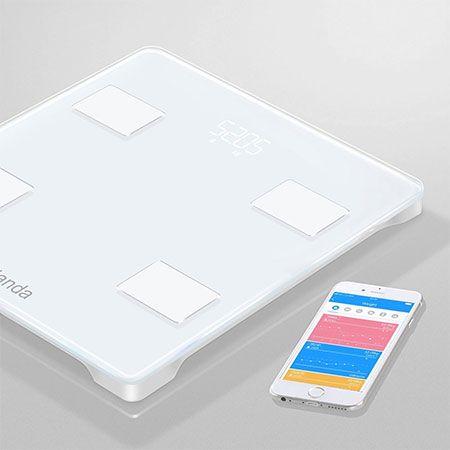 The body fat scale is super easy to use, simply download the app to your mobile device and connect the scale via Bluetooth and you will be able to log and store your daily body statistics within the online cloud automatically when you stand on the scales.
The first set up was really easy, first of you will need to place the 4 x AAA batteries into the smart scale and then switch the device on. You should see the LED screen light up and if you haven't already, go to either the Google Playstore or the Apple App store depending on what device you are using (we also hooked up our Android tablet) so any device will be compatible for you.
Once you have downloaded the app (Android / IOS) and switched on the Yolanda Body Fat scale, simply switch on Bluetooth from your device and then "pair them up" from the application itself.
Another great point we think we should mention is the Yolanda scales can be used and set up by anyone with a smartphone or tablet, not only this, but the device will automatically detect which user is using the scale and connect to their profit automatically, avoiding any niggly setups everyday.
Key Feature – Lots of Vital Body Measurements
As mentioned earlier, the Yolanda smart scale measures much more than just weight.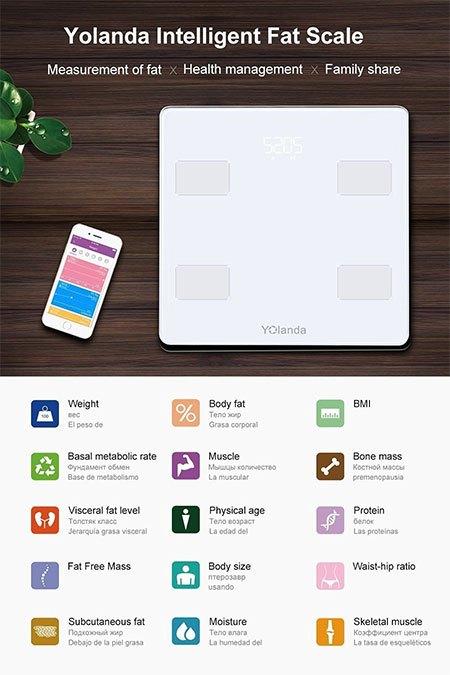 Here is a list of everything the scales measure and store via the online application. Obviously there is Weight as mentioned but there is also a huge range of other measurements including, Fat Free Body Weight, Body Mass Index, Body Fat, Body Water, Visceral Fat, Subcutaneous Fat, Metabolic Age, BMR, Protein, Bone Mass, Muscle Mass and Skeletal Muscle!
As the Yolanda stores so much body vitals, almost every dieter or trainer should be able to use the scales for whichever measurements they are looking to store and improve upon.
The look and Design
As you can see from the look of the scale, it looks really modern.
With its minimalistic interface, it would look good in almost every bathroom. The screen itself is huge and bright, allowing for easy visibility no matter if the bathroom is dark or steamed up after a long bath.
The Alloy electrodes what you need to stand on so the device can send a small current through you (completely safe) are really easy to see, with little squares where you should place your feet.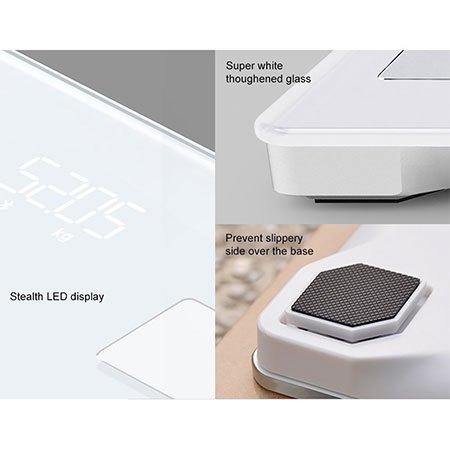 While we are discussing the look and design, we thought we would mention the Yolanda online app, as you will need to install it to use the scale. Once you have your profile you can easily check you results and you even the option to place your data into a graph so that it easy to see your progress over time.
The interface is extremely easy to navigate through and it shouldn't take you longer than 30 seconds to locate any given result you want to see. Even those not used to downloading and using apps shouldn't have any issues – it really is that easy.
Specifications
Connectability – Bluetooth

Power Up – 4 x AAA Batteries

Compatible devices – All Android, Windows and Apple devices

Weight range limitation – 180kg

Display Monitor – 1.89 x 1.22 Inch LED Display Screen

Information Stored – On The Yolanda application

Weight Measurements – Either Kilograms or Pounds

Profiles – Unlimited (Device needed per person)

Measurements – 12 different body measurements including BMI, body water, body muscle and Visceral Fat.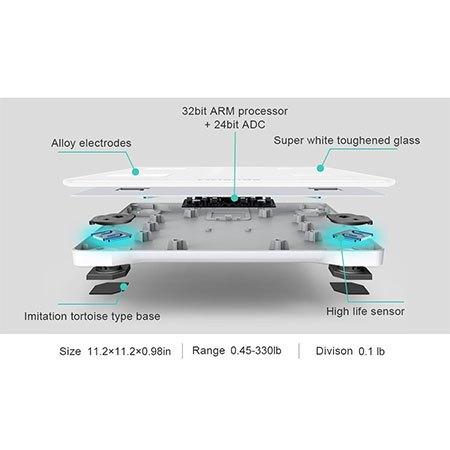 Customer Reviews and Scores
At the time of writing the Yolanda scale has over 50 reviews and has a fantastic 4.5 out of 5 star rating!
It is really easy to see why most people love the scales as for the really low price you get an awful lot of measurements that will suit almost anyone.
Most reviews are complementing the fact how easy it is to set the device up and how easy it is to use. As we mentioned earlier, it is literally 10 minutes adding your height, age and gender and you are ready to go.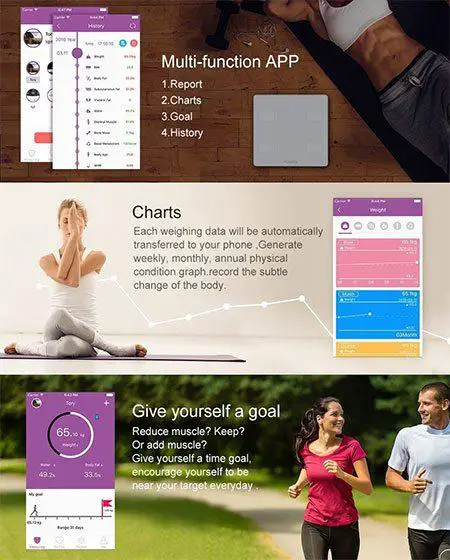 Another thing that seems to have made the reviewers really happy is the results themselves. You see, it's one thing measuring yourself at home, but when you go to the gym, sometimes you can see completely different results, something that Yolanda seems to have resolved.
To get the clearest results always place the scales on a hard surface, as some users that placed the scales on a carpet found that the results varied quite a lot. We always advise using a harder surface and to measure yourself at the same time of the day for the best results.
Another user seemed to have difficulty connecting to the online Yolanda app. We think this is possibly an user error as everything was downloaded was really smooth and simple. We would advise not to read much into it.
Overall review
Overall, Yolanda is an okay product for the price, great looking, easy to use Body Fat scale.
Has it measures so many body vitals and literally anybody will be able to purchase and use it.
Yolanda has a great product here and it isn't going to cost you the half of what other brands charge and to be honest, most of them aren't as good as the Yolanda Smart Scale.
It is designed to fit into any bathroom and to be honest, your bathroom will look better for having the scales in it. We cannot say enough good things about it considering the price.
If you are sitting on the fence not knowing which smart scale to buy on a budget, then the Yolanda should help make your mind up – it really is that good.