The GoWise USA is a great looking body fat scale.
We are going to start of with the price. For what this scale can do, the price is really good, compared to some other scales currently out there (click through this link to find the best offers).

Some people might think "cheap and cheerful" and that notion would be incorrect.
For starters, the GoWise scale is fairly accurate, on par with most body fat analyzers, including the higher end ones.
Real life use
A great feature is the fact you don't need to keep switching it on and off during weighing times.
You simply stand on the device and you will receive a lightening fast readout (the device has auto-detect technology), and if you wait another five seconds, you will see your BIA (Bioelectrical Impedance Analysis) readings.
The device can also store up to 8 different profiles, and it auto detects when a particularly person stands on the device.
This is a really neat and innovative setting, that takes away the clicking and button pressing needed to swap profiles on other devices.
The GoWise scale is beautifully designed and has a 2 metallic plates as an indicator of where to stand to distribute your body-weight evenly for a more accurate reading. Insen body fat scale is also similar gowise. You can check it as well.
The display screen has a blue neon light that is really easy to see under any lighting and the scale has advanced algorithms that measure hydration levels, muscle mass, bone index and body fat, literally seconds after you standing onto the GoWise USA scale. The scale can read up to 440 pounds and it made with resistant tempered glass.
Product specifications
Range – 0 – 400 Pounds (0-180Kg)
Stated Accuracy – 0.2 lb or 1Kg
Requires – 2 x 3 volt batteries (included)
Measures in – Pounds (LB) and Kilograms (Kg)
Tracks – 8 individual profiles
Pros & cons
There are a few things that we would like to point out on the negative side, there is no Bluetooth or WIFI connection, therefore, you will need to manually collect your results to keep track over time.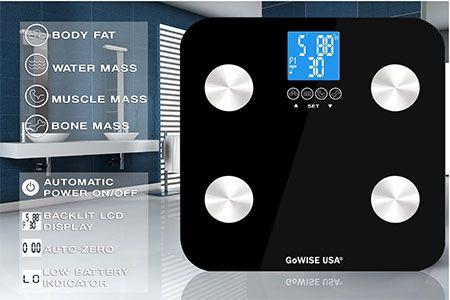 Another thing to point out is the battery life, although the scale has battery saving technology, as it only uses 3 volt batteries, be sure to have a backup supply as they will not last long under constant usage.
Although there are a few little negatives, for the price, you cannot expect anything else, as the scale delivers in almost every possible way.
Overall review
Overall, Although the name is a little misleading as the manufacturers are based in China and not the US, they do the scale justice.
The GoWise body fat scale is extremely easy to use and delivers on the accuracy for both body-weight and BIA readings, ensuring those on a budget can afford this wonderful device. It cannot sync your results to an application as already stated above in the article, but such a low price what else can you ask for?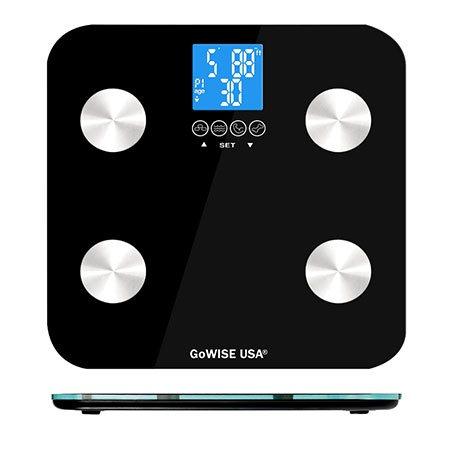 We highly recommend this body fat analyzer if you are on a budget, especially if storing your results or connecting it to a fitness app isn't necessary for you.