Everyone wants to know how healthy and fit they are and monitoring your body fat percentage is one of the best ways to do that.
Having less body fat not only means looking great in those tight clothes but it also means feeling better generally.
But how do you get there? If you want to live a healthy lifestyle or you want those muscles to show, you need to start lowering your body fat percentage. And one of the best things that you can do to help you on your journey is getting a high quality Digital Body analyzer.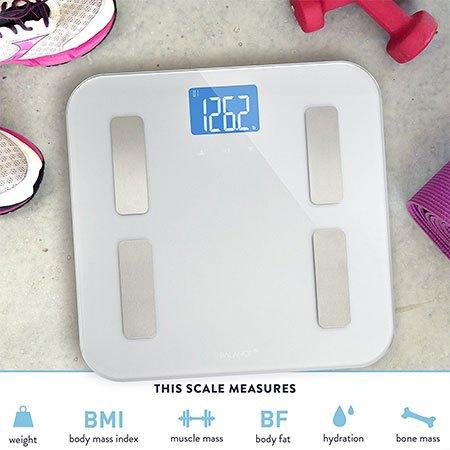 [quick_offer id=390]
A good example is the Balance High Accuracy Digital Body Fat Scale. It is a reliable and decent digitals scale that measures BMI, weight, body fat, bone density, muscle mass and hydration.
It comes with a 5 year warranty and when it comes to looks it doesn't disappoint either.
Accuracy
The Balance Digital Body Fat Scale is not only one of the most affordable scales available, but it is also fairly accurate accurate and comes with some awesome features.
It uses state of the art (BIA) Bioelectric Impedance Analysis technology to measure a user's body composition which ensures that the readings you get are very accurate and consistent. It measures metabolic age, body fat, BMI, hydration, muscle mass and bone density accurately.
The device also calibrates itself between uses, so there is no need to reset it after using it.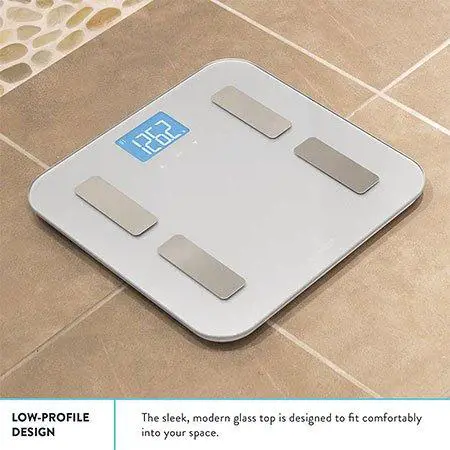 Just step on it to get your measurements and let it worry about who is using it next.It also supports up to 8 different users and it is designed with a durable tempered glass that supports up to 400 pounds.
It is perfect for anyone who wants as much data as possible about their body composition in the comfort of their bathroom.
Any experienced fitness expert will tell you that knowing your weight alone cannot give you all the data you need to meet all your weight loss or fitness gals.
Balance's Body Fat Analyzer not only looks great but it also gives users accurate and detailed results without a sophisticated set up. These measurements provide essential highlights about how your body composition is changing as you lose fat, add muscle mass and more.
The scale can store data of up to 8 different people and its general design also adds to the appeal of the advice. It is designed with a modern and sleek design that can blend in with any bathroom décor.
Other Features
-Large LCD screen for quick and easy reading
-Uses 4 tripe A batteries
-Equipped with an auto recognition software and modern step on technology which makes it very easy to use.
-Up to 8 different people can use it
-Comes with a 5-year warranty
Customer reviews and scores
At the time of publishing this article, Balance's High Accuracy Digital Body Fat Scale had a rating of 4.6 stars out of 5 stars after 738 verified reviews on amazon.
And considering the fact that the device has only been in the market for a few months this is very impressive and it shows how reliable the product is.
For instance one reviewer says," I was worried about buying this scale because my pervious scale turned out to be a disappointment.
But this one turned out to be the best. I also want to say that most of the people who have had a bad experience with this device just don't know how to use it, because in my case it delivered on every promise it made. I usually stay on the scale for at least 10 seconds to get all the results I need. Overall it is a great product."
Cons
One of the main cons of this device is that it is not linked to any application like other body fat analyzers. Some individuals would refer to this a drawback, but for many an application is not necessary as the price tag is very fair for what it delivers.
Wrapping it up
The Balance High Accuracy Digital Body Fat Scale is a decent product for the price, an effective scale that allows users to get a good idea about their general health.
For example, if your main objective is to lose weight and you want measurements and calculations about your current heath condition, this scale would be a great place to start. It gives accurate readings and comes in a nice and neat package which gives it a high end look.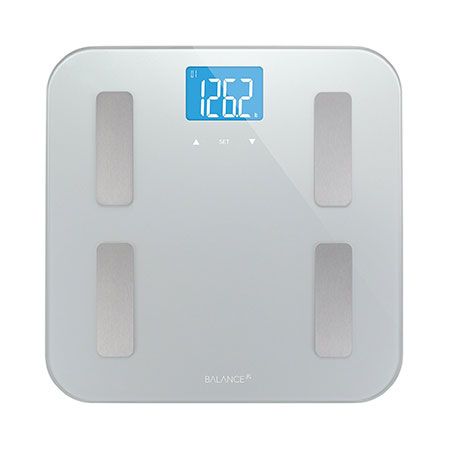 The manuals are also very easy to read and the accompanied videos make set up very easy. In addition the product comes with a 5 year warranty so you don't have to worry about it breaking down.
For more, click here to read our review on the Top 10 Best Body Fat Analyzer For Accurate Percentages