Activity mirrors continue to be a popular design trend in the world of contemporary décor design. Large wall mirrors are commonly used as gym mirrors and help in achieving fitness goals and maintaining forms. The crystal clarity of mirrors helps fitness aficionados uphold the perfect form and also serves as an effective source of motivation. For a fitness lover, nothing motivates him more than seeing the results of hard work in the gym pay off. The contemporary glass is designed with high standards of quality in mind and made to withstand the tests of strength, durability, and time. This makes a modern-day glass adequate for use in home and professional gymnasiums and fitness centers.   
Benefits of a Garage Gym Mirror in Your Workout Room
A home or garage gym seems incomplete in the absence of a large wall activity mirror. In modern-day, wall mirrors have become the essence of gymnasiums and have a multitude of benefits. The simple inclusion of a décor element such as a garage gym mirror can inject a sense of competence in the day-to-day home workouts. Following are some key benefits of having a large activity mirror in the home/garage gyms.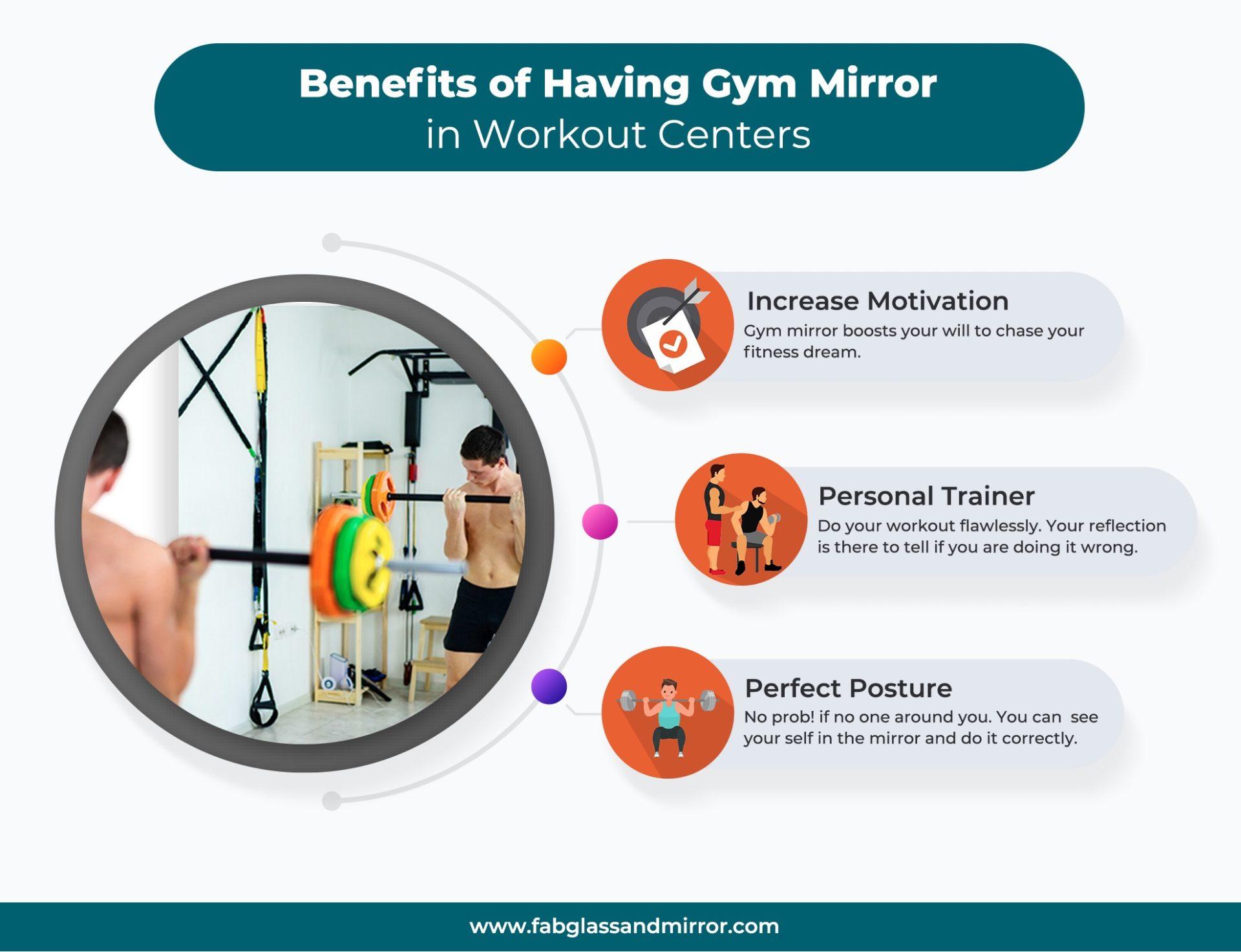 Helps Maintain Form
It is challenging to maintain a perfect form and posture during workouts, especially in the absence of a trainer. In professional gyms and fitness centers, there are guides and trainers nearby who help identify faults in the position and flaws in technique. In a home/garage gym, mirrors can take the place of a trainer and help identify areas of improvement. Proper maintenance of form and posture makes the workout more effective and helps individuals successfully achieve their fitness goals. 
The use of mirrors in gyms also helps improve safety through the aid of vivid and clear visuals. Gym wall mirrors come in handy in routine exercises such as squats and help individual's workout effectively and safely. Working out in front of a mirror helps you maintain the perfect position and maximizes the benefits of exercise. Improper exercise and bad forms lead to strained muscles and fatigue which adversely affects health progress.
Tracking Progress
Tracking progress is not only a constructive habit but also a motivational practice. The positive changes in the body inspire the individuals to strive for excellence and give in the extra effort. Garage gym mirrors serve as a motivational décor element that lucidly illustrates the fruit of hours and hours of hard work. Being able to consistently track progress along the way helps fitness aficionados walk the extra mile in pursuit of fitness and health of body and mind.  
Helps Build Focus and Confidence
Effective workouts are based equally on focus and technique. Building and maintaining focus is key to productive exercising and training. Gym mirrors greatly help in building focus and maintaining composure during the workouts. Having a focal point to aim at helps keep the mind and body aligned with respect to one another. The absence of mirrors or centralized focal point results in the breakdown of focus and leads to ineffective workouts. Maintaining eye contact with your mirrored image especially during non-equipment workouts boosts confidence and results in better productivity. 
Choosing the Best Garage Gym/Wall Mirror
Selecting the perfect wall mirror is essential for setting up a home or garage gym. The needs and requirements of homeowners vary from one another. Besides this, the availability of space also affects the selection process of the large wall mirror. Here are some general considerations which can help in choosing the best garage gym mirror.
Mirror Size
The size of the mirror depends on the availability of space. The goal is to install a large mirror whose range is maximum and covers the entire area. A small activity mirror fails to properly fulfill its purpose and a large size mirror is almost mandatory part of the gym wall. However, a large mirror doesn't always have to be in one piece. Homeowners can also attain the maximum benefits of the gym wall mirror by having a group of smaller mirrors arranged together. 
A large wall mirror is often expensive and having the gym wall installed with multiple smaller mirrors is a cost-effective way to decorate the garage gym. Although every design idea has its fair share of pros and cons. Building a gym wall with a number of smaller mirrors may be a cost-effective approach but it also results in a large number of visible seams. Seams are incredibly annoying to some design lovers, having a single large gym mirror instead is usually worth the cost. 
Gym Mirror Material
The advent of technology has led to the development of minimalistic and new interior design options. Acrylic or plexiglass is one of such unique design ideas which aims to replace the conventional glass. Acrylic glass is best for numerous different interior décor applications but is not the ideal choice of material for the garage gym wall mirror. The image reflected by the plexiglass has a small share of distortions which spoils the primary purpose of the gym wall mirror. 
Acrylic glass has several amazing benefits and is a great design option for various residential and commercial uses. The lightweight and heavy-duty glass is available in numerous attractive colors and can be easily customized into unique regular and irregular shapes. Hence, acrylic glass is not the worst possible option but is the one not normally preferred by modern-day design enthusiasts for home garage gyms. 
Simple Guide for Hanging a Garage Gym Mirror
There are multiple ways of hanging a garage gym mirror which normally requires only simple hardware and a box of glue. Hardware does work effectively for hanging a mirror even in the absence of glue. Glue is simply an additional layer of protection and is commonly used by homeowners who prefer extra security. However, glue spoils the drywall and is not the best option for places where the beauty of the wall décor is equally important. 
Simple Hardware Installation
This technique of simple hardware installation is preferred for smaller sized mirrors and uses simple mirror hangers to hold the garage mirror. Simple installation technique with easy removal makes this an ideal choice for homeowners who want to preserve their wall décor from the permanent stains of the mirror glue. 
Hardware and Glue Installation
The hardware required for this method is relatively simple and is commonly available in the home toolkit. A drill driver, level, tape measure, screwdriver, hammer, and lead pencil is all one needs. This technique is simple and provides maximum safety to the users. Upon installation of the mirror, a mirror glue is used to further strengthen the bond between the wall and the mirror back. 
Alternatives to Garage Gym Mirror
There do exist some modern-day alternatives to mirrors that are good enough for simply seeing the form. These alternatives don't add any value to overall aesthetics and design enthusiasts have to compromise on the interior space beauty. Unlike a mirror which is a permanent design element and injects a sense of sophistication, these alternatives only fulfill their simple purpose. Here are some common alternatives to gym wall mirror used in home/garage gyms;
Selfie Tripod Stand
A selfie tripod stand works effectively for recording small videos and for checking in posture and form. It is a cheap way of maintaining form during home workout sessions. These stands do offer high-end surveillance yet fail to maintain the standards of accessibility offered by their commonly used counterparts. It is also not possible to check in the mistakes during real-time and work on fixing posture swiftly for better results. On the other hand, it is a cool and cheap way of maintaining posture and does fulfill its basic purpose to some extent.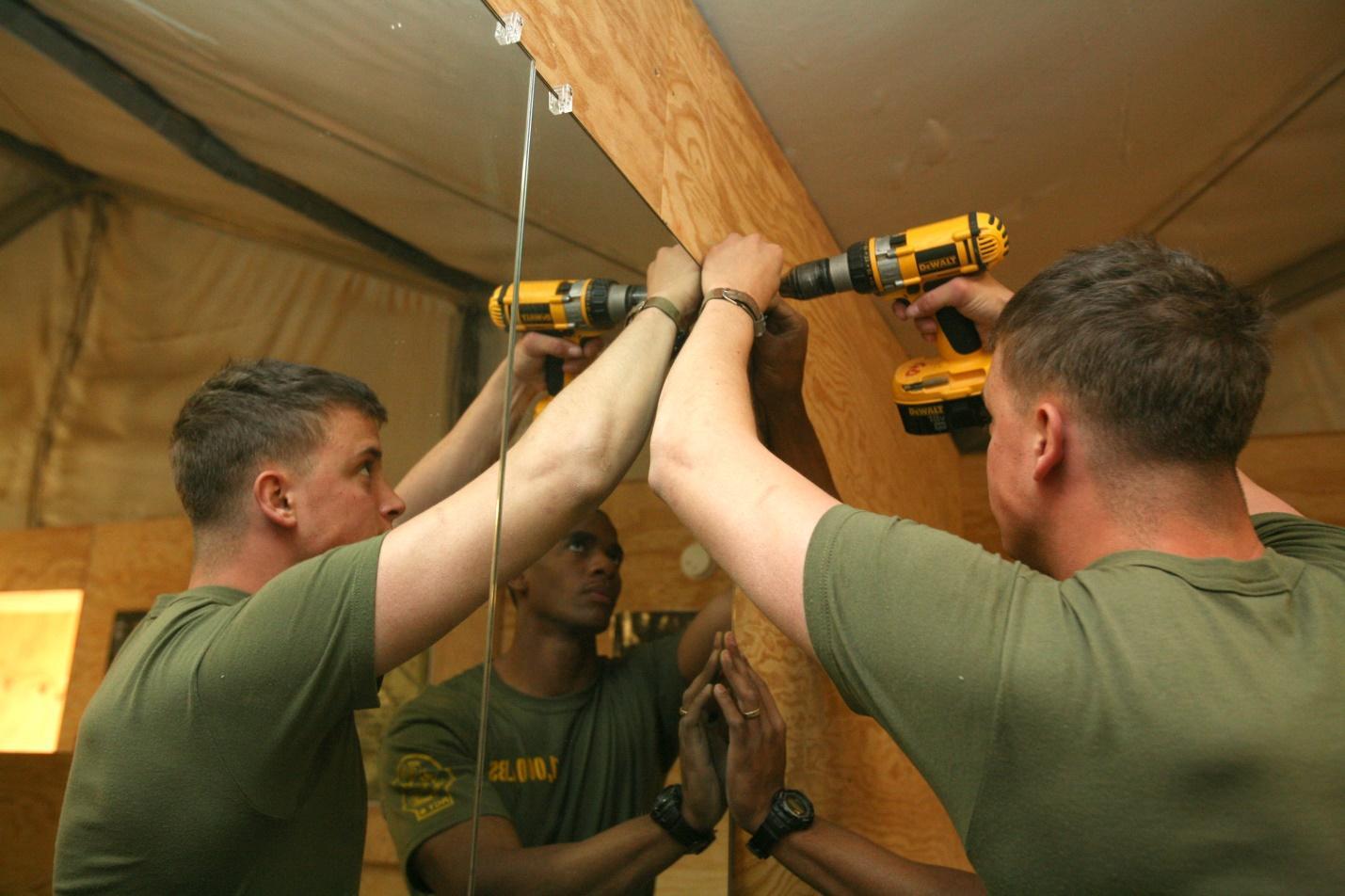 Webcams
Installing multiple webcams at unique angles can help you record your progress with a great degree of freedom. This is a common technique used by fitness enthusiasts who want to keep their form in check. Webcams are relatively cheaper and having multiple cameras set up around the garage gym hardly does any harm. 
Achieving the Fitness Goals with Garage Gym Mirrors
Fitness goals can only be achieved by regular and proper workout regimes. Working out in the home/garage gym means there is always room for error in technique or exercise. A gym mirror becomes a necessity in such a place where no extra supervision is available. These mirrors make sure the perfect form is maintained every step of the journey to perfect health and fitness. The achievement of goals is also greatly dependent on the overall level of motivation. Having a large wall mirror in garage gyms motivates one to strive for excellence to buy go here. 
These mirrors coherently blend in with the garage décor and develop a sense of working out in a professional gymnasium. There are tons of amazing options available for garage mirrors. Homeowners of today avail the luxury of a customized mirror that perfectly suits their unique needs. Durability and strength is no longer a concern with the contemporary mirrors and these garage gym mirrors are built to last.