When you hear the words "protein powder" your first thoughts are probably about whey protein as it is one of the most popular types of protein supplement and meal replacement on the market. While this an excellent protein source and very popular for athletes and the average person alike, it is not the only form of protein powder that adequately nourishes your body.
Quick Look at Our Top Picks
Whey protein powder is milk-based and because it comes from animals is a great source of protein that can be used as a supplement or meal replacement, but the problem for many is that it comes from animals.
Not everyone who needs protein supplements are vegans or have an allergy to dairy products, but many who choose protein supplements cannot or choose not to consume animals products.
Plant based protein is not limited to those only with specific diets, but it healthy and wholesome for everyone. There are many plant sources that are chock-full of proteins, amino acids and calories to give your body the energy that it needs to perform all of the tasks you do in a single day.
Plant based protein powders are made from a variety of different sources, each of them with their own individual benefits. Not all plant sources and therefore plant based powders form complete proteins, but each protein powder is packed with large servings of protein.
Considerations for choosing plant based protein powders for this list
Plant based: As in the name of the products we are looking for, these products should be strictly and completely plant based. They should be produced with natural, not chemically grown or enhanced plants that create complete protein.
Ample serving of protein: Whether the protein is complete or incomplete the serving size of the protein needs to pretty hefty. You do not need to overload yourself, but if you are taking a protein supplement you need one the is actually providing the nutrients.
Organically produced: A high consideration for this list is to have products that are organically produced without unnecessary chemicals. Products selected have been considered because they are without GMO's and additives like colors or flavoring.
Minimal sugars and fats: Many protein powders like to add added sugars in order to make the powder itself taste better because protein usually comes with a pretty bitter taste. These sugars are not good for your diet or your body and if they can be avoided, should be.
Top 10 plant based protein powders
Garden of Life Meal Replacement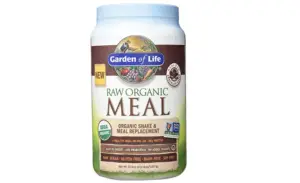 Garden of Life is a favorite for protein powders whether you are vegan, lactose-intolerant, or on a normal diet. There are a variety of types of protein powders that come from Garden of Life, this particular choice is the Raw Organic Meal.
The Raw Organic Meal protein powder is filled with 20 grams of protein and 44 superfoods in a single serving. That is giving you supercharged nutrients in every shake or smoothie more than just protein.
There are 21 vitamins and minerals included in this particular powder, as well as enzymes and CFU probiotics. Garden of Life protein powder is not only organic, but gluten-free, kosher, GMO-free, soy free and dairy free as well.
All of these nutrients and protein come in a few options of sizes so you can order either a ten-pack, small or large. You can also choose your choice of flavoring, either lightly sweet, vanilla, vanilla chai or chocolate.
Pros:
44 superfoods
21 vitamins and minerals
GMO-free
20 grams of proteins
Cons:
Too sweet
Container is not completely full
OPTIMUM NUTRITION Gold Standard 100% Organic Plant Based
Optimum nutrition and its Gold Standard is a name and brand that is renown for its protein powder supplements, and you may have seen their popular whey protein. The plant based protein powder supplement is also filled with nutrients and more than adequately packed with proteins.
The protein in this particular supplement, is made out of all of the essential amino acids that are needed to make it complete. There are 24 grams of this complete protein in every serving that you get from this container.
This protein powder has been USDA certified organic, it is not made from GMO's and does not contain artificial additives like flavoring or sweeteners. While the product is made with an all-grain complex, it is still gluten-free because only non-gluten grains such as quinoa, buckwheat and chai as well as peas, brown rice and pomegranate powder.
The whey protein powders made by this company are available in a variety of flavors, but the plant based powders have only been created in chocolate and vanilla. Every jar of protein powder comes with nineteen servings.
Pros:
24 grams of protein
USDA certified organic
Gluten-free
Complete protein
Cons:
Some report an unpleasant taste
Does not thicken
Elite Organic Plant Based Protein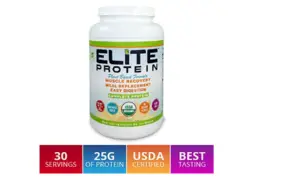 As in the name, Elite Organic plant based protein uses a completely USDA organic compound that is non-GMO, without added sugar, dairy, soy, gluten and wheat free. The product is perfect for every lifestyle and diet to provide easily digestible protein supplement.
There are fourteen servings per container filled with 190 calories only 2 grams of fat and 25 grams of protein. The protein in this supplement is complete, with all of the essential amino acids.
There are vitamins and minerals added to this powder to give you not just protein but extra nutrients that you cannot get from a standard protein powder. There is a superfood blend in this supplement which means you are truly giving your body the best.
Elite Organic plant based protein powder is available currently in only two flavors, either classic vanilla or chocolate. You can order either a small tub or a large tub depending on how often and how much protein you will need.
Pros:
25 grams of protein
Added vitamins and minerals
Superfood blend
USDA organic
Cons:
Orgain Organic Plant Based Protein Powder
Orgain's organic plant based protein powders is made with natural peas, brown rice and chai to give you a mixed plant based protein. The protein is USDA approved organic and made without preservatives and zero grams of sugar.
There are 21 grams of protein in every serving of this supplement, 5 grams of fiber and 150 calories for energy. Made without artificial ingredients and without soy, it is also vegan and GMO-free.
The protein powder does not contain added sugars but does not compromise on flavor or taste. There are options for vanilla bean, chocolate fudge, chocolate peanut butter, cookies and cream, or plain peanut butter.
Pros:
USDA organic
0 grams of sugar
No preservatives
5 great flavors
Cons:
Thick and clumpy texture
Gritty
VeganSmart Plant Based Vegan Protein Powder by Naturade
This is a non-GMO plant based vegan protein powder with no cholesterol and zero trans fat. It is a plus to have no added fat or cholesterol because it means your powder is more wholistically protein.
There are 20 grams of protein and 6 grams of fiber in every serving of protein found in this product. There is Omega-3, prebiotics, and digestive enzymes and the entire product is made without soy, nuts, MSG, and is completely organic.
You can choose from the natural flavor, basic chocolate or vanilla or the fun flavors like chai and wild berries. The size options for this product is 22.75 ounces, 22.8 ounces or 24.34 ounces.
Pros:
Fun flavors
20 grams of protein
Most report a great taste
Omega-3
Cons:
Some report gas
Small amount of product
Vega Sport Protein Powder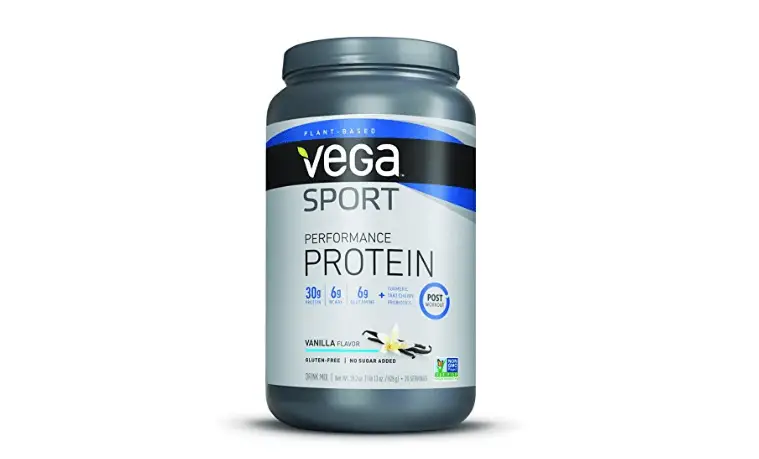 This plant based product comes with the highest amount of protein per serving at 30 grams. It contain all of the essential amino acids to create a complete protein meaning that your supplement will have to proper building blocks to make the proteins that your body needs.
This protein powder is designed specifically for athletes including ingredients like CFU probiotics, and turmeric extract. These, with the protein will help you to not only build muscles but to assist in the recovery process after you have been working out.
You can choose one of four different flavors, either vanilla, chocolate, berry or mocha. There are three sizes can purchase either 12 pouches, a large tub or an extra large tub depending on your needs.
Pros:
30 grams of protein
Complete protein
CFU probiotics
Specifically designed for muscle recovery
Cons:
Some report it is too sweet
Difficult to mix
Amazing Grass Organic Plant Based Vegan Protein & Kale Powder
Amazing Grass' plant based protein comes packed in with 20 grams of protein for every serving. There is also a fully serving of greens to give you added nutrition.
Made from pea, quinoa and chai to give you the protein you need, the leafy greens are added in from kale, wheatgrass, barley grass and alfalfa. All of these plants are organically produced without extra chemicals to give you an organic product.
This protein powder is available in either trio greens, simply vanilla or smooth chocolate so you have your choice. You can choose either 15 individual packets, or choose from 15, 30, 100 serving tubs.
Pros:
Mixed leafy greens are added
Organic
20 grams of protein
Can purchase to have individual pouches
Evolve Protein Powder
Evolve markets this protein powder as not only plant based but plant powered suggesting that this protein supplement is packed with protein and energy to keep you going. The protein is completely organic, and is made dairy, soy and gluten free.
There are 20 grams of protein and 10 grams of fiber in every serving of this protein powder supplement. A small downside is that there are 3 grams of sugar in every serving as well.
This is a pea protein powder but the flavors come in chocolate or vanilla to allow you to have a better flavor. There are options to have one or two pound product or individual products.
Pros:
20 grams of protein
10 grams of fiber
Gluten-free
No chemical additives
Cons:
3 grams of sugar
Not many flavor options
22 Days Nutrition Organic Protein Powder
This protein powder option is made from only six food ingredients to give you a more natural product. Because it is plant based and has minimal ingredients that means it will be easier on the stomach.
There are 20 grams of protein and less than one gram of sugar for every serving keeping your protein needs fulfilled and your sugars low. There are 120 calories in every scoop to give you the energy needed to keep going.
This is a USDA certified organic product that is GMO-free, dairy-free and gluten-free. It comes with the choice of three flavors, either chocolate, vanilla or strawberry.
Pros:
20 grams of protein
Organic
Only six ingredients
GMO-free
Cons:
1 gram of sugar per serving
Some report a grainy texture
PlantFusion Complete Plant Based Protein Powder
This is another USDA certified plant based protein powder and is hypoallergenic to accommodate most every lifestyle. There are enzymes involved in the protein supplement to assist with the digestion process.
There are 21 grams of protein per serving and contains 4,500 mg of branched chain amino acids. PlantFusion selects only nutrient-rich products to use in the making of the protein powders to give you a clean, healthy product.
There are 120 calories per serving and can be purchased in either a sample, which we highly recommend trying before buying the big tubs, or in 12 count packages, 1 pound tub or 2 pound tub. You can purchase either naturally flavored, vanilla bean, chocolate, chocolate raspberry or cookies and creme.
Pros
21 grams of protein
Organically produced
Enzymes
Nutrient rich products selected
Cons:
Some report bad taste
Grainy consistency in shakes and smoothies
Closing thoughts
Plant based protein powders are easy for the body to naturally digest and are typically easier for the stomach to handle. These powders still come fully packed with proteins that will help support muscle growth.
There are calories in the protein to give you a shake or smoothie that is filled with energy so you can rest assure that you will be able to be active and on the go. With minimal fats and sugars included you do not have to worry about adding unnecessary things to your diet.
Many plant based protein powders are hypoallergenic and all of them are vegan friendly to accommodate most diets and lifestyles. You will be able to cut out the meat, dairy or egg products in your life and still get your needed protein from the plant based sources.
Make sure that your diet actually needs an added protein supplement, or any supplements for that matter before you decide to take one. Then you can browse the options and see what is best for your personal preferences and needs.