While you may think you need every piece of equipment there is to get the best workout at home; you can actually get a great full body workout with just a single machine. That machine is a functional trainer.
Our guide will help you find the best functional trainer for your budget so you can achieve the best full-body workout right in your own home.
Inspire Fitness SCS – Our #1 Pick
Inspire Fitness' unique design for the SCS Smith system / cable machine makes it one of the best functional machines on the market.
It has an Olympic bar, bench, preacher curl, cable crossover …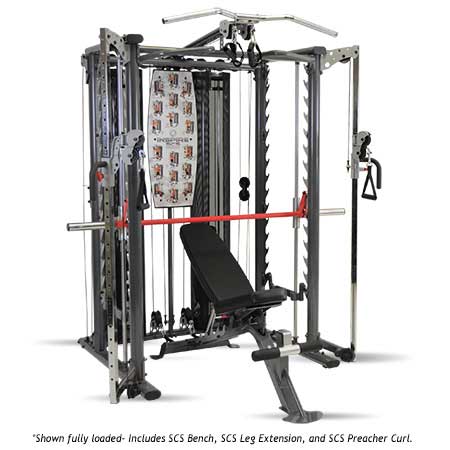 This is one of the most versatile cable machines available. Although a bit on the pricey side, you will get a total body workout for years to come with this functional trainer.
The electrostatic powder coated finish means it is durable and easy to maintain.
The frame shape is rectangular, and put together with tubular steel.
The precision ball bearing system is super smooth, with dual pullies that adjust to 32 positions.
With the bench, it measures 61" wide x 89" deep; with a minimum height of 84" without the pull-up bar, and a maximum height of 88" with it in place.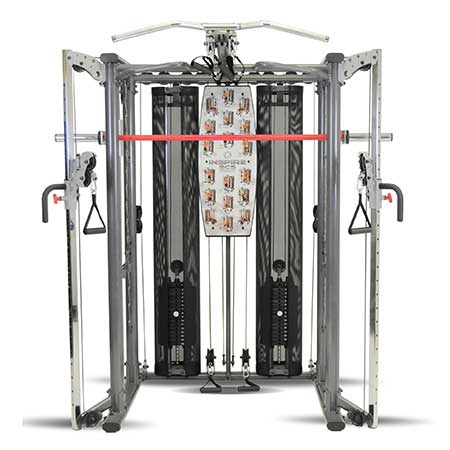 The reviews all have a similar theme, with many of them saying that the Inspire Fitness scs is the "best cable machine ever."
It's been said that the look and feel are that of more expensive professional equipment you would find in a commercial gym, but it is affordable enough for your own home.
Updates after using the gym for a year or so have shown people still love their Inspire Fitness functional trainer. No wonder it is five star rated on Amazon.
Pros
Smooth operation.
Compact Size
Outstanding Build quality
Cons
Expensive when compared to other functional trainers on the market.
Quite a bit of assembly required. Two people will be needed, and having some mechanical knowledge will be helpful.
XMark Functional Trainer – Premier cable machine for the young and old
With dual 200 lb. weight stacks, the XMark Functional Trainer provides excellent muscle targeting and isolation.
This cable machine is completely customizable to the user's body and movements thanks to 19 column adjustments.
The XMark Functional Trainer allows for a really wide variety of exercises and has enough weight to keep more advanced lifters happy. This cable machine provides excellent quality at a fair price.
This model comes with several accessories including 2 hand straps, 2 long strap handles, a tricep rope, short bar, leg extension curl strap, and an ankle strap.
There is also a split handle grip pull-up bar.
The molded rubber hand grips are comfortable during even the toughest exercises. No matter how intense your routine is, the skid-resistant feet will keep the functional trainer in place.
The XMark Functional Trainer was built with 11-gauge 2" x 3" rectangular steel with a scratch-resistant baked powder coated finish.
Video review by Chris MacKenzie
It measures 35.5" L x 70.9" W x 83.9" H. This machine is loved by families since it is incredibly adaptable for all ages from young teens (with supervision).
There are differing opinions on the assembly process.
While some say they are able to spend a few hours with an Allen wrench, others recommend professional assembly. If any questions should arise, the XMark customer service has been highly praised for how they handle any problem.

Pros
An extremely durable model kept in place with skid-resistance – meant to last for years and years
Easy enough to operate for all, young or old. Switching between sets is simple
Cons
It does not come with a bench, but this can be purchased separately
Pulling the cable system through has been said to be tricky. Do it before putting the machine up is said to make things easier
Bodycraft HFT – A Functional Trainer that helps you train the way you move
The Bodycraft HFT is a compact functional trainer.
Its frame is constructed of heavy duty steel, with powder coating that has been electromagnetically covered it then baked for a long-lasting finish.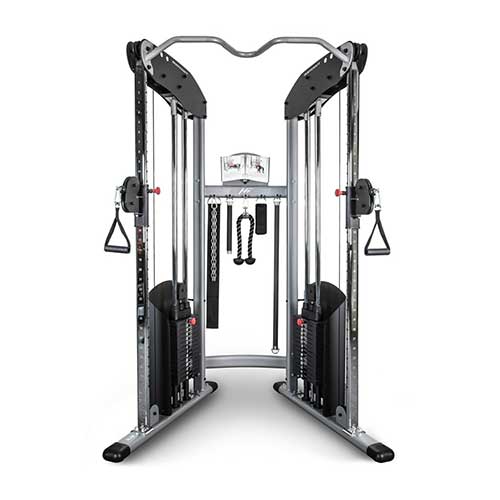 The Bodycraft HFT is designed to improve strength, as well as your core and coordination. This cable machine is perfect for homes or condos that may not have that much space for a gym, but with this model, you'll get a complete workout in a small space.
The cables are among the most flexible. They are nylon-coated, and with precision sealed ball bearings, this makes for smooth exercises.
They travel up to 79.5".
The dual independent adjustable cable column pulleys have 31 height positions that can rotate at a 180-degree angle.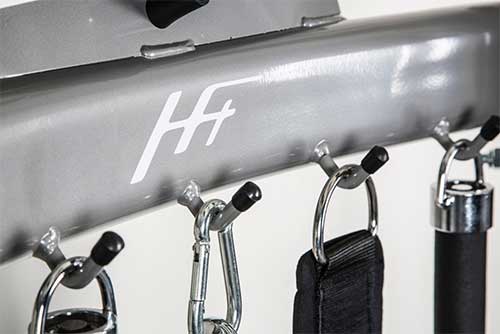 As mentioned before, it is a compact machine, measuring only 55" W x 40" D x 82" H.
All of the ratings so far have been 5-star. Users have commented about how it's smooth riding even excels those more high-end.

Pros
One of the most compact models available, making it easy to put in any corner of the house or garage
The functional trainer comes with an attached exercise book, making it easier than ever to have a how to guide handy, helping you with each of the different exercises this cable machine offers. There's even a DVD!
Extra safety and protection with the rear steel stack guard
Cons
Not the heaviest of weight stacks at 150 lbs. each, although the lower resistance makes for a greater range of motion. These weight stacks can be upgraded to 200 pounds for more advanced lifters

It also does not come with a bench, but one can be added
Body Solid Functional Trainer – Super stability for all exercises
Achieve your individual fitness goals with Body Solid.
The dual weight system provides resistance with true isolateral movements.
The stability and aesthetics of the Body Solid Functional Trainer are what makes this cable machine stand out. You'll get a very wide variety of exercises at a great price.
By using this cable machine, you will be improving your core stability, an essential component for building strength, balance, and coordination.
Fiberglass reinforced nylon pulleys are featured on this model's vertical carriage system.
The Body Solid Functional Trainer measures 72.5" L x 42.3" D x 83.8" H.
Reviews have said that this is a great affordable alternative to more expensive professional equipment as this will get the job done just as well.

Pros
The ease of adjustability is a feature loved by many users
The stability of this machine has been deemed "incredible" as across several reviews, no type of exercise has even seen a wobble
The handles have a cylinder that rotates from the outer grip, allowing more free, natural movement, and reducing the chance of injury
Cons
Some reviews have said assembly can be difficult with pieces not being labelled
Any arm exercises with arms spread wide requiring to use both sides at the same time may not be suitable for some, in which case you will need to do one side at a time
Marcy Diamond Elite Smith Cage – The ultimate workout in one machine
You wouldn't believe how much the Marcy Diamond Elite Smith Cage cable machine has on offer for the price!
This machine has everything you need for a home gym outside of the weights. With a weight capacity up to 600 lbs, it's a great option for more advanced lifting enthusiasts. You can add just what you need now, or add it all so that you can add more weight to your exercises as your strength increases.
Built for the home but looks more like gym equipment, this functional trainer is a total body training system complete with Smith machine.
The unique cable cross dual pulley system offers a wide range of functional exercise capabilities. In addition to that, this model has racks for free weights (not included) and safety racks.
It also has a whopping 600 lb. weight capacity.
The Marcy Diamond Deluxe Smith Cage dimensions are 95" L x 79" W x 86" H. Users love how economical it is, considering how much you get in one package.
It takes a long time to put together due to how many pieces are included, but the instructions are clear. It's easy, just time-consuming.
Pros
It's incredibly high value for the money. You get a machine that does it all – functional training and traditional weight training.
It comes with a bench, which many people like. The bench can be adjusted and tilted for and ever wider range of exercises
Cons
Users on the tall side have found they are slightly limited by the cage around the machine
It does not come with any weights included
PowerLine PCCO90X Cable Crossover – The Cheapest Cable Machine
This cable machine may look simple, but don't let that fool you.
You will get a fantastic full body workout from the PowerLine PCCO90X.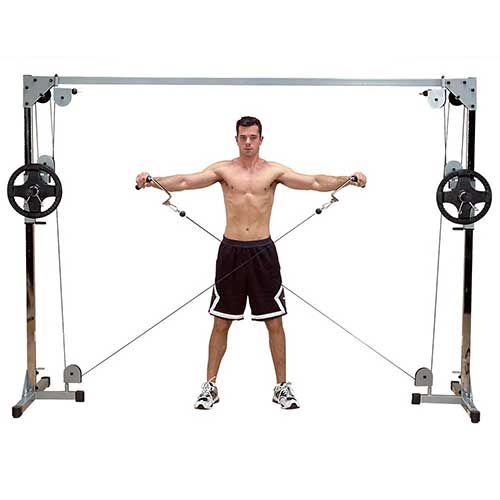 This is a simple design that gets the job done. You don't need much more than what this cable machine has to offer, and with the price, it's ideal for those on a lower budget. (not a functional trainer per say, but you can add a bench and get the same thing for a lower price)
This crossover cable machine offers a 180-degree range of motion. It comes with two cable handles and one ankle strap. Additional chin-up handles, weight plates, and collars for this machine are all sold separately.
The pulleys are large in diameter and featured on the top and bottom corners of the frame. The professional carriage system works on patented nylon bushings.
Your workouts with this machine will always be smooth and effective.
The frame measures 112" L x 39" W x 82" H. The value for money is what stands out the most according to reviews.
They also rave about how great it is to be able to assemble yourself.
Pros
The PowerLine Cable Crossover comes with a 10-year warranty on the frame, one year on parts
It's one of the easiest functional trainers to set up
Fits both standard and Olympic weight plates
Extremely economical. One of the cheapest functional trainers on the market
Cons
You can't adjust the height of the pulley.
Does not come with weights
How to Select your Functional Trainer
While all of our best picks are excellent choices, there's no one size fits all when it comes to functional trainers.
There are many things to consider before making a purchase.
Types of Exercises
Functional trainers usually offer an extensive range of exercises, but you may be looking for something more, or don't want to waste money on something that doesn't do what you are specifically looking for.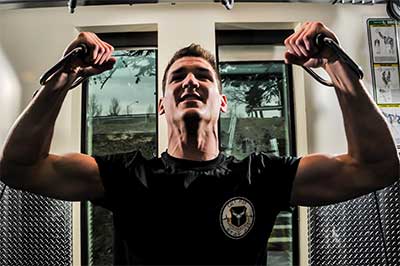 For example, the Marcy Diamond not only has a pulley system, but it also offers a weight training option. If this isn't something you are wanting, then perhaps another model will suit you.
Not all models come with a pull-up bar either. The Inspire Fitness functional trainer has a lot on offer in terms of different exercises, including a pull-up bar.
Total Weight
If you're looking for strengthening up for day-to-day tasks and work related things, then you don't need a lot in terms of weight.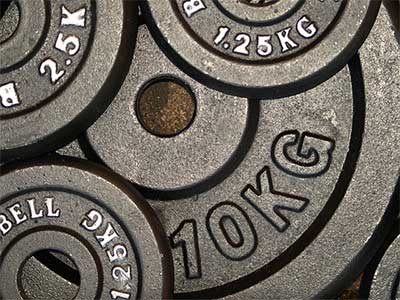 The Bodycraft HFT only has a dual weight stack of 150 lbs. each, and while some people may not think that is enough, it is the perfect amount for trimming and toning and building that core strength.
If you are using a functional trainer for sports, then a greater weight stack may be desired. The Marcy Diamond goes up to 600 lbs. even (sold separately.)
Space
Not everyone has a spare room for a home gym, so you will need to make sure you have adequate space somewhere for your functional trainer.
For smaller spaces, the Bodycraft HFT is great with it being only 55" wide, yet you still get a full body workout.
The PowerLine PCCO90X is very wide, at 112" across, but offers a large range of motion as well. Keep the amount of space you have in mind when looking into machines.
Budget
You don't need to spend a fortune for the best functional trainer for you.
Our guide has something in every price range.
When you're figuring out how much you're going to spend to buy the best functional trainer for your budget, be sure also to include the price of weights and additional accessories too.
If your alternative is going to the gym, consider how much you would save with a functional trainer for your home gym!