If you are looking for a smart scale that can measure your body fat, bone mass, hydration, body fat percentage and many other measurements accurately, the Yunmai Color Smart Scale is your best bet.

From those who want to lose weight to those who are just health conscious, this scale is an affordable and safe investment. It comes with a free app available for both Ios ad Android and you can download it easily online.
It can also conduct body composition analysis for up to 16 different individuals.
Your bathroom is perhaps the last place you think of when it comes to technology, and the first place you think of when it comes to health and hygiene. But as fitness, health and technology continue to get connected, many smart devices are popping up in our bathrooms, starting with the smart scale.
It is true that some bathrooms scales congratulate users when they accomplish their weight loss goals but that is not what makes them great or smart. Smart scales, or body fat analyzers, can give you a clear and comprehensive report about your general health easily.
All you have to do is step on the scale and it gives you a detailed report about your weight and general health.
The Yunmai Color Smart Scale does exactly that. It analyzes your body from head to toe and can track up to 16 different profiles. Simply create your weight profile with the app and you will track almost everything in your body so you that you know how to tackle your weaknesses and strengths.
Features review
1. No set up needed
The scale uses smart step on technology which means you do not have to switch it on before using it or off after using it.
Just step on the machine and within seconds it will analyze 10 different components of your body and give you a comprehensive information about your general health.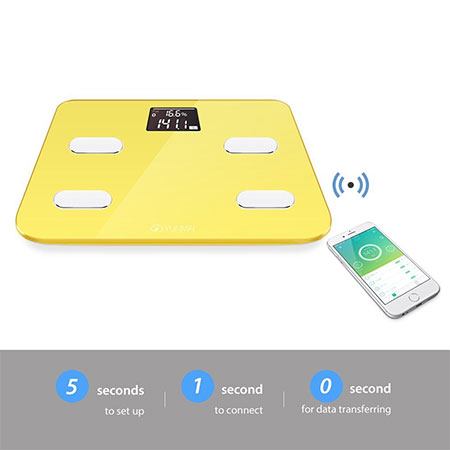 Also note that every measurement you take is instantly sent to your phone which makes it very easy for you to monitor your health progress and weight loss.
You do not need to set the scale up or to go through the set up instructions before you get started. All you have to do is download the corresponding app to your phone, install it and then connect to Bluetooth and your results will be on your phone within seconds after stepping on the machine.
Precaution: The Yunmai Color Smart Scale uses electrical current technology to assess your vitals, so check with your healthcare provider if you have a pacemaker, you are pregnant or have electrocardiographs.
2. Versatile
The scale measures body fat, water, muscle rate, weight, visceral fat, body age, protein, BMI, BMR and bone mass.
The moment you step on the scale, it will measure all these essentials and send them instantly to your phone so that you can see them on the corresponding app.
Smartphone apps also stores this data which makes it easy for users their health and weigh loss progress.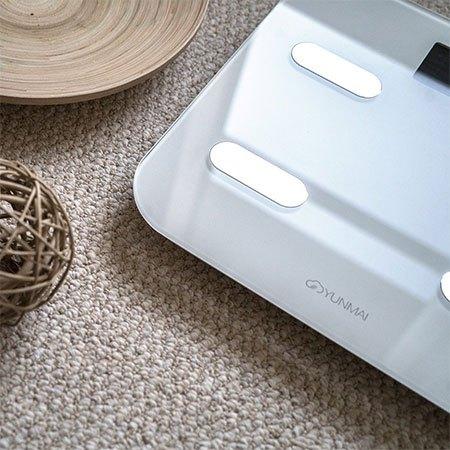 In addition it is designed with Bio Impedance sensors that ensure you get consistent and precise results every time you step on the scale.
The machine uses Bluetooth to link to a smartphone and can support up to 16 different profiles.
It is also works with many android and apple products. It is compatible with iPod Touch 2 or higher, iPhone 3G or higher and iPad first generation or higher.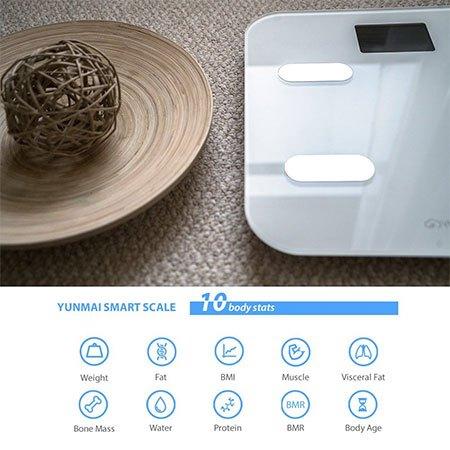 The Yunmai color scale comes in 5 different colors(light blue, green, pink, white and yellow).
They are all attractive and the large display makes it easy for users to read. For support, it comes with a 5-year warranty, a FAQs page, email support and a product manual. All these features make the scale a convenient, safe and versatile investment.
3.Very Convenient app
Before you use the scale, you will need to download YUNMAI 2.0 app, install it then key in your age, height, gender and name to set up your individual profile.
Then when you step on the scale, the convenient app will collect your real time metrics and present them in charts and graphs for you to get a clear picture about your progress easily.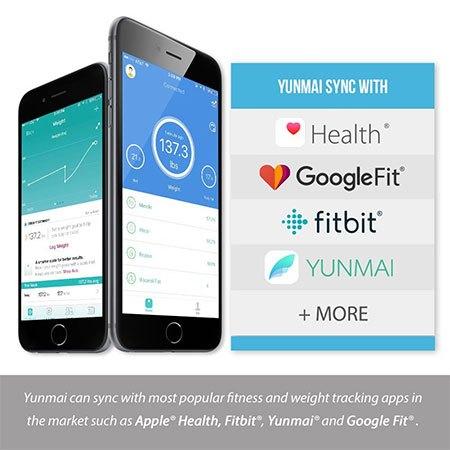 Just like that and you are good to go. There is no additional set up .Just make sure your Bluetooth is switch on when you step on the scale and wait about 2 seconds and your weight will be displayed on both the scale and as an update in the app.
You can also scroll down to see all the other 10 measurements or tap on the graph tab to view chart and graph reports.
The application is very easy to use and after using it for a few weeks the BMI/weight graphs will start to make sense.
For people who are diet conscious, the app comes with a food diary log that assesses all your exercising and eating habits. And to keep users motivated, the machine sends congratulation messages every time you achieve a goal.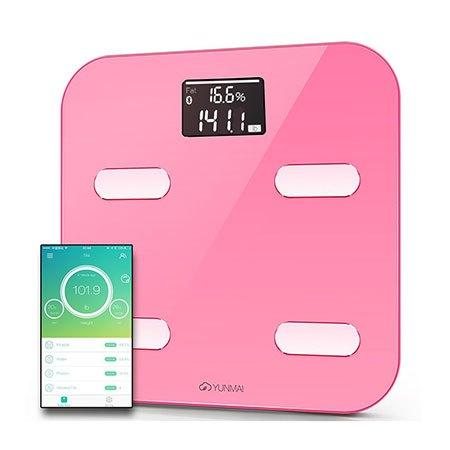 You can also sign up to compete with family and friends and boast about achievements through social media.
Other features :
Easy to read and clear graphs that allow you to monitor your weight, track food intake, record exercise and other important information.
Supports up to 16 different users
Goal tracking capabilities with congratulation messages when you achieve your goals
Alarm clock reminding users to weigh in
Large 3.8 inch screen display that allows users to read measurements easily.
Measures up to 10 precision body measurements
Free smartphone app that supports both Ios 7 and Android 4.3 and stores and syncs body composition data. It is compatible with most android phones and IPhone.
Wireless Bluetooth
Smart step on technology. Can easily and quickly asse your body composition immediately when you step on the scale.
Customer reviews and scores
At the time of publishing this review, Yunmai's color scale had an overall rating of 4.5 out of 5 stars after 830 verified reviews which is very impressive.
For instance one reviewer says," Apart from the scale being top notch, I am impressed with their great and friendly customer service too. They provide support promptly and offer immediate return or exchange if you do not like the machine."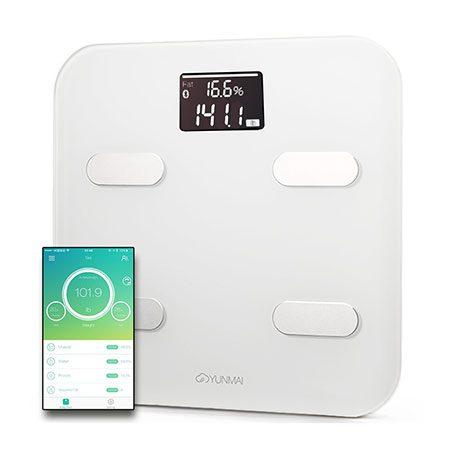 Another reviewer says," The machine is perfect. Weight wise it is very consistent and it is every easy to understand how it works out of box. You can also sync the app with Google fit, Fitbit and apple healthy which makes it very convenient. Very likeable tool producing very accurate data."
Possible cons
-The weight limit is 390 pounds which means heavier people cannot use it. But then if you fall under that category and you are looking for a good way to monitor your weight loss progress the Yunmai Color Smart Scale is more than just perfect.
-Like most digital bathroom scales, the scale gives inaccurate readings if moved. But you can easily sort this out by making sure that the scale is stable and sturdy.
Bottom Line
At a reasonable price tag, and loaded with many handy features, the Yunmai Color Smart Scale is certainly a smart purchase. Using state of the art technology, the scales gives users accurate assessment of their body composition.
It is able to measure hydration, physical age, bone mass, muscle, metabolic rate, body weight and body fat percentage. To make the situation even better, all these data is stored and synced into the machine's app, making it very convenient for you to track your weight loss progress.
This is a well-designed scale that allows you to track your body composition through BIA measuerements.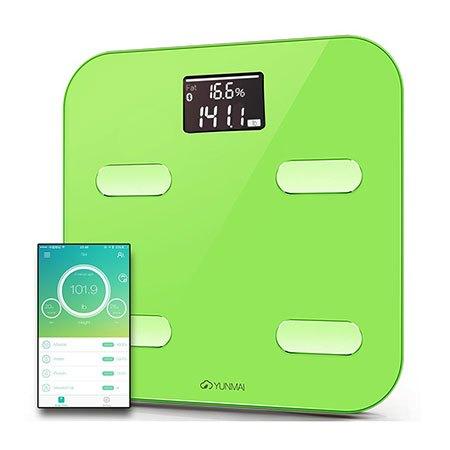 16 different people can use the machine and it is designed with auto recognition software to easily identify users. The information is also easily transferable to the application making it easy to track progress.
The set-up is also easy and quick.
But you will have to download the application first and set up your profile. Then the scale will automatically connect to your phone through Bluetooth.
It is also important to wipe the scale with a dump cloth before using it and remember to use it barefooted. Nonetheless this is a solid machine with decent accuracy. The design is also modern and sleek and the app is very easy to use.
Fore more info, read our review of  Top 10 Best Body Fat Analyzer For Accurate Percentages