Are you are looking for a high quality body fitness tracking device that will help you keep record of your body's essential fitness data?
The Omron Body composition monitor (latest model: HBF-514C) could be exactly what you are looking for.

In this review, we are looking at one of Omron's fitness scales.
This is a body composition monitor that is designed to monitor and measure your key fitness levels from the home.
Pricing is quite low considering the quality of this product, and compared to equivalent competitors, but this in no way compromises what the Omron can do.
It outperforms other fitness monitors on quite a few levels.
Features
This Omron HBF-514C uses 6 different sensors to track your body's vitals and store them so you can keep track of your progress.
The system has tried and tested as is said to be as accurate as the one's that your general practitioner uses.
With this body fat analyzer, you to store data up to 3 months, allowing you to keep track of a wide range of statistics.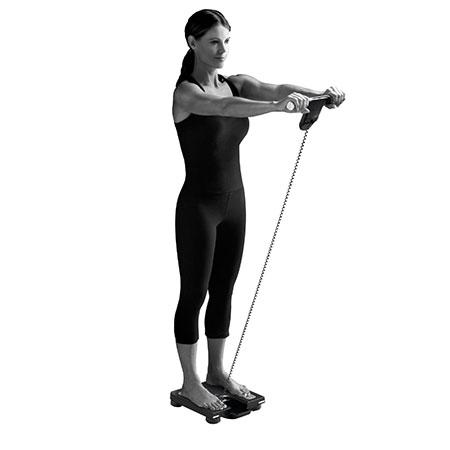 The device has a weight limitation of 330 pounds and the readings can be set for both pounds and kilograms, depending on your preference.
Omron's body composition monitor also gives you the option to track, your body fat, muscle tissue percentage, and your bodies metabolism stats.
If you are using the device to lose weight, the readings of each setting become vitally important so you know what you need to work on to achieve better results.
Advantages of the Omron body composition monitor
There are many advantages for using this body fat and composition scale.
One of the best features is the ability to see exactly the area you need to improve your body scores.
Are you looking to lose some unwanted pounds or you are on some kind of fitness program?
This product from Omron will help you identify the areas that you need to work on and ultimately achieve better results.
The extra sensors (compared to other fitness trackers and body fat scales) improve the accuracy of the scale.
Its sensors work by sending a tiny electrical signal through the body, ensuring that the measurements are taken throughout the body.
There are 4 individual profiles you can store on the device, allowing for family members or friends to log their data.
The Omron body composition monitor comes with the power up batteries needed to operate and a useful notepad to log down your results.
Product specifications
Measures and stores body fat percentage, BMI, skeletal muscle, metabolism, visceral fat, body weight and age.
Full body monitoring and sensing with "all body" technology and is more accurate than foot-to-foot monitors.
Features up to four person memory profile.
Stores 90 days of memory.
Easy on/off button at base.
Large LCD screen allows for easy reading
Can support weight up to 330 pounds.
Retractable cords makes it suitable for adults up to the height of 6' 6 3/4".
Overall review
The Omron HBF-514C can be snapped up for a reasonable price (click here to find the latest deals) at this price is the device is incredible value.
With an array of different body measurements, the Omron body composition monitor is much more than just a set of scales.
Offering the same precise results of your doctor's machines (that cost literally thousands of dollars), sets this body measurement instrument apart from the rest.
In our opinion this might very well be the best body fat analyzer on the market today.
Whether you are looking to shred some pounds or training to keep fit, this device has it all.
For more, read our review of Top 10 Best Body Fat Analyzer For Accurate Percentages – 2018 Scales