While setting up your home gym with some new training equipment, you may have wondered whether a stationary bike will complement your workouts. I think it will and will tell you why in this MYX fitness review.
Home gyms are becoming more popular as people start to notice the benefits of working out from the comfort of their own home, with plenty of affordable and durable machines and equipment available to you.
However, one of the hurdles when buying gym equipment for your home is not knowing which equipment is reliable and useful in the long-term. There are so many quick-fix products offering empty promises that end up wasting your money without delivering results.
I am here to provide you with an in-depth guide on the MYX fitness options to get your home gym started.
The MYX bike is a great addition to your training space, and if you opt for the MYX Plus, you get a mini gym all-in-one as it comes with a 7-piece weight set, resistance band, stabilizing mat, and a foam roller.
The bike comes fully equipped with a 21.5-inch interactive touchscreen tablet and a Polar heart rate monitor to easily track your progress.
If you are starting with cardio goals, this is all you will need in the beginning, before you move on to more advanced equipment.
Quick MYX Fitness Review

The perfect start to your home workouts is in one bundle with the MYX fitness system, and you won't need much more than this.
You will not have to search for the energy and motivation to get yourself to the gym, where you may have to wait to use the equipment and listen to music you have not chosen yourself. Instead, you only need to pull on your workout clothes and get cycling.
The MYX Fitness Bike
Here is my quick summary of the positives and a few areas that could be improved with the MYX bike package.
Pros
360-degree swivel touch screen for off-the-bike workouts
Solid foundation
Very quiet with barely any sound
Numerous preprogrammed training programs
30-day return policy
1-year warranty
Can use regular training shoes
Delivered pre-assembled
Cons
Weight rack not included (for the MYX Plus package)
No live classes
The membership fee is not included (for additional resources)
Since you have a general idea of what you can expect with MYX fitness, let's have a deeper look.
What Is MYX Fitness Exactly?
MYX fitness is breaking the barriers by providing more than an exercise bike, but rather a full home workout system for all intensity levels.
The home system comes with a Star Trac stationary bike, fully equipped with a large interactive swivel touch screen.
The screen connects directly to the MYX app, which offers a variety of preinstalled guided workouts across various disciplines. These include, but are not limited to:
Pilates
Guided meditation
Spin classes
And so much more
Design And Accessories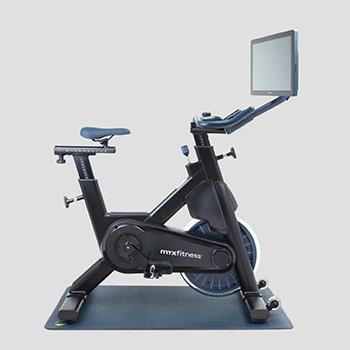 The bike itself is rust-proof and hypoallergenic, offering you a durable solution to home cycling with a product built to last. The foot clips do not require specialized shoes, and any athletic shoes will fit.
The bike is adjustable for various riders with a maximum weight capacity of 350 lbs and a height range from 4' 11"–6' 8''. It is built to fit in home spaces, and you will need a 4' x 6' space to be able to ride and move comfortably.
The MYX Plus bike offers the additional equipment to complete your home gym:
6-piece weight set (3-, 6-, and 9-lb dumbbells)
15-lb kettlebell
Foam roller
Polar heart rate monitor
Bike stabilizing mat
Resistance band
Large exercise mat
Just as you are thinking it couldn't get any better, it does! The bike's features offer a lot more for your home setup.
MYX Bike Features
MYX fitness is structured to provide you with all you need to work out at home, with an extensive app providing you with expert-guided workouts.
Key Features
360-degree swivel screen
Optional paid app membership
Weekly workouts (for members)
Accurate heart rate monitoring
Unlimited access to MYX fitness content (for members)
The MYX app is designed to offer a full workout experience for you and your family with support for five profiles. You can add your workouts to a shared calendar to plan your workouts with your family.
The app can stream simultaneously on two devices including an Apple TV. You can also choose your favorite music to help you through your workout, with the ability to separately adjust the coach and music volumes.
You can also choose to enjoy a one-on-one coaching experience to help you reach your fitness goals and answer your questions. If you prefer to watch while you ride, you can choose from scenic rides, coach dairies, mat chats, or news to keep you entertained.
My MYX Bike Review
Ultimately, the exercise bike is a great addition to any home gym, whether it's the first piece of equipment you buy or an addition to your growing gym.
I would highly recommend this bike due to the versatility and various training options it provides. Training at home can be a tough task to manage if you don't have the support of other fitness fanatics to help you.
The ability to join such a positive and motivational community with so many different guided workouts is the perfect solution for anyone gyming at home.
Cardio training will become a breeze with the MYX exercise bike, and spending a bit more on the MYX Plus offers so many more benefits and useful accessories that it is worth the extra money.
Let's Get Cycling!
Now that you have all the facts, what is stopping you from getting your workouts started with MYX fitness? It's the ultimate gyming system for your whole family.
With no more excuses or tedious trips to the gym, you can now have all you need in the comfort of your own home.
If you have experienced the MYX fitness products, let us know your thoughts in the comments below!