The new Homdox body fat scale is one of the top selling body fat analyzers on amazon.
It is an affordable product, with a lot of features for the price (click here to find the latest price).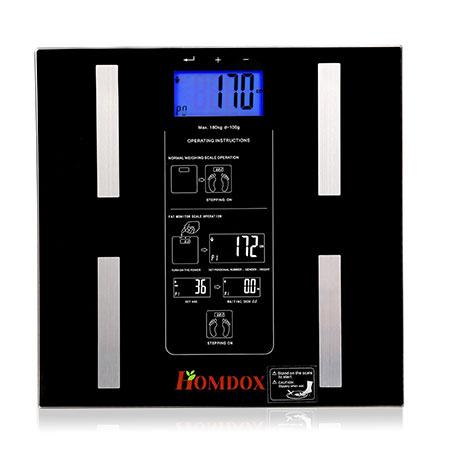 The Homdox body fat scale is a very effective solution, a well design and well built product.
It should be reliable, and last a few years depending on how much you are using it
. In addition, you get a 100% satisfaction warranty if you purchase the unit on amazon, and it is worth every penny.
The scale comes with Bluetooth features that let you connect it to your phone.
Things it can measure
Once connected, the body fat scale will the give you all the information you need.
Weight
Fat Percentage
Water Percentage
Muscle mass
Bone Mass
Calories
Apart from that, the Homdox Body Fat Scale comes with a well made fitness and health program that will provide tips on how to stay healthy.
Main features of the Homdox Body Fat Scale
The Homdox Body Fat Scale is manufactured with a high-quality tempering glass which measures 6 millimeters.
The glass is very strong and durable. In addition, the smart scale also comes with an LED display that is not only clear, but also elegant.
Using Bluetooth, you can as well read information from your phone without necessarily reading directly from the smart scale.
What you need to do is to install the Airscale plus application on your smartphone to save your information as well as the diagram of your muscle ration, moisture, weight, skeleton, fat and also BMI.
The body fat analyzer uses a sensor with four point intelligent sensors for measuring and calculating. Pounds and kilograms interchanging. With arc edge, abs out of shell as well as a top notch feet for safe use.
Specification of Homdox Body Scale
Your Homdox Body fat scale can upload weight of up to 150 kilograms or 330 pounds.
The smallest amount of weight it can accommodate is 4.4 pounds which is equivalent to 2kg. The smart scale also features the Bluetooth version 4.
The entire unit is powered by four batteries.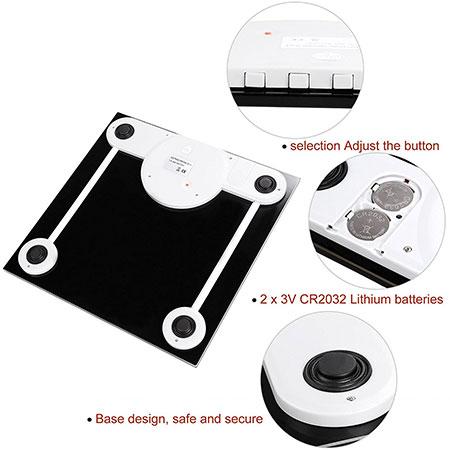 Each of the AA batteries have a voltage of 1.5. The Homdox body scale measures 320 millimeter long, 320 millimeter wide and 27 millimeter.
The overall weight of the unit is 3.28 kilograms. The outlook appearance and overall design is sleek.
Homdox's body fat analyzer will work with the airscale app, for both android and iOS and communicate with Bluetooth 4.
The packages features one Bluetooth weight scale and original packing.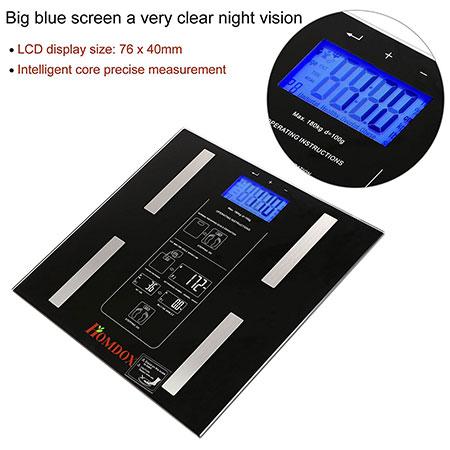 When you using Bluetooth, you only need to connect it to your mobile phone, and the data will transfer from the scale to your phone quickly, and you will be able to read your muscle ration, weight, moisture, fat, BMI, and skeleton mass.
Overall review
We have just discussed Homdox Body Scale, which is one of the top selling smart scales on the market. What makes this device popular is its sleek design, size, weight as well as ease of function- it delivers top notch results.You can check the accuracy of the scales here.
It is a low cost item, but the quality and feel is good. It is receiving great customer reviews on amazon.