Whether it is tracking your body fat or monitoring water in your body, nothing works better and easier than a body fat analyzer. In this post, we are reviewin the GOSO Body Fat Weight and Water Monitor, one of the very few Handheld body fat Analyzers.
Featuring a modern ergonomic design, the machine accurately measures water and body fat in seconds to give a detailed report about a user's general health.
Just like any other effective body fat monitor, you only need to feed in your personal information (age, height, name) to get started and it can monitor up to 8 different people.
Just hold it in your two hands and you get all your data in less than 10 seconds.
It doesn't require a smart phone to function and comes with a large LCD screen that allows users to see the readings easily. The machine is also built with a modern and durable material that adds a stylish touch to any setting.
Key Features
Easy to use
GOSO's Body Fat Monitor is a simple device that is very easy to use.
It is comes with handles that pass harmless electric currents through them in minimal quantities and they proceed to assess your entire body so as to tell you your exact body composition.
This assessment tells you what percentage of your body is water, muscle and fat. It displays these readings on a large LCD screen so that users have more than enough data to act on.
All a user has to do is to grip the two handles and wait for about 5 to 10 seconds then the results will show up on the screen. The readings are also not hard to interpret as they are displayed in their simplest form.
Accuracy
If you follow the instructions on the analyzer's manual very carefully the numbers you get are going to be very accurate.
For example, if you to get near accurate results you are advised to use the machine first thing in the morning after you wake up.
This is because it is at that time that your entire body is at its accurate composition.
It is also recommended that you allow about an hour or so to pass after taking a bath, water or exercising before using the monitor.
These 3 activities affect your overall body composition and affect your results.
Other features
Quick and Accurate Measurement: It captures a user's data in seconds.
Modern Ergonomic Design: Features a design that is very easy to use and hold
Comes with a Digital LCD display which is clear and the numbers are displayed in a digital format
Keeps and saves data of up to 8 different persons
Comes with a battery saving feature. It turns off automatically when not in use which prolongs the lifespan of the tool and saves battery life.
Customer reviews and scores
At the time of publishing this review, the handheld monitor had a rating of 3.0 stars out of 5 stars on amazon after only 6 reviews.
Apart from issues to do with its small size, most of the reviewers love it.
For example one reviewer says,'' I have been using this machine for more than 2 weeks and it works perfect. It is well architected and the handles feel very comfortable.
The only downside of the device is that sometimes when you use it during the day it gives inaccurate results. Nonetheless it is a good device for anyone who is fat and water conscious."
Possible Cons
-Some users claim the results are not accurate when you use it later in the day, but this can be solved by using it immediately after you wake up. The results are usually more accurate at this time because your body composition is at its best.
GOSO VS Omron Fat loss monitor
Its main competitor is Omron's Fat loss monitor. Omron's handheld monitor is more sturdy, more accurate and reliable than goso's product.
But it is also around twice the price. If the difference in price matters to you then you can purchase the GOSO handheld analyzer, but you will be better off with Omron's own version.
Bottom Line
Weight loss doesn't always mean something good is happening in your body.
You need to know whether the weight you are losing is muscle or fat weight.
And that is where the GOSO Body Fat Weight and Water Monitor comes in handy.
It is perfect for anybody who wants stay at their best weight wise and health wise.
The machine churns out numbers on a clear and easy to read LCD screen that shows your hydration, fat, body weight and other important data about your body composition.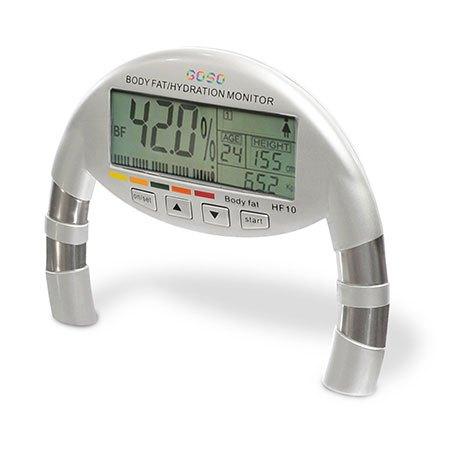 It captures your data automatically when you hold its handles and its lightweight even 10 year old child can carry it without a hassle. Perfect for everyone and suitable for anyone who wants to stay healthy or keep fit.