If you are looking for an affordable alternative to weight sets for your at-home workouts, resistance bands are a great option to activate your muscles.
These durable elastic bands may seem ineffective due to the simplicity of the band; however, choosing the best resistance bands for your needs will help you include a new type of workout in your training.
Resistance bands are not only able to activate your muscles similarly to how weight training does, but they can also help improve flexibility and mobility.
Resistance bands give you a versatile training option, small enough to fit in your training bag so you can exercise with them anywhere.
Best Resistance Bands Quick Links
FRETREE Resistance Bands
(Best Overall)

TheFitLife Exercise Resistance Bands

Premium materials with anti-snap design

Steel buckles for added safety

Sweatproof and skidproof handles

Fit Simplify Resistance Loop Exercise Bands
(Best Budget)

Versatile for exercise and rehabilitation

Comfortable and soft on the skin
The 3 Best Resistance Bands Reviews
Choosing the right resistance bands offers you the ultimate solution to work out from anywhere, while offering a challenging way to build muscle, improve your strength, and increase your mobility.
What more could you want when you have a home gyming solution that is lightweight, affordable, and easy-to-use? Lucky for you, I have found three of the best options. They all can fit in nicely with your other must-have fitness accessories.

This material-encased resistance band is the best choice due to the long list of positives of using a fabric rather than a latex band. These durable material bands will help you work out efficiently no matter your fitness level.
Key Features
Three resistance levels
Anti-slip design
Versatile bands
The bands still have rubber inside to offer elasticity, but the external fabric prevents the bands from slipping or rolling, as well as keeping the bands from snapping.
Find your personal intensity by choosing from the three levels of resistance, or use all of them to strategically pace out your training sessions and recovery sets.
Pros
Durable anti-slip design
Various resistance levels
Made from thick material
Cons
The large size requires a wider stance
If you are looking for
small and portable gyming equipment
to carry with you when you travel or to use in your home workouts, these affordable bands are a great option for you.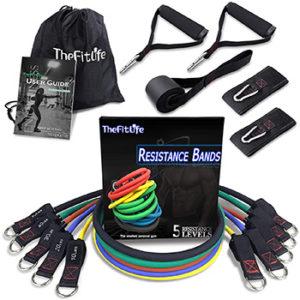 Why not buy the whole set and get the best resistance bands with handles for versatile and portable training? Increase your range of motion and boost your stamina with these natural latex bands.
Key Features
Premium materials with anti-snap design
Steel buckles for added safety
Sweatproof and skidproof handles
The ability to stack the bands gives you the freedom to change the resistance level as your workout requires. The user guide included will help you set up your training product and give you additional workout tips.
Pros
Premium anti-snap latex material
Stackable bands for a variety of resistance levels
Comes with an e-guide for safety and user instructions
Cons
Improper use may lead to injury
This set of resistance bands is a great way to switch up your training with various weights.
Alter the load
with the various resistance options and always take safety precautions when working out.
These classic resistance bands are perfect for beginners who are just getting started with resistance bands. The variety of strengths gives you the freedom to scale up the intensity over time.
These rubber bands offer thick and durable materials that promise to be soft on the skin. The five color-coded bands can be paired together for more of a challenge if needed.
Key Features
Versatile for exercise and rehabilitation
Superior quality
Comfortable and soft on the skin
Pros
Lightweight and affordable
Sweat-resistant
Cons
May roll up when used over tights
Through proper use and careful storing you can get the most out of these budget bands, which are designed for
entry-level fitness enthusiasts
and recovery activities.
Resistance Bands Considerations
Before you jump in and purchase your resistance bands, here are a few points to consider to make sure you get the most out of your new training equipment.
Resistance Range
When buying a resistance band, you need to decide what your ultimate training goals are. Are you looking to build muscle, improve your flexibility and mobility, or would you use them for stretching?
If you are buying bands for recovery purposes from the advice of a medical expert, the Fit Simplify Resistance Loop Exercise Bands are a perfect choice.
Decide on the best tension levels for your needs to help guide you on the best bands for your needs.
Material
Before making your purchase, decide on the best material for your comfort. Traditionally resistance bands are made of rubber or latex, but lately a stitched material option has become popular as seen in the FRETREE Resistance Bands.
When choosing your resistance bands, you should decide on the material that will be the most comfortable for you.
The Last Stretch
Overall, resistance bands give you a versatile method of working out by adding various levels of resistance to your muscles.
Affordable, practical, and durable, what more could you want in a piece of fitness equipment? All of these features can be found in the FRETFREE Resistance Bands and that is why they are my number one choice.
If all these reasons to buy resistance bands are not enough for you, have a look at the variety of exercises you can enjoy with this simple equipment.
If you have used any of these products, let us know your experience in the comments below.