What's the Best Protein Powders for Women?
As in the name, protein powder provides you with proteins that your body needs in order to keep you up and running. Whether you are looking to lose weight, add the added nutrients to your diet, or looking to add more muscle mass, then you may want to consider supplementing your diet and exercise with protein powder.
Quick Look at Our Top Picks
Occasionally women shy away from exercising with weights, and taking protein supplements because they fear looking masculine. This does not have to be the case, as working out with weights helps to tone your body and while you are using your muscles they need to be properly nourished with proteins and amino acids.
Protein powder is relatively simple and versatile to use meaning that you can mix the powder with most any liquids, or even yogurt. Protein powder comes in a few different flavors including chocolate and vanilla.
When you purchase the supplement you will usually find a small scoop inside the container, sometimes it is buried in the powder. Generally you can measure out between one and two scoops of powder either directly into a liquid, or into a cup and pour the liquid over the top.
To use the powder effectively, you should read the directions for the specific brand you have brought. You should also read the directions to know approximately how much of a liquid to mix with the powder to have a healthy ratio for your body.
You can mix it in with your coffee or yogurt or shake it in a bottle with milk or water. You can take this mixture with you on the go and drink it before or after your workout.
Top 10 protein powders for women
Garden of Life Organic Meal Replacement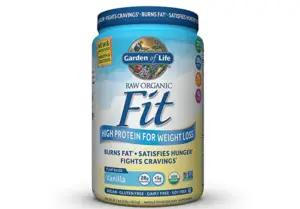 Garden of Life's organic meal replacement is a great plant-based protein supplement that contains 28 grams of protein with less than 1 gram of sugar. This means you will be getting filled with the protein nutrients you need without compromising with high sugars.
This protein powder is made from mixed plant based proteins, like legumes, peas and seeds. These organic compounds are made without using harmful pesticides, herbicides and without GMO's.
Each serving contains 170 calories to give you the added energy you need to be able to keep up with your daily activity. This choice is great for those who want a raw based diet and are vegan, and also just for those who are looking for a high energy, protein packed powder.
Pros:
Organic
28 grams of protein
1 gram of sugar
170 calories
Cons:
Jar comes half empty
A bit grainy
OPTIMUM NUTRITION GOLD STANDARD 100% Whey Protein Powder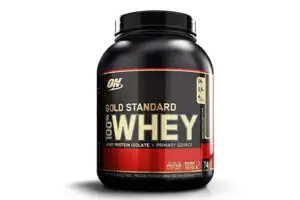 A whey protein powder for the woman who is on the go and active. This powder is marketed with 25 grams of protein and 5.5 grams of branched amino acids in every serving.
There are 20+ different flavors for you to choose from included the delicious rich dark chocolate option. You may choose how much you want to purchase from 1 pound, 2, 5, or even 10 pounds of the product to be delivered to your door.
This protein option is low on sugar with only 1 gram per serving and the fat is low as well. It is designed to help an athletic person build muscle mass.
Pros:
Gluten-free
20+ flavors
Low sugar content
5 grams of branched amino acids
Cons:
Leaves and aftertaste in your mouth
Some customers report that the initial flavor is not always appetising
SunWarrior, Warrior Blend Plant-Based Complete Protein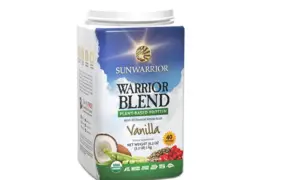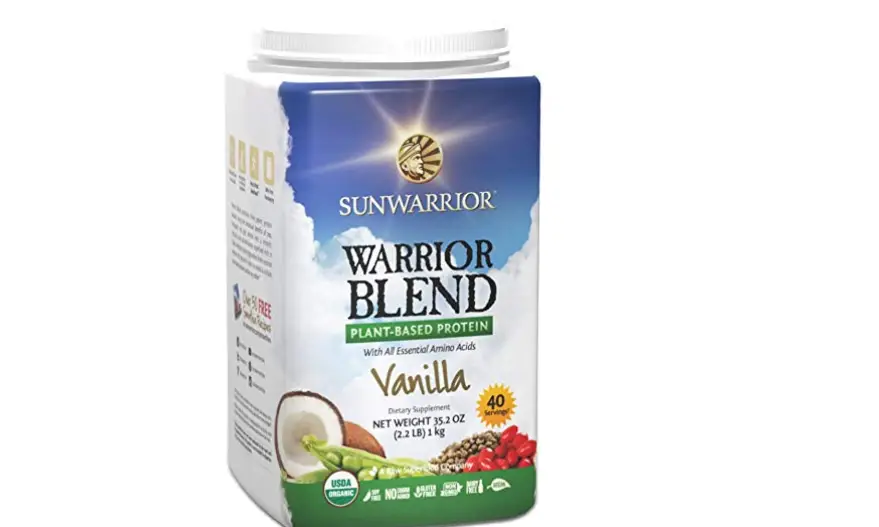 SunWarrior's warrior blend boasts that it has created a protein powder that is not just made up with fantastic ingredients but good nutrients that work well together. It is one thing to have a nutrient packed powder but if they do not work in tandem with each other then it is not as effective.
This blend is made up of all of the essential amino acids that create a complete protein. This means that you can rest assured that your choice in supplement is providing you with all of the amino acids and protein that you are lacking.
Pros:
Synergy
Complete protein
Plant-based diet
GMO free
Cons:
Slightly bitter
Does not blend well
Orgain Organic Plant Based Protein Powder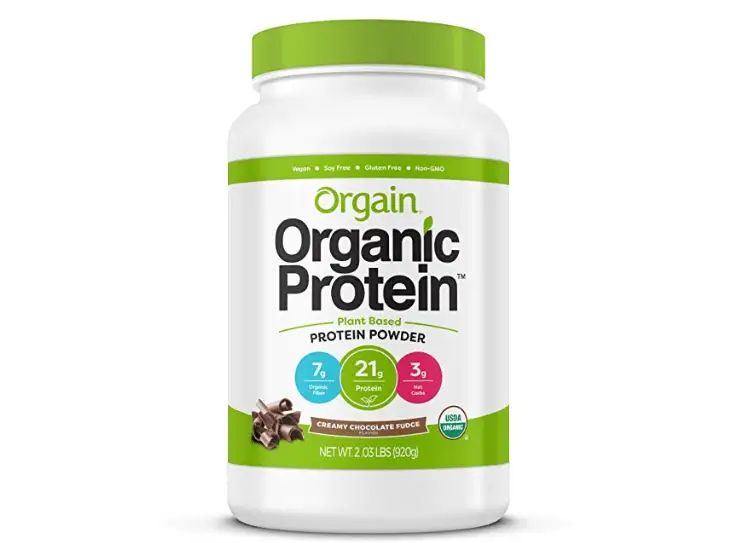 Another great organic choice to be added to your diet is the Orgain organic plant based protein powder. Though it is organic, it still comes with naturally sweetened and produced flavors to choose from.
You can choose either creamy chocolate, peanut butter or vanilla bean to add to your smoothies, shakes, yogurt, coffee or milk. You'll be getting the nutrients that you need and it will be tasty at the same time.
There are 21 grams of organic, plant-based protein, with 0 grams of sugar and 3 grams of carbs. This means your protein intake is not compromised by adding a lot of sugar and fats as well.
Pros:
21 grams of protein
Plant-based
0 grams of sugar
Many great flavors
Cons:
Slightly chalky
Smells a little funny
Paleo Protein Egg White Powder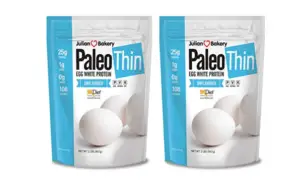 The name Paleo may get your attention if you are already or considering a Paleo diet to make your life a little healthier. This is an egg white powder which means you are getting clean, organic protein directly from the source.
You will enjoy this powder because there are a lot of different flavor options for you to choose from and to mix with your liquids. Classic flavors like chocolate, double chocolate, plain, unflavored, vanilla and vanilla nut are available as well as fun flavors like blueberry tart, cinnamon roll, coconut cream, espresso, or glazed donut.
There are only two ingredients in this protein powder, egg white powder and sunflower lecithin. That means that you are not purchasing something with many unnecessary additives.
Pros:
Organic
Only two ingredients
Almost a dozen flavors
Paleo
Cons:
A little too sweet
Aftertaste
FitMiss Delight Protein Powder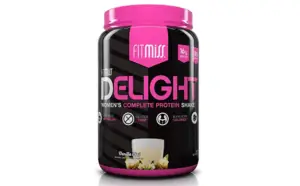 This protein powder is absolutely great for women who are into fitness and who are looking for a protein powder especially made for athletes. You can choose from vanilla chai, cappuccino, or chocolate depending on your personal preferences.
This powder is fully packed with 16 grams of protein, 90 calories and is gluten free and is low on sugars. This product is low carb and will help you to curb your appetite, and provide nutrients without overloading you with carbs that are unnecessary.
Pros:
Great for fitness
Three fun flavors
Low carb content
Curbs appetite
Cons:
Not as much protein as others
Some claims that taste is a little off
Naked Whey 100% Grass Fed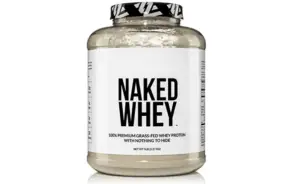 For those of you who are searching for natural, but not completely vegan option, there is Naked Whey's 100% grass fed option. Naked is a company known for providing you with clean, natural products that are good for your body.
This healthy supplement comes unflavored, in chocolate or in matcha options to be perfectly added into your smoothie, shake, yogurt or with milk. You can choose from the 1 pound or 5 pound options when making your purchase.
This powder is packed with 25 grams of protein, and is extremely low in sugar and carbs so will be getting clean protein without being weighed down by unnecessary fats. `this whey protein is completed, filled with branch amino acids and 120 calories to give you the energy your body needs.
Pros:
Grass-fed
Gluten-free
Hypoallergenic
GMO-free
Cons:
Difficult to mix
Flavor is not great on its own
Klean Athlete – Klean Isolate – Whey Protein Isolate
Klean Athlete is another protein powder on this list that is perfectly designed for athletic women and is great for you who is trying to lose weight and gain muscle mass. It is a whey protein and made up f the essential amino acids and makes a complete protein.
You can choose from one of three flavors including vanilla, unflavored and chocolate. This naturally contains potassium and electrolytes for your body's best performance.
Pros:
Protein for athletes
Complete protein
Natural electrolytes
Natural potassium
Cons:
Few flavor choices
Hard to dissolve
ProMix Nutrition Container of Unflavored Grass-Fed Whey Protein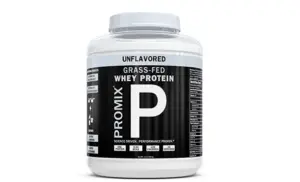 ProMix created a fabulous grass-fed whey protein that is cheaper than most of its competitors without compromising all of the goodies that comes with it. It is grass-fed and made with organic products to ensure you are only taking good things into your body.
You can choose from lots of good flavors in this powder including chocolate, chocolate peanut butter, peanut butter, vanilla and an unflavored option. These options keep your protein tasty and nutritious all at once.
There are 25 grams of protein, branched chain amino acids and 120 calories to give you strength and energy. This powder will give you the full serving of all that you need.
Pros:
Grass-fed whey
Cheap
Organic
Lots of protein
Cons:
Strong smell
Strange flavor
Pure Protein 100% Whey Powder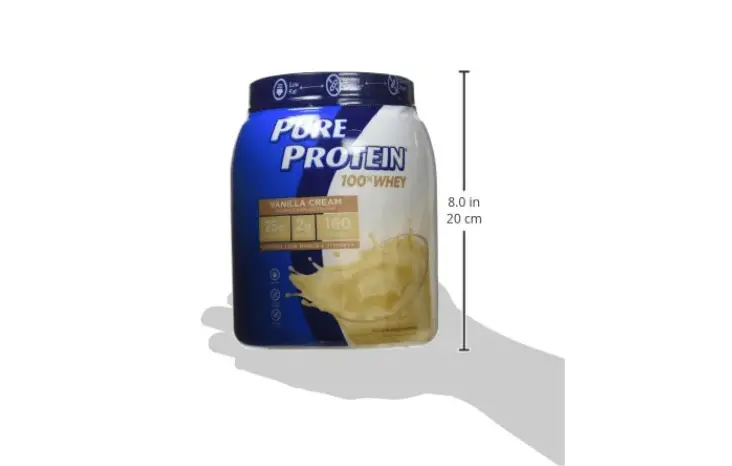 This whey protein is jam packed with amino acids and proteins to fill you with the nutrients you need to keep on exercising or getting through a normal day trying to lose weight. This powder comes with the classic options of chocolate or vanilla flavor.
There are 25 grams of protein, 2 grams of sugar and 160 calories within each scoop of the powder that you add to your shakes. This is a fast-acting, low fat protein that will provide you with the tools you need to work towards a lean body while you shave off your fat.
Pros:
25 grams of protein
Less sugar
Fast-acting
Low fat
Cons:
Few flavor options
Hard to blend
Vega Protein & Greens, Plant Protein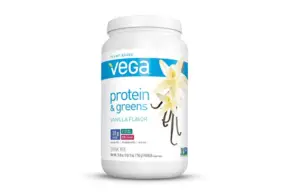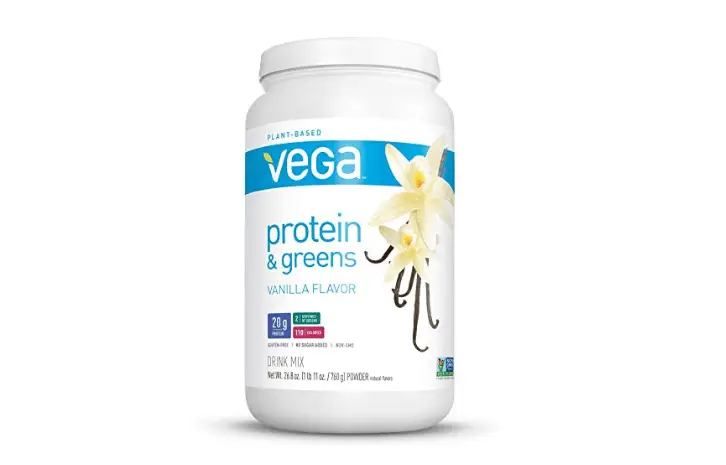 This is a mixed plant based protein that contains no added sugar to the makeup of the product. It dos however add in not only protein but leafy green vegetables like spinach, kale and broccoli to give you an extra kick of nutrition.
The product gives you 21 servings of 20 grams of protein while being gluten-free and providing a little fiber as well. The company markets the product as being made out of clean, plant-based ingredients.
You can purchase this item in small, medium, larger or in 12 pack pouches for your convenience. The powder is sold in a variety of flavors including classic vanilla and chocolate as well as fun flavors like berry, tropical, coconut almond and salted caramel.
Pros:
Added greens
No sugar added
8 flavor options
20 grams of proteins
Cons:
The added veggie greens do not provide added vitamins
May be a bit gritty
Elite Organic Plant Based Protein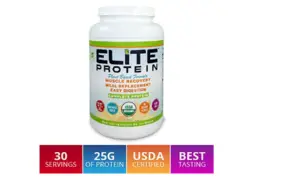 As in the name, Elite Organic plant based protein uses a completely USDA organic compound that is non-GMO, without added sugar, dairy, soy, gluten and wheat free. The product is perfect for every lifestyle and diet to provide easily digestible protein supplement.
There are fourteen servings per container filled with 190 calories only 2 grams of fat and 25 grams of protein. The protein in this supplement is complete, with all of the essential amino acids.
There are vitamins and minerals added to this powder to give you not just protein but extra nutrients that you cannot get from a standard protein powder. There is a superfood blend in this supplement which means you are truly giving your body the best.
Elite Organic plant based protein powder is available currently in only two flavors, either classic vanilla or chocolate. You can order either a small tub or a large tub depending on how often and how much protein you will need.
Pros:
25 grams of protein
Added vitamins and minerals
Superfood blend
USDA organic
Cons:
Garden of Life Meal Replacement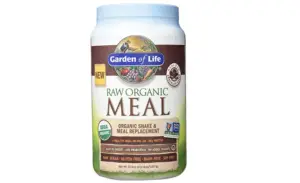 Garden of Life is a favorite for protein powders whether you are vegan, lactose-intolerant, or on a normal diet. There are a variety of types of protein powders that come from Garden of Life, this particular choice is the Raw Organic Meal.
The Raw Organic Meal protein powder is filled with 20 grams of protein and 44 superfoods in a single serving. That is giving you supercharged nutrients in every shake or smoothie more than just protein.
There are 21 vitamins and minerals included in this particular powder, as well as enzymes and CFU probiotics. Garden of Life protein powder is not only organic, but gluten-free, kosher, GMO-free, soy free and dairy free as well.
All of these nutrients and protein come in a few options of sizes so you can order either a ten-pack, small or large. You can also choose your choice of flavoring, either lightly sweet, vanilla, vanilla chai or chocolate.
Pros:
44 superfoods
21 vitamins and minerals
GMO-free
20 grams of proteins
Cons:
Too sweet
Container is not completely full
Nuzest Clean Lean Protein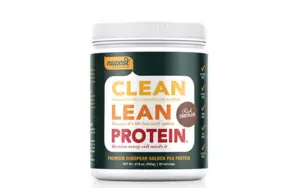 Nuzest has created a pea protein powder that is packed with 84% of protein per serving or 21 grams of protein. The protein powder itself contains less than gram carbs, and less than one gram of fats per serving as well to ensure you are not compromising your diet while trying to supplement it with protein.
This is a completely vegan product that is made without GMO, dairy, soy or gluten, meaning that is will cater to many diet plans. For whatever reason you are needing more protein you will find that this particular option accommodates most people's diets and restrictions.
There is no added sugar but is sweetened by naturally occurring sugar that accounts for less than ¼ a gram of every serving. You can order Nuzest pea protein in one of five flavors, natural, smooth vanilla, rich chocolate, wild strawberry or just coffee and in three size options of small, large or extra large.
Pros:
Low sugar
84% protein
Low fat
Fun flavor options
Cons:
There are a lot of types of protein powders, how do I choose the one that is right for me?
You want to choose protein powders that are made with the least possible amount of ingredients. You do not want to use highly-processed powders or extremely artificial additives for your powder because these add unnecessary things to your diet when all you are really seeking is more protein.
You will need to decide if you would like complete or incomplete proteins as part of your powder. Complete proteins contain all of the nine essential amino acids that our bodies need to function properly, however if the proteins contain only some of the acids then it is called an incomplete protein.
The next thing to consider is that your protein powder will come with your choice of flavor. You can try a few powders to test out how you like the different flavors, but if you want a more neutral flavor you should stick with vanilla.
To choose the optimal protein powder for you, your diet is very important and will dictate your choice on what the protein is made of. You should start by deciding if you want to go with a plant-based or animal-based powder.
Protein powders are made out of many different sources of protein, and while some need protein just to add more muscle, others are choosing protein powder as an alternative to eating meat, eggs and dairy products. Because some choose a vegan lifestyle, or else are avoiding lactose or eggs, it is important to know what eat type of protein is made of.
You may be surprised to know just how many different plants not only provide an ample amount of protein but are also used to make protein powders. You may also be interested to know that while some protein powders take protein from milk, they can also come from eggs or animals themselves.
Sometimes the names sound simple but perhaps you do not actually know what it means or what it contains. Here is a list of different types of protein powders that are on the market today and what they are made from:
Whey protein is probably the one you have hear the most about because it is the most popular on the market. Not all powders contain the complete set of nine amino acids, which makes them incomplete proteins while whey is by itself a complete protein.
It is a milk-based product that contains all of the amino acids that your body needs. Naturally, those who are vegan may not find that this is the best option for them, however for those who do not have lactose intolerances, allergies or are not vegan it is a great complete protein that will help to build lean muscle and shed a few pounds.
Of course you know that eating eggs provides your body with an ample amount of protein, so it is no wonder that protein powder can also be made from egg whites. Egg whites themselves are packed with protein, and protein is almost the entirety of the makeup of egg whites.
This type of protein also contains chained amino acids, and is a complete protein. It is dairy-free and highly absorbent, not to mention low-carb. While all protein powder has its own specific taste to it, egg-white protein has a milder one.
This means it will be easier to add to your smoothies, drinks and yogurt without detecting a big change in the flavor.
Another great alternative for those who are going dairy-free is soy protein powder. Soy protein is also complete and contains all nine of the essential amino acids for your body.
The soy protein is isolated from soybean plants and then used in a protein powder. Many consumers who choose to live dairy free lifestyles have opted into soy products already including soy milk, and tofu, because the plant is rich in nutrients.
This protein powder came onto the market to be a healthy alternative for vegans and those who do not consume dairy products or else prefer a plant based product. Pea protein is a powder made from dried, crushed peas.
Pea protein powder has been proven to control hunger and to keep your appetite in check. Pea protein powder is a natural, hypoallergenic, plant-based source of protein.
Collagen is not necessarily the protein for everyone as it is not vegan and is made from animals. Collagen protein is made by extracting protein from the skin and even the bones of animal or else by taking it from the scales of fish.
The collagen protein is a high source of protein and when made into a protein powder supplement the serving are usually more than 18 grams of protein. Collagen protein powder is typically quick to dissolve and does not leave chunky bits in your protein shakes.
Yet another vegan protein powder option is the rice protein powder. It is made from brown rice that you already know is healthy for your body and is hypoallergenic so it is compatible with most diets.
The downside of brown rice protein is that it is not a complete protein as all of the essential amino acids are not included. This is a plus for women who have a hard time handling added protein supplements, because you can still take the supplement and create lean muscle mass without becoming sick from too much intake.
Considerations for choosing protein powders for this list
High protein content is one of the main things that have been considered to be included in this list. Regardless of whether you prefer complete or incomplete proteins, if you are adding a protein supplement to your diet then it needs to be high in protein content per serving.
Low sugar content is important for choosing the right protein powders because sugar is almost counteractive when it comes to taking supplements. Because we generally take supplements, especially protein supplements due to the fact that we want to either cut weight, or gain muscle, or both, adding in extra grams of sugar is not only unnecessary but not helping you to shed weight and become healthier.
Minimal Ingredients in your protein powder is good for you because it means you are getting what you do want and need out of the supplement and nothing that you do not want. The point of taking a powder supplement is to provide your body with something that it is lacking, or needs more of, therefore we prefer to show only products that are made with ingredients that your body actually needs and nothing extra.
Naturally and/or organically produced protein powders are high on the list of importance because your body does not need to process through extra chemicals in your diet such as artificial flavor sweeteners. While having a good taste is pleasant, it can and should be produced without adding in harsh chemicals that do not help your body.
Final thoughts
You have been searching for a way to make your lifestyle more healthy and to improve your weight and waistline. This list is complete with the information to help you make a proper decision.
Decide for yourself which considerations to take for your overall wellbeing. Whether you choose plant-based, or animal-based, complete or incomplete proteins, you need to be making the decision based on what is good for your body, not solely based on what you have heard from others.
Review the list that has been crafted perfectly for a woman like you. Now you can get to trying the powders out for yourself and get your fitness level on track.