If you have gotten to this page it may be that you have already tried out quite a few different proteins for your smoothies and found that protein doesn't always have a fabulous taste. Protein, while excellent for building muscle, is notorious for having a horrible taste and quite often an even worse aftertaste.
Quick Look at Our Top Picks
While some protein powders can be stomached when you mix them simply with water, or in your morning coffee, most need a little more help for you to be able to swallow them. Many can be handled with milk, yogurt and chocolate mixed in, but to be added to a smoothie is another deal.
Smoothies typically lean more on the fruit side, and you can choose the base of either milk, yogurt or even juice, blended up with either ice or ice cream or both. Choose your choice of fruits to blend in, and from there you can choose to add any extras for added flavor like peanut butter, cinnamon, or mint.
To beef up the nutrients, vitamins and minerals, you can add a variety of leafy green vegetables, carrots, protein-rich seed, or nuts into your shake as well. Options like kale are highly popular as they blend up really well, leave little to no added taste and give you the added boost.
Depending on how thick your base is, especially if it is ice cream, that I'll determine how long you need to blend your shake but it should not take more than half a minute to a minute to completely blend in the ingredients. Add the base first and then you can drop in the protein powder, fruits and veggies, and blend until it is of shake consistency without lumps from large chunks of fruits or vegetables.
Considerations That Were Taken For Developing This List
Organic: For this a high consideration that we took was to find organic products, or ones that use minimal additives. It is preferred to have a clean diet free of GMO's without artificial flavoring or sugars.
 High in protein: Naturally it is of paramount importance that here is an ample supply of protein in your protein powder. There is no point of adding a supplement to your diet if it is not filled with the nutrients you need.
 Low in sugar: While you want this to be a particularly tasty type of protein as it is specifically for smoothies, you do not want it to be filled with sugars. Whether the sugar is naturally occurring or if it is artificially added, you want to keep your sugars low.
Extra nutrients: Protein powders that include added nutrients like vitamins and minerals are a plus on the market. This does not mean artificially added or chemicals, but those that are naturally occurring in the ingredients that are used to make the protein powder. 
Top 5 Protein Powders For Your Smoothies
Organic Vegan Protein Powder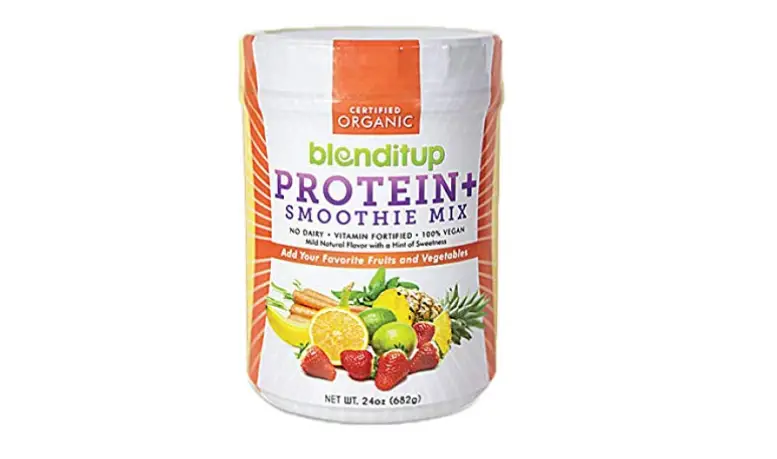 This product is both organic and vegan, it is also non-GMO and hypoallergenic including being yeast-free, without nuts and gluten-free. There are no additives or fillers in this protein powder, but does come with the complete essential amino acids profile.
In each and every serving there are 120 calories, there are 2 grams of sugar and less than one gram of fat. There are 8 grams of carbohydrates per serving as well as vitamin A, vitamin C, iron and calcium.
You can order this product in either the grass-fed option or the organic option depending on your personal preferences. Each container contains 23.5 servings, and each serving is made up of two scoops or the powder which is the equivalent of 29 grams.
Pros:
120 calories
Minimal sugar
Organic
Hypoallergenic
Cons:
A little foamy
Some complain about the taste
Six Star Plant Based Protein Smoothie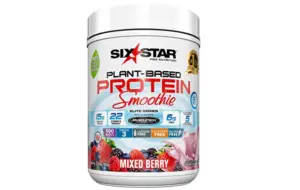 Six star plant based protein powder which means it is compatible with vegetarian and vegan diets. There are 15 grams of protein in each serving of this protein powder, with 130 calories and 0 grams of sugar.
There are 22 vitamins and minerals per serving as well as omega-3 and digestive enzymes to help your stomach handle the protein. This protein powder is designed to be used on the go, just added to water and shaken up, or can be blended up with fruits, and a base liquid.
This smoothie comes in a fruity, fun flavor of mixed berry which will go well with fruit smoothies. There are 561 grams in each container and you can purchase it one-time or monthly.
Pros:
15 grams of protein
22 vitamins and minerals
Omega-3
Easy to mix
Cons:
Isopure Infusions, Refreshingly Light Fruit Flavored Whey Protein Isolate Powder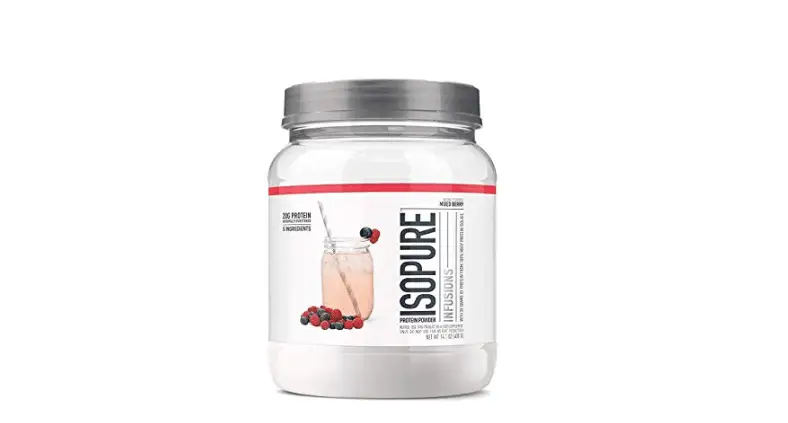 Isopure markets this protein powder as being able to shake it up and dissolve within a minute to take it on the go with you, but it can also be blended into a smoothie. There is no artificial sweetener or unnecessary sugars, it is just sweetened from the stevia plant.
There are 90 calories per scoop, and 20 grams of protein that is whey isolate, with 0 grams of fat and one gram of sugar. Because this protein is whey, it is milk-based and therefore it is not vegan.
There are a few different size options to choose from 400 grams, to one pound, 3, 4.5, or 7.5 pounds. There are also a lot of flavor options so you can make the smoothie whatever type you would like, adding any of these seven flavors: naturally flavored, dark chocolate, mixed berry, mint chocolate, espresso, cookies and cream, or Columbian coffee flavor.
Pros:
20 grams of protein
0 grams of fat
Many flavor options
Easy to mix in
Cons:
Some say the taste is off
Consistency is little foamy
Purely Inspired Organic Greens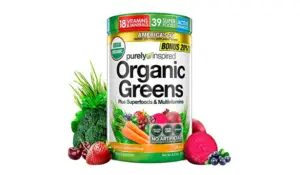 Purely Inspired has created its Organic Greens protein powder that is packed in with 40 greens, grains, fruits and vegetables. This product is non-GMO and gluten-free so it is free from additives and chemicals.
There are 18 vitamins and minerals as well as probiotics in each serving of this protein powder. This is a USDA approved organic compound that is made will only and all-natural protein powder.
This is an unflavored protein powder so it will mix with most any flavor combinations that you whip up. It is extremely low cost at less than fifteen dollars but it is also a smaller container with only 240 grams.
Pros:
18 vitamins and minerals
Added greens
Organic
non-GMO
Cons:
Extremely sweet
Some report horrible taste
ALOHA Organic Plant Based Protein Powder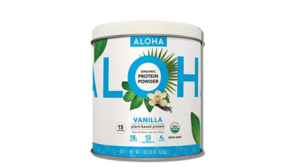 This is a 150 gram calorie per serving protein powder that contains eighteen grams of protein and only 4 grams of fat. There are 10 grams of carbohydrates and is still low on sugars with only 4 grams of sugar.
The sugar is not artificial but comes from coconut sugar, so you do not have to be afraid of chemical additives. There is essential vitamin C, calcium, magnesium and iron in each serving to give you added nutrients.
There are only 12 all-natural ingredients to makeup this powder that contains complete amino acids as well as omega-3 fatty acids. This product is hypoallergenic, meaning it is soy-free, dairy-free, and gluten-free so it is compatible with vegan, paleo and celiac diets.
Pros:
Hypoallergenic
150 calories
Vitamins and minerals
All-natural
Cons:
Difficult aftertaste
Inconsistent taste between flavors
Final thoughts
When you are choosing a protein powder make sure you choose one that fits your diet whether that be vegan, organic, diabetic or hypoallergenic. Do not rely simply on the advice from others, but make sure to read the labels to see what ingredients are listed.
Select a base that is best for you, and a protein powder flavor that you prefer for your smoothies and make sure you pair your protein powder directly with fruits and nutrient-rich vegetables. You can prep your smoothies ahead of time and keep them stored in your refrigerator or freezer.
If you are using fresh fruits and vegetables and want to prep for a long time, you can freeze them to keep them good until you need to use them or you can freeze them to make them more ice-like when mixing. If you want to prep for only one week and not freeze the fruit, you can simply place them in plastic, zipper bags and label them before putting them into the refrigerator so that they are ready to use.
Adding protein powder supplements to your diet, will help you to curb hunger and build muscle but are better used coupled with a balanced diet and exercise. These supplements are designed for those who lack the adequate amount of protein in their regular diet and routine.
Talk to your health care provider before you add a supplement in to your diet to make sure that it is something you actually need. Once you have decided to add in a supplement, search for one that is packed with high protein content, and low in fats and sugars.