Updated April 2021
If you are training and just starting on a plant-based diet, one of your main concerns may be where you will get your protein from? Luckily, we have you covered with the best pea protein powders for your active lifestyle.
Pea protein is a great source of additional protein for anyone on a plant-based diet since it is easier to digest than animal proteins, it contains plenty of protein and essential amino acids, and it is relatively affordable in comparison with other proteins.
Due to its taste, pea protein powders are often overlooked; however, we have searched for the better tasting options, as well as included some tips on how you can not only tolerate the taste of pea protein but actually enjoy it.
Quick Look At Our Top Picks
Zen Ultra Premium Organic Pea Protein Powder

(Best Rated Pea Protein Powder)


Contains over 15 types of amino acids

Sustainably sourced ingredients

Naked Pea 100% Pea Protein Powder

(Best Tasting Pea Protein Powder)

Pure yellow pea protein with zero additives

27g of protein per serving

5.7g of BCAAs per serving

NOW Sports Pea Protein Powder

(Best Budget Pea Protein Powder)

Nuzest Clean Lean Protein

(Best Clean Pea Protein Powder)

Contains European Golden peas grown in France

19 grams of protein and 90 calories per serving

Free from dairy, gluten, soy, GMOs, gums, and lectins

Evolve Protein Powder

(Best Organic Pea Protein Powder)

Free of artificial flavors
What Is Pea Protein Powder Exactly?
Pea protein powder is not made from the slightly sweet ripe green peas you usually heat and serve on your dinner table. The peas used to make pea protein powder are the yellow peas that are dried and crushed up.
Yellow peas are full of protein, and when they are dried correctly, they retain not just protein but other nutrients like vitamins. These little vegetables pack quite the punch as the isolate form is a complete protein carrying with it all of the essential amino acids.
Pea protein powder is also vegan and hypoallergenic, meaning it is dairy-, soy-, nut-, and gluten-free. This accommodates almost every diet and restriction we hear about today.
Often, pea protein powders are made organically on environmentally friendly farms and the canisters themselves are recyclable. So, while your protein is wholesome and made with little to no chemicals, the container it comes in can also be reused to save the planet a little.
Pea protein is a common vegan protein powder used by vegan athletes who need to supplement their diets with additional protein sources. This is not to say that vegan diets are lacking in protein, but as with any athlete, protein powder is a common supplement to their usual diet.
Dealing With The Taste
Now you may be thinking this: protein powder made from peas, doesn't that taste awful? To be completely frank, most customers do report that pea protein powder has a strange taste or can be difficult to handle.
The odd taste is not just that it is a vegetable taste but the taste of protein itself. A weird taste is also a common complaint with regard to any protein supplement, regardless of the base.
Whey protein and casein protein powder users also say the taste of the shakes is sometimes impossible to handle as the protein itself has a very strong, off-putting taste.
So, how do you handle the taste of protein daily? First of all, many protein powders come with flavors like chocolate or vanilla and even strawberry.
You need to watch the labels to see how much sugar comes with taking the flavored protein powders as well as with the naturally flavored ones as peas have their own sugar.
To battle the taste without ordering a sugary or flavored protein powder, you may simply find ways to mix it into your everyday diet.
You can add the pea protein powder to your morning coffee or yogurt. You can also mix it with water alone or milk, or you can blend it up with a smoothie or shake to help you get the protein in without an undesirable flavor.
Some customers report, however, that the flavor is not just bearable but good. It all comes down to preference and the best way to know whether or not you like it is to try, and then to try mixing it in with a few different liquids to see which is better for you.
Considerations For Each Pea Protein Powder On This List
The main ingredient is peas: While you would expect the main ingredient to be peas if we are writing about pea protein, there are many plant-based protein powders on the market that have pea in them but are actually mixed plant-based proteins containing seeds, soy, or hemp.
Organically produced: This list specifically singled out organically produced products that are made without GMOs and additives to give you options for the raw protein you need without all of the chemicals you don't.
Low sugar levels: Many protein powders want to help make the taste of protein better because, let's face it, the taste of protein itself is hard to stomach. For this list, protein powders were specifically selected because of their low sugar content, whether naturally occurring or added.
The Top 5 Pea Protein Powders On The Market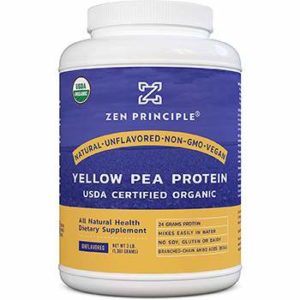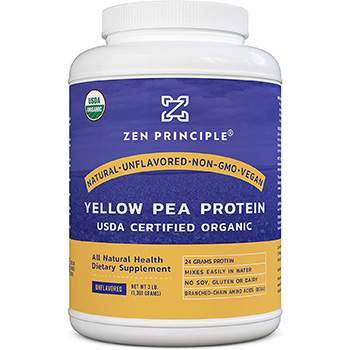 Zen principle pea protein powder is made with naturally, organically, homegrown yellow peas that are crushed. Zen dries the peas at a lower temperature to try and preserve the natural nutrients in the peas rather than burn them all out as high temperatures can do.
There are 23 grams of protein per serving and each serving is also packed with branched-chain amino acids to give it a complete protein that amounts to 80% of the compound. There is also iron, vitamin A, and phosphorus, and less than 3% of sugar in each serving.
This protein powder comes naturally flavored to avoid adding any flavors, coloring, or unnecessary sweeteners and sugars. You can purchase these products in either 16 or 48 ounces and you can make it either a one-time purchase or a subscription to arrive in intervals from one to six months.
Pros
23 grams of protein
Domestically made
Vitamin A included
Complete protein
Cons
No flavor options
Slightly chalky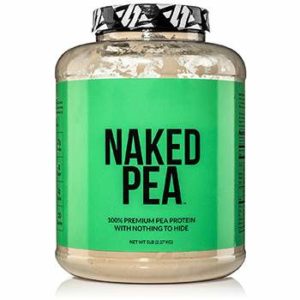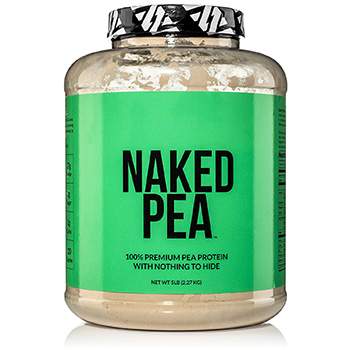 Naked Pea tells you plainly with the name of the brand "Naked" that this product is made with only one ingredient, and that is the crushed yellow pea that is packed full of protein. The peas themselves are grown GMO-free and the company boasts that even their farms are environmentally friendly.
This pea protein powder is not only soy-free and gluten-free but is made without artificial sweeteners, colors, or additives. What you are thinking you pay for is exactly what you get with your purchase.
There are 27 grams of protein per serving, making it a very high-quality protein though it does have 2 grams of sugar and 2 grams of carbs per serving. You can order either unflavored, vanilla, matcha, or chocolate in a one or five-pound tub.
Pros
Not very expensive
27 grams of protein
Multiple flavor options
Only one ingredient
Cons
Taste is not fabulous
The jar comes partially empty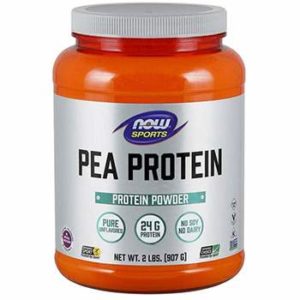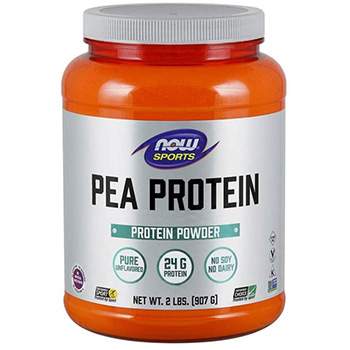 NOW Sports developed their own non-GMO pea protein powder that provides 24 grams of protein per serving. There are also more than 4,200 grams of branched-chain amino acids in each serving to build proteins.
This product does not come with flavoring because it is completely natural and without additives. You can choose this product in either 2- or 7-pound packs.
Pros
Non-GMO
24 grams of protein
Branched-chain amino acids
No additives
Cons
No flavor options
California warns residents of possible harmful effects for pregnant women but it hasn't been confirmed country-wide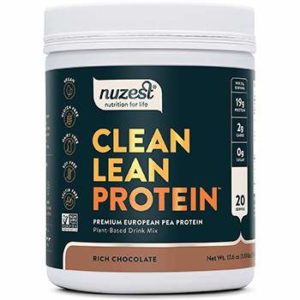 Nuzest has created a pea protein powder that is packed with 84% of protein per serving or 21 grams of protein. The protein powder itself contains less than two grams of carbs and less than one gram of fats per serving as well to ensure you are not compromising your diet while trying to supplement it with protein.
This is a completely vegan product that is made without GMO, dairy, soy, or gluten, meaning it will cater to many diet plans. For whatever reason you are needing more protein, you will find that this particular option accommodates most people's diets and restrictions.
There is no added sugar but it is sweetened by naturally occurring sugar that accounts for less than ¼ a gram of every serving. You can order Nuzest pea protein in one of five flavors (natural, smooth vanilla, rich chocolate, wild strawberry, or just coffee), and it comes in three size options of small, large, or extra-large.
Pros
Low sugar
84% protein
Low fat
Fun flavor options
Cons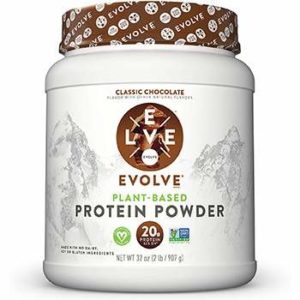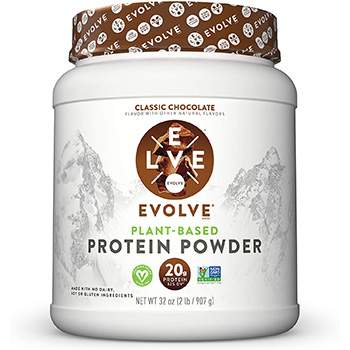 Evolve's pea protein powder is a vegan option that is also non-GMO, soy-free, and gluten-free and contains prebiotic fiber to help with your digestion. There are 20 grams of protein per serving without added flavoring.
There are 3-5 grams of sugar per serving which is something you may want to consider as other pea proteins may contain less, and chocolate has less sugar than vanilla. There are 10 grams of dietary fiber in every serving.
You can order Evolve pea protein in either one or two pounds or packets for an on-the-go lifestyle. There are two options for flavor, either vanilla or chocolate, depending on your preference.
Pros
20 grams of protein
10 grams of dietary fiber
Flavor options
Low sugar
Cons
Best Pea Protein Powder FAQs
Is Pea Protein Powder Healthy?
Pea protein is one of the preferred vegan protein powders because it is digested a lot easier than animal-based proteins and other plant protein powders due to the digestive enzymes it contains.
Pea protein is made from yellow peas, which are crushed into the powder you buy. It also contains amino acids that are essential for our bodies. It improves muscle growth and is good for your heart and kidneys.
Is Pea Protein Good For Your Kidneys?
Yes, pea protein is good for your kidneys. Animal proteins are generally bad for people who are suffering from chronic kidney disease.
Pea protein is easier on your kidneys and is believed to help reduce discomfort in sufferers along with reducing high blood pressure.
Does Pea Protein Have A Bad Taste?
Pea protein is often said to have an unpleasant taste that is often described as gritty, bitter, and earthy. However, most pea protein blends are flavored to mask these unpleasant tastes.
If you purchase pure organic pea protein with no additives at all, you can add other natural ingredients to improve the taste and mask the flavor of the protein.
How Can You Sweeten Pea Protein?
Since pure pea protein powder can have an undesirable taste, you may want to add some extra flavors to your protein shakes to enjoy it more. There are many ways you can sweeten up your pea protein shake.
You can add dates, bananas, peanut butter, or maple syrup to sweeten up the shake as you mix it with water or plant-based milk. You can also add other fruits or cacao powder to elevate your shake.
Closing Thoughts
Check with your health care physician before deciding to add a protein supplement to your diet to make sure this is something your body needs.
While many people take supplements when they are active and at the gym that does not mean protein powder supplements are for everyone or it is a one-size-fits-all when it comes to base and type of protein powder.
Once you and your doctor have decided it is appropriate for you to add protein powder supplements into your life, I suggest trying out samples first to see which product you like best.
Many find that plant-based protein, especially pea protein, is particularly easy on the stomach as it is natural and a vegetable the body already knows how to break down. Some other protein powders like whey are too hard for sensitive stomachs to handle.
When choosing a pea protein powder, remember that a sweeter taste generally means added sugar and be sure to read the labels to make sure you know what you are getting into. From there, decide how you best like to take your supplement; you can mix it with water or milk, in coffee, a smoothie, or maybe even yogurt.
If you have tried out any of these pea protein powders or have some more tips on how to prepare a great tasting protein shake, let us know in the comments below.