Having a high-quality home exercise bike with all the trimmings is a dream for many avid cyclists and fitness enthusiasts. Given the range of features available, the best home exercise bike is an investment in quality and performance.
Choosing from the many different options on the market is now just a little easier with this comprehensive review of the top three home exercise bikes on the market.
Best Home Exercise Bike Quick Links
Adjustable seat and handlebars

360° swiveling touchscreen monitor

Separate controls for coach and music volume

350 lbs user weight capacity

YOSUDA Indoor Cycling Bike Stationary

Adjustable handlebars and padded seat

Mounting for LCD monitor or iPad

GR3 Indoor Cycle W/ Console



Heart rate monitor on adjustable handlebars

LCD console with Glow Ride lighting system for real-world simulation

Integrated workout programs for HIIT, speed intervals, and heart rate intervals

10 year warranty on frame
Review Of The 3 Best Home Exercise Bikes
In a market saturated with home exercise bikes, new models with bells and whistles keep cycling in, but which should you choose? I've got you covered with the top three home exercise bikes to consider.
1. Most Advanced And Best-Rated Home Exercise Bike – MYXFitness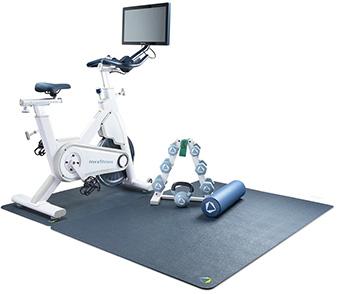 This bike has it all! With a comprehensive and reliable design, it certainly is the most advanced bike on the market.
Key Features
Adjustable seat and handlebars
360° swiveling touchscreen monitor
Separate controls for coach and music volume
Compact footprint
350-lb user weight capacity
Bike weight 134 lbs
Designed for the fitness enthusiast in mind, this home exercise bike is stylish, well put together, and ideal for a home gym setup. The MYX Plus gives you a complete home gym at your disposal with weights and exercise mats.
Pros
Biometric design for different size figures and weights
Payment plan available with free delivery and installation
The MYX app has complete professional, guided workouts, making this the best home bike trainer on the market in its price class
Cons
Expensive
Friction resistance, not magnetic
Newer model, unproven on market to date
This is a visually and technically stunning home exercise bike, and it will inspire any fitness enthusiast to start spinning away.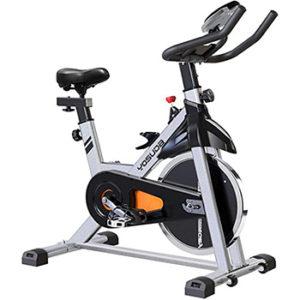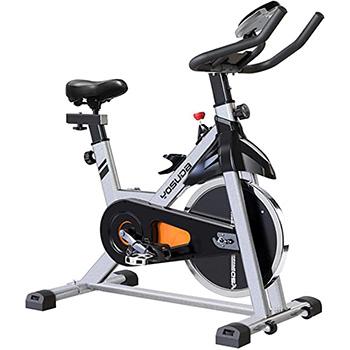 This sturdy bike is the best value for money home exercise bike on the market. It competes with much more pricey bikes in terms of quality cycling and takes you back to basics, while being stylish.
Key Features
Steel frame for a sturdy ride
35-lb flywheel offers real-world cycling feel while exercising
Adjustable handlebars, padded seat, and pedal cages for safety
Mounting for LCD monitor or iPad (device not included)
The resistance control allows for a real-world feel in stationary cycling. It offers reliable syncing with your iPad or touchscreen devices. While there are no supporting workout programs for this bike, users can easily follow any downloadable app workout.
Pros
Affordable
Comes with an extra brake pad
Supports users of up to 270 lbs
Cons
Friction resistance not magnetic
No bike training assistance
High quality makes this a
top-rated home exercise bike
, and with an
affordable price
tag, it ticks many boxes for the avid home fitness enthusiast.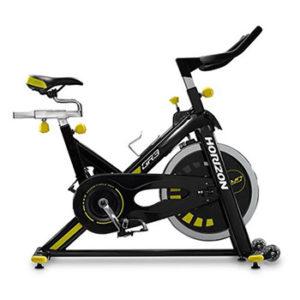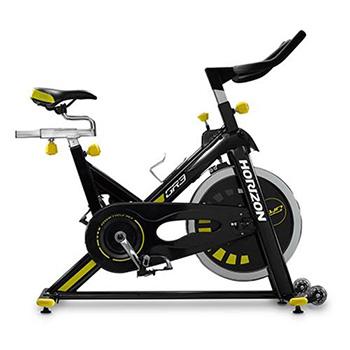 If you are looking for a precision engineered bike that offers excellent workout efficiency, then the GR3 indoor cycle is for you.
Key Features
Tension is micro-adjustable for a smooth transition
Integrated heart rate monitor on adjustable handlebars
Weight capacity 286 lbs
48-lb flywheel
This home exercise bike is the best workout bike in its price range. It allows for real time monitoring of your heart rate, and the LCD screen system has preloaded workouts and essential feedback on calories, RPM, speed, battery, etc.
Pros
Ideal for heavier users
Affordably priced for the range of features
Fully integrated workouts with heart rate monitor
Cons
Friction resistance and friction brake makes for a noisy ride
Limited console specifications
Limited labor warranty
This home exercise bike is a real workout bike, and while newer cyclists might find the seat hard to get used to, it provides
quality training
at a fraction of the cost. Now there is no excuse not to exercise.
Buyers Guide For The Best Home Exercise Bikes
When shopping for a home exercise bike, there are a number of considerations to keep in mind. It is not about visuals or high-tech specs alone. Losing sight of your reason for buying a home exercise bike can cut a hole in your wallet without trimming your waistline or bringing a smile to your face.
Value For The Money
While having a bike that lets you watch Netflix while you cycle may seem awesome, it can cost way more than purchasing a cheaper model and simply positioning it near your home entertainment unit.
The GR3 Indoor Cycle W/ Console features training monitors such as heart rate and calories, which is what you need, and it costs less than more expensive "frilly" bikes do.
Weight Of Users
While you are buying a home exercise bike with the idea of probably losing weight, you haven't yet. Be aware that you may need a heavier-capacity bike since it will have a sturdier frame and will last longer, and you can have it insured too.
The MyXFitness offers a stunning 350 lbs capacity, making it a firm favorite.
Spares And Repairs
A home exercise bike will be working … a lot. Hence, it's a good idea to make sure you can easily find replacement parts and have it serviced if necessary.
The YOSUDA Indoor Cycling Bike offers an additional brake pad, and spares are readily available through Amazon.
The Last Lap
When you are deciding on a home exercise bike, you want quality, affordability, and reliability. I love the YOSUDA Indoor Cycling Bike as it offers the best value for your money with great service too, which guarantees peace of mind.
Which is your favorite home exercise bike or best-rated exercise bike? Share your experiences in the comments below.