From beginner to pro athlete, measuring your heart rate is essential when you are exercising. This will help you accurately track your progress by showing you how many calories you are burning.
Counting steps offers a less reliable form of measuring your activities, especially during versatile exercises. This is why knowing what the best heart rate monitor is will benefit your fitness journey.
No matter if you are enjoying a HIIT workout, swimming, cycling, or gyming, a good quality monitor will help keep you on track.
Purchasing an unreliable monitor, on the other hand, will have you feeling frustrated when you can't accurately check your heart rate or connect to your devices.
I've looked for the best products equipped with accurate and reliable tracking technology, so you can focus on your sweat sessions and training goals.
Best Heart Rate Monitor Quick Links 
Garmin Forerunner 35 Watch
(Best Overall)



All-day heart rate monitor

Powr Labs Bluetooth Heart Rate Monitor Armband
(Best Budget Option)

ANT and Bluetooth capabilities

Polar H10 Heart Rate Monitor Chest Strap



Supports simultaneous connectivity
The 3 Best Heart Rate Monitors
Monitoring your heart rate can be done through various devices, with the most common being a workout watch with a heart rate monitor. These are popular due to the various other functions they offer.
The most accurate heart rate monitor would be a chest strap, since it can measure changes more quickly, giving a reliable heart rate reading.
Some fitness enthusiasts find the armband to be easy to use, comfortable, and reliable when measuring their heart rate. You should determine what you would find to be the most comfortable for yourself.
I have compiled the top 3 options for you to choose from.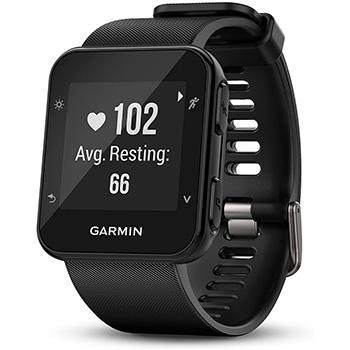 This watch is a great option due to its simplicity and affordability. Quite often, training watches offer a variety of functions without focusing on the necessities. Track your progress through calorie counting and intensity tracking with this watch.
Key Features
All-day heart rate monitor
Built-in GPS tracker
Waterproof
This watch focuses on durability without worrying about fancy features. Overall the watch offers all-day heart monitoring, sleep tracking, smart notification, and music controls.
Pros
Waterproof

Accurate distance tracker

Long battery life
Cons
Not touchscreen
Not many additional features
This product is perfect for straightforward exercise tracking and heart rate monitoring. Omitting the extra features leads to
stronger and longer battery life
.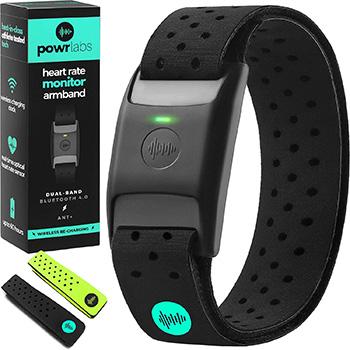 The armband monitor is a popular choice due to the comfort and reliability of these monitors. They also provide accurate heart rate readings.
Key Features
Athlete-tested
ANT and Bluetooth capabilities
Affordable
This armband is easy to put on by slipping it onto your lower or upper arm. The monitor syncs to multiple apps on your device through Bluetooth and ANT so you can easily track your training progress on multiple devices.
Pros
Pairs with various devices

2-year warranty upon registration

Sweatproof and waterproof
Cons
Needs an external device to show data
The Powr Lab band allows you to
focus on your workout
without any distractions, while providing you with
reliable heart rate calculations
throughout various exercises.

The versatile Polar strap is the best chest strap heart rate monitor, providing the most accurate reading during your workouts. It is lightweight and slim enough to not bulge under your workout shirts.
Key Features
Waterproof
Washable strap
Supports simultaneous connectivity
This waterproof monitor can be used during all types of exercises including swimming, cycling, running, HIIT workouts, and gym sessions.
Pros
Comfortable strap
Software updates through the app
Internal memory for 1 training session
Cons
Non-rechargeable with replaceable coin battery
Limited strap sizes
As long as you have a spare battery on hand, you will always have a
reliable heart rate monitor
for your workouts. If you want additional features and easier tracking, you can pair this with the
Polar Vantage M Smartwatch
.
Buyers Guide For The Best Heart Rate Monitors
What Features Do You Need?
When buying a heart rate monitor, you should determine whether you are looking for a device that focuses on measuring your heart rate or a full health tracker during your training.
Training watches are designed to offer multiple functionalities including a step counter, music controls, notifications, and alarms, while the strap heart rate monitor focuses only on providing accurate heart rate data.
Comfort And Reliability
If you are looking for precision monitoring, you will want to choose the monitor with the best positioning. The Polar H10 Heart Rate Monitor Chest Strap is situated in the prime position to measure those beats per minute.
Next, you need to decide what will be most comfortable for your exercise goals. This is subjective and will depend on your preferences. Would you rather have a strap on your chest, on your arm, or a watch on your wrist?
Why Is Tracking Your Heart Rate Important
Having a healthy resting heart rate is important for your overall health, and through structured exercise you can improve your heart health.
Measuring your heart rate during training is also an accurate way to track your fitness goals. If you set a target heart rate, you can enjoy efficient training whenever you reach this target.
Final Measures
Choosing the right heart rate monitor will give you peace of mind that you are making progress in your workouts. Try out your heart rate monitor with these effective exercises for weight loss.
Knowing when you need to push yourself some more and when to stop exerting yourself is important to prevent burnout and injuries, and my top choice, the Garmin Forerunner 35 Watch, will help you keep track.
Remember to choose your monitor based on comfort and functionality. Let us know your thoughts in the comments if you have tried any of the products listed above.