Updated May 2021
If you are investing a lot of time into your fitness, then you have likely heard about fitness trackers and the tracking potential of these devices. If you are just starting, you probably want to consider a budget-friendly option, and so I have put together the best fitness trackers for you under $50.
When you are investing in a fitness tracking device, even if you are looking for ones on the lower end of the price spectrum, there are several things to take into consideration. Not every tracker will suit your needs, and you should be aware of the various functions of each device.
The main features that are promoted by fitness tracker brands are the step counting and the built-in heart rate monitors. The latter is what sets these watches apart from a simple pedometer.
However, most fitness trackers on the market come fully equipped with several other features. These include things like sleep tracking, music control, notification signals from phone messages, and activity tracking with multiple fitness modes.
When you look to purchase your first fitness tracker, there are a few things to consider depending on what you will be using the tracker for and how much money you would like to spend. This is why we have compiled a comprehensive guide for you to make an informed decision.
One aspect of budget fitness trackers that is not as durable as others is typically the wrist bands  they come with. However, they are inexpensive and easy to replace. You can typically purchase extra replacement bands along with the fitness tracker.
Quick Links For The Best Fitness Tracker For Under $50
YAMAY Smart Watch Fitness Tracker

(The Best Fitness Tracker Under $50)




Arbily Smart Watch For Android

(The Best Cheap Fitness Tracker Under $50)




Lintelek Fitness Tracker

(Best GPS Fitness Tracker Watch)




MorePro Fitness Tracker

(The Best Budget Fitness Tracker With Blood Pressure Monitoring)




0.96-inch IPS color screen

DoSmarter Fitness Tracker

(The Best Budget Waterproof Fitness Tracker)



Considerations For Making This List
Cost: For this list of fitness trackers we definitely had to consider the price of each device in order to keep them all under $50. This is our main criteria for choosing a budget-friendly device; however, it does not mean that you have to choose a low-quality device.
Quality: This is why the next consideration is quality. Purchasing your first fitness tracker shouldn't put you off from buying trackers in the future, if that first tracker is of terrible quality and doesn't provide you with the necessary features. While these trackers listed here will not be as high-quality as more expensive models, I still looked for reputable trackers to recommend.
Multiple tracking modes: These fitness trackers should come with multiple tracking modes to measure all of your activities. Not only should a tracker accurately monitor your various activities and sports, plus your steps and distance, but also your heart rate, calories, sleep, and other data. This will help you keep tabs on your fitness habits and track your goals.
Long battery life: Not only should the battery last you throughout the day but throughout the week after charging it for only an hour or two. Your battery should be long-lasting in terms of not having to replace the battery often.
Stylish: Fitness trackers are designed to be incredibly stylish so that you can wear them with almost any outfit. You should be searching for a sleekly designed device that comes in your choice of color.
Durable: Fitness trackers on this list should be extremely durable through the everyday wear and tear of using the device constantly. It should last you long-term so that you do not have to buy a new device every year.
Top 5 Fitness Trackers Under $50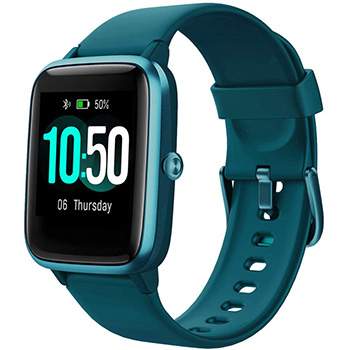 This is one of the more thinly designed fitness trackers on the market that goes well with all of your outfits. There are a variety of color options available, so you can choose the one that goes best with your wardrobe. Colors options include black, green, purple, pink, and gray.
This fitness tracker can be synced up with most smart devices to transmit your information from one to another. Windows phones are not compatible, however.
There is an app that works with the fitness tracker to read your info from your phone. You can charge this device by plugging it into any available USB port.
This device is waterproof so it can withstand rain and sweat, and you can even swim with it on.
Pros:
Waterproof
USB charging
Color options
Syncs with smartphones
Cons:
It can't track your swimming data
The app could be improved
If you are looking for a device to track your swimming data, you will need to choose a different mode; however, you can swim while wearing this tracker so you don't have to worry about taking it off and putting it back on throughout the day.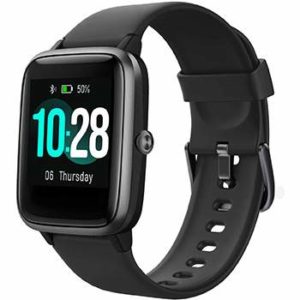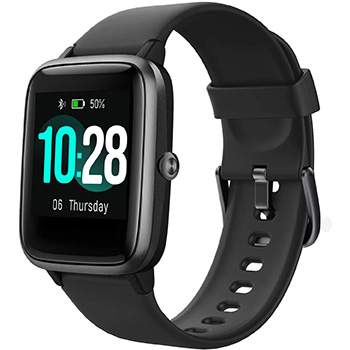 This budget fitness tracker comes with multi-sports trackers to record and monitor several different activities. Not only does it count your steps, but it also tracks calories burned and sleep, as well as gives a sedentary alert to keep you on your feet and active every day.
This is a waterproof fitness tracker so you can take it for water aerobics or swimming, or into the shower, and it will hold up regardless of how much you sweat. You can sync this tracker with your phone to give you missed calls and messages, and it is Bluetooth compatible.
This tracker is for those on a budget, but it does not compromise on style and is very fashionable.
Pros:
Bluetooth capabilities
Sedentary alerts
Waterproof
Cons:
The software could be improved
Might have to reconnect Bluetooth to receive notifications
This budget tracker is the more stylish option of all these picks and gives you
great activity tracking.
The waterproof feature is one of the top features of this device.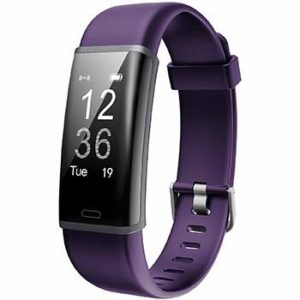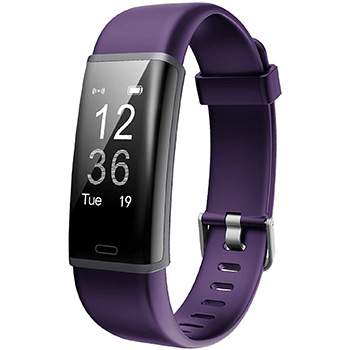 Letsfit has created a very stylish fitness tracker that you can wear on your wrist and sync with your device for all-day tracking. You can order this sleek tracker in one of five colors including black, gray, blue, red, green, and purple.
This tracker works automatically the entire day without you having to constantly set it to record information. Your steps, distance, and calories will be counted to give you an update on how walking or running affects your overall health.
Not only will your heart rate be measured continuously and automatically but your active time and sleep will be tracked. You can charge this device wirelessly by simply plugging it into a USB port and, after charging for one to two hours, you will have a charge that's sufficient for an entire week.
Pros:
Multiple color options
Automatically tracks heart rate and sleep
Wireless charging
14 exercise modes
Cons:
Some had issues syncing the device
Some say the band has to be changed fairly soon
This tracker comes with
14 sports tracking modes
to accurately recognize and measure your activities. While you are exercising, the tracker will be able to pick up on more than just steps.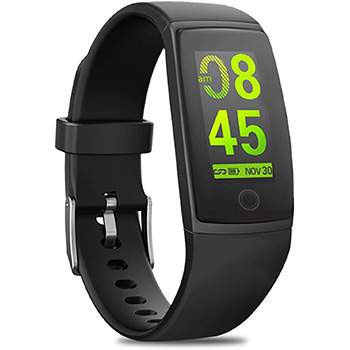 MorePro has also gotten its name in the health tracking market and especially as a budget fitness tracker that will come in under $50. You can order this stylish design in either black, blue, or purple, to  match your office attire and workout clothes as well.
The screen on this device is in color and easy to read regardless of the background light. This will measure your heart rate and sleep accurately and continuously, and immediately uploads the heartbeat measurements.
Pros:
Long battery life
Fashionable
Tracks light sleep
Easy-to-read screen
Cons:
Blood pressure tracking may be a bit off
Waterproof but difficult to read in the water
This watch not only tracks your awake time and active time but will measure your light sleep and deep sleep throughout the night. These two measurements will help to add to the rest of the fitness tracking information, which gives you a better overall picture of your health.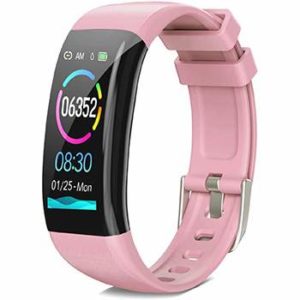 Not only is this a stylish fitness tracker, but you can wear it the entire day regardless of how many times you change your outfit.
There are 14 sports modes on this fitness tracker, which allows all the walking, running, and exercise you do in a day to be accurately tracked. Your heart rate and sleep will be accurately and continuously monitored without having to set it up every time to read the information.
Pros:
14 sports modes
Sleep tracking
Long battery life
Cons:
Some found setup difficult
Difficulty syncing with the app
You can charge this battery and it will
last you throughout the week
without issue, and you only have to charge it for an hour or two.
Buying Guide
If you are new to fitness trackers, the amount of information out there can be overwhelming. It can be difficult  figure out what you should focus on when looking for your own device especially if you are considering the best cheap fitness trackers for under 50 dollars. You still need to consider some pointers: 
Style: First, you can still consider style when you are on a budget, and with such a variety of designs in the fitness tracker industry, you can still prioritize your style.
You can choose between slim designs that have a rounded rectangular shape, round watch faces, or rounded square designs. Many fitness watches have been designed for you to wear throughout the day whether you are training or at work.
Display: The display is another element to take into consideration. t There are a variety of models that give you the ability to change the watch face from a selection of different ones.
Some displays are "always-on," which takes up more battery life, and others switch off when not in use and can be activated by flicking your wrist.
App: Another factor to help you make your decision is app integration. While some watches come with the ability to connect to various fitness apps, others require a specific app that links to your particular device.
Most of the apps are free to download from Google and Apple stores; however, you should confirm the device is compatible with your smartphone before purchasing it.
Best Fitness Tracker Under $50 FAQs
Are Cheap Fitness Trackers Worth It?
If you are still new to working out and want to try a fitness tracker, then a budget-friendly option is perfect for you. If you would like to mainly track your heart rate and activities without added features, you could also choose a cheaper device.
The more expensive fitness trackers do sometimes offer a high-quality heart rate monitor, but usually the reason for the increase in the price is the additional features that help you set alarms, organize your day, and keep track of notifications from your phone.
Can I Use A Fitness Tracker Without A Smartphone?
Yes, the fitness trackers that you wear on your wrist can be used on their own since most of the models provide data on the watch face. However, if you want to track your data more on a more in-depth level and keep a track of your training on a daily or weekly basis, it is beneficial to connect to the app that is supported by the device.
The apps for fitness watches enable you to see the changes in your activities, monitor your heart rate throughout the entire day and night to track your sleep quality. You can also set alarms and change watch faces on some models through the app.
What Is The Difference Between A Fitness Tracker And A Smartwatch?
Both smartwatches and fitness trackers are quite similar and often have overlapping features that are evident on both types of devices. However, there are a few differences between these types of devices.
A fitness tracker usually focuses more on training elements as you aim to lose fat and gain muscle, such as including various fitness modes, monitoring of your heart rate, and counting calories burned. By comparison, a smartwatch focuses more on organizational features.
The smartwatch usually includes daily reminders and alarms, and sends through notifications giving you the ability to respond to phone calls or messages from your watch.
Who Is The Leading Brand Among Fitness Trackers?
The Fitbit brand has made waves in the fitness tracker industry as it has become the leading household name for fitness tracking watches—to the point where many people refer to general fitness trackers as "Fitbits."
However, despite the good marketing of the Fitbit brand, there are several other brands that can be compared to Fitbit in terms of quality, features, and durability. These brands include Garmin, Apple, Huawei, and many more.
Closing Thoughts
When you purchase a fitness tracker, you are adding a small accessory to your outfits that will be reading your body's health information daily. The fitness tracker does not have to ruin your personal style but will be small and easy to add to your daily wardrobe.
A fitness tracker on a budget should not compromise on quality and should be durable. It should last you for many months of wear and even through the year.
Your fitness tracker does not explain your health in its entirety and does not take the place of seeing a doctor regularly regarding any issues you are having and for preventative care. However, these monitors can be used to collect data for your doctor, to help them track your health.
The tracker can log heart rate, sleep, distance, and steps to give you at least a snapshot of your health. But keep in mind that it does not give you the entire picture.
These fitness trackers can show you what you have done over the course of a day, a week, a month, and even a year, which means you have your fitness records at your fingertips. This is useful for you when you want to measure progress or see what needs to be improved.
Because most all trackers can sync with your smartphone you can keep information all together and easily read it right from the palm of your hand. The fitness tracker will make you more aware of your health and help you in being responsible for your overall well-being.
If you have any experience with any of these fitness trackers, let us know in the comment section below. We love to hear your thoughts and concerns.